Out of the various web browsers, we have got today, no doubt Google Chrome is the most popular among them. Despite the stiff competition offered by Mozilla Firefox, Apple Safari, and Internet Explorer – the way Google Chrome has led the supremacy of web browsers is very appreciable. Google Chrome is a very powerful web browser that offers an uncluttered user interface for safe and secure browsing experience. You must be enjoying its modern browsing features. But have you ever thought to supercharge your browser with best Chrome extensions?
If not, then you need to think about it as there are many best Chrome extensions available in Chrome web store that improve your browsing experience. Chrome offers some powerful plug-ins [extensions] that add more values to your web browser and improves your browsing. From blocking ads to ensuring safety against malware and security theft, from social sharing to checking emails, from translating to saving documents, from downloading files to managing passwords – there are millions of extensions that make your browsing simpler and efficient.
Today we have got a mega list of best Chrome extensions for every kind of Chrome users' needs. No matter whether you are a novice internet user looking to supercharge your Chrome browser, an advanced user who wants to protect your privacy, a professional who wants to get productive with best Chrome extensions or looking for other needs – we have best Chrome extensions for your every need.
Also Read: Top 7 Best Safari Extensions – Best Safari Addon Plugins for Everyone
100+ Best Chrome Extensions – Ultimate List of Best Extensions for Chrome Users
In this mega list, you'll get to know about 100+ best Chrome extensions. We are starting with best Chrome extensions to protect privacy and best Chrome extensions to get productive while using Google Chrome. As the day passes, we'll keep adding more and more best Chrome extensions for your every need. Here is a glimpse of what we'll be adding:
Best Chrome Extensions to Protect Privacy and Security while Browsing the Web
Best Chrome Extensions to Be Productive while Using Google Chrome
Best Chrome Extensions for Developers to Simplify Complex Tasks
Best Chrome Extensions to Save Money While Shopping Online
Best Chrome Extensions for Bookmark Management
Best Chrome Extensions for Photo editing, Video editing, and other Media Services
Best Chrome Extensions to Integrate with Google Services
Best Chrome Extensions for WordPress Users
Best Chrome Extensions for Professional Bloggers
Best Chrome Extensions for Smart SEO Experts
So let's start!
Best Chrome Extensions to Protect Privacy and Security while Browsing Web
If you take a look at the total percentage of the desktop/laptop users, you will find that more than 65% of the total aggregate users prefer using Google Chrome as their primary browser. The more the number of users, there's more privacy risk. So, to keep your online activities private and to prevent your online identity from being misused you need to use specific Chrome extensions. Not just some fancy extensions, but the best Chrome extensions to protect privacy.
You should always remember that it is important to protect privacy while you're using the Internet. If you aren't cautious, you might unconsciously hand over sensitive information. Not just private information. But your browsing activities, history, and other information from the browser would always be useful to a hacker. Therefore, to protect privacy, you can take the help of these great chrome extensions to protect privacy.
Also Read: Top 5 Best Bookmarks Manager Tools to Manage Bookmarks Easily
Advertisements are usually considered to include 3rd Party trackers. Well, that doesn't refer to the situation where every type of ads tracks your browsing activities. The trackers enable cookies and learn from your daily browsing activities to display advertisements. To our belief, Google Adsense program may be on the safe side in using the same, only for improving the Ad quality not selling the data about your browser activity. You may trust them.
However, if you value every inch of your privacy, installing AdGuard Adblocker chrome extension to protect privacy would be a good choice. It would keep your browsing activities and likes (and dislikes) safe from the Advertisers. Although I must warn you, the browsing experience may be worse. The reason – some functionalities of the website wouldn't work as expected.
Privacy Badger is yet another great 3rd party tracker service blocking extension for Chrome. It's almost similar to AdGuard and related Adblockers. However, it is free from any business policies (come on it's EFF!). It uses an intelligent algorithm to control and block the trackers on the web pages.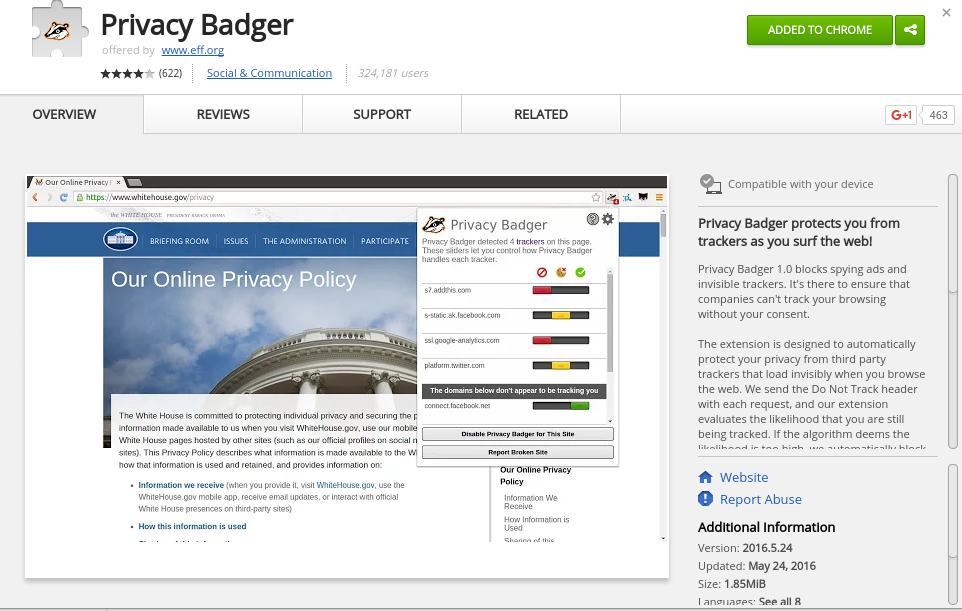 It just doesn't target standalone advertisements but also the scripts and functions which violate the principle of users consent. It isn't an ad blocker. It just focuses on blocking scripts which are objectionable to users privacy. So, if you don't want to break functionalities of a website while protecting your privacy, Privacy Badger is better.
3. Signal Private Messenger
If you've used secure messaging apps for Android, you must be familiar with Signal Private Messenger. It's a secure messenger developed by Open Whisper Systems following military-grade encryption. It helps to protect your conversations by encrypting them and even making them inaccessible to the developer team.
For using this, you need the Signal app to be installed on your Android phone. After you're done setting it up on your Android device, you can quickly set it up on Chrome. This extension comes handy when you're working on your laptop/desktop and don't want to reach out to your smartphone. There's no doubt about the application's security, being an open source project. Don't just be concerned about protecting your privacy, encourage your friends using the same as well. It would make your conversations secure.
Protecting privacy revolves around finding out the trackers and blocking them. Ghostery is a similar kind of extension. But, it does not exclusively block advertisements. It first informs you about all the trackers active on a site. You can then decide which one to disable. It's a better chrome extension to protect privacy when you want more control.
A VPN would always be necessary for protecting your privacy. However, Chrome extensions to protect privacy would come handy to use. There are different types of VPN Chrome extensions available to protect privacy. However, we found Zenmate VPN service to be the best among them.
It's free (with some limitations), and you can choose a location for your encrypted connection. To get started, you would need to sign up an account for that, and sign in to activate the extension. It even offers a cool feature by which you can set different locations for preferred websites. It's termed to be as – Smart Locations – which proves to be useful by strengthening the security. According to what we found out, it's one of the best chrome extensions to protect privacy. You can consider similar VPN service Chrome extensions as well. Of course, if you trust them with your privacy.
Websites which implement SSL security for their visitors are safe. The HTTPS connection they offer to a reader makes sure of any dangerous thing. It enables a secure connection of the visitor with the site. Thus, a significant step to protect users privacy. You can observe the same thing implemented on this website as well. So, you can be sure that no attacker tries to snoop at your browsing activities while viewing our website.
Here comes the savior – KB SSL Enforcer. Many websites have SSL certificates installed, but they don't enforce the HTTPS connection. So, by the help of this plugin for Chrome, you can implement the HTTPS connection at the web pages where they do support it. For instance – you can try lifehacker.com. It pulls up the non-encrypted version by default. But with the help of KB SSL enforcers, you can force lifehacker.com to use an encrypted connection.
ScriptSafe is a complete privacy protector extension for Google Chrome. It gives you an enhanced report of resources that are pulled up as non-encrypted. It focuses on the scripts and resources on the web page.
If you're viewing a website which is already secured by an SSL connection, it's safe. However, if the site happens to use external resources, what are the chances, you'd detect them quickly? I don't think that would be a quick process. And, external resources can be modified anytime, and you won't know if it's a protected resource or not. You'll have to open the console and view the source codes and scripts to see whether the site has external resources active or not. Now, even if you detect them, there's no way, you can disable them from pulling up manually.
So, ScriptSafe Chrome extension comes handy in such situations. And, you could analyze better and block the external resources from loading if you don't trust them with your privacy.
If you don't want HTTP resources to load at all, you should consider using this extension to forcefully load secure resources wherever possible. And, also if you don't want to visit a web page without SSL security. You can just turn on the "Disable HTTP" option. So, it would automatically block the web pages that usually loads with the HTTP request.
When you search for something on Google and click on a result, what happens? Google tracks your activity with referral IDs and a bunch of other information about your browser. If you don't want Google to track any information of yours, then consider using this chrome extension to protect privacy. However, there are Google alternatives and private search engines as well.
Experts Ideas for Choosing Best Chrome Extensions for Privacy and Security:
Well, to protect your privacy, you would need the best chrome extensions to protect privacy as mentioned on this list. Privacy Badger should be the priority, and HTTPS everywhere should follow the choice. AdGuard is impressive as well but would probably ruin the web experience. Don't Track Me Google, is an interesting choice to have if you're fond of using the Google search engine.
Did we miss any of your favorite Chrome extensions to protect privacy? Let us know through the comments section below.
Best Chrome Extensions to Be Productive while Using Google Chrome
Google Chrome is one of the best browsers that offers tons of features to make your browsing experience out of this world. What makes Chrome first choice for most people is its gigantic Web Store that lets you add almost any type of feature to Chrome. There are thousands of extensions to choose from, and most of them are completely free.
There are many extensions available that focus on making you productive with your work or just get things done faster. However, when there are so many extensions to choose from, it can get a little confusing as well. Whatever category you search for, you will get hundreds of extensions. We are going to solve this problem by listing down just the best Chrome extensions that will boost your productivity one way or another. We have only selected the best ones in the category, so you don't have to worry about getting anything less than the best.
If you are one of those people who have dozens of tabs opened all the time, then OneTab will surely please you. As the name suggests, OneTab is all about arranging all your opened tabs into OneTab. It will close all your opened tabs and show them in a vertical list to choose from. It will save memory (a big issue with Chrome) and make it easier to access any tab. You can also select which tabs to arrange in OneTab and which to keep open.
Being productive requires focus, and to our luck, now there are hundreds of distracting website to keep us distracted. Facebook, YouTube, your Email, blogs and hundreds of other sites are there to keep you away from your actual work. StayFocused solves this problem by only allowing you to access distracting websites for a specific duration in a day. After that, they will become inaccessible for that rest of the day. It can be annoying to get back in as you will have to solve puzzles to break the restriction.
Pocket is a bookmark manager on steroids, which will let you save online content to view later. The current Chrome bookmark manager is good, but if you bookmark a lot of websites and looking to be more productive, then Pocket is perfect for you. Pocket will let you save images, web pages, videos and text content. It syncs the saved content over all your devices and it arranged by categories and tags for easier access.
Websites offer tons of side content alongside the main content. You have to deal with ads, promotions, related content, videos, and loads of other distracting content. If you just want to focus on the content, then you can use Readability. With a single click, Readability will remove all the clutter and only show you the main content of the website. It can also save content for later viewing and sync content with Kindle.
It is more of an optimization extension than productivity, but if a slower browser is leading to less productivity, then The Great Suspender will help. This extension suspends tabs after a specified time if they are not in use. It keeps the tab open, but taking on resources. As soon as you click on a tab, the page will load again, and you can navigate. It is perfect if you always have loads of tabs opened without frequent use.
Keeping track of all of your passwords used on different websites can be tough. It becomes almost impossible when you use extremely hard to remember passwords for each site (which you should). LastPass will save all of your passwords, and you can access them from any device using a master password. All you have to do is remember the master password and LastPass will handle the rest. It will also auto-fill the login forms of saved websites.
With the help of TabCloud, you can save all your opened tabs in the cloud. You may access these tabs from any desktop with just a few clicks. For example, if you have loads of tabs opened on your work computer, you don't need to reopen them on your home PC. Just use TabCloud and sync your tabs over all your PCs.
17. Synata
If you are using multiple cloud storage services to store all your data, then it can be very confusing and time-consuming to find the required data. Synata let you sign in with your desired cloud storage services, like Box, Google Drive, and Dropbox, etc. And put all of their data in one place. With Synata extension you can find photos, videos, documents and your other data without having to search each service separately.
If you are a Shopaholic, then this extension will save you a lot of time and money. Honey automatically search for coupon codes for supported websites and enter them to get discounts and offers. Just click on the Honey button on a coupon entering field, and it will automatically search for the coupon code. It supports over a hundred stores, specifically in the USA and the UK.
Ads can be annoying and distract you from your work, especially, those annoying pop-ups and intrusive ones. Adblock Plus will block all the annoying ads and replace them with white space or a background similar to the interface. It doesn't block unobtrusive ads by default, but you can block all ads by configuring the settings. Although you should keep in mind that most websites survive on ads, so whitelist sites you visit often or which show least distracting ads.
Also Read: Adblock for Android – 8 Best Ad-Blocker Apps for Android
20. Lazarus: Form Recovery
If you need to deal with web forms often or just want to make sure you never have to re-edit any web form again, then try Lazarus. This extension saves all your entries in a web form, and if an accident like the power outage leads to closing the form, you can easily recover it.
21. Black Menu for Google™
A must have Google Chrome extension for all those people love all of the services provided by Google. Black Menu puts all of the Google services you are using in one place. You can search the web using the extension, manage Google+, use Google Translate, Use Google, Maps, search Google Play Store, use YouTube, use Gmail and many other services all from this extension's page.
Screenshots can be handy for illustration purposes, and there is no better option than Awesome Screenshot in this category. This extension will let you take screenshots of any area and annotate it. You can add comments, blur sensitive information and share screenshots with one click.
Google Dictionary is the best dictionary extension for Chrome, which is easy and fast to use. If you have to search for word meanings online a lot, you can use this extension to find word meaning just by double-clicking it quickly. It will show meaning, synonyms and even offer a translation. Furthermore, it will keep a history of all the words searched to let you practice later.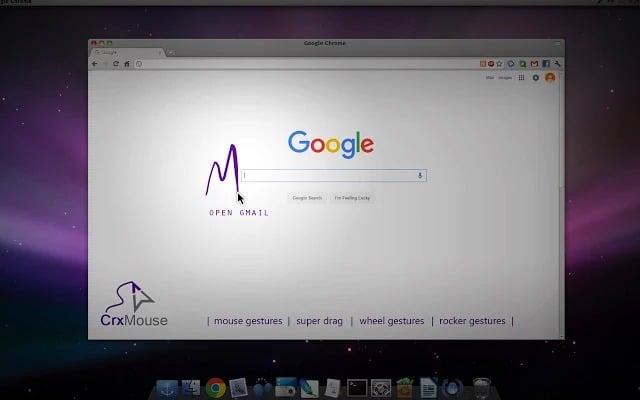 When this extension is enabled, you can control all your browsing activities with your mouse. It supports mouse gestures and specific keystrokes to use browser features. For example, you can open/close windows, open/reopen tabs, go forward or back, scroll up or down and do many other simple tasks with simple mouse gestures.
Experts Ideas for Choosing Best Chrome Extensions for Productivity
Productivity is what everyone seeks and being productive while browsing is crucial as the Internet plays a significant role in our life. The above mentioned best Chrome extensions will help you in multiple ways. Whether you want to work productively or just want to perform daily tasks faster, there is an extension for it mentioned above.
Black Menu is a must have if you are a fan of Google services, and crxMouse Chrome Gestures are perfect if you want to be fast and stylish while using Chrome. Resource friendly extensions like OneTab and The Great Suspender are also great options if you are low on resources. If you know any other productive Chrome extensions, do let us know in the comments.
Best Chrome Extensions for Developers to Simplify Complex Tasks
Being a developer is something challenging. However, when you are really into it, the process becomes quite pleasing too. Thanks to the developer community itself, there are many tools to help you in this endeavor. IDEs are some such tools; so are staging platforms. If you are using Chrome for development-based tasks, however, there is another way you can simplify complex tasks. You just have to pick the best Chrome extensions for developers.
In Chrome Web Store, you can find many Chrome extensions for developers. Choosing the best one can be a tough task for you. If you are in that state, don't worry. We have created a worth using a list of best Chrome extensions for the developers. Just pick the proper Chrome extension from the list — and, you can thank us later.
One thing to be noted: in-built Developer Tools you will find in Chrome is already awesome. Many of these best Chrome extensions work hand in hand with Developer Tools. So, in the end, it is possible to get the best experience.
When you need to create a stunning CSS Design, CSS Shack is going to be the best Chrome extension for you. It's a web-based application that lets you build layer styles. After GUI-based creation of layers, this can be exported to a CSS File in no time. The interface of CSS Shack resembles that of Photo Editing suites. And, there are many tools you can use for inserting and editing different elements.
Instead of worrying about the complexities of code, this Chrome extension will let you focus on the design and its usability. So, it's a must-have for almost all developers around. And, of course, you can simplify the task of CSS Coding — just need to put some edits, you know.
Do you create development-based tutorials? For instance, you may be having a personal blog, where you share favorite codes or your originals. Alternatively, you may have to show some demos of your code to the client. In such situations, Marmoset is an excellent Chrome extension you can count on. Using Marmoset, you can create beautiful code snapshots and share them with your clients, readers or friends.
Instead of taking a two-dimensional capture, Marmoset allows you to change the perspective. That is, depending on what you like to project, you can drag and choose the layout style. It has individual support for each programming language, to highlight code components and related stuff.
27. PageEdit
PageEdit is yet another useful Chrome extension for developers out there. The working process is too simple. Once you click the PageEdit button, the Chrome interface will turn into a WYSIWYG Editor. That is, you can make the changes to one website and view the results instantly.
That having said, you can also use the Source Editing feature, where codes will be highlighted. The best part is something else. You can bring any locally-stored file to PageEdit extension and have all those benefits of WYSIWYG Editing. There may be a bunch of minor bugs, but the extension is performing well on an overall basis.
28. Font Playground
Choosing the best font is a tough task for developers and designers. In the case of developers, they need to test different fonts in every step of website building. However, this Chrome extension, namely Font Playground makes this task simpler than you guess. Without changing the code, you can try changing the font in a Chrome web page. It supports local fonts as well as Google fonts, so there are maximum options of choices.
Font Playground has a regularly-updated collection of fonts, with new fonts being added every single day. So, the next time you want to try a new font, don't rush to the source code. Instead, just choose the font from Font Playground extension interface. And, it works so smoothly.
Once again, we have an extension that will help developers and designers alike. What do you do when you come across a superb font? You will have to go to source code and find it, right? With WhatFont Chrome extension, you will not have to do that — ever.
Once you have installed this extension, you can hover on the text to detect the used font. On hovering, a small pop-up will tell you the font name, size, line height, and color. What's more, you can even know the service used for bringing the font. So, as a developer, you can simply use that service. In short, WhatFont is an efficient and worth having a solution for your web-building and designing needs.
Web Developer for Chrome is a combination of various tools for your web development needs. After installation, you can see a toolbar with many options. It is, in fact, the official port of Firefox Web Developer extension. So, if you happened to have moved from Firefox to Chrome recently, these features will blow your mind.
Trust us when we say that, there is a lot of things you can do with Web Developer Toolbar in Chrome. For instance, you can resize the window, Disable JavaScript, Disable Cookies, Make Images Invisible, add an Outline for images, get CSS Details. In short, you can get all the required information about a website and make changes if you want.
This Chrome extension addresses an issue most web developers have to face: maintaining good practices on your website. Once you have built a website, there are many things to take care of. For instance, you have to use H2 Headings, use spelling & grammar correctly, add some semantic additions, increase code quality and provide the best performance. And, it would usually take hours to check these all.
Web Developer Checklist extension for Chrome makes everything easier. In a single click, you can make the extension search for all these possible issues. After the analysis, you will be notified about the possible problems and ways to fix them. Well, if you don't know about the best practices for development, this Chrome extension will equally be useful for you.
Analyzing the flaws in your UX and fixing them can be a complicated task for developers. However, UX Check is a good-enough Chrome extension to deal with this issue. In simple words, UX Check performs a heuristic evaluation of the UI & UX of your proposed website. To do this, it does not require user involvement. Instead, some principles put forward by Jakob Nielson are used for evaluation.
Concerning these principles, the overall usability of your website is calculated. There will be a Side Bar with links to each of Jakob Nielson's concepts. By clicking on an element, you can know about its performance for the overall UX. In seconds, you can save the results in a DOC file, with relevant screenshots.
At the end of our list of best Chrome extensions for developers, we have ColorZilla. It's a complete tool for a colour-picking, eye-dropping and gradient generation. Just enable the extension, and you can understand the color used in any part of the opened web page. You can even find the colors used in images.
For every color, you can see the code. So, if you like to bring the color to another app, you have to paste it. As we said earlier, there are many impressive features. You can use some keyboard shortcuts for instance and use the Gradient Creator. In short, ColorZilla is a complete package for all your color-based needs.
Experts Ideas for Choosing the Best Chrome Extensions for Developers
So, these are the best Chrome Extensions for Developers we recommend using. In a way or another, these tools will help you simplify the tasks. For instance, ColorZilla is useful when you need to pick colors from a web page. Also, in our personal experience, Web Developer Checklist is one of the most useful packages. It would save a lot of time when it does come to validating your website. So, depending on your particular development styles and needs, you can pick one best or many Chrome extensions from our list.
Best Chrome Extensions to Save Money while Shopping Online
We all shop online — from electronics to food items and from home appliances to cosmetics. In fact, Online Shopping has become the new term for shopping itself. For at least some of you, going to a physical store and purchasing one product would have become something alien by now. After all, who needs physical stores when you get the same product at your doorstep for lower pricing?
Well, we would like to repeat the factor of 'Pricing' here. It's a fact that online shopping sites offer superb discounts and other promotions. But, most people don't know about these promotions. However, if you are using Google Chrome, you can use some of the best Chrome extensions to save money while shopping online.
You heard us right. There are many shopping-oriented best Chrome extensions you can try. There are different methods that you can use for saving money while shopping online. Some have to do with price-tracking whereas some are for comparison. So, we have a comprehensive list of the best Chrome extensions for shopping. We hope it helps every online shopper.
Do you purchase anything from Amazon Online Stores? Then, Keepa is one of the best Chrome extensions you can use for saving money. It's an Amazon Price Tracker that integrates to every Amazon product page. So, whenever you open a product in Amazon, you can see the entire price history of the product. Also, you can get alerts when there is a Price Drop or availability of a particular product. You can set your expected pricing there, and you will get notifications on your desktop.
If you wish, you can get notifications via Email, Facebook, Twitter or through your Mobile Phone. In case if you did not know, Keepa.com is a fully-fledged web service for Amazon product tracking. We hope that's enough to save some money for you while shopping.
Don't get confused — Avast SafePrice comes from the same Avast, the popular Antivirus developer. Using coupons as well as deals is an effective way to save money while shopping. With the Avast SafePrice Chrome extension installed, you don't have to search for coupons or deals. Instead, all the available deals can be seen on the same product page.
Also, Avast SafePrice will suggest other shopping places where you can buy for the lower price. The price comparisons are transparent and let you purchase the best product for best price. The best part is that you don't have to leave the product page for knowing other pricing. Altogether, Avast SafePrice is a must-have and one of the best Chrome extension for all online shoppers.
FakeSpot is not directly about saving money while shopping. That having said you could save some decent amount if it is used well. As you know, there may be some fake reviews that make you purchase or not purchase particular products. These reviews are brought there by product sellers or competitors. So, choosing the right reviews is one of the best ways to save some money.
With this chrome extension FakeSpot, you can do that in seconds. Just install this extension, and it will help you differentiate between genuine Amazon reviews and the fake ones. FakeSpot uses different algorithms to do that, and people are impressed by the results. It's like the torchlight for navigating through reviews.
Honey automates the whole process of coupons while shopping online. In typical cases, you have to find the coupons first and apply them during check-out. Just try installing Honey once, and everything changes. This Chrome extension will work using a bunch of algorithms and current collection of coupons and deals. So, when it comes to checking out the product, Honey will choose the best coupon or promotional deal from the list.
You are not just saving your money, but also your valuable time. The best part of Honey for Chrome is its compatibility. It works with shopping sites in US, Canada, Australia, UK, and India. Also, all other stores that serve globally will be working fine with Honey. It's one of the best Chrome extension for shopping!
InvisibleHand is yet another price-tracking Chrome extension you can get. However, it has been highly trusted and is said to be quite effective. The working process is same, as you guess. You can see a section on top of every product page — regardless what you are buying online. By the time you check out the specs, InvisibleHand will tell you if the product has been listed somewhere else for lower pricing.
So, something that makes InvisibleHand different is the support. Spread in the United States and the United Kingdom, more than 20000 retailers are supported by this Chrome extension. And, that's something huge for the online shopping experience, you know. To keep things simple, InvisibleHand will notify you about lower pricing as well as promo codes (if available).
39. Wallaby
Did you know that you can save money by choosing the right payment method? Well, yes, you can. It's because most of the shopping sites offer exclusive discounts and promotional deals for special credit cards. Wallaby for Chrome will help you choose the most convenient and profitable credit card. This is one of the best Chrome extensions that help you not only to save money while shopping but also for increasing the shopping rewards you get.
You may have to add the credit cards you own. Right after that, you will be notified from every online purchase store — about which credit card to use and why you have to. For those who have multiple credit cards with rewards, Wallaby will be of sure help.
40. BuyHatke
Last but not the least, BuyHatke is here on our list of best chrome extensions for saving money while shopping. It is also is a price comparison and coupon selection extension for Chrome. However, this has been made specifically for Indian online shopping sites like Flipkart and Amazon India. So, if the extensions mentioned above don't work for you, you should try out BuyHatke.
Once you are on the product page, BuyHatke will compare the price between more than 70 online stores. In seconds, you can have the recommendation on which is the better choice. You can also get to know coupons and get alerted in case of price drops. BuyHatke is too easy to use and works well with Indian sites, for sure.
Experts Ideas for Choosing Best Chrome Extensions to Save Money while Shopping Online
Well, this is our list of the best Chrome extensions to save money while shopping online. It does not matter whether you are comparing prices or finding the right coupons — you can save some money from your wallet, in the long run. Out of these best Chrome extensions, Honey seems to be our personal favorite, because it finds the right coupons for almost all sites in UK and US. That having said, price-trackers such as Keepa and comparison tools like BuyHatke also make sense. You may not need all of these, but you surely need one from the list.
Best Chrome Extensions to Integrate with Google Services
Google Services are awesome. For an average internet user, not a day passes without using Google services like YouTube, Gmail, Maps and of course, Google Search. That having said, nothing is perfect, so are the Google projects — don't worry, though. If you are using Google Chrome as your browser, you have different ways to enhance these Google services. You just have to get the right Chrome extensions to integrate with Google Services, be it Gmail, YouTube or something else.
To make things simpler, we've created a well-crafted collection of best Chrome extensions for Google service integration, in your Chrome browser. Most of the extensions work as an extra layer on top of actual services while some bring brand-new features. We are sure that you'll find most of these extensions useful in the end.
Do you stream your favorite content via YouTube? If so, Turn off the Lights is one of the best Chrome extensions you can try. It manages to provide a better YouTube experience, by making the YouTube player isolated. It literally turns off the other lights in your Chrome browser window, so that you can completely focus on the YouTube player.
This is a cool feature if you don't like going full screen while watching videos. On the other hand, when all other parts of web pages go dark, you can have a cinema experience on YouTube. It's a lightweight Chrome extension, but really productive. If you watch longer videos on YouTube so often, Turn off the Lights will be essential for YouTube needs.
Do you want to bring multi-language input support into your Chrome browser? Well, by installing the Google Input Tools extension, you can simply do that. Depending on the language you select, both Transliteration and In-script options will be available. For instance, in the case of Indian regional languages, we find three options — Transliterate, In-Script & Phonetic.
In light of our experience, Google Input Tools is the best way to communicate in your language, without knowing regional keyboard layouts. In addition, with selected languages, you can have the Handwriting Mode too. You can simply draw on the screen to get things typed. In short, Google Input Tools is the best choice you have for non-English language input.
Gmail is undoubtedly the best email service in the world. However, you may need some additional features like scheduling to make your Gmail experience best. Boomerang for Gmail brings a bunch of automation options into the Gmail interface and it is tightly integrated with the service. Once you have installed the extensions, you will see Scheduling options within the Gmail interface.
Apart from Email Scheduling, Boomerang offers the options of email tracking. That is, you can know if the receiver has opened and read your email. You can also set Reminders inside Gmail and get notifications right in the inbox. It's free to use Boomerang for a few emails. However, for huge numbers, you will have to pay more.
44. Google Cast
Google Cast for Chrome is one of the best entertainment extensions for Google Chrome as well. You can connect your Chrome browser with the Chromecast you own, use this simple extension. And, after that, you can stream your content to the TV screen in a few clicks. It's an official extension from Google, and you don't have to worry about safety.
After installation, you can see a Google Cast button on particular websites like YouTube and Netflix. You can simply click on the button and the content will be available on your Chromecast-connected device. If you want to enjoy your favorite video content on a big screen, this extension will surely help you do that. Yes, you can send content to any other device that supports Cast.
Ever stumbled upon an awesome file and wanted to save it to Google Drive? Well, you don't have to do that download-&-upload thing again. Save to Google Drive is the official Google Chrome extension for saving web files into your G-Drive storage space. You can save web pages, hyperlinks, and media into the same storage, via context menu options.
Suppose you want to save an image to Drive space. You can simply right-click on the picture and select 'Save Image to Google Drive.' The whole task will be done in a few seconds. This extension is useful if you want to make individual web files available on all your devices.
Do you plan a lot? Wouldn't that be great if you can keep track of all your upcoming events, right from the browser screen? You can do that by installing the official Google Calendar extension for Google Chrome. After the installation, you can see a Calendar button on the browser toolbar. For the initial setup, you will have to Authorize Google Calendar. In a single click, you can have the list of upcoming events.
It also allows you to add new Calendar events without leaving the page. Suppose you are visiting the web page of an upcoming conference. You can add the Calendar entry, right from the page. It is an awesome way to integrate with Google Calendar and entries.
Just like the case of Turn Off the Lights, this is an excellent Chrome extension for hard-core YouTube users out there. It brings an impressive cinematic experience into the YouTube player, with the help of effects and certain actions. Auto HD is one of its coolest features. You can set YouTube to start playing content in High-Resolution HD standards, instead of changing it every single time.
At the same time, you can use the mouse scrolling button for volume control and capture screenshots in a single click. Magic Actions for YouTube also brings a bunch of other options such as more than 20 color themes, support for HTML5 Player, Cinema Mode, Thumbnail enlargement, etc.
Send from Gmail is yet another Chrome extension that integrates well with your Gmail account. This Google Chrome extension is for those who send emails so often, to friends, families and for professional needs. Suppose you found a fantastic website and you want to share it with friends. If you have this Chrome extension installed, it's all just a click away.
This is an official extension from Google Inc and there's no question about security. Working of the extension is too simple. When you are on a website, you can click the button. You will instantly see a beautiful pop-up box, where you can provide recipient details and subject line. The link will be pasted there and you can send the email in no time. The process works like charm and you needn't leave the actual website.
Last in our list of best Chrome extensions to integrate with Google services, but not the least, Music Player for Google Drive is an exciting choice for audiophiles. It's just that you've to keep your favorite tracks in the Google Drive storage. After installing this extension, you will see an option to open with Music Player for Google Drive in the context menu. You can select the tracks and open them via the player. And, it's all about enjoying those tracks in the background.
If you shift computers so often and can't store music in all of them, this is a cool way to integrate with Google Drive and enjoy your favorite tracks. The extension brings a minimalist but better music player interface and layout.
Experts Ideas for Choosing Best Chrome Extensions to Integrate with Google Services
Well, these are the best Chrome extensions you can use to integrate with Google Services. Some of these best Chrome extensions bring the service to Chrome while others work as additional features. For instance, Save to Google Drive is an awesome way to bring Drive features into Chrome. At the same time, Boomerang for Gmail or Music Player for Google Drive is something of extra functionality. So, depending on what you need, you can pick a few Chrome extensions from the list. We have tested all these, and you can take our word for quality.
Best Chrome Extensions for WordPress Users
WordPress is, no doubt, one of the best Content Management Systems that you'll come across. It's free, feature-rich and is offering ample support, thanks to the Open Source community. To keep the CMS simple yet useful, there are not many fancy features you can find. It's simple, sleek and user-friendly, even for beginners. However, if you use Chrome as your web browser, there's a better solution. You can use some of the best Chrome extensions for WordPress users.
Many Chrome extensions are falling in this category. Some make changes to the WordPress interface. At the same time, you will find some extensions that make WordPress site management easier. To make your selection easier, we have created a list of the best WordPress-based Chrome Extensions you can install. Hope these will help WordPress bloggers as well as developers out there.
It does not matter whether you use WordPress interface for development or writing; you'd have noticed the Admin Bar. It's supposed to be a quick-access bar that navigates you to different areas of WordPress interface. Despite different uses, however, this admin bar can be annoying at times. But, you cannot permanently remove it either.
In such situations, you can seek the help of WordPress Admin Bar, a free Chrome extension. In a single click, you can toggle the admin bar, thus making it appear or disappear. You can see the extension button right next to Chrome Omnibox.
One of the reasons developers love Google Chrome is the availability of Developer Tools. In a single click, you can have a complete interface for editing and previewing the code. These tools are especially useful for CSS Editing needs. Well, what do you think about making edits in Chrome Developer Tools and bringing the changes to WordPress theme file?
With WordPress Style Editor, you can do that. Once you have made edits to the CSS file in Developer, just press a button — all the changes will be visible in WordPress CSS file too. As you know, this method is fast and doesn't require third-party software.
Do you manage many WordPress-powered websites? Then, WordPress Site Manager is one of the best WordPress Chrome extensions you can get. This free Chrome extension allows you to store information about the different WordPress sites. The next time you open those sites, necessary information will be automatically filled.
Instead of hitting the 'Login' button, again and again, WordPress Site Manager makes things easier. In a single click, you can go to the Dashboard of a site — without the common ado of logging in. If you are a writer who writes for many WordPress blog or a developer who takes care of WordPress code, this will be an excellent Chrome extension.
Have you ever come across a good WordPress website and wondered about the theme used? Or, have you got so desperate to know the WordPress plugin another site uses?
WordPress Theme and Plugins Detector for Chrome is one of the best tools to find the theme and plugins used by a WordPress website. You just need to click once to see the name of the current theme.
You can also find the list of used WordPress plugins in the same area. This will be a valuable extension for both common WordPress users and developers out there. And, way better if you love finding news stuff in the world of WordPress CMS.
Nowadays, it is necessary to make your websites/blog responsive. The same is the case with WordPress sites and blogs — they should give the same experience in all your device. How do you confirm the working of responsive design in your WP blog?
Windows Resizer is an awesome way to do that. This isn't a WordPress-specific Chrome extension but will be quite useful for WordPress developers. So, you can simply open your website and choose the device-based resolution from the list of Window Resizer. In seconds, the Chrome window will be resized to that size.
You can customize the list of window resolutions and reorder them as you like it. In short, you get the job done in the least time possible.
ExpressCurate is an excellent Chrome extension for WordPress bloggers and writers. The primary function is to let you publish posts into WordPress blog, from the browser interface. However, as it turns out, ExpressCurate will help you find topics, create your post, enhance SEO elements and save the post into WordPress site server.
Suppose you are reading about the Best Cars in 2016. ExpressCurate may suggest you a topic to write an article about, also considering the keywords you've given earlier. While writing, this extension will work on Engine Optimization tips and other attributes. In short, you can create an excellent post on the WordPress blog.
Are you always concerned about how many people do visit your site? Then, you should have a look at WordPress Stats — one of the most popular Chrome extensions for WordPress-powered sites. Right from the browser screen, you can have a look at the current traffic of your WordPress.com blog. Yes, it's disappointing that WordPress Stats extension does not have support for self-hosted WordPress blogs, and that's not a good thing. Well, if you are sticking onto WordPress.com, this extension will keep things easier from Google Chrome browser.
Yes, it's disappointing that WordPress Stats extension does not have support for self-hosted WordPress blogs, and that's not a good thing. However, we can expect this much-needed feature coming soon to this Chrome extension. Well, if you are sticking onto WordPress.com, this extension will keep things easier from Google Chrome browser.
Do you write posts in your WordPress blog? How do you make sure that there are no grammar errors? Grammarly is one of the best online grammar checking service that analyzes text for grammatical and syntax errors. It also gives you word suggestions and corrections. By installing the chrome extension in your device, you can bring Grammarly editor to the WordPress Content Editor too.
This works so simply that you don't have to worry about anything. You write your way, and Grammarly will show up the necessary changes instantly. If you are still getting your terms ready with grammar, Grammarly for Chrome will be one of the best Chrome extensions for WordPress.
How do you keep track of comments you have made on the World Wide Web? This is a tough task, as it seems. However, with this Chrome extension named Comment Save, things can become too easy. As you are typing a comment, it will be saved by the extension. So, in the end, while looking back, you can know what you have written last.
You can also go back to the old days and find out the discussions you have started. So, when you are a WordPress blogger — who needs to communicate with fellow bloggers —, this can be an excellent Chrome extension for you.
59. WordPress Plugin Security Checker
WordPress Plugin Security Checker is an essential Chrome extension for all WordPress users. This will help you when you want to install new WP extensions as you move ahead. You can simply search the plugin name from the extension, and it will show you relevant information too.
In seconds, you get to know the security vulnerabilities of the plugin, if there are any. The working is so simple, and you'll find it very useful in day-to-day WordPress site management. After all, security is one necessity while installing new plugins on the site.
Expert Ideas for Selecting the Best Chrome Extensions for WordPress Users
Here you have the list of 10 Best Chrome Extensions for WordPress users. We have included extensions that will help both writers and developers. For instance, ExpressCurate helps you find writing ideas and SEO tips.
At the same time, Window Resizer and WordPress Style Editor are for developers and designers out there. So, you can pick one depending on who you are and what you do with the WordPress CMS. Regardless the choice, these best Chrome extensions will save your time and effort.
Best Chrome Extension for Professional Bloggers
Blogging is one of the coolest professions one can take up! It just requires some skills or writing, management, and strategy planning. However, things may be different when you become a Professional Blogger. In this case, blogging becomes your primary source of income, and the way to earn a living. It's not that simple as you expect it to be — there are a lot of things to take care of, from content to SEO and from development to market research. But, wait, wouldn't that be awesome if you can cut off the tension using some of the best Chrome Extensions?
Last time we checked, most professional bloggers prefer Google Chrome to other browsers. So, we thought of coming up a list of the best Chrome extensions for professional bloggers out there. You can use these extensions if you are planning to take up blogging full-time.
60. Be Limitless
To start with, we have a Chrome extension that lets you manage your time effectively. Be Limitless is so cool that it studies your web browser usage patterns and brings the data to you. In your New Tab page, you can see how much time you have spent on several things, such as Search, Social Media, Work, Fun, etc.
You can also get weekly, daily and monthly analysis reports to go on. Another feature of Be Limitless is productivity enhancement. You can set up your tasks and finish them on time, to move with pace. This extension brings you a revamped New Tab page, with inspiring background images, To-Dos, Reminders, and Insights. It will help almost all professional bloggers there, we bet.
Session Buddy for Chrome is one of the most useful Chrome extensions we've come across. It allows you to manage sessions like a Pro. You can save your browser sessions for later access and manage them quickly. This will be an awesome tool for not just professional bloggers, but also for developers and others.
The best part is that it does not consume many resources from Chrome browser. Instead, you can enjoy the whole benefits of easier session management. You can also have an in-detail history of browser sessions you've had. So, even if you forgot to bookmark the bunch of useful tabs, you can have them back with this Chrome Extension.
MozBar is the official Chrome extensions from Moz, one of the most-used services for SEO-based data. By installing this Chrome extension, you can bring the options of Moz into a simple Chrome toolbar. Despite the simplicity, you can do a lot of things using MozBar. And, they are pretty useful when you are into professional blogging. For instance, you can find important SEO Metrics, Keyword Research-based information, etc.
Also, you have the options to analyze your pages, right away from Chrome screen. You can expose page elements, validate Google authorship, create custom searches, etc. In short, MozBar is essential for all professional bloggers and SEO professionals.
When you are a professional blogger, you need to communicate well with a lot of people, especially your clients. But, how do you understand the right way to talk to a person? If you don't know how Crystal for Gmail will help you, the logic behind this Chrome extension is too simple.
Public data about a particular person is analyzed to understand the personality. Right after that, Crystal will suggest the best writing style for communication. This will be an excellent feature when you have to communicate via emails. The best part is that you can use data from multiple social networking sites to analyze one's personality.
Do you write articles for your blog? If you do, you'd love to have a minimalistic interface to write. The writer is an excellent Chrome extension to bring that feature. By installing this extension, you get a clean, pretty-minimal writing interface. It's quite similar to the old computers. And, the tool is called the Internet Typewriter. If not for common blog posts, it would help you to write longer articles and creative ones.
It's fast, not-distracting, customization for fonts and has a bunch of exporting feature. You can even export the written content as text or PDF. Altogether, if you don't want to leave Chrome, Writer will be the best place to write.
Once again, here is a Chrome extension that is useful for bloggers as well as other professionals. Taking breaks is one of the factors that affect your productivity. But, if you are workaholic, you may continue working for a long time. But, if you get Break Helper for Chrome, you can stop worrying about that.
On certain intervals, you will be reminded to take a break and stretch your body. It's based on Pomodoro technique and gives you 5 minutes of break after 25 minutes of working. Of course, you have the freedom to choose from the options or a set a custom time-frame. It does not matter the mode you prefer; Break Helper will help you stay healthy and productive.
66. Rapportive
Rapportive is an excellent Chrome extension that integrates with Gmail interface. Won't that be great if you can get all the required contact info right from Gmail? So, the next time you receive an email from someone, you can track him/her down via Facebook, Twitter or whatever. Rapportive has a huge database of public personal information.
So, if available, you can even find the meeting time, location, job, etc. When you are concerned about client-centric approaches, this tool will help the professional blogger in you. Last but not least, it will help you get your contacts right. It also happens to be one of the best Chrome extensions for Gmail.
To keep your social media profiles active, you need to share superb content there. Buffer is a Chrome extension that lets you post to different social media platforms with a single click. Once installed, you can see a 'Buffer' button near to almost all posts you come across.
The best part about Buffer is that it supports post scheduling. It's fine if you don't want to make the post right now. You can provide the time and Buffer will publish that social media update on time. What's more, you can get on-time analytics for every update you make. In short, Buffer is the best Chrome extension for professional bloggers when they are concerned about social media management and extensive reach.
68. Web Timer
Last on our list but most useful, Web Timer is a Chrome extension to keep track of internet usage. Ever wondered which site is consuming your whole productive day? Or, ever wanted to know whether you spend enough time on new projects? You can do that all using Web Timer Chrome extension. Only install this tool, and it will start monitoring the time you do spend on particular websites.
You can get time-consumption charts for one day, week, month or custom areas. The best part is that the data will be represented in graphs as well. It's so intelligent that the time will be counted only when you are using Chrome browser.
Experts Ideas for Choosing Chrome Extensions for Professional Bloggers:
So, you have the list of 9 Best Chrome Extensions for Professional Bloggers. Most of the extensions are for increasing your productivity and focus. However, there are exceptions like Buffer, which lets you manage social media platforms in easy and better manner. So, make sure that you pick the one right for your needs. As we said, these Chrome extensions are used by most professional bloggers. And, you can try using them, if you like to save some time and be more productive.
Best Chrome Extensions for Smart SEO Experts
Experts say Search Engine Optimization is a game of observation, analysis, and actions! You need to know the trends, top research methods and use your own tactics as an SEO Expert. More importantly, you have to analyze your site continually and its competitors also to get things done. Only then you will be a smart SEO Expert. Thinking that is too difficult? Not when you have some logic and the best Chrome extensions for smart SEO with you. And, of course, you have to shift to Google Chrome — if it's not yet your default browser.
So, we have come up with the list of some effective and popular Chrome extensions for smart SEO experts. When you know how to play the game, these extensions will surely help you get things done easily. We have chosen these extensions in light of our experience as well as expert recommendations. We hope they help.
Links are an essential factor for every website you come across. We are not talking about the external backlinks but also the internal navigations. For better SEO and user-friendliness, your links need to be 100% working. To make this possible, you have to make sure that all the links are active.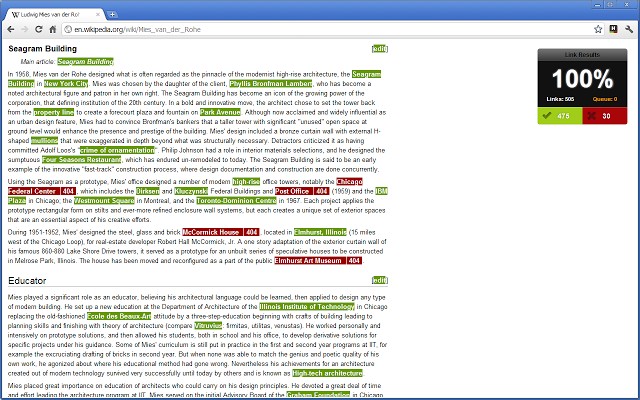 Check My Links is an easy-to-use Chrome extension that does this job. In a single click, this tool will analyze all the links in the active webpage. In seconds, broken links and active links will be highlighted on the page itself. It's a simple, effective and useful extension for SEO Experts when you're into effective link-building.
70. User-Agent Switcher
User-Agent Switcher is an extension for web developers — to find how one website looks in different browsers. In spite of that, a smart SEO Expert will find this extension useful. Just think of this scenario. You need to make sure that a website ranks first in both mobile and desktop devices. If you are using User-Agent Switcher for Chrome, you don't have to take your phone and perform the search there.
Instead, you can simply change the User-Agent and can see exact results you would have seen on a mobile screen. The same can be used for finding platform-specific SEO Errors too.
Analysing your competitors is a must-have task for every smart SEO expert out there. You don't have to rush to such sites every time you need to analyze a site — if you have installed Open SEO Stats for Chrome. When you are in the competitor (or, your own) website, you can just click the Open SEO Stats button. In a small extension window, you can find out a set of SEO-related information.
For instance, there will be Google PageRank, Alexa Traffic Rank, Number of Indexed Pages and some insights on page speed, traffic insights, etc. You also get information on links, backlinks and geolocation identification. In short, Open SEO Stats can fulfill all your data needs.
Want to conduct a short-and-effective SEO Auditing on your website? Well, SEOquake for Chrome is an extension that will help you do that. Nevertheless, SEOquake functions as a fully-fledged SEO Toolbar that you can use for analysis as well as actions. The SEO Audit done by this extension will cover several on-page metrics, internal and external links, etc.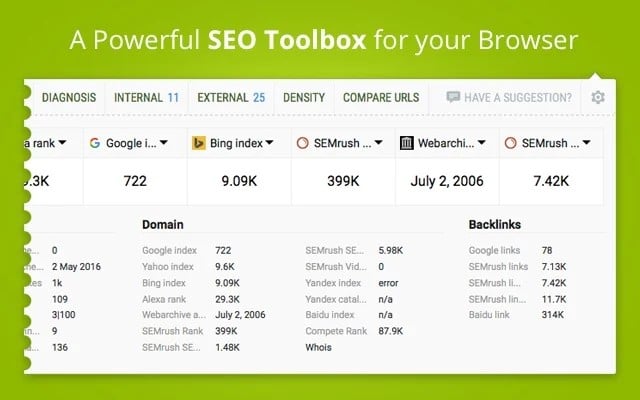 In seconds, you can have a clear idea about the SEO status of your website. And, once you are done, you can export all this data into a CSV File. There are also options for URL Comparisons and other options of diagnosis. Last but not least, SEOquake lets you analyze SERPs, to understand keyword difficulty and other important metrics.
SEO & Website Analysis is a good choice if you like to have a compact overview of all the required SEO-related info. Unlike the other tools for the same purpose, SEO & Website Analysis gives equal emphasis for Mobile and Local aspects too. That is, in the shortest time, you can have all the necessary information.
If we go deep into the extension, there's a lot of stuff we can track. For instance, in the Visitors section, you get to know the traffic estimates, traffic rank, AdWords Traffic, and Localization info. In SEO Keywords section, you can have the Keywords Cloud and Google Ranking. In short, SEO & Website Analysis is a comprehensive SEO tracking suite.
Every website requires a specific type of SEO Approach. To finalize that approach, you should understand some technical details of the site. For instance, without knowing whether the site is running on WordPress or Joomla, you can't take the right actions. Also, in some cases, you may need to know the advertising networks and CDNs a website is using. Well, of course for competitor analysis.
BuiltWith is the best Chrome extension for smart SEO experts from that perspective. In a single click, you can know about the under-the-hood details of every website you visit. Going deep into the details, BuiltWith is also bringing information on the hosting software, frameworks, etc. So, this extension is useful for SEO Experts as well as developers.
As a smart SEO Expert, we hope you know about no-follow links and do-follow links. Given that both are important; you should be able to understand whether one link is do-follow or no-follow. If you have installed the NoFollow extension for Chrome, it's just a click away. In a single click, you can find both kinds of links on one page. In fact, no-follow and do-follow links will be highlighted by different means.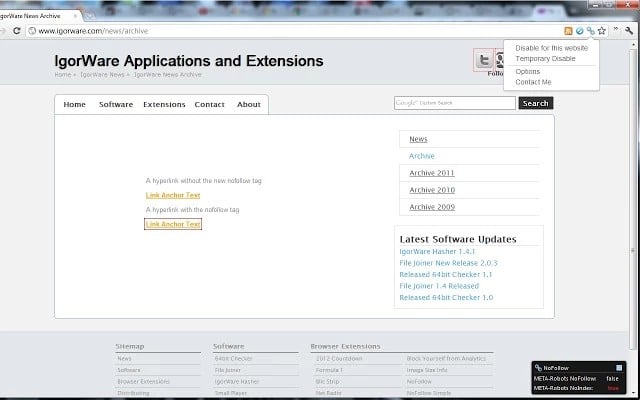 So, in the end, you can know which link you should keep. NoFollow is offering some basic customization — as to how you should see all this information. In short, it takes the job of source-code-check from your SEO check-list, which is a good thing.
Well, we now have a Google-powered extension for page analytics. The extension works in a simple way. You don't have to open the Google Analytics dashboard to find information about the website. It will be visible when you load the website on Chrome. So, if you spend a lot of time in examining and optimizing your website, this should be an effective extension to check out.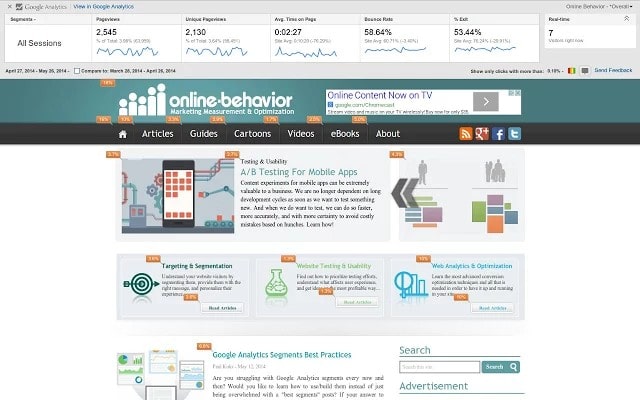 Just as the complete service, Page Analytics by Google will let you get insights on user-experience, conversion, and basic traffic details. You can also get to know the Real-time active visitors, bounce rate, page views, unique visitors, etc. All this data has been organized in the best manner, on top of the website content. So, it's a must-have for site owners and SEO experts.
To end our list of best Chrome extensions, we have Link Miner. Link Miner is a broken link checker, but there are a bunch of additional features. This extension does not only tell you whether a link is broken. It also gives advanced insights such as social data.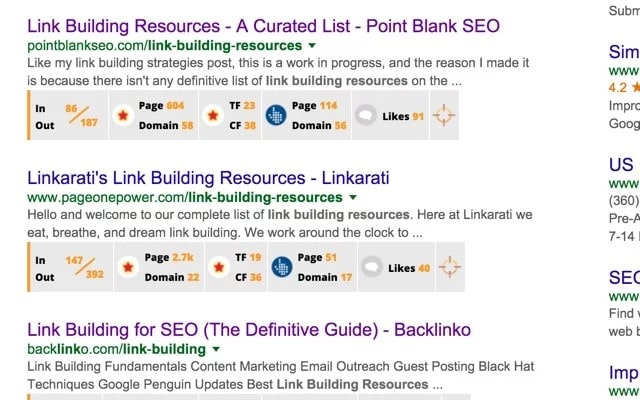 And, you can export the data directly into different formats, for later uses. Such data will be visible on SERPs as well so that you have options for enhanced tracking. Combining all these, Link Miner will help almost all SEO experts to get things done with website links.
Experts Ideas for Choosing the Best Chrome Extensions for Smart SEOs
So, these are our recommended Chrome extensions for smart SEO Experts. Although not always, these extensions will be of help in some instances. For example, Link Miner and Open SEO Stats are always worth-keeping in your Chrome browser. You may, all of a sudden, need the help of such SEO-based information. Keeping that in mind, you should try to have at least a few of these extensions when you are into the SEO gameplay. All these extensions are trusted, and you don't have to worry about accuracy.
The Pro Review from TechReviewPro
Google Chrome browser packs itself with full of amazing extensions which are of best utility and all together make your browsing experience incredible. However, it is worth noting that loading your chrome browser with tons of extensions will ultimately slow down your browser and even system may start un-responding.
Do let us know, which Google Chrome extensions are you using? Want to add your favorite extension in this list of best chrome extensions? Use the comment box below.
Also Read: