When you find a difficult word while browsing the web, all you have to do is search its meaning on your favorite dictionary website and you will have the answer. It's good, but don't you think the process is a bit tiring? You have to completely lose the focus from your work and search the word in a separate tab by opening a specific dictionary. If you are not comfortable with this, then we have a great solution for you.
You can download a dictionary extension for your specific browser, which will let you search for the word's meaning right on the web page. Dictionary extensions use different online dictionaries to search the word and provide details in a simple dialog. All you have to do is double-click on the word and click on the extension button, and you will get its meaning.
Checkout: Top 5 Best Offline Dictionary Apps for Android Users
9 Best Browser Dictionary Extensions to Find Words Meaning Online
In this article, we will list down the best dictionary extensions for Chrome, Firefox, Safari and Opera. Each extension uses a different dictionary and offers a bit different type of information, so choose your extension according to your requirement.
1. Google Dictionary (Chrome and Firefox)
Google Dictionary is by far the best dictionary extension for Chrome and Firefox. As the name suggests, this extension is provided by Google and it uses the standard Google search for finding the meaning. It has support for up to 13 languages and can translate the word as well. You can check for meaning, synonyms and example sentences.
It is also quite customizable with the ability to set trigger keys and word selecting method. Additionally, you can allow it to create a history of all, the word you have searched, which can also be downloaded to keep it with you.
Get it on Chrome and Firefox
2. TheFreeDictionary.com Extension (Chrome)
This is another great extension for Chrome that uses TheFreeDictionary.com data to search for the meaning of the word. It is quite convenient to use and offers multiple ways to search for a word. You can double click on a word or highlight it to find its meaning and use in sentences. Furthermore, you can also search for words from the context menu (right-click menu) or using the extension button.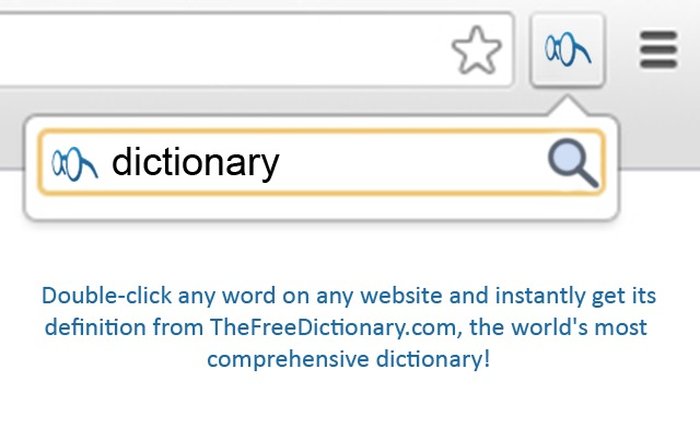 It has a huge database of dictionaries, including special ones as well, like financial, medical, legal and idioms, etc. Just like Google Dictionary, it should be able to handle every word you throw at it.
Get it on Chrome
Also Read: Electronic Signature in Word: How to Insert Digital Signature in Word?
3. Dictionary Pop-Up by Dictionary.com (Firefox)
A great extension offered by Dictionary.com. It uses the huge database of Dictionary.com and thesaurus.com, and offers a complete definition with examples. It also shows synonyms, right inside the pop-up bubble, and if you would like to hear the word, you can click on the microphone button to listen to it.
You can completely customize the extension from the options menu. You can customize fonts, bubble position, trigger keys, trigger method and the total number of definitions. If the information wasn't enough, you can also click the "More" button to go to the main Dictionary.com site and access all the information.
Get it on Firefox
4. Multi Dictionary Lookup (Firefox)
Multi Dictionary Lookup is perfect for people who look for words meaning over different dictionaries. Different dictionary websites offer different definitions and interface for displaying information. If a single dictionary website can't fulfill your needs, then you should try out Multi Dictionary Lookup that will combine the most popular ones at one spot.
All you have to do is right-click on the selected word and select your desired dictionary from the list. You can access all popular dictionaries, like TheFreeDictionary.com, Bee Dictionary, Babylon, Urban Dictionary, thesaurus.com and more. The information provided depends on the specialty of the dictionary selected.
Get it on Firefox
Also Read:- 13 Best Firefox Add-ons for Better Browsing Experience
5. Dictionary (Safari)
Dictionary is a very simple extension for the Safari browser. It lacks a lot of features that most other extensions offer, but on the Safari browser, this might be the only one that is worth trying. Just like other extensions, you can double-click on a word and you will see a bubble on top of it. You will see a complete definition of the word and along with a link to the Wikipedia page (if available).
It will either use the standard dictionary to provide the definition or use details from Wikipedia to explain the word. If you are a Safari user, then this can be a good choice.
Get it on Safari
6. Dictionary (Google Translate) Anywhere (Firefox and Opera)
A multi purpose extension with a very responsive interface. This extension uses the Google search power for all the words, but it puts all of it in one little bubble. The main purpose of the extension is to translate words using Google Translate, but it also shows the word´s definition along with detailed examples.
You can also listen to the input word right inside the bubble, and this applies to all the supported 90 languages. Furthermore, you can also share the selected word via emails, SMS, Google+ or Whatsapp.
7. InstaWord (Opera)
InstaWord is a simple extension and a bit limited as well when it comes to features. However, it offers one of the most comprehensive details about a specific word. It works from the toolbar, and you can click on its button to start searching for words without leaving your current page. You can also select any word on the web and then click on the InstaWord button to import the word inside its interface.
When you will search for a word, you will get a complete definition, examples, synonyms and related words as well. Additionally, these categories are separated by Adjective, Noun, and Verb. If you have no problem with less convenience and want something that just answers all your problems, then InstaWord is a great choice.
Get it on Opera
Also Read: Top 7 Best Free Grammar Checking Tools to Check Grammar Mistakes
The Pro Review From TechReviewPro
Online Dictionaries are a great way to improve your vocabulary, but searching for words on the main website isn't that convenient. You can use the extensions mentioned above for your default browser to get the main functionalities of dictionaries, right on the web page without any distractions.
We have covered the most popular browsers in this post, so you should be able to find a good extension for your browser. If you know any other good dictionary extension that is worth mentioning, let us know in the comments below.
Don't Miss:-