A PC consists of dozens of hardware components, and each of them serves a different purpose. Your PC does have the option to see some basic information regarding CPU, GPU, RAM, Sound and few other essential components. However, what about all the components of the PC and detailed information about each one of them? Well, this is where a third-party system information tool will let you check complete information about your PC and take actions according to it.
There can be many uses of the system information utilities like you can give these details to a technical assistant to help them gain more information regarding your system and offer support according to it. Furthermore, this can also be helpful to create a list of all the components and types before you list your computer for sale.
Check out: 7 Best Data Backup and Recovery Software for Worst PC Crash
7 Best Free System Information Utilities to Check Complete System Information
There are many system information utilities available in the market that will let you see detailed information about your PC's system. This information is a bit different from tool to tool, as all tools have a different focus and a different interface. So you need to find the right tool that will offer the right information for your needs and also in an interface that you are comfortable with. That is why we have created a list of 8 best system information utilities to help you find the perfect tool for your needs.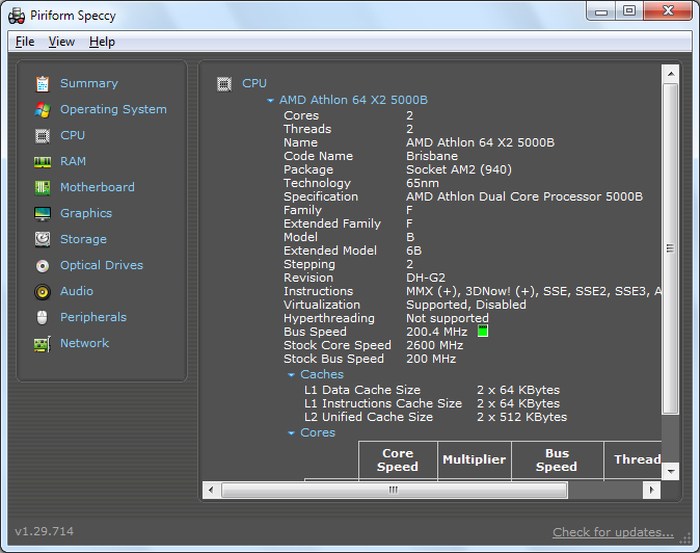 Speccy comes from the renowned software company Piriform who are also the creator of popular CCleaner and Recuva software. Just like other tools, Piriform also created Speccy to offer detailed information in a very simple interface. It comes with a summary section where you can quickly see some necessary information regarding all the important components of the PC. You can see information regarding Operating system, CPU, RAM, Motherboard, Graphics, Storage, Optical Drives, Audio, Peripherals and Network.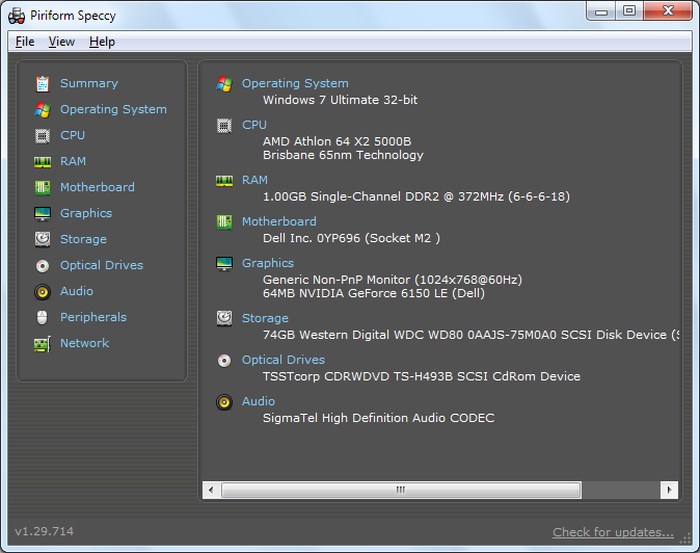 Clicking on each component opens up complete details about it, including the hardware installed, memory and capability of the component. The information is in real-time so you can easily see changes to them in real-time, like RAM usage, network speed and changes and temperature, etc. You can also send the generated to an XML or TXT file for later reference or create an online link to share all the generated data easily online with anyone.

ASTRA32 is another very comprehensive system information utility tool that offers loads of information in an easy to gulp manner. Although it is not as simple as Speccy, but in my experiments, it provides more information with subheadings to easily access what you need. It summarizes all the components well and provides subtitle to see the required information.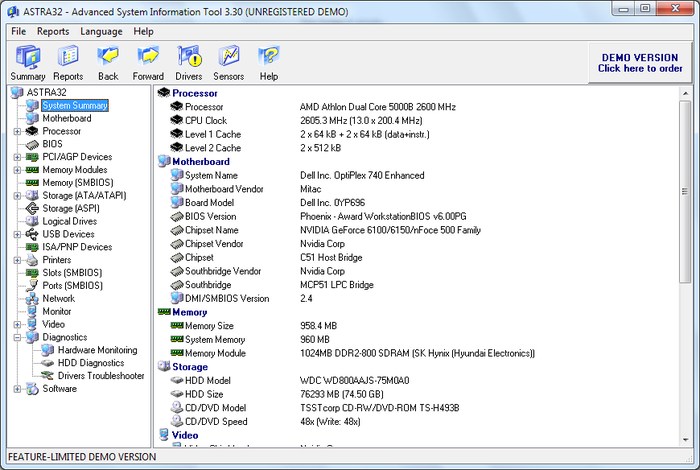 Apart from regular information, it also contains information regarding, BIOS, PCI/AGP devices, ISA/PNP Devices, Printers, all software details and multiple storage types.  It also has a dedicated real-time information section to see all components that depend on real-time information. Additionally, you can save the generated information with complete control over which information to keep and which to skip. In my opinion, ASTRA32 is a better option for advanced users who need more information with all the details.
I will not recommend this tool for any novice user, not because it is complicating (which it's not) but for the massive amount of information it is capable of throwing at you. It has seven component options located at the top, including Hardware info, Data Storage, Memory, System Info, Network, User & Security and Development. Each option has dozens of components on which you can quickly gain information regarding your PC. If the information you need belongs to any of these seven principal components, then surely, Kiwi System Info will be able to provide details about it.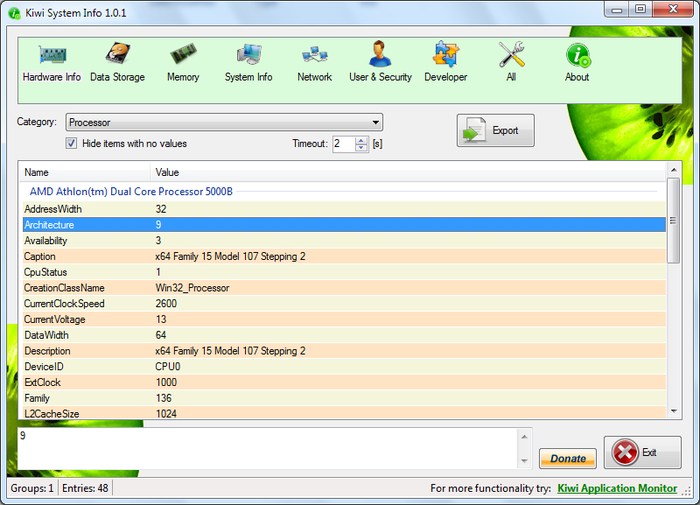 It can be a little confusing to pinpoint to the right information, but if you have enough knowledge about a PC, then it should not be a problem. As all the data is separate into dozens of subheadings, it is also easy to export the required data to a txt file instead of creating a log of all the data. If you can't find the necessary information in the other system information utilities mentioned in this list, then I will recommend you to at least try Kiwi System Info.
Belarc Advisor is a small system information tool that is easy to use, but doesn't offer as robust information as other utilities in this list. The purpose of Belarc Advisor is to check the security of your system and provide information that is related to software and hardware stability and safety. All you have to do is install the system information utility and launch it. It will automatically start scanning and show the results in a browser window.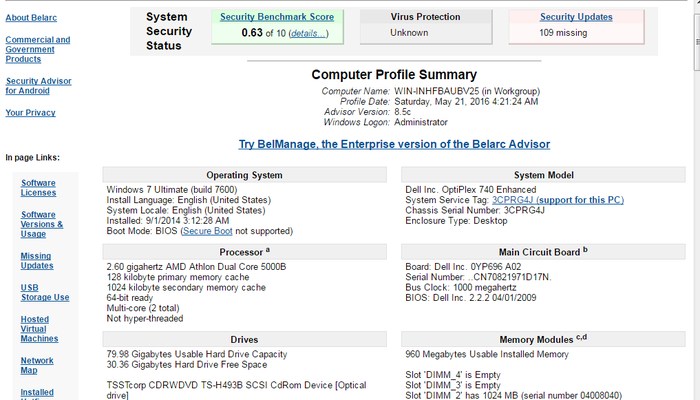 At the top, you will see a quick benchmark score of your system security based on many factors along with virus protection and Updates. Below you will see details regarding your PC hardware, including OS, CPU, Motherboard, Drives, Display, Network and few other necessary information. However, what makes Belarc a system information utility tool worth considering is its check on security components. This includes all the required Windows update names, software licenses, hotfixes installed and unused software.
A robust system information tool that offers all the information that you may ever need and also comes with some handy side tools. Just like other system information utilities, it also comes with a quick system summary where all the relevant information regarding each component is available. You can click on the top menu bar to cycle between different hardware and software components and see complete details about them. Some of the less common information includes personal information, BIOS info, developer info and installed programs info.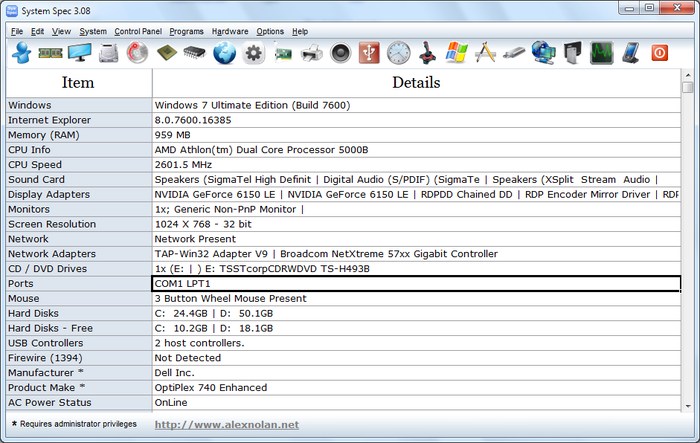 It puts many of Windows features and settings right inside its interface to make it easier to access them without confusions and to go through the different options. Many of the Control Panel folders are listed here, and you can also use the other important features of windows like Run, Task Manager, Group Policy, Device manager, scan disk, System file checker and dxdiag, etc.
This system information utility tool comes from the famous ESET software company known for their security solutions and antivirus program. Of course, like other ESET software its focus is also on security and the information it will list will also have the connection to security. The interface is beautiful and straightforward. There is a filter on top that you can adjust to see only the components that are at risk. It gives system information regarding the apps running currently, Registry entries, Drivers, OS, CPU, RAM, running services, Network and Critical files that are essential for the system, etc.
You can also configure SysInspector to show full, medium or just basic details about the system. It is handy when you don't want to deal with clutter and just access necessary information you need (good for newbies as well). It doesn't offer much useful information regarding your hardware like other tools, but its security check and software information is invaluable.
I am not going to say it's one of the most powerful system information utilities or offers all information you will ever need, but whatever it offers is worth mentioning it. It provides basic information about Motherboard, processors, OS, Bus, Memory, Display, Audio, Drivers, Network and Ports. However, it offers an excellent summary of the hardware components that makes it easy to get an overview of your system.
Furthermore, it has a "Sensor" feature that lets you see real-time information of all the sensors on your PC. For example, voltage, CPU usage, Virtual Memory status, Memory Clock, Temperature, GPU stats, Network stats and more. You can also benchmark processor, memory and disk speed and then compare it with almost all of the Intel devices to see where your PC stands.
Also Read: Top 8 Best CPU and GPU Overclocking Software Programs
The Pro Review From TechReviewPro
Keeping up with your PC's system information is handy, and you can solve many problems if you know what your PC comprises off. I have found Speccy to be a perfect system information utility tool for an average user due to its simple interface and robust information. Although, Kiwi system info should not be overlooked if you are tech savvy enough and need all the information regarding your PC's hardware.
If you are conscious about the health and security of your PC, then ESET SysInspector and Belarc Advisor are also a good option to give a try. What system information utility do you use for gaining information regarding your PC? Let us know in the comments.
Don't Miss: