Nowadays, advertisements are everywhere – ranging from newspapers, TVs, hoardings to now on the internet and mobile phones too. While for many start-ups and developers, the ads may be one of the sources to make bucks and may also be served as a source of information to some users but not everyone enjoys advertisements. Technically for many businesses, advertisements are a medium to increase sales or spread awareness about their products.
But just like "Too many cooks spoil the cake" too much of ads can disturb user's browsing, gaming or any other experience. Since it is not a pleasant experience to close the advertisement every time it pops-up, the best preventive measure can be to install an Adblock app. Same goes for blocking ads on Android devices also. Moreover, the form of ads has enlarged from simply texts and banners to push notifications and much more.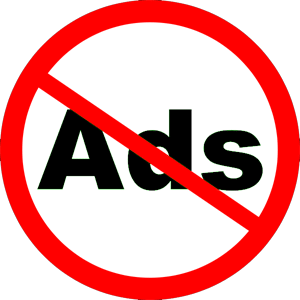 So, a perfect Adblocker app identifies all types of ads from various sources or hosts to block them subsequently. One more upside of blocking ads is that the user's Android device can be safe from malicious and insecure stuff.
Check out: 5 Best Free Mobile Security Apps to Keep Your Android Device Safe
8 Best Ad-Blocker Apps for Android to Block Ads
Below is the list of best Adblock apps for Android devices that can be quite easily installed. By the time, you'll be reading this; some (or none) of these Adblocker apps for Android will be available on Google Play Store. Google has removed all of Android adblocker apps from Play Store due to "interference with another service or product in an unauthorized manner."
Before you install any Android Adblocker App:
For many people, ads are the lifeline to survive and fulfill their daily lives needs. Reading news, learning interesting how-to guides, accessing free articles, downloading freebies – No matter for what purposes you access any website/blog, Installing an ad-blocker app on Android device means: you are unknowingly affecting earning of those hard working people. So it's a good idea to avoid installing adblocker apps to help support your favorite blogs for all the hard-work they do to bring interesting and useful stuff for you.
Disclaimer: Installing Adblocker apps may also affect the working and functionality of websites. So install ad blocker apps at your own risk. TechReviewPro won't be responsible for any effect caused by adblocker apps on your device.
Adblock Plus for Android is a free ad blocker app for android devices that can enhance your browsing experience. The app works in the background and filters all the advertisements. The installation and configuration of the app differ from device to device.
Additionally, the app comes with distinct functionality for rooted and nonrooted Android devices. To simply explain, if the device is rooted the app filters all the traffic out of the box. On the other hand, the app comes with distinct functionality for each version of the Android operating system. However, regardless of the distinctions, the app comes with an installation guide.
Check out: 11 Best Business Card Scanner Apps for Android Users
2. TrustGo Ad Detector
TrustGo Ad Detector is certainly a dual app for Android. The app blocks ads that various apps may display via most common advertisement networks. Hence, by blocking ads, the app also keeps up the privacy of the users to prevent data and identity leaks.
TrustGo Ad Detector being a part of TrustGo Antivirus and Security family, can recognize ads from more than 100 different networks and block them accordingly. Moreover, the users can tweak the configuration of the app as per their convenience with the app's sleek user interface.
Also Read: How to Lock Apps on Android? – Top 5 Best App Lock for Android
AppBrain, as reflected in the name is a free Adblock app for Android devices with an inbuilt virtual brain that is smart enough to detect ads. The app is capable of detecting a variety of advertisements like – Push Notifications, Desktop icon spam ads and apps with privacy concerns.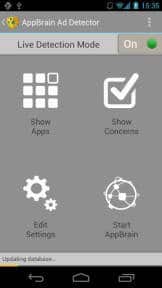 Along with identifying ads, the app also tells you the source from where they come i.e. the concerned ad network like – AdMob, ChartBoost, TapJoy and a few similar ones. Additionally, the app also explores whether the other apps have SDKs like Facebook, Twitter, etc.
Also Check: 6 Best Currency Converter Apps for Quick Currency Conversions
Adaway is a free open source ad blocker for Android that chases all the ads away. However, this app does require your phone to be rooted. The app is straightforward to use with its simple yet impressive interface.
The basic technique that the app follows to block the ads on Android is – this Adblock app uses the host's file that contains a list of mappings between host names and IP addresses which direct the ads that the user encounters while browsing or playing games. Ultimately, after getting all the significant information, the app blocks the ads without any lags.
Read: 7 Best Call Blocker Apps to Block Calls & Text Messages on Android
5. NoRoot Ad-Remover Lite
NoRoot Ad-Remover Lite is yet another Adblock app that does not necessarily require your device to be rooted. The app is capable of detecting and resisting almost all kinds of ads. The app comes with premium as well as free version. You may choose the version – free or premium as per your requirements.
The free version of the app blocks ads on two apps only. To block ads on additional or more than two apps, the users can upgrade to Pro version at an affordable cost ($3.99 only). To be true, the app does come with some restrictions as it works for limited apps only like – Temple Run, Angry Birds and much more.
Also Read: What are the Best Free No WiFi Games to Play Without WiFi?
Ad-Vanish is a free Adblock app for Android that works on rooted as well as non-rooted Android devices. The app comes with a bit expertise in removing ads from apps like – Temple Run, Where's My Water, etc. Ad-Vanish works with offline gaming apps that may show some irritating advertisements in the presence of a data connection.
Once you have monitored any app with Ad-Vanish, say Angry Birds, the app will automatically keep an eye on the app and toggle the connection to its initial state. Just like the previous app, the lite version of this app also works on two apps only. The users can upgrade to premium version to restrict ads on additional apps and to get access to some other features.
MinMinGuard Ad Remover is a good free Adblock app for Android. Alike all other Adblock apps, this app also restricts ads from various apps. However, the app also utilizes the extra space that is conventionally reserved for apps. Further, the app is an open source app whose code can be found on Github Repository.
The app also boosts your Android device's performance as unlike other Adblock apps; this app does not use any VPN (Virtual Private Network) service thereby saving the battery also. Additionally, this app also comes with per-app settings letting the users block ads on specific apps as per their wish.
8. Adfree Android
Adfree Android is yet another free Adblock app for Android phones and tablets. The features and worthiness of the app lies in the fact that BigTinCan.com has developed the app. The app can block all types of ads that arise with the use of browsers and apps.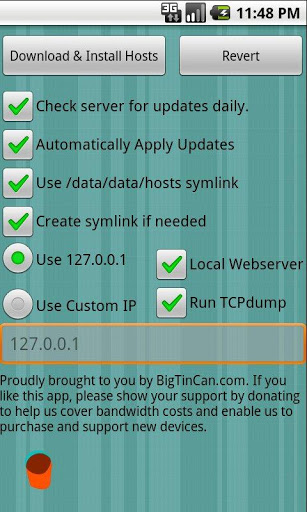 The app implies the following concept to block the ads – it abolishes all requests to unknown host names serving ads. Moreover, the users can tweak a lot of its primitive settings with one of them – tweaking IP (Internet Protocol) address. The users can decide whether to use the default or custom IP address.
See: Top 125+ Best Free Proxy Sites List – Free Proxy Server Lists 2016
The Pro Review from TechReviewPro
So, the above is a list of free Adblock apps for Android that can efficiently block advertisements off your Android phone or tablet. Though initially the installation of a few of the apps as mentioned above may turn out to be a bit difficult task, once the apps are installed blocking ads won't take much time. Further, if you face any issue with installation or using these apps, feel free to comment below or contact us.
Don't Miss: