No matter if you are a filmmaker, a cinematographer, or a video content creator, you often require software to enhance the quality of your videos.
Of course, creating videos is one thing, while, enhancing the quality of the video is another. It might seem easy, but it's not. You need to consider several aspects in your mind, and this is where AI video upscaling software can help you out.
What AI video upscaling software does is help you out with enhancing your videos without letting them lose the natural touch by any means.
You won't be running out of options when you are looking for AI video upscaling software, but not every software will cater to your requirements or deliver you the desired output. Well, I have tried a lot of them, and I think I can help you out a bit here.
Also Read: Top 10 Best AI Video Generators to Make AI-Generated Videos
Top 10 Best AI Video Upscaling Software for Upscaling Videos using AI
I have enlisted and explained the features of some of the best AI video upscaling software below. Do read them out, and see which software can help you give your videos the shape of perfection.
Let's dive into some of the best AI video upscaling software that you can count on to upscale your videos effectively, below.
Canva has various amazing tools in its arsenal and the Video Enhancer tool is one of them. The software offers multiple applications and upscaling videos is one of them. Due to its simplicity, the Canva Video Enhancer tool is obviously the first choice of numerous people when it comes to enhancing video quality.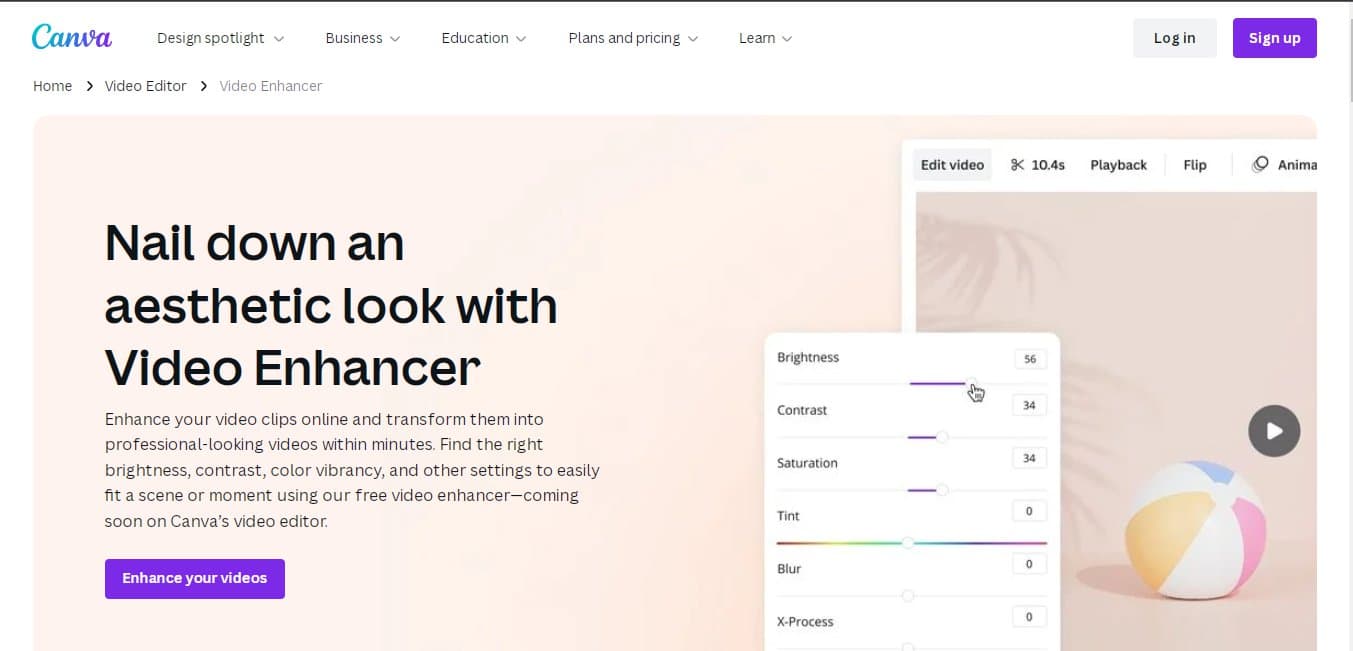 Features of Canva Video Enhancer:
a) Along with video upscaling, Canva allows you to add various amazing effects to your videos. These effects can largely improve the engagement rate of your videos to a good extent.
b) With the Canva video enhancer tool, you can personalize each frame of your videos. You get entire control over the extent to which you wish to personalize your videos.
c) Video enhancement is never a one-size-fits-all thing. The approach does vary from person to person, and the Canva video enhancing tool understands it completely. Hence, it has introduced the features accordingly. These features can cater to almost every requirement of content creators.
d) Yes, Canva is a mighty platform, but you won't get lost here. The interface of this online video upscaling tool is just amazing, and you won't feel overwhelmed by the number of features that Canva offers.
HitPaw Video Enhancer is yet another reliable AI upscale video software option on which you can count to upscale your videos with ease and with the utmost flexibility.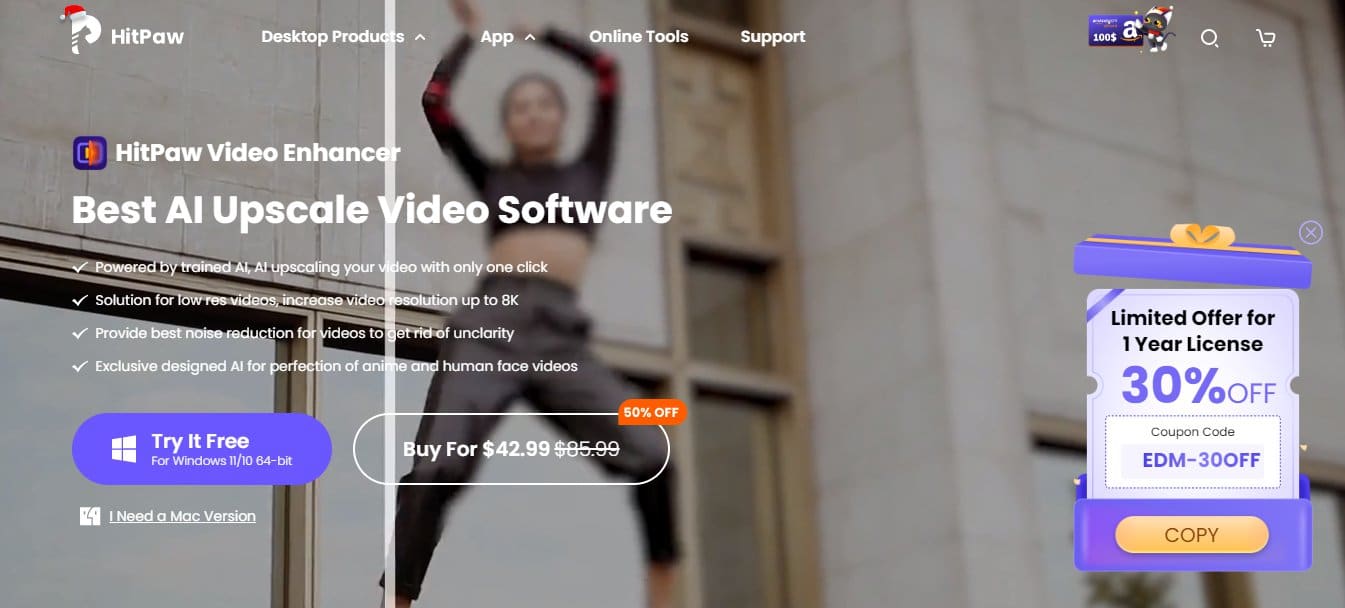 Features of HitPaw AI Video Upscale Software:
a) If you have a low-resolution video, you can count on HitPaw video enhancer software to increase the video resolution. The AI upscale video software is primarily popular for the same.
b) Be it noise suppression or batch conversion, HitPaw video upscaling software is one of the best options to cater to your requirements to the fullest.
c) HitPaw video enhancer offers numerous video editing techniques and features too. You can use them to edit your videos and make sure that your videos look amazing.
d) Using the HitPaw Video Enhancer, to enhance and upscale videos, is quite easy. The software comes with a clean user interface, which makes the video upscaling easy for you to a good extent.
Pixop is an AI-powered video enhancement software that is one of the top-rated AI-powered video upscaling software that you can effectively use to upscale your videos and remaster them.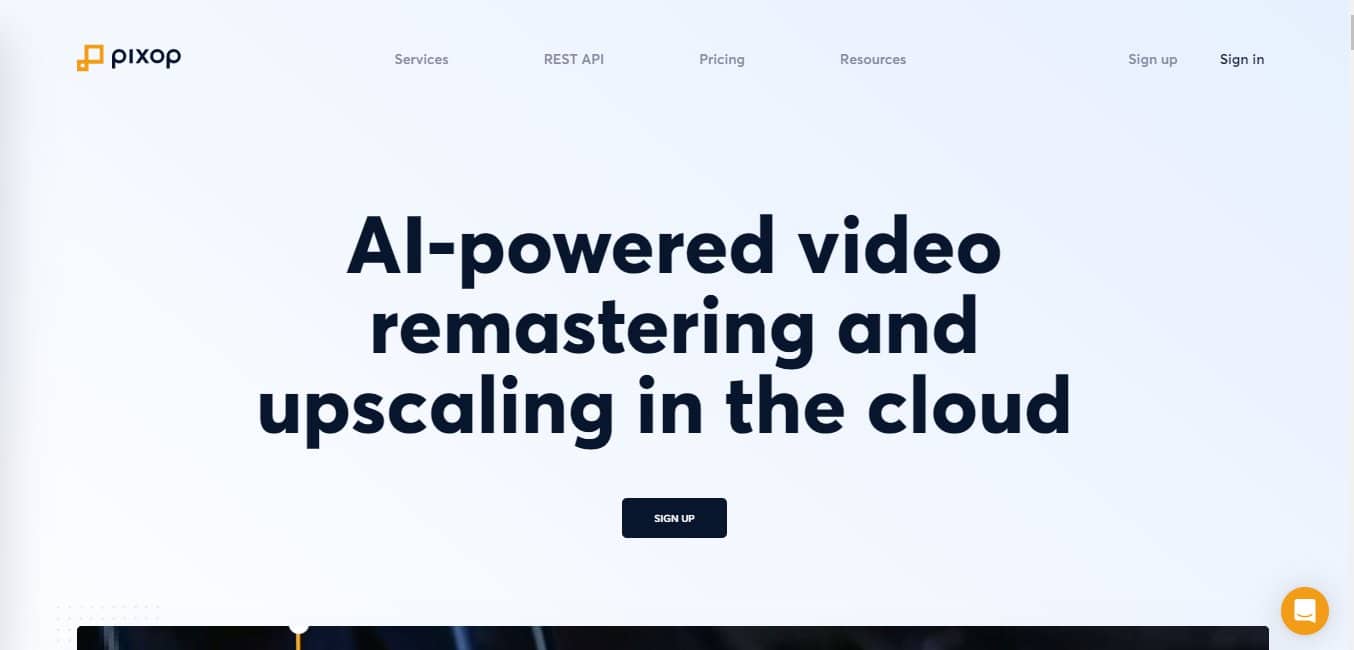 Features of Pixop AI-Powered Video Enhancement Software:
a) The advanced AI that Pixop uses to enhance your videos make them look sharper and more detailed. It naturally makes your videos look amazing.
b) The software integrates with several advanced third-party applications that can make the video editing process a breeze for you.
c) Pixop is extremely efficient in terms of speed. You will see results within a few seconds, which means a high user experience here.
d) Lastly, using Pixop video enhancement software to upscale videos is quite easy. Even if you have little technical knowledge, you will be able to upscale videos without any difficulties here.
Be it SD to HD, 4K to 8K, or giving your videos a detailed view, Topaz AI video upscaling software can make things easy for you to a good extent.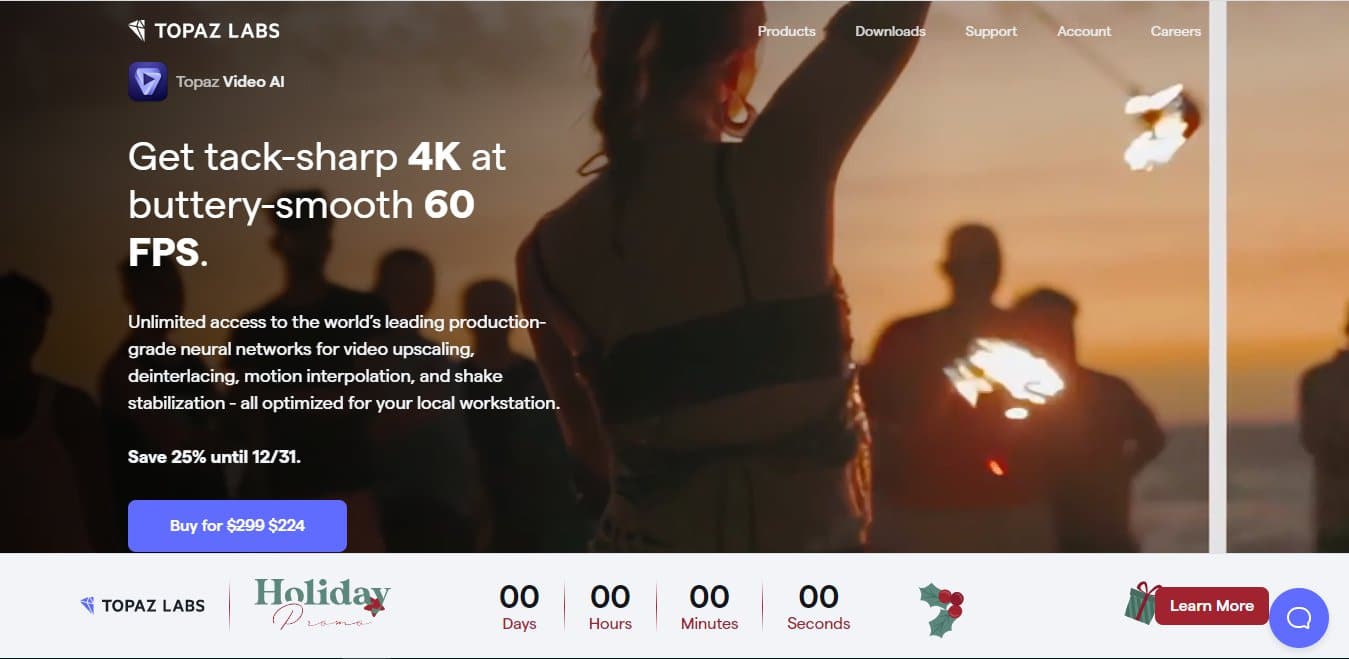 Features of Topaz Labs Video AI:
a) Topaz video upscaling software supports batch video processing, which saves both, time and effort for you to a good extent. You can work on and upscale multiple videos at a time.
b) Be it enhancing the video quality, restoring footage, recovering noisy videos, suppressing noise, or anything, you can count on Topaz Lab's video AI software to cater to your video upscaling requirements to the fullest.
c) The AI video-enhancing software comes with multiple applications. When you select it to do the job right for you, you save yourself considerable time and cost in terms of finding and using other software.
DVDFab Video Enhancer AI is the next video upscaling software that not only helps you with upscaling the video, but also improves the image details and enhances the overall video footage. Your video completely looks natural and of top-notch quality when you use DVDFab video enhancer to upscale it.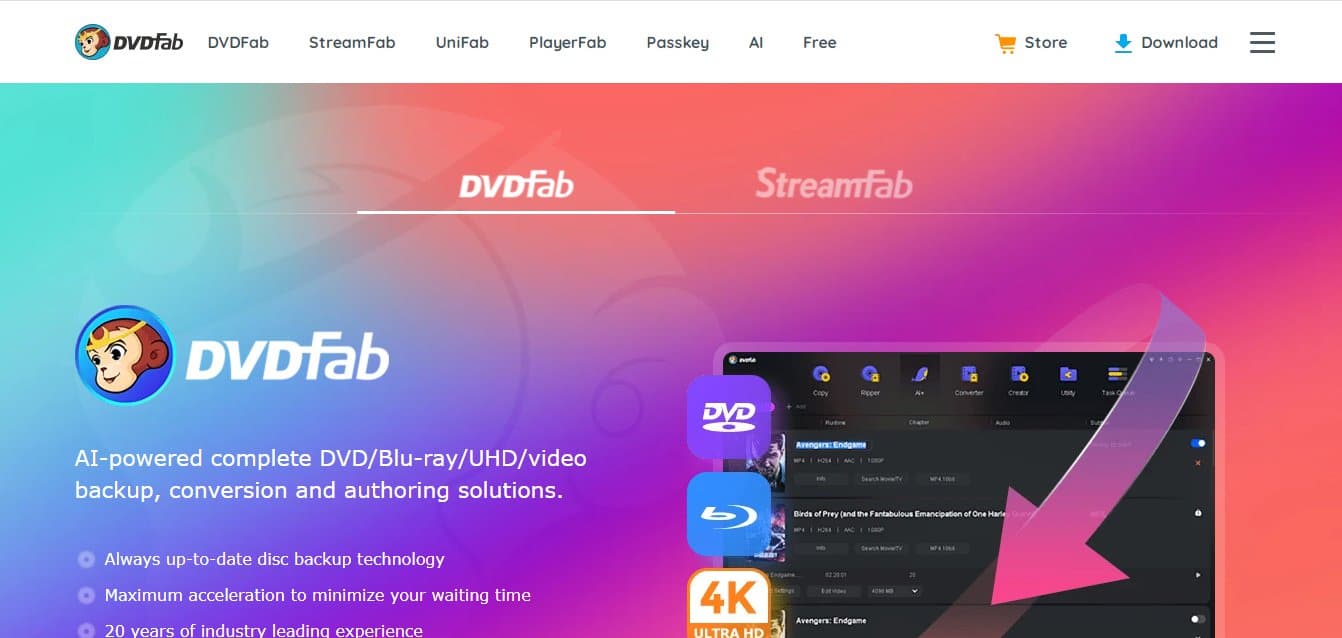 Features of DVDFab Video Enhancer AI:
a) DVDFab Video Enhancer software uses machine learning to identify the issues in your video. It actually increases the chances of high-quality output to a considerable extent.
b) The software supports a large number of input and output formats. Hence, you need not worry about the format aspect at all.
c) Even though the video upscaling software offers advanced features and amazing results, it is quite reasonably priced. I feel this is one major benefit of DVDFab video enhancer AI, specifically, for people just starting their work journey.
Vidmore video enhancer software tool allows you to enhance dark videos by adjusting the brightness and contrast, reducing video shake, denoising videos, and much more.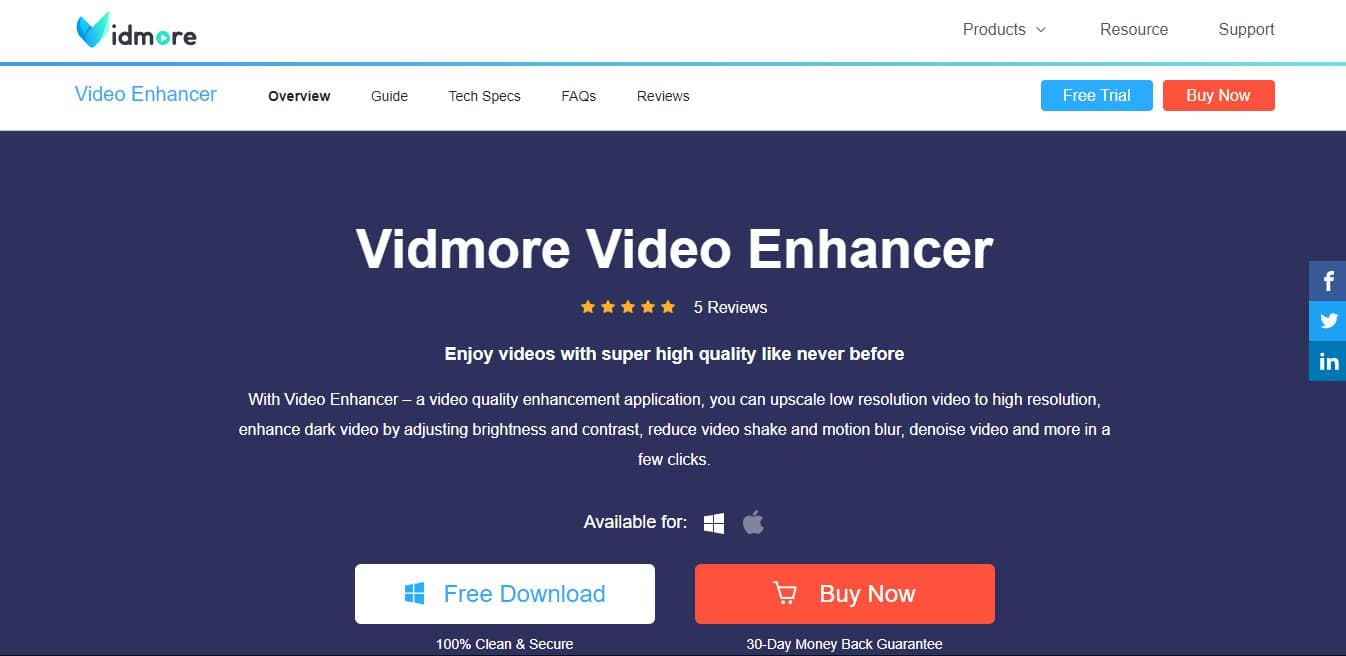 Features of Vidmore Video Enhancer:
a) Vidmore allows you to enhance your videos in numerous ways. As mentioned, you can adjust brightness, contrast, etc., and make sure that your videos look good.
b) You can use this video-enhancing software to remove unwanted noise from your videos too. Noise can degrade the overall quality of the video, and Vidmore can help you prevent the same.
c) Enhancing videos with Vidmore video enhancer software is just a 3-step process. You really not do invest a lot of time or effort to make your video look good with this software. Hence, if you are a beginner, or don't have a strong grip on technology, Vidmore is an ideal choice to begin your journey with.
Aiseesoft video converter ultimate, primarily popular as a video converter, is also a reliable video enhancer tool. You can use Aiseesoft to convert HD and SD videos to 4K. Aiseesoft is a quickly growing software that has been providing amazing services for a while now.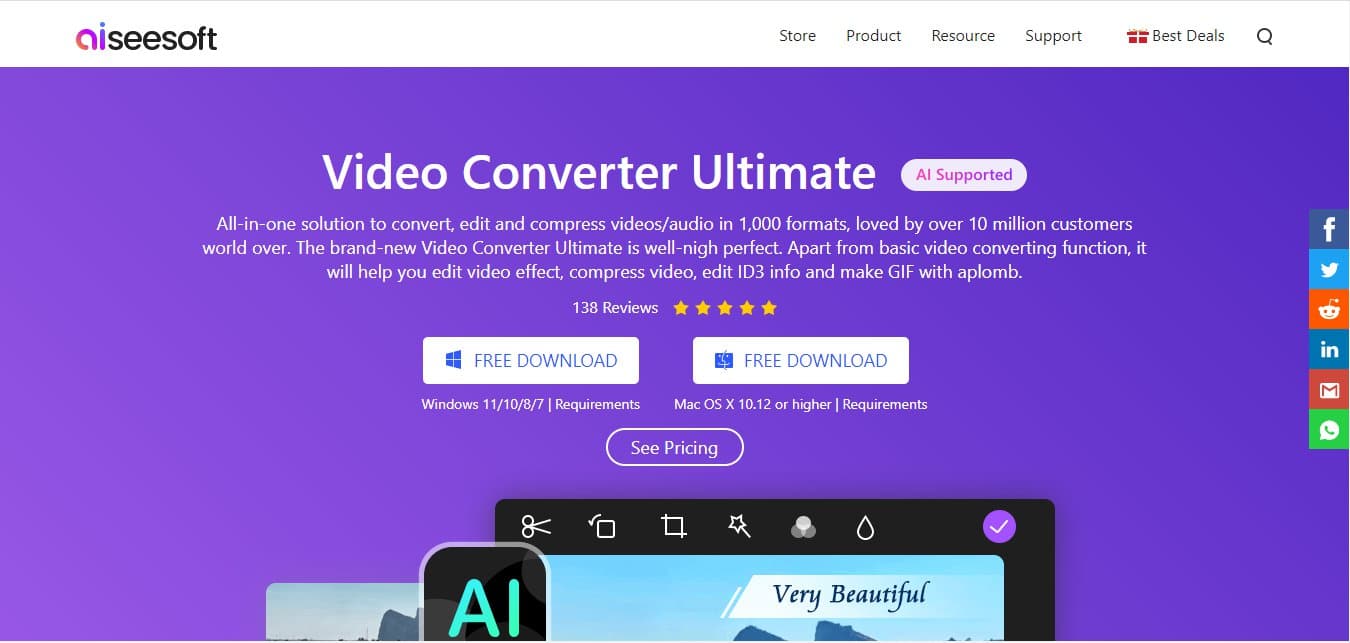 Features of Aiseesoft Video Converter Ultimate:
a) Aiseesoft video converter provides numerous powerful and advanced editing features. Along with video upscaling, if video editing is your requirement, Aiseesoft won't disappoint you.
b) The video-enhancing software does support batch processing. This implies that you can work on multiple videos at the same time, and hence, save your time and effort considerably.
c) Be it brightness, contrast, or any other aspect, the Aiseesoft video converter gives you the entire control over editing aspects of your video. You can exactly control how your video will look.
iSize gives you multiple reasons to go with it when it comes to upscaling your videos. The video encoding software uses an advanced and efficient algorithm that guarantees excellent results for you.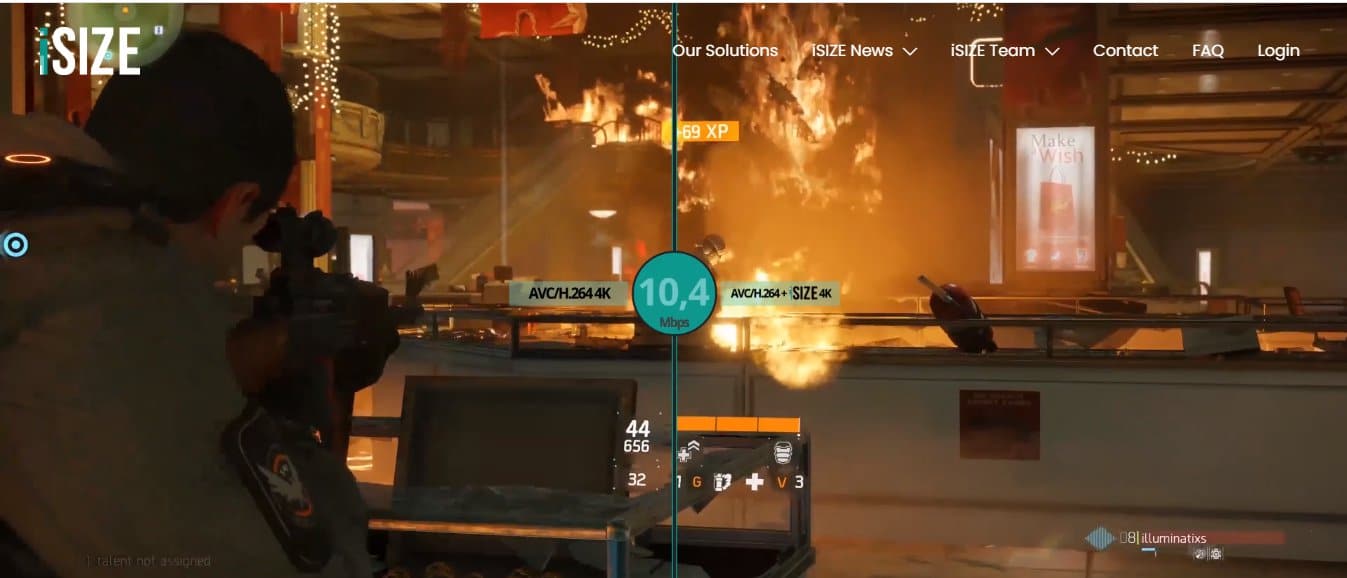 Features of iSize:
a) iSize uses an advanced algorithm that makes your videos look detailed and sharp. Moreover, it keeps on advancing the algorithm, which keeps on bringing the best results for you.
b) In case, you aren't satisfied with the quality of output with iSize, you can just start it again. The output keeps on getting better and better with this software.
c) iSize is quite an efficient video upscaling software. The user experience and the quality of output with this software are quite high. User experience is one major reason why this software is listed here.
AVCLabs video enhancer AI software is another excellent option to upscale your videos and make them reach the desired quality. This AI video upscaler and quality enhancer software has been gaining immense popularity for a while now, and it's completely understandable.

Features of AVCLabs Video Enhancer AI:
a) AVCLabs video enhancer AI software upscales your videos by 4 times, which is definitely a great thing when the video quality aspect is taken into consideration.
b) AVCLabs AI image and video quality enhancer software uses an advanced algorithm, which ensures amazing quality and high user experience for you. The software keeps on improvising, which implies amazing quality for you.
c) AVCLabs video quality enhancing software supports almost all video formats with both, input and output. Not every software does that, which is another major benefit of this software.
With look and feel, Clideo video enhancer seems to be a simple online video enhancer tool. However, this AI video upscaling software tool incorporates numerous useful and advanced features that you can use to enhance your video quality.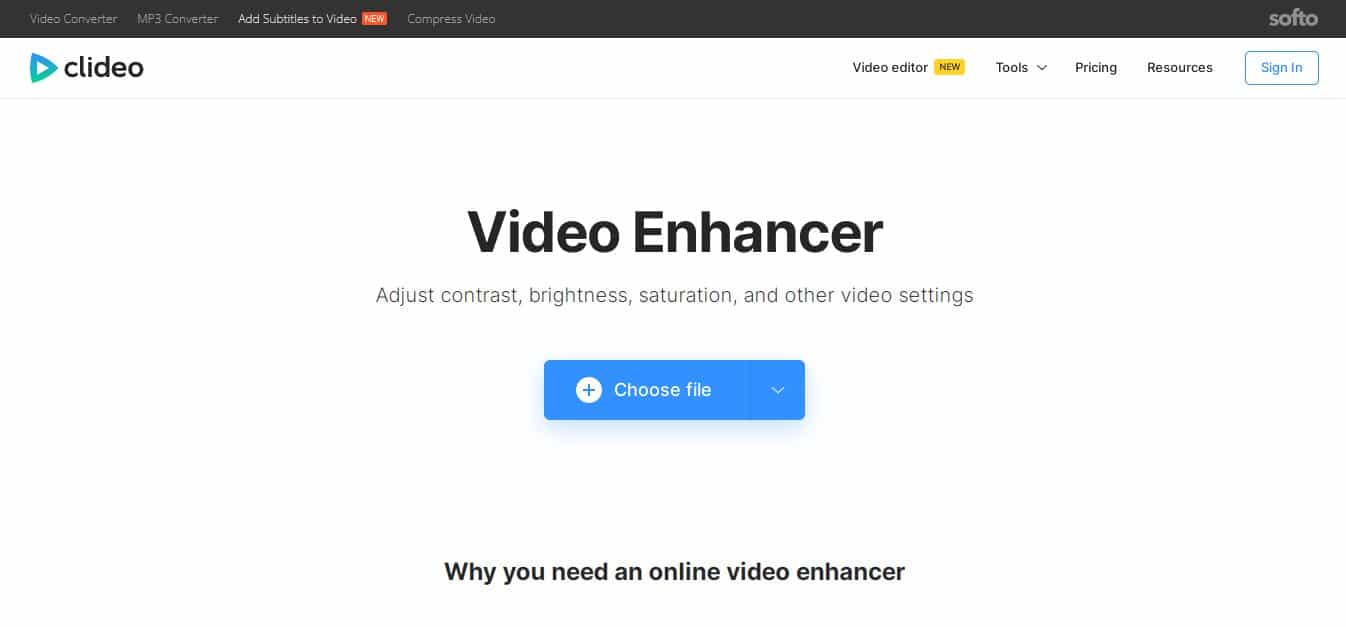 Features of Clideo Video Enhancer:
a) With Clideo online video enhancing tool, you can stay ensured of the quality. The software assures top-notch quality, which is a major reason why people trust this software.
b) Be it brightest, saturation, or anything, you get full control over every aspect of your video. Hence, Clideo video-enhancing software offers you the flexibility to shape your video the way you want.
c) You can even upload the files from your Google Drive or Dropbox. Not every software allows you to upload videos from Dropbox.
Also Read: Top 10 Best Free AI Art Generators to Generate Art from Text
Frequently Asked Questions About AI Video Upscaling Software:
Won't upscaling my video make it look unnatural and edited?
No, upscaling your videos won't make them look unnatural and edited. If you select the right AI video upscaling software, your video won't look unnatural by any means. In fact, the quality will be boosted, which would increase your engagement rate. However, make sure to use the right software and upscale only as needed.
How long does video upscaling take?
The time that a video upscaling takes purely depends on the efficiency of the AI video upscaling software you go with, along with video size and video resolution. However, in usual cases, upscaling a video from HD to 8K takes 20–30 seconds, while from SD to HD, takes around 0.5 seconds. Again, the factors like the video length, the software efficiency, etc. do matter here.
Can AI video upscaling software upscale blurry videos?
Yes, AI video upscaling software can upscale blurry videos to some extent, as most video upscaling software allow you to upscale blurry videos. However, the extent to which the videos are blurry also matters here.
Does upscaling a video cause it to lag?
In most cases, no, upscaling a video doesn't cause it to lag. Most AI video upscaling software do cover the lagging aspect too, which keeps it away from lagging after getting upscaled. If your video lags by any means after upscaling, I recommend that you try using different video-enhancing software. Chances are high that the highly-efficient software won't cause your video to lag.
Is upscaling a video mandatory?
Numerous people commit the mistake of thinking that upscaling a video is a must to maintain the quality of the same for commercial purposes. While some creators just do so to further enhance the quality of the videos.
However, please understand that you need to upscale your video only if it is of low quality or blurry. In case, you already have a high-quality video, there is absolutely no need for upscaling it. You can use it on any platform without any worries.
How do I select the best AI video upscaling software?
While selecting the best AI video upscaling software, make sure to check the reviews of the software. It would give you an idea of the output quality offered by the software. Also, check out the aspects like the pricing, customer support, the number of applications, etc. Just research a bit, and selecting the best AI video upscaling software would be easy for you.
Also Read: Top 10 Best AI Art Generators for Etsy Shop
The Pro Review from TechReviewPro
The right AI video upscaling software can help you nail the most important part of your content, i.e. videos. The importance of videos in the success of the content cannot be stressed enough. Hence, it's a must for you to ensure that the videos you use are of top-notch quality.
Just do some research, know your requirements and expectations with your videos, and selecting the right AI video upscaling software won't be that difficult for you.
So, with what AI video upscaling software are you going? If there is any video enhancer software that I missed out on, and you feel that should be here, do comment down and let me know. I would be more than happy to help.
Related Resources: