If you are into game development, game programming software might be a useful tool for you to develop your games with ease and pace. Game development might seem easy, but takes time and some heavy effort. If you lack time, then it's always better to use some of the best free game programming software to help yourself.
Numerous developers struggle to select a good game programming software as there are multiple options available and each of them offers different features.
Also Read: Top 10 Best Metaverse Games to Play Right Now
10 Best Game Programming Software to Develop Your Own Games
I have done some research and extracted some of the best game programming software that you can rely on to make game development easy for yourself. Let's check them out.
Unreal Engine is easily one of the best options for you when it comes to reliable game programming software. The game development software supports multiple platforms which increases your flexibility as a developer.
Also, it offers advanced graphics that help you offer a top-quality experience to games playing for your game. Unreal Engine comes with AI technology support by which you can create advanced characters for your game.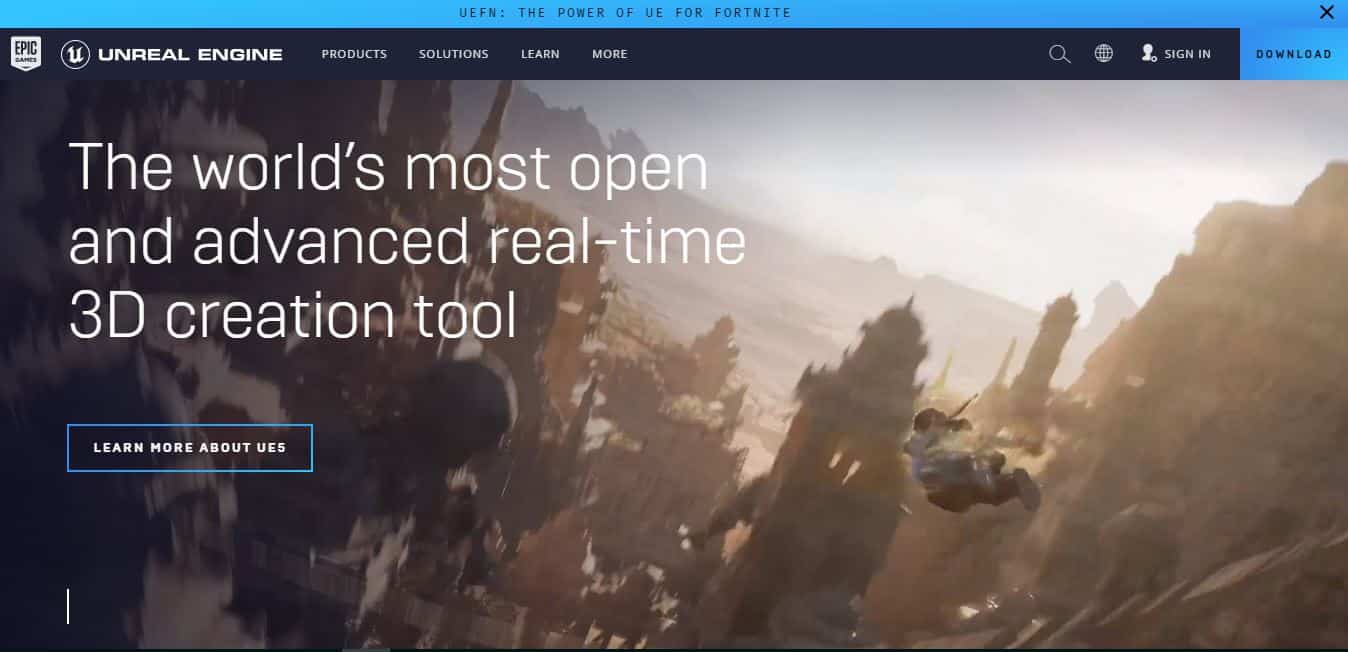 The advanced editing options allow you to edit your video efficiently, which helps you edit your video in a bit more advanced way and hence, give those realistic vibes to the gamers.
With Unreal Engine, be it Android, PlayStation, or iOS, you need not worry at all. The software is quite flexible, and you can create games for any of them.
Unity Game Maker is another game development software that allows you both, the creation of 2D and 3D games. This software works on the component-entity model, which implies that your objects will complement the already available objects in the software. The combination will then shape the graphics and the way your game operates.
Unity Game Maker is quite a popular game programming software, and it comes with a huge community. You can get help from this community if you get stuck anywhere while developing the game.

The software offers you resources from where you can get the required components for your game. The platform makes available tutorials as well that you can effectively use to learn game programming.
In terms of features, the software blends AI and programmed components that can help you develop games providing an advanced user experience.
If you are looking for game development software where you can create games with just simple drag-and-drop, GameSalad game maker is your ideal option to go with.
GameSalad allows you to do both, develop games with ease and also to learn the programming languages you want. The software is compatible with multiple platforms providing you a decent flexibility as a developer.
The primary benefit of the game programming software is that you won't require in-depth programming knowledge to develop the game. You can just learn it while working with this platform.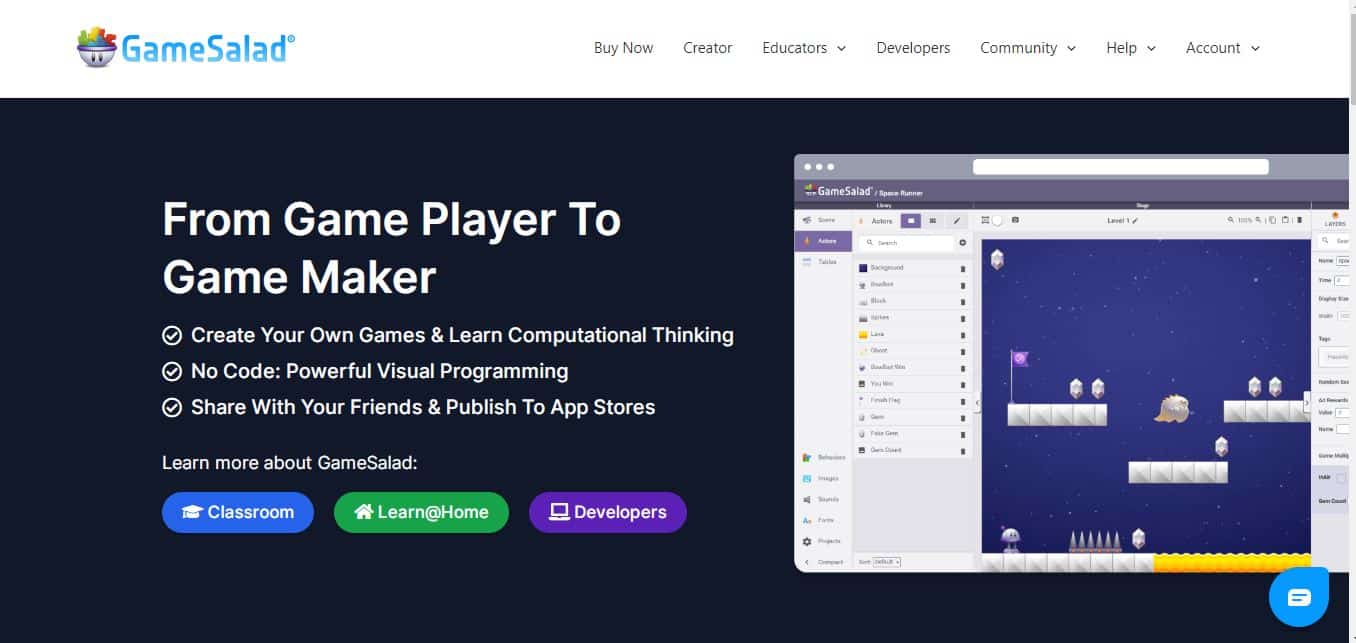 Yes, the features offered here aren't as advanced as compared to other game programming software, but the platform offers to develop a game and learn programming at the same time, so you can definitely go with it as a beginner.
GameMaker Studio 2 is a reliable platform if you are looking to design 2D games. You don't require coding knowledge, but then, your game would be limited in scope. For advanced game development, it's better to blend your C programming skills with the built-in components available.
GameMaker Studio 2 free video game maker comes with a lot of flexibility that allows you to program the game the way you want. You can provide an advanced gaming experience to your gamers.
This video game maker software is your ideal option if you are creative enough to think differently. Unlike other platforms, you will have to squeeze your mind here as there is a bit of limitation in terms of advanced features. However, if you manage to pass the stage, you can program an amazing game here.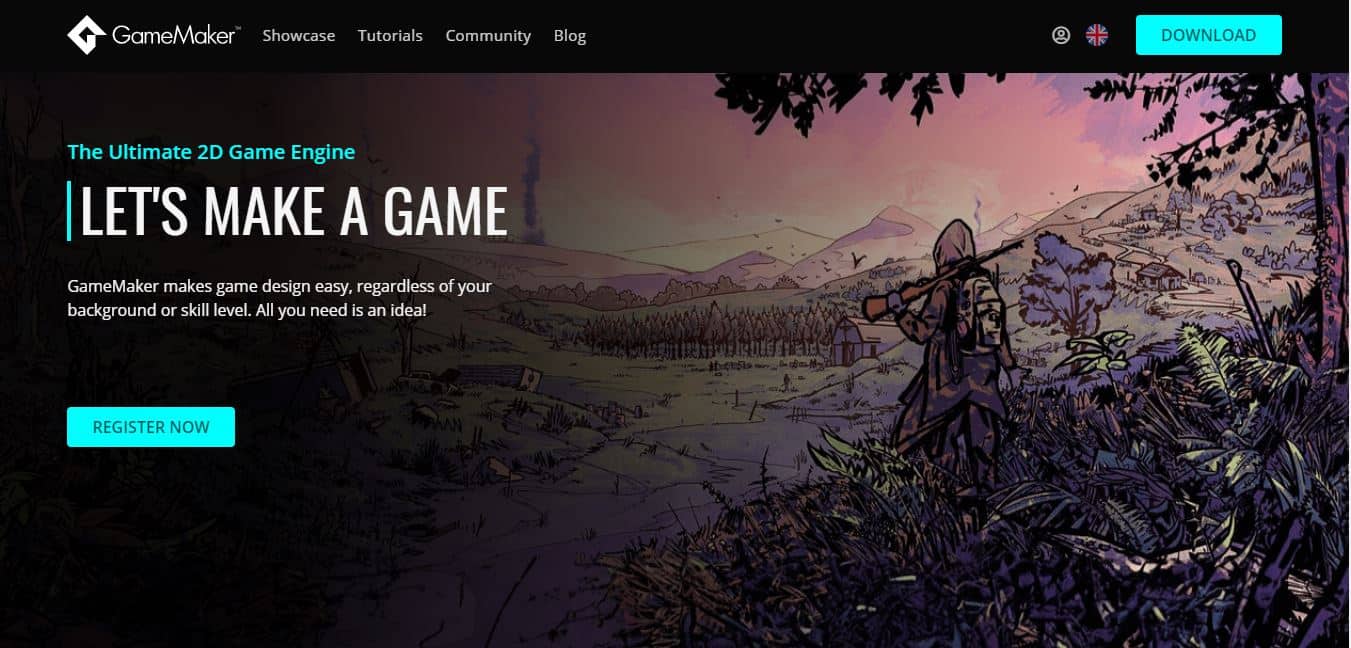 Built-in TileSets allow you to design levels. The software makes you available a built-in debugger that helps you identify bugs and errors, and get rid of them smoothly.
Adventure Game Studio (AGS) is another game-developing platform that offers you immense flexibility when it comes to developing a game. The game maker software supports numerous platforms, which make it a suitable option for you to develop games for a wide range of platforms & environment.
The game software offers you various fonts, and plugins, along with advanced support. Numerous developers use this platform to develop games. You can effectively use this huge community if you get stuck anywhere.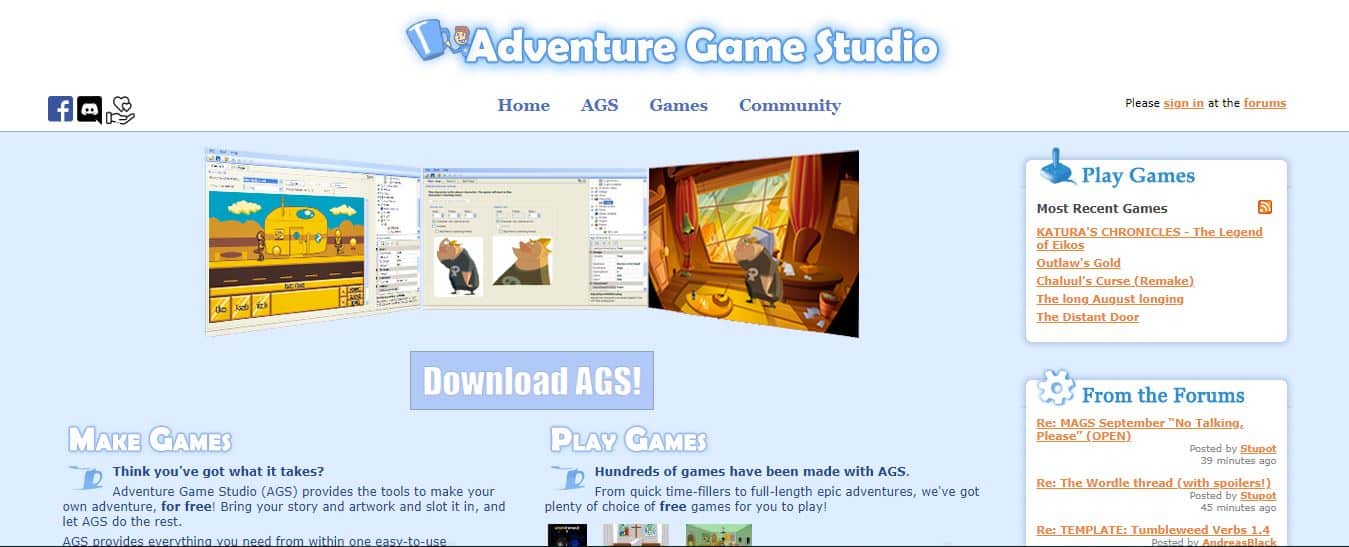 With AGS, if you are a bit creative and know some art, the sky is the limit for you. You can develop any sort of game you want and that too with extreme ease and efficiency.
Visual Studio by Microsoft is another reliable and popular game programming software that you can effectively use to develop both, 2D & 3D games.
From writing code to developing graphics to debugging the code, Visual Studio offers you every tool required to program a game.
The advanced tools of Visual Studio ensure that your game matches that excellent performance criteria. It allows you to provide an unmatched experience to your gamers.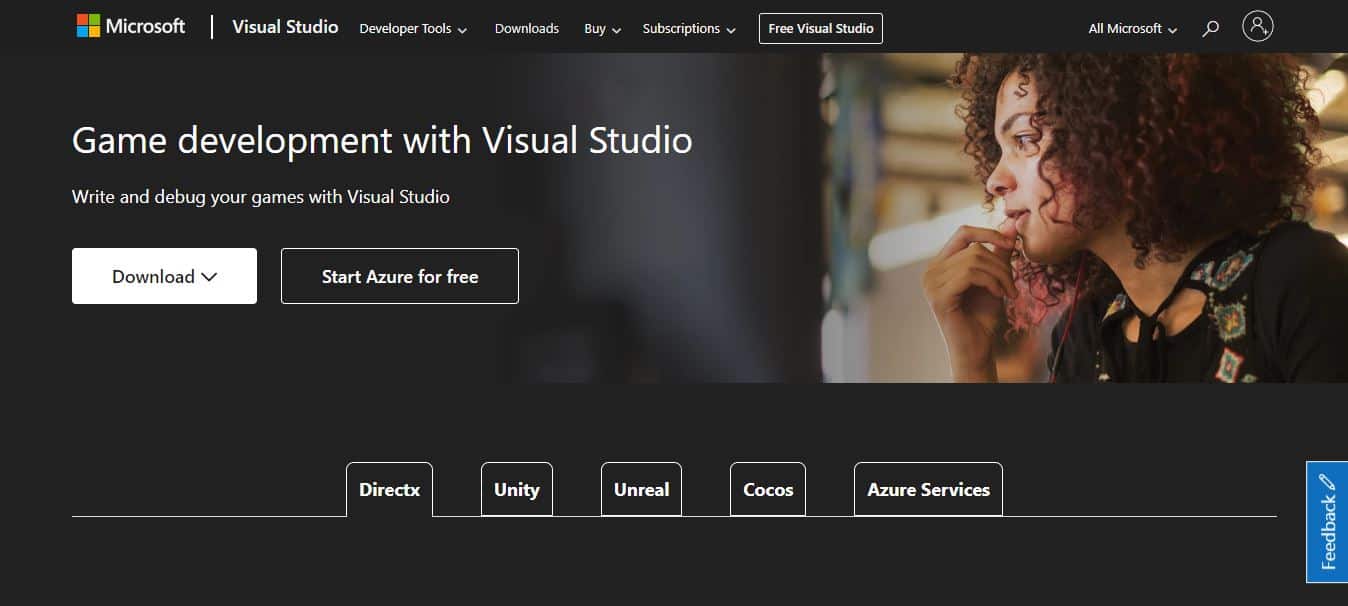 Moreover, the built-in analytics of Visual Studio allow you to analyze various aspects like GPU Usage and the performance of your game on CPU. These analytics can work amazingly for you as they allow you to test and track important data concerning the overall performance of your game.
SpeedTree Games is primarily devised to help out SMEs and Enterprises. Hence, if you are a business owner trying to scale up your business with advanced game development, SpeedTree Games software can be your answer.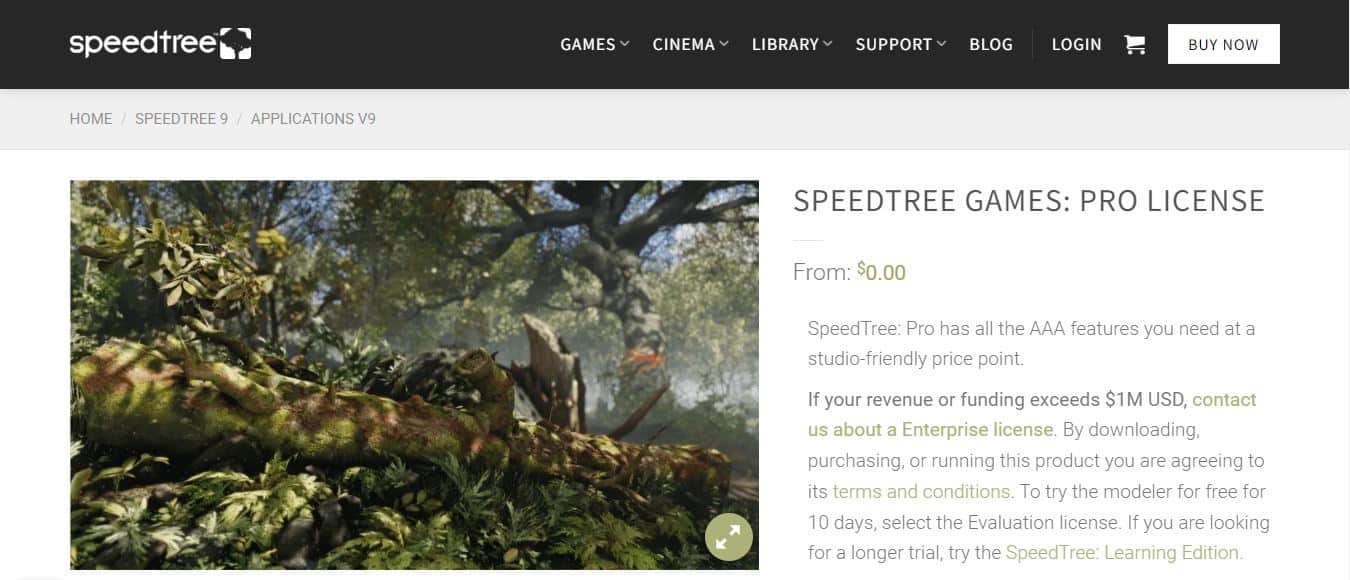 The SDK that this software offers allows you to play with graphics and add elements to your game effectively.
The software offers you advanced customizable tools that allow you to transform your vision into reality. The intuitive editing along with numerous assets ensures that you get access to some of the best & powerful resources to develop an amazing game.
If you know the basics of C++ programming, CryEngine can be your platform to develop a game. Numerous game developers trust CryEngine to develop something great, and the platform largely hasn't disappointed anyone.
CryEngine is a next-generation game development software that follows a PBR workflow that allows you to create some unrealistic and amazing experiences and deliver the same to gamers.
The audio translation layer available here allows you to select the middleware you design, which means high flexibility in terms of workflow, which is definitely a major benefit as a game developer.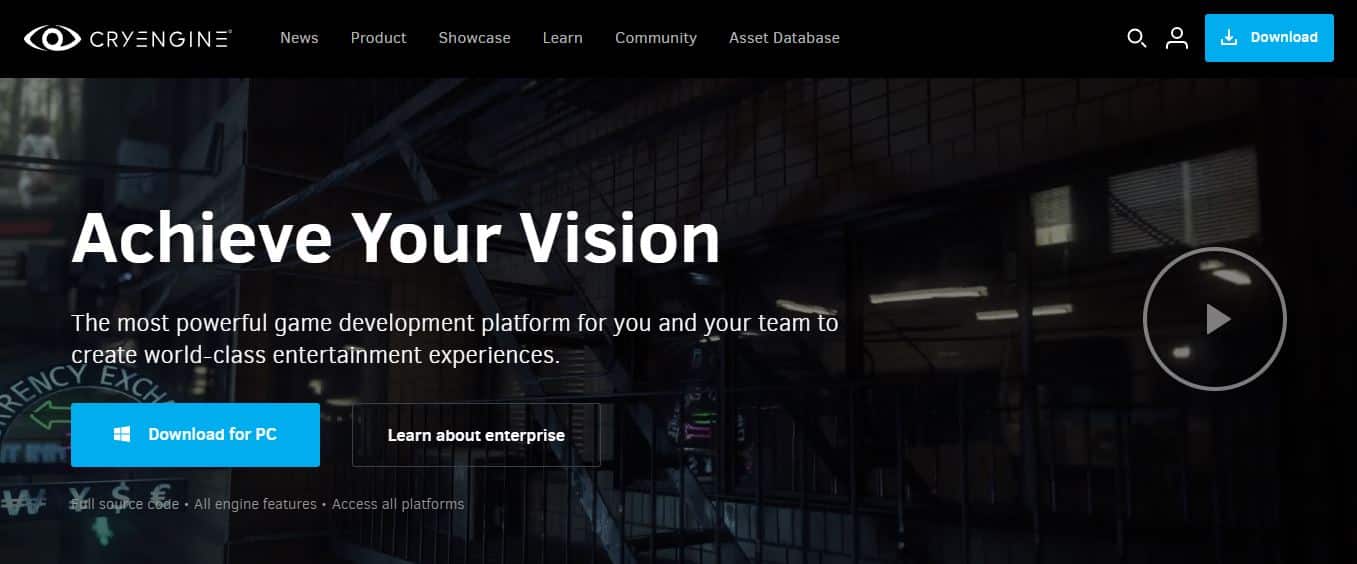 Moreover, the game takes into account the physical simulation that ensures that several physical properties are executed in a realistic manner. You might have seen several games lacking real-time physical scenarios. CryEngine keeps your game away from such things.
Autodesk incorporates AI effectively making it easy for you to develop the games you want. The video game design software offers you a drag-and-drop interface that saves you time considerably when you develop a game.
With Autodesk, you can create great intuitive graphics, and realistic characters and deliver an immersive experience to your gamers. Autodesk has been a great option for a while when it comes to bringing games to life by crafting compelling stories.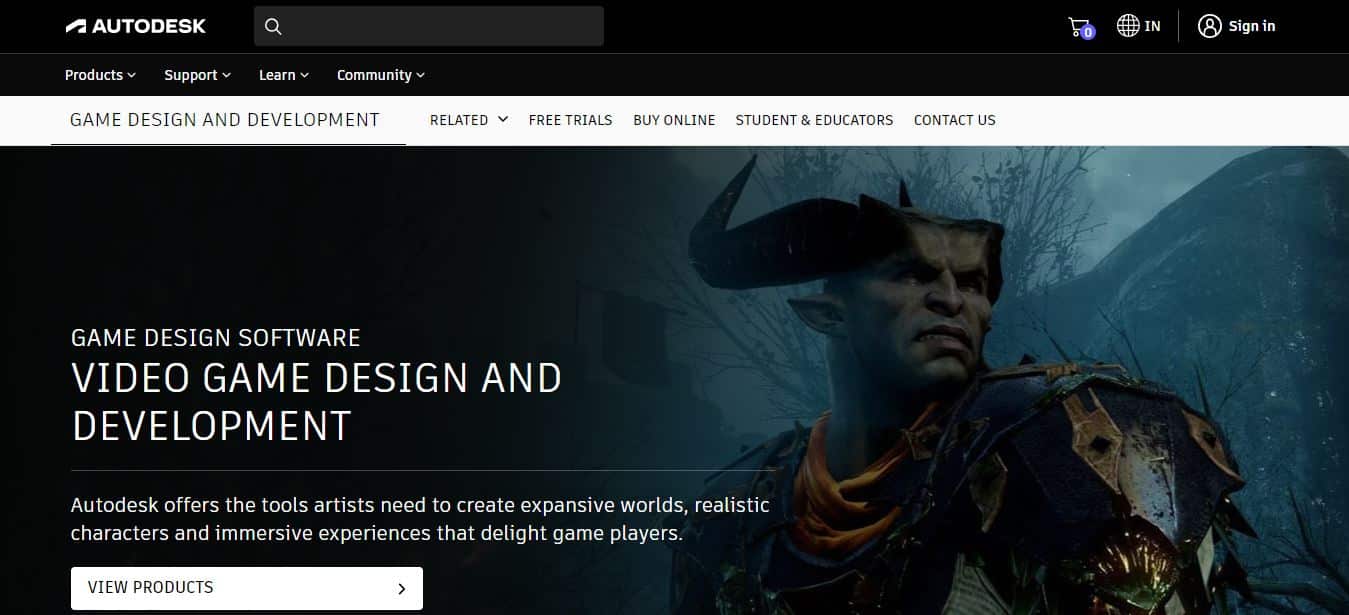 The platform offers plenty of powerful modeling tools to model a character or element in your game. The games come with a huge community. Hence, again, if you require any help with game development, you can trust the community to help you out.
Titanium SDK by Appcelerator is the last game development platform on my list of best game programming software. If you are well-versed in JavaScript and wish to give your game some unique features, this platform can be your answer.
Titanium SDK comes with an amazing interface and makes it easy for you to develop games. I love the way it organizes elements, which saves a lot of time and effort for the developers.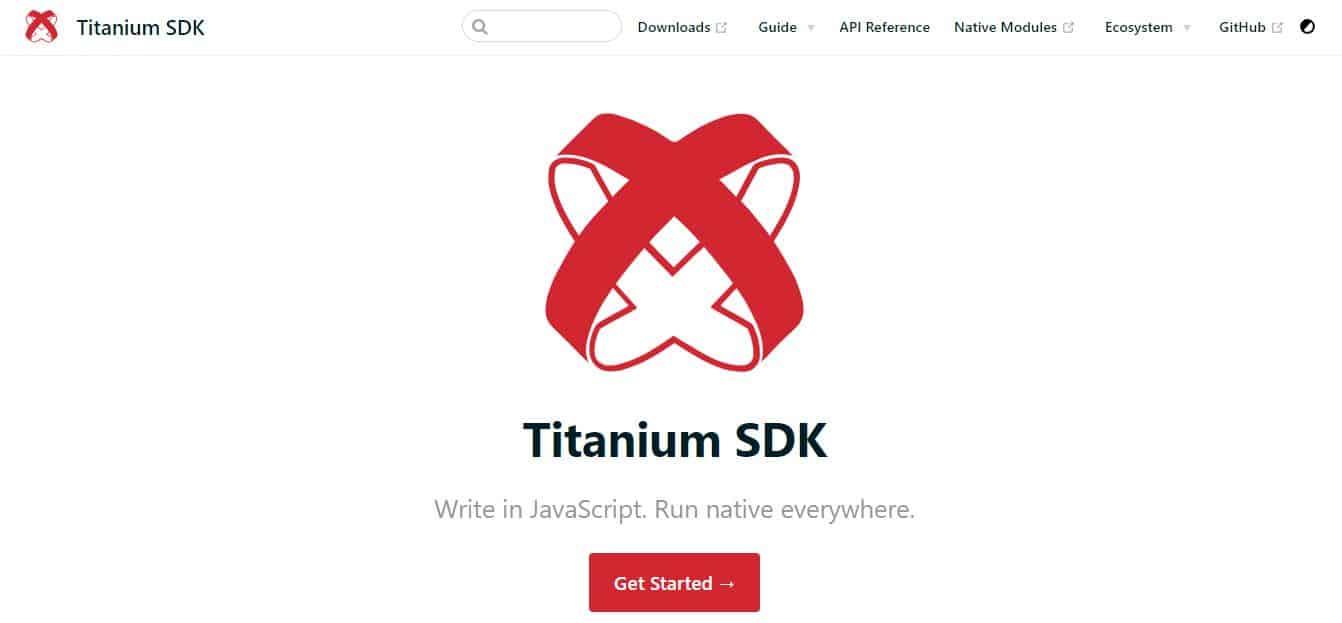 Titanium supports Android, iOS, HTML5, and Hybrid platforms. Yes, the array is wide, you just need to set your priorities right. Though the free version is a bit limited in features, once, you get used to this platform, opting for the Pro version will be absolutely worth it.
All the above-listed game development programming platforms are quite popular and reliable options for developing games. All the listed platforms are not only efficient, but easy to use, secure, and come with great support.
Also Read: 10 Best Game Recording Software to Record Your Gameplay Footage
Frequently Asked Questions About Best Game Programming Software:
I am still a beginner when it comes to coding. Can I still program a game using game programming software?
In most cases, yes, you can still program a game using game programming software even if you are a beginner when it comes to coding. Most game programming software do help you out with your coding. However, I highly recommend getting a grip on coding before you actually start programming a game. It would just help you execute things in a better way.
What programming language should I use to develop a game?
There is no right or wrong answer to the question about which programming language should you use to develop a game. But, Python is the most used programming language today when it comes to game development. Moreover, it is quite simple to learn and work on too. Rest, you can decide on a language that matches your interest and expertise.
Can game programming software help me out with debugging issues with my code?
Whether game programming software can help you out with debugging issues with your code or not, depends on the software you decide to go with. Some software do provide a built-in debugger, while some don't. Hence, make sure to research well and select the game programming software that matches your requirements.
Can game development software help me to develop advanced games?
Yes. Game development software can definitely assist you in developing advanced games. In fact, it makes the entire game development process easy for you
Do I require specific skills to use game development software?
No, you don't need specific skills to use game development software. You just need to be clear with the basics of coding. Game development software provides a platform where you can code and use available resources to develop your game. Hence, you don't require any special skills. Just a clear vision and coding expertise would do things right for you.
Also Read: Top 10 Best 2D Animation Maker Software to Make 2D Animation
The Pro Review from TechReviewPro
When it comes to game development, there are several factors you need to think about as a developer. Using an efficient platform to help yourself can make things easy for you. There are numerous options available, but if you are looking for something free and easy, any of the above options will do a decent job for you.
So, with which game programming software platform are you going? Do you still require more information about any of the platforms listed above? If yes, don't hesitate to comment your queries below. I would be quick and more than happy to answer the same.
Related Resources: