Bored of trying out multiple traditional camera apps for Android? If you've already tried them all, why not try out some of the best 3D camera apps for Android?
There's nothing to argue when talking about something different. Of course, it would be interesting and fun. Similarly, you will have fun checking out few of the best 3D camera apps for Android. The 3D camera apps for Android does not necessarily deliver you life like image outputs but adds a unique touch to it (3D illusion effects and so on.)
Also Read: TRP Guides: How to Take Screenshot on Android Easily?
Top 5 Best 3D Camera Apps for Android to Capture 3-Dimensional Images
Let us dive in deep to check out the best 3D camera apps for Android.
With Phogy 3D Camera app installed, you can generate amazing selfie shots which you can later use as a lively 3D wallpaper. It is one of the most popular 3D camera apps available for Android.
When you first launch the application and start taking a "Phogy," it greets you with the tutorial on how to take a perfect "Phogy." You just need to point and focus on an object then click on the camera button. Immediately after you press the camera button, you need to move the device around the object (not just left-right) but around the corner focusing at the object.
It is very easy to use but do make sure not to miss reading the tutorial carefully. It offers a couple of useful options. You get to control the movement sensitivity, photo resolution, focus mode, optimization, GIF resolution and a lot more. Most of the options present are unlocked to the full potential when you upgrade it to the pro version. It would cost you around 3.5 USD to upgrade where you unlock more quality tweaks that should do the trick making an image look fantastic.
#2. 3D Camera
3D Camera is yet another excellent 3D camera app for Android. However, it does not just add one special effect but can also generate pictures that can be experienced through 3D glasses.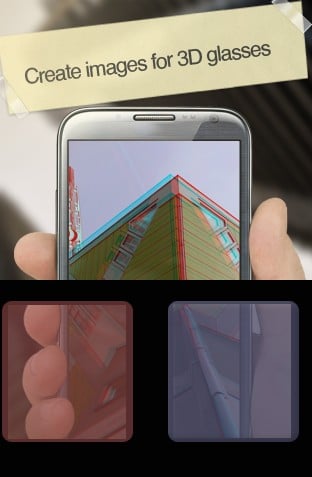 You do not get much of the options as you get on "Phogy." In other words, it is a simple alternative to other 3D camera apps for Android. It also offers a pro version to it which costs around 1 USD. Here, when you would launch the app, you will observe just one option – "Camera," which lets you capture a shot. First, you will have to click a "right/left" picture then move the camera around to take the opposite shot of the previous.
If you decide to upgrade it to the Pro version, then you can get rid of the advertisements and also get access to the anaglyph feature.
#3. Camera 3D
Camera 3D is an interesting application that would be fun to use but annoying (sometimes) at the same time. The deal breaker comes with the sign in process for the users to access the app.
I must admit that I wasted a lot of time trying signing into the app. After multiple attempts I finally made it. There was nothing special which resolved the sign in issue but the waiting time and continuous retries. In this case, at least for me. However, after successfully signing into the app, it felt quite good.
The Camera 3D app delivers a good user experience when considering the user interface. You can export the 3D image outputs right to your device. It lets you create a 3D image set with up to 99 images. There's some more cool features present as well which we would recommend checking them out after giving it a try.
3D Camera – Make It 3D Free is a 3D camera app that delivers a retro user experience. Well, by retro, we mean an old user interface. If you look at the user interface, you might uninstall it right after launching the 3D camera app. However, we would not recommend doing that unless you test it out.
3D Camera – Make It 3D Free does a pretty decent job with generating a good 3D image output but sadly does not offer much of the needed features. There's no rocket science to operate the app, and it's darn simple to use. Although it does provide an Auto-align feature which you can only access when you switch to the pro version offered, yet I would not suggest getting the pro version for around 3.5 USD which just removes the in-app advertisements and introduces the auto-align feature.
You can choose the type of image output you want while you edit the picture. In a nutshell, this app lets you generate perfect anaglyph stereo pictures.
3D Camera by Dexati offers much more promising features than we could expect from a dedicated 3D camera app for Android. It lets you make moving grid pictures. It utilizes a simple way to generate 3D images, i.e., panoramic shots.
The 3D camera app asks the user to take at most 4 images to convert it to the panoramic form along with the 3D touch in it. It equips the user with multiple options to choose from. One may opt to create a 3D photo, create moving grids, create 3D mirror images or launch the 3D camera. The 3D camera section could fascinate you as you can customize the picture with the desired background, and you can simply cut-paste your image to blend in with the background image. For instance, as you can observe in the picture below, your image could replace the girl!
It's good to know that this 3D camera app tries to equip the user with more functionalities being available in a compact package size (i.e., 6.8 MB APK file). The app is regularly updated with cool action background images to suit your imaginations. However, the user interface offered needs a huge improvement (a complete makeover, to be precise).
Also Read: What are the Best Android Icon Packs? – Top 13 Best Paid Icon Packs for Android
The Pro Review from TechReviewPro
Overall, there are only a few selected applications that prove themselves as one of the best 3D camera apps for Android. It's quite interesting why developers haven't stepped up their game in making 3D camera apps as they have in making photo editing apps for Android.
Be it as it may, you still get a lot of features on the mentioned 3D camera apps which you won't be getting on the traditional photo editing applications. You should give them a try. And, if you own a 3D Glass, it would be a plus to experience anaglyph 3D.
Don't Miss: