The Internet has become an integral part of our lives, not only for communication but also for getting information, playing games, listening music, watching movies and other entertainment activities along with many more everyday activities that revolve around the internet. When it comes to getting information from the web, web browsers are very helpful. Having a better browsing experience to browse faster on any web browser is a must.
Among various fastest web browsers available, Google Chrome, Mozilla Firefox, and Apple Safari are some of the best browsers. Just like Google Chrome allows you to download powerful extensions to supercharge your chrome browser, Mozilla Firefox also has powerful add-ons to improve your browsing experiences. We have selected 13+ Best Firefox Addons for Better Browsing Experience on Mozilla.
Know: Trick to Know Password Hidden Behind Asterisks in Web Browsers [Chrome & Firefox]
13 Best Firefox Addon for Better Browsing Experience
1. BugMeNot
There are some websites that don't allow their users to use any of the features until and unless they don't register on those websites. Though all websites are not alike, whenever you visit such websites (that requires registration), you may use this free Firefox add-on. BugMeNot helps you bypass compulsory web registration with the context menu. BugMeNot is the best Firefox add-on for the websites that you don't use very often, but you need to register on those websites whenever you use them.
Whenever you visit any such website, right click and select BugMeNot in the password and username field. You may use that website for as long as you want to without actual registration. However, in the case of social networking sites or any other sites that you visit most frequently, it is advised to register permanently.
2. Secure Login
Do you often use social networking sites or the sites that require to log in? For most of us, the answer is yes. Secure Login is one of the most popular Firefox addons. Secure Login is an extension for Firefox integrated password manager that helps you easily all your manage passwords. Whenever you want to login, just click on this addon's icon or an even better option is to just use the hotkeys combination.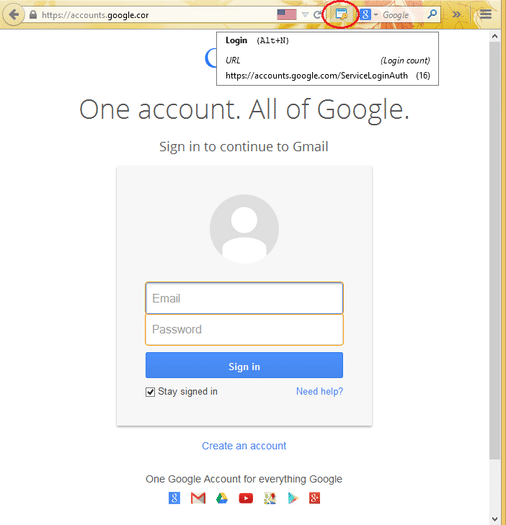 Secure Login is a very powerful Firefox add-on that complies with the Firefox's password manager and saves user's time. This Firefox add-on not only saves user's time but also protects the privacy of its users from PC invaders i.e. hackers and vulnerable or malicious Cross Site Scripts (XSS).
3. Xmarks Sync
Xmarks Sync is yet another best Firefox add-on that can help you improve your browsing experience on Mozilla Firefox. Xmarks Sync is primarily known as top rated Firefox add-on for managing bookmarks and synchronizing open tabs in Mozilla Firefox. It is one of the best Firefox extension for employees, students, bloggers or any other person who consistently research on a topic. Install this Firefox extension on both the PC's that you use and your bookmarks will be synced automatically with its powerful automatic synchronization mode.
In addition to syncing your bookmarks on various devices, this Firefox add-on does many more activities for you like backing up your bookmarks, open tabs etc. So even if you somehow loose your collection of bookmarks, don't panic this Firefox add-on has already backed up your bookmarks to its servers and you may easily restore them across multiple browsers and computers again.
Also Read: Top 5 Best Bookmark Manager Tools to Manage Bookmarks Easily
4. Better Gmail 2
Gmail is one of the most popular free email service offered by Google. But don't you hate starting on default Gmail design. Well, there are many powerful Firefox add-ons to customize your Gmail. One such best Firefox add-on for better Gmail customization is – Better Gmail 2.
With this best Firefox add-on for Gmail, you may customize the appearance of Gmail as per your needs. It adds useful extra features to Gmail, like hierarchical labels, an unread message icon on your browser tab, file attachment icons, and more. This addon is not confined to changing the looks or skins only, but it allows you to tweak the HTML code too; though to a certain limit.
Also Read: Top 7 Best Safari Extensions – Best Safari Addon Plugins for Everyone
5. Sage
If you are a blogger or an enthusiastic learner then trust me mate, this Firefox add-on is perfectly designed and made for you. Blogs are often updated you can be easily notified about the latest post via subscription to RSS feeds or their newsletters with the help of this Firefox add-on.
Sage is the update of a venerable sage reader. Visit a blog or site and this awesome Firefox add-on will automatically find the feed for you and you can simply click to subscribe. Apart from this, the reader being sleek displays the latest feeds in Firefox along with graphics and summary. If you are interested to read the whole post just click on the link.
6. Google Preview
All of us use Google for a variety of reasons; hence Google has become a synonym to the encyclopedia. Whenever we google something, we visit a number of websites, but the downside of many websites they do not actually contain what we see in the search results. Google Preview makes you able to see a short preview of links available in Google search result.
This Firefox add-on makes your work easier by displaying a short preview of the concerned search result or website in the side bar. Thus it ultimately saves your time as you need not load various other websites if you already find any relevant one.
These days all the blogs and websites are filled with advertisements of various kinds. But the good thing is: you may now go ads free. Simply Install Adblock Plus which is the best Firefox extension for blocking ads on your PC. It enhances your browsing experience by blocking all the banner and other kinds of advertisements, though it claims to eliminate 99% of them.
Adblock Plus also allows you to customize the settings to allow few blogs or sites to show ads so that you may support them financially while blocking others which annoy you with pop-ups. If you are new to this Firefox extension and not sure what settings are right, it is advised that you should use a pre-programmed filter. However if want you want a distinct filter of yours, then you have the independence to build one.
The web has become a second home for most of us. But everything has pros and cons, hence so is the case with the WWW (World Wide Web). The cases of data breach and cyber crimes are increasing day by day, NoScript is your savior. NoScript Security Suite is one of the best Firefox security add-on that allows active content to run only from sites you trust and helps you protect yourself against XSS and Clickjacking attacks.
Whenever you open any website, this Firefox add-on identifies the malicious JavaScript, Java and Flash Silverlight scripts. To the bottom right corner of the screen, appears an icon showing the work and progress accomplished by this addon. If you wish to customize it in any way or unblock any code, it can be done by clicking on the same icon.
These days we frequently visit and spend lots of time on YouTube and various other video sites that allow its users to watch movies and videos or even listen to any of the audio track. But one downside of most of such sites is that they allow their users to only watch videos on them and not to download them. Although many downloaders claim to download videos from these websites but in reality, most of them are irrelevant.
But here comes the video downloading solution for all such downloaders. This Firefox extension or add-on is the safest and the most relevant free tool when it comes to downloading videos or audio clips. It is a powerful tool to extract videos and image files from Web sites. To download any file just click on the icon of this addon and the files will be saved to your hard disk (concerned destination folder). Even if the file size is a bit large, it can be downloaded.
Mozilla Firefox, even if it is among one of the world's most popular browsers, it comes with a quite simple design and user interface. Moreover, since all the users don't know to code or even if they know, the browser doesn't offer any option to make a change regarding its design and look.
However, there is a very powerful addon for Firefox – ColorfulTabs that helps you customize your browser's design. ColorfulTabs is one of the most beautiful Firefox addons that allows you color various tabs in Firefox web browser. Either switch to default colors or customize as per your needs or set permanent colors for specific tabs – all the access granted to you.
Also Read: 9 Best Browser Dictionary Extensions to Find Words Meaning Online
The cyber world is another world (virtual) with its population growing day by day. The websites are the houses, the blogs are apartments and the social networking sites are communities. But just as we keep ourselves safe from people that are not good for us, we need to protect us and of course, our data too from unauthorized and unethical people residing in the cyber world.
WOT [Web of Trust] is yet another worthy free Firefox addon that in protects you from hackers and malicious activities in the cyber world. Whenever you surf anything, the search results or web pages are automatically evaluated by the extension. The evaluation is depicted in a red colored icon meaning 'online threats', yellow colored icon meaning 'be cautious' and green colored icon meaning 'no threats found'.
The evaluations are based on qualitative characteristics like relevancy, child safety, truthfulness etc. Overall, WOT is one of the best Firefox addons to find trustworthy sites on the web and stay on safer side.
12. All-in-one Sidebar
A sidebar is a portion on distinguished on either the both or any one side of your screen, containing some information, links or graphics. All-in-One Sidebar add-on for Firefox, as the name explains it contains all the utilities available in Firefox ranging from downloads to history and bookmarks to tools and much more.
Now open various windows as sidebar panels, and quickly switch between them with the help of All-in-One Sidebar Firefox add-on easily. Though the Firefox sidebar is the least used utility available in it but believe me you are surely going to like it as it will make your work easier and browsing experience better.
13. Google Minimalist [CustomizeGoogle Earlier]
Everyone uses Google. But everyone can't be satisfied with the default design and user interface Google provides. Ever tried customizing Google as per your wish? If you had a horrible experience in customizing Google then here comes the good news. Customizing Google as per your needs and requirements is possible with the help of CustomizeGoogle add-on in Firefox. But since that add-on for Firefox has been discontinued, minimalist Google design is still possible.
With this Google Minimalist add-on for Firefox, you may customize Google in whichever way you want. Like all the above mentioned best Firefox add-ons, it also improves your browsing experience by adding information and removing unwanted information.
Also Read: 33+ Password Generator Tools to Generate Random/Pronounceable Password
The Pro Review from TechReviewPro
Although there are a huge number of free Firefox add-on extensions available, we have selected 13 of best add-on for Firefox to enhance your browsing experience. All of these mentioned best Firefox extensions are not going to suit your needs but even if you found one that belongs to your browsing needs then that Firefox addon may change the way you browse.
Let us know if you still have questions in your mind, through comments. Also, consider sharing this post with your acquaintances if you liked it.
Don't Miss: