As we had mentioned in our previous post about best Linux web browsers, some Web Browsers have now become a satisfactory platform, instead of staying as utility software. Using this platform, you're able to accomplish a variety of tasks, ranging from browsing web pages to managing your tasks and from listening to favorite music to editing your video files.
In that respect, we'd say 'Bookmarks' are more like shortcuts you see in your desktop! Well, then, won't that be awesome if you have the best bookmark manager tools with you, to keep those shortcuts organized?
Bookmark manager means a software or extension that offers advanced capabilities of organizing your bookmarks. In addition, some tools may also let you synchronize your bookmarks with other devices, not only to offer multi-device accessibility but also keep it safe. In this post, we shall have a look on the best bookmark manager tools you can get.
Top 5 Best Bookmark Manager Tools to Manage Bookmarks Easily
1. iCloud Bookmarks
As you can guess from the name, iCloud Bookmarks is the official bookmark management solution from Apple, which comes pre-built in devices running iOS and Mac. With that, you get to understand that the service limited to only the users of Apple products. However, thanks to the availability of extensions for Google Chrome and Mozilla Firefox, it's possible to use the bookmarks in your Windows or Linux devices as well. Even so, you need an Apple device & iCloud account to start things with iCloud Bookmarks.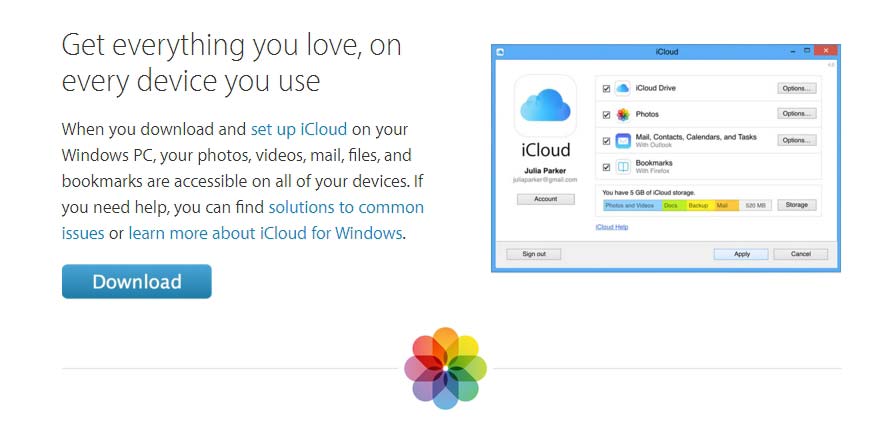 Once you have created and stored the bookmarks you need, all those are available in various platforms. In Windows, you can even install the dedicated iCloud software, if you wanted to have sophisticated organization of all your bookmarks and other content. During the installation, you can choose what is to be synchronized. With all the better features at a glance, iCloud Bookmarks is one of the best bookmark managers available for Windows, Mac, given you have installed the corresponding software or browser extension. Nevertheless, we think the better option is to grab iCloud in Windows; you get not only the bookmarks but also other resources like stored documents and all.
2. Delicious
Delicious is a web-based bookmark management platform, which is actually known as a social bookmarking service it is possible to get. The best part is that you can not only store the links you like, but also know the trending stuff that others are sharing. The service is now owned by Science Inc, after a series of acquisitions of sales and is still used by a lot of people to get things done. Being a completely web-based solution, you have some perks as you use Delicious for creating and managing bookmarks. For instance, once you have created a sub-library of the bookmarks you have stored, you can perform an in-library search to find the appropriate content.
As we mentioned earlier, Delicious is more about making your bookmarks social. That is, you will be able to know the trending bookmarks, bookmarks shared by your friends. The Network Feed works quite like the News Feed that you see in Facebook, but is a bit more taste-based. In the Discover section, however, you can get bookmarks suggestions from various communities out there. By the way, for easier adding of bookmarks, there's a Delicious bookmarklet to be checked out. You can add the favorite link to Delicious in a single click, once you've set up the bookmarklet. There are also extensions available.
3. Diigo
Diigo is perhaps the best online bookmark manager, which is better known as a social bookmarking solution! To put things in a simpler manner, Diigo is a box where you can put the favorite links you stumble upon. Once set up, all the links will be stored in the cloud and are accessible from different platforms. What has to be noted here is that there are four different pricing plans available for Diigo, and the free plan is feature-rich enough for those who just need to keep the bookmarks clean and organized. However, if you were into serious bookmark management — for some of the professional or research-based purposes, you can think about moving on to the premium version, if budget does allow you to.
Another impressive feature — the one that distinguishes Diigo from other bookmark managers — we found is a way to annotate web pages. It means that you can highlight some particular content in a page and store it for later use. If you want, you can share these annotations, or just keep them private. In short, you will be able to create a superbly effective digital library with enough annotations on the pages you have saved. Moreover, this online method to get your bookmarks organized is just perfect.
4. Dewey Bookmarks
Dewey Bookmarks isn't actually a fully-fledged bookmark manager you can get for your purpose. On the other hand, it's one of the best bookmark manager for Chrome, given that it comes with pre-built bookmark manager, which will be quite basic. So, in short, Dewey Bookmarks manages to revamp the way you keep your bookmarks organized. This service is available as a standalone Chrome extension and it will all be fine once you have finished the installation. A few of the most commendable features of Dewey Bookmarks include Smarter Search and custom tagging.
Right after the installation, you get the grid-based layout of website bookmarks in Chrome. Along with all its existing bookmarks, you can import some from other sources. One thing that attracted us to the grid layout is that each of its thumbnails shows the screenshot of the corresponding webpage. On a quicker glance, this feature is useful, a lot to be exact. So, if you aren't satisfied with existing method of Chrome bookmarks management, you can go with Dewey Bookmarks to revamp things in a productive manner. We think that's quite useful in the long run. When you import bookmarks from Chrome, however, the sub-folders become labels.
Check Out Dewey Bookmarks
5. Save to Pocket
Save to Pocket is well-liked not only as a bookmark manager but also as the smartest way to keep the good web stuff for later uses. For instance, if you stumble upon an interesting yet long article in web and want to read it during your free time, you can use Save to Pocket. You can use Save to Pocket to store the link into the cloud space offered by its service. In the space, you can store various stuff such as text articles, images, videos. All these content can be tagged as to make things clearer and organized. By the way, wait, Save to Pocket cannot be limited as the one of the best online bookmark manager solutions out there. It offers advanced features too.
The best part is that, when you use the Smartphone application of Pocket, you can get the articles for offline reading in a truly minimal manner. I personally like the reading view and experience in Pocket app for Android. It does not actually matter whether you're adding the link from PC or Mac or Linux. The content will be synched with the phone when the Smartphone is connected to internet. Talking of the application, the whole UI is impressive and different categories and sub categories make sense.
Also Read : 11 Best Cloud Storage Services with Multi-Device Sync for Free File Hosting
The Pro Review from TechReviewPro
So, we have listed different kinds of bookmark managers you can get. Some of these managers are standalone ones, and we can take the case of Delicious for instance. In this case, you have to add the links manually to make your own library. On the other hand, Dewey Bookmarks is an awesome tool when you want to revamp the UI of bookmarks manager of your Google Chrome browser. In that case, right after installation, you get all the bookmarks ready in a grid-based structure. The last online bookmark manager is different from all the four others. Save to Pocket lets you store different kinds of web-based content to the online space, and also to bring the content for offline access. It is up to you to choose, in the long run. However, some options like iCloud Bookmarks want you to have an account in iCloud and Apple device.
Do you use any of the bookmark managers listed above? If so, how was your experience with those tools? We are a lot eager to know. Also, do let us know if there are some other bookmarks managers — online or offline — worthy to be included here.
Don't Miss: