Disruption in sleep can reduce sleep quality, and can even spoil your day at work too. Outside disturbance or a snoring partner, anything can work as a hurdle for your sleep. And the worst thing? You cannot do anything about it.
Oh, wait! I think you can. Ever heard of a white noise app? You might have, but let me make it all easy for you. A white noise app is simply a mobile application that produces soothing sound masking disrupting ones to ensure that you sleep peacefully.
There are plenty of white noise apps available for Android and iOS that you just need to download and install like any other app to sleep peacefully.
Also Read: Top 10 Best Language Learning Games for Language Learning
Top 10 Best White Noise Apps for iPhone & Android
As mentioned, you will find plenty of options for white noise apps on the Play Store or App Store, which would definitely confuse you in terms of selecting one. So, with which white noise app should you go? Let's check out some of the best options and answers for you.
If you are an iPhone user, and looking for the best white noise app, the White Noise Deep Sleep Sounds app won't disappoint you even a bit. This white noise app works on the basis of forming a sleep association with your mind and hence, making it asleep.
The white noise app works for both, adults and babies. Some primary features of this app are as follows:
It blocks out all unwanted noises and helps your mind stay away from distractions.
It forms a sleep association and pushes your mind to sleep.
Generates sounds that would make you feel relaxed and calm.
Creates a familiar routine. It is specifically helpful for babies.
With the White Noise Deep Sleep Sounds app, you can focus on your studies or work too. It's not only about quality sleep with this app. There is a wide range of sounds that this app generates and helps you focus on your goals or sleep.

In terms of pricing, this app charges you $ 49.99 USD/year. You get access to an unlimited library of soothing sounds and numerous premium features of the app. Please note that the app comes with auto-renewal subscription. Hence, make sure to be prompt with managing the subscription.
Noisli is another reliable White Noise App for both, Android and iPhone users. The Noisli app gives you flexibility where you can mix different noises and create a perfect soothing sound for yourself.
The white noise app has different packages with names like Random, Productivity, etc. Select the module as per your mood and requirement, and select the available sounds in each module.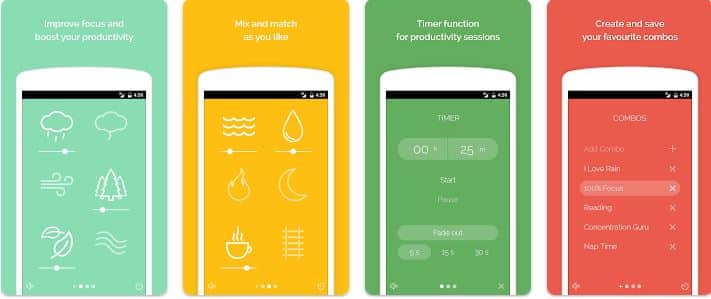 Some primary features that I found interesting about this white noise app are:
Noisli is one of the most flexible White Noise apps you will find. Here, you get complete flexibility to mix different sounds and generate something soothing for yourself.
I love the quality of the sounds that Noisli generates. The quality of sound actually plays a major role in relaxing you after a tiring day.
Noisli has a well-curated playlist. It can actually help you out in different situations and not just while sleeping.
Noisli Pricing:
| | | |
| --- | --- | --- |
| Free | Pro | Business |
| Available sounds: 16 | Available sounds: 28 | Available sounds: 28 |
| Playlists curated: 3 | Playlists curated: 10 | Playlists curated: 10 |
| Favorites: Up to 5 | Favorites: Up to 10 | Favorites: Up to 10 |
| Simple timer & text editor | Advanced timer & text editor along with other features like Shuffle | Advanced timer & text editor along with other features like Shuffle, Team Management & Centralised Billing |
| Pricing: $0 | Pricing: $12/month (if billed monthly) & $10/month (if billed yearly) | Pricing: $28/month (if billed monthly) & $24/month (if billed yearly) |
Pzizz is another amazing white noise app devised to help you sleep better and wake up fresh. The white noise app specializes when it comes to offering a personalized experience.
The app has been recognized by numerous international resources, and hence, you can count on it to deliver exactly what you want.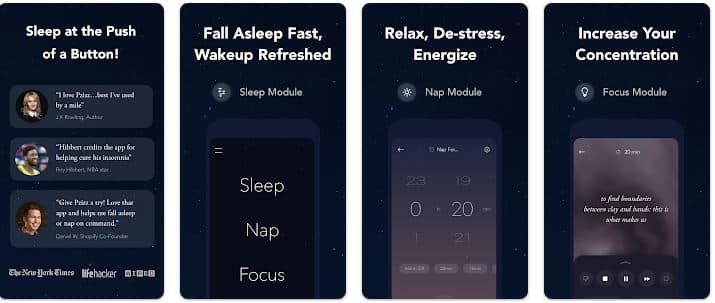 Let's have a look at some amazing features of Pzizz:
This white noise app is a perfect option if you are looking to de-stress yourself. It generates several soothing sounds that can de-stress you considerably.
The app has promptly used proper science while devising an app to generate soothing sounds. Hence, the app goes beyond meditation to make you sleep better.
You can effectively track your progress here with the tracking matrix it comes alongside.
Pzizz costs you $49.99/year if you go with an annual renewal cycle, and $7.99/month if you go with a monthly renewal cycle.
BetterSleep, previously known as Relax Melodies is quite a simple, but one of the best white noise sleep tracker apps to relax your stress and sleep better.
The app incorporates the US military method along with hypnosis to relax you and make you sleep fast.
Some features of BetterSleep that might interest you are:
The white noise app uses some of the most unique methods as compared to other apps to make you fall asleep.
It comes with an SOS that you can listen to and fall back asleep if your sleep is disrupted in the middle of the night.
You can effectively track your sleep quality with the tracker that this white noise sleep tracker app comes alongside.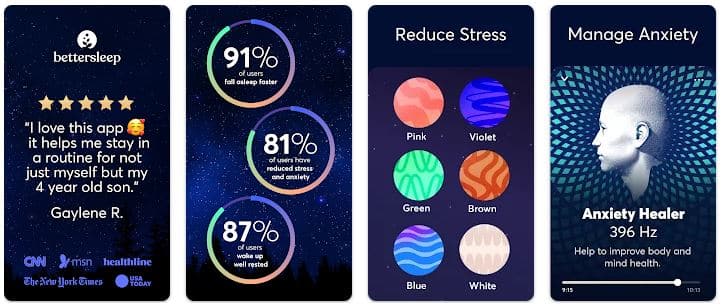 BetterSleep sleep tracker app is available for both, iPhone and Android users for free as a free white noise app. Yes, you can use all the features of this free white noise app without paying anything.
If you are someone who loves rain and the soothing sound it brings, the Rainy Mood app might be your perfect choice to sleep well.
The rainy white noise app comes with an amazing 48 kHZ 3D audio randomizer that generates an amazing soothing sound allowing your brain to relax and focus.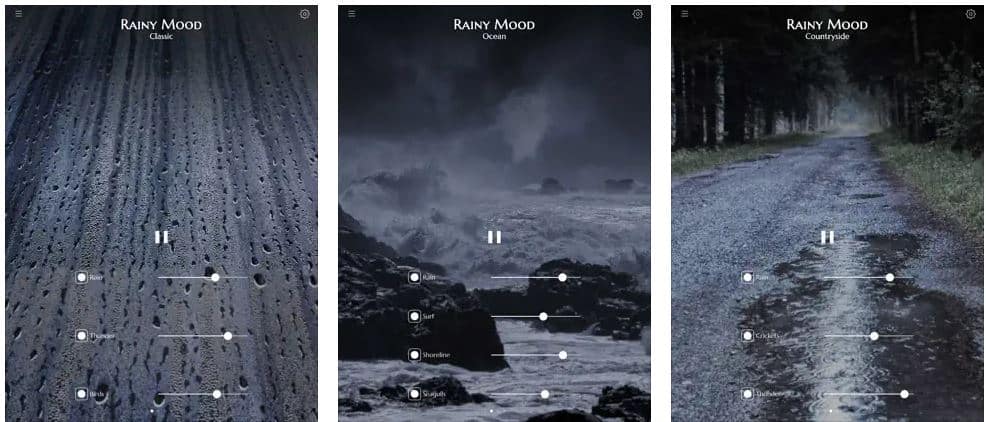 Some interesting features of Rainy Mood are as follows:
The Rainy Mood white noise app generates 3D audio, which is quite a unique feature of this app as compared to other White Noise apps.
With the Rainy Mood app for iPhone, a single sound doesn't repeat until you wish to do so. It generates unique sounds on a continual basis.
The app generates sounds related to rain. Hence, you won't feel that artificial touch when you listen to soothing sounds from this white noise app for iPhone.
Rainy Mood comes with a one-off payment of $2.99. You get free lifetime updates of the app, which makes it one of the cheapest White Noise apps for iOS users.
SimplyNoise is not a completely free white noise app but it's more like a free white noise app. With the SimplyNoise app for iPhone and iPad, the range of sounds you get is a bit limited, but of top quality. Here, you get quality sounds that play a major role in helping you relax and rest well.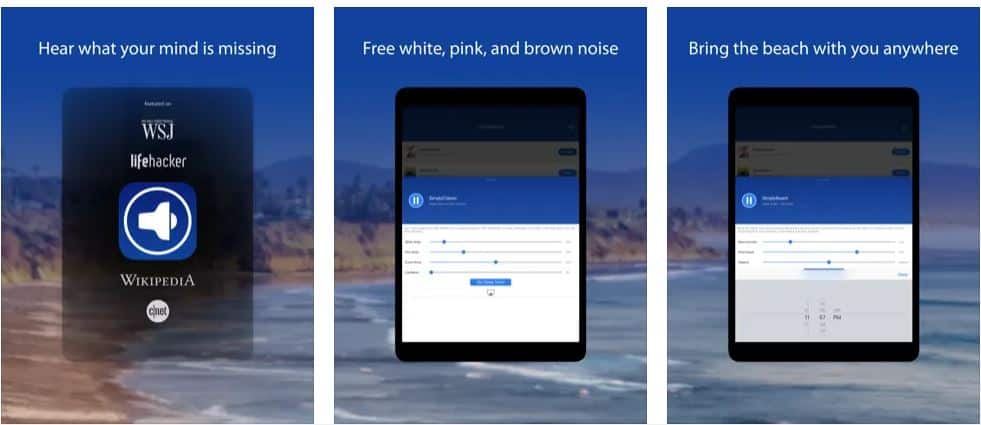 Let's explore some amazing features of SimplyNoise Free White Noise below:
The white noise app mixes and blends different color noises, i.e. white, pink, and brown color samples. You have to select a color to listen to different classes of sounds. Just a unique way to deliver sound!
From sound oscillation to a sleep timer, SimplyNoise offers every advanced feature that a White Noise app must offer.
I loved the quality of sounds that SimplyNoise provides. It's just better than many other free White Noise apps available.
You can purchase SimplyNoise for $0.99. If you are looking for a bit of a cost-efficient option, SimplyNoise might be your reliable choice to go with.
As the name suggests, Atmosphere is another top-rated White Noise app that generates some soothing natural sounds to make you feel relaxed and calm.
With the Atmosphere relaxing sounds app, you get a wide range of sounds to choose from and all of the amazing quality. The sounds are divided according to different environments. Choose an environment as per your mood and likes.
Time to see some amazing features of Atmosphere!
With Atmosphere, you get a wide range of sounds that depict different atmospheres. Hence, if you love nature, this White Noise relaxing sounds app won't disappoint you.
The app provides you the flexibility to customize soundtracks as you want. You can mix different soundtracks without any limitations.
The white noise app makes you more than 70 soundtracks available. Hence, you get a wide range of sound options here.
The app has those features that can boost your creativity considerably. Hence, it can be used for multiple purposes. Plus, the user interface of this app is quite simple and soothing.
Atmosphere app is free to download and use. However, for customizable add-ons, you need to pay, and the price purely depends on the add-ons you select to go with. So we can say, Atmosphere is one of the best freemium white noise apps that you can select as your relaxing sound companion app.
Calm is much more than a sole White Noise app. You can use this app for meditation, balancing and uplifting your mood, doing some light exercises, and so on.
Calm, as the name clearly suggests primarily focuses on making you feel relaxed, and de-stressed and uplifting your mood.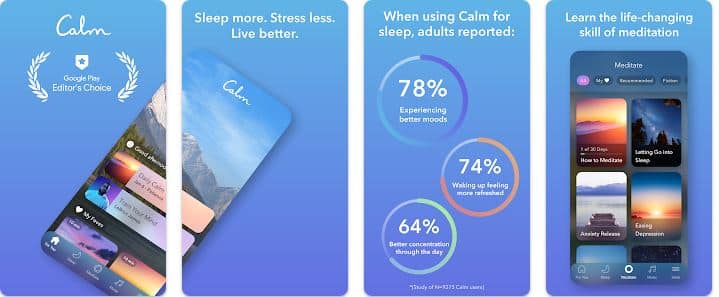 Some features I loved about Calm are listed underneath:
Along with sleeping well, this app also helps you with meditation. Hence, if along with better sleep, mental peace is your priority too, the Calm app might help you out.
The relaxing app comes with an extensive library. Hence, you get a wide range of options when it comes to soothing sounds.
Along with soothing sounds, the white noise app also incorporates some sleep stories that relax your mind and help you sleep better.
Calm gives you a 7-day free trial. If you love the features offered here, you can then go for a premium subscription of $49.99 billed annually. If you wish to go with the one-off lifetime premium option, you need to pay $399.99.
With a huge user base, the Sleep Sounds by Sleep Pillow app easily stands as one of the most popular and reliable White Noise apps that you can count on to sleep well.
Sleep Pillow has managed to offer both, quality and quantity. You get a wide range of soothing sound options with this white noise sleep sounds app and all of the top quality.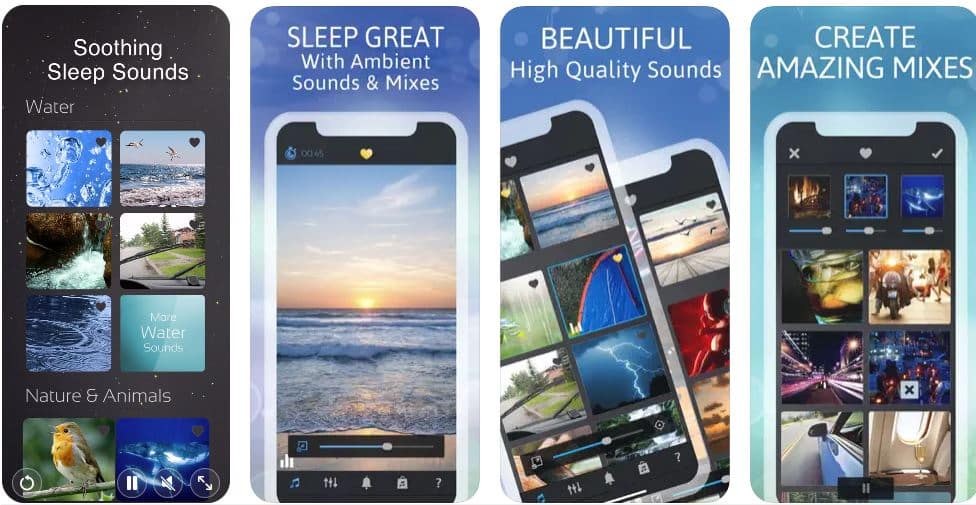 Some amazing features of Sleep Sounds by Sleep Pillow:
The sleep sounds app offers more than 300,000 soothing sound combos. Hence, you get a wide range of sound options to soothe yourself.
The white noise relaxing sound app offers naturally recorded sound. Sleep gets better when it's all nature and this app exactly does that.
Sleep Sounds by Sleep Pillow offers every advanced feature like a sleep timer, oscillation, adding a song to favorites, etc. These advanced features make it easy for you to sleep well and keep track of the same.
I loved how quick the customer support is when it comes to replying to queries. Just an email, and you will be receiving answers to your queries in no time.
The pricing of the application depends on the pack you decide to go with. It starts at $9.99 and goes all the way to $19.99.
Lastly, Sleep Sounds is another option you can consider to sleep well. The white noise sleep sound app incorporates several sounds that would relieve your stress, make you feel relaxed, and push you to sleep mode.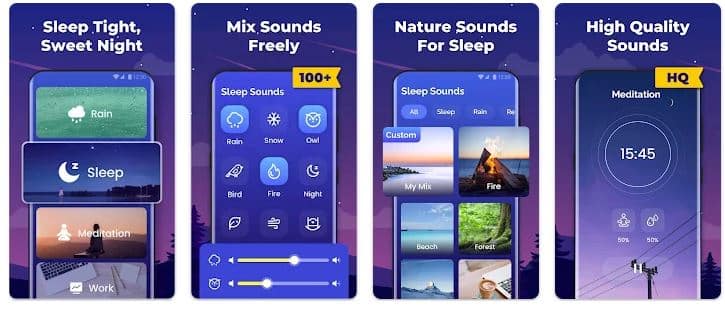 Some good features that the Sleep Sounds app comes alongside are:
Each soundtrack in this white noise sleep sound app is scientifically proven when it comes to soothing your mind and sleep better. Hence, you can trust this app to deliver the desired results effectively.
The white noise app offers completely natural soundtracks. No touch of artificial concept at all!
It offers complete flexibility like customizing a sleep timer. There are plenty of other features with which you can play according to your requirements.
The app costs you $ 0.99 USD/month & $5.99/year. The free version gives you limited features while you can access all the features with a premium subscription.
Frequently Asked Questions About White Noise Apps:
How do White Noise apps work?
It's quite simple. Most White Noise apps generate soothing melodies that distract you from unwanted noises and hence, help you sleep or focus better. It's just a simple principle of masking unwanted noise by making you listen to sounds that you will actually love and enjoy.
Are White Noise apps really effective?
Yes, white noise apps are really effective. White noise apps are a proven success when it comes to relaxing after a hectic or bad day and sleeping by forgetting all the stress. Just try it out once, and I assure you that you won't regret it.
Some sources mention that White Noise apps can in fact disrupt sleep in the middle of the night. Is it true?
Well, the quality of sounds the app generates plays a crucial role here. Make sure to select the right app to get the best results out of it. If the quality of sound generated by the app isn't good enough then things might get worse for you.
Is a white noise app safe for my baby?
Yes, a white noise is safe. However, make sure not to put the device inside your baby's coat and keep the sound level to a minimum. Remember, babies are sensitive to high volumes, and exposing them to the same might damage their hearing ability.
Can I use the white noise app to study?
Yes, you can use the white noise app while studying. As mentioned, most of the white noise apps not only focus on sleeping but on helping the users to focus as well. Hence, yes, you can use any of the white noise apps to boost your focus and study well.
Also Read: Top 5 Best Parental Control Apps for Android to Monitor Your Kid's Activity
The Pro Review from TechReviewPro
Insomnia is exhausting. It along with subsiding your focus on work affects your health too. Hence, it's better to take care of insomnia before it gets worse. Using a good white noise app can be a good way to do so.
You can count on any of the above-listed white noise apps for iPhone or Android to improve your sleep quality and give yourself a soothing & pleasant sleep.
In case, you are still confused or have any other questions in your mind, my comment section is all yours. Just shoot, and I will be quick to answer your queries.
Related Resources: