Keyword research is one of the most crucial element for the success of any online business as it has the potential to build and grow any business quickly. If you are running an online business, you must be having a website or blog that represents your business. But in order to reach more people and potential customers, you need to get your site up in Google and other search engines for more and more profitable keywords.
Knowing that the organic search traffic is the most effective free way of driving long-term highly targeted visitors to your site, you need to find proper keywords which have potential to increase traffic (and sales) on your site. Because if you are creating content without targeting profitable keywords, you are throwing stones in the darkness hoping that you'll get the fruits in your hands. But in reality, you won't !
A profitable keywords research technique can build your website traffic as well as a profitable business blog in very quick time. But the problem arises when you are unable to find what keywords to target for ?
Why You Need Profitable Keyword Research Technique ?
Many newbie bloggers frequently ask me various questions like this :
What should I write on my blog to increase traffic ?

How to do keywords research in Google Keyword Planner ?

Is there any best alternative to Google Keyword Planner ?

How can I find profitable keywords for which I can rank in Google ?

Is profitable keyword research important for new sites/blog ?
This profitable keywords research technique is meant to solve all your queries regarding keyword research and traffic building. After reading this post you'll come to know how you can create content around profitable keywords and grow your business 3 times quicker than your competitors.
This pro guide to profitable keywords research technique contains 2 sections :
The Beginner Guide to Find Keywords that can Drive Traffic

The Advanced Guide to Find Profitable Keywords in Any Niche (to Build Profitable Business)
The Beginner Guide to Keyword Research Using Google Keyword Planner Tool [Free]
Among the various keyword research tools available, Google Keyword Planner has the most accurate data about keyword phrases. Owned by Google itself, it fetches keywords data from the keywords phrases that people search in Google. Moreover, Google Keyword Planner is free keyword research tool. So it is the best place to start with keyword research as a beginner.
So, let's learn how to do keyword research using Google Keyword Planner :
Step #1
Visit Google Keyword Planner and login with your Gmail account. After you have successfully logged in, click on "Search for new keywords using a phrase, website or category" as shown below.
Step #2
Once you click on search for new keywords using a phrase, website or category, a new box opens where you need to enter a seed keyword or keyword phrase. For example : if you are in Android niche, you may enter "free android apps". Optionally, you may also add your website/blog URL as the landing page and select your product category.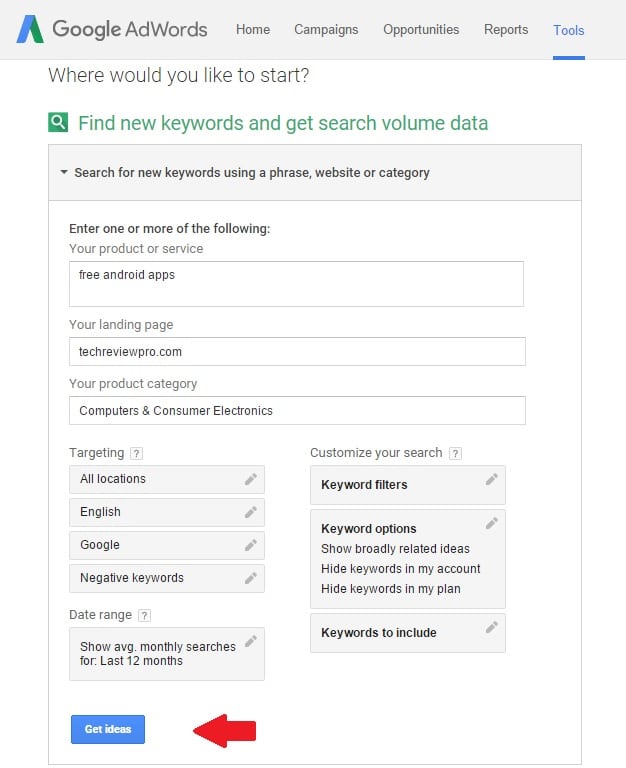 Step #3
After entering the seed keyword phrase, click on get ideas and the Google Keyword Planner tool will come up with a large number of keyword group ideas and search volume trends. Now instead of looking into Ad group ideas, click on Keyword ideas to make things quicker.
Step #4
As you click on Keyword Ideas, the Google Keyword Planner tool provides you a large number of potential keywords for targeting. The data from Google Keyword Planner tool is easily understandable.
If you don't know how to read the keyword research data in Google Keyword Planner, here is explanation to read it :
Keyword (by relevance) : The keyword data is shown with relevance to your seed keyword (free android apps). This is quite effective in telling you what are the other potential keywords generated by that seed keyword that you may target.
Average Monthly Searches : The number of search people made during last 12 months in Google using that specific keyword. It is very important to know the search volume of any keyword before creating content because if you are creating content around a keyword that no people search for (in Google), you are wasting your time and energy.
Competition : High, Medium or Low – it shows how competitive a keyword is. There is a big misconception about keyword competitiveness and ranking. Many SEOs think that higher the competition for a keyword, lower the chances to rank for those keywords. They are true to some extent but not completely. The competitiveness has to do nothing with the ranking strength of a particular blog/website but instead it is the data that tells whether more and more people are bidding for that keyword in Google AdWords or the number of bidders is getting lower.
Suggested Bid : What will be perfect bid amount for that keyword to get listed in Google ads when people search for that particular keyword in Google. You don't have to worry about advertising your business in Google instead you may get some ideas (from suggested bid section) that how profitable that keyword is.
Other sections like Ad impressions share etc. have not much use if you are researching what keywords to target for as a beginner.
Step #5 : Finding the Best Keywords to Target
Now that you have got the basic idea of Keyword Research using Google Keyword Planner tool, here comes the most crucial step of this profitable keyword research technique. Finding the best keywords is as important as content creation because any SEO campaign's success depends heavily on your keyword.
So let's learn how to find right keywords that can drive traffic to your blog/website and increase your sales.
While selecting the right keywords, you should look for 3 crucial data :
Whether Keyword is Long Tail Keyword having at least 3-4 words
Whether Keyword has enough monthly search volume
Whether Keyword gets enough (commercial) bid
With the rise in popularity of Long Tail Keywords, you need to find and target long tail keywords because it is easier to rank for Long Tail Keywords as compared to Short Tail Keywords.
For example, if you are targeting short tail keywords like "free android app" it would be tough to rank for such keywords. Therefore, instead of targeting such short tail keywords, target long tail keywords like "free android app for kids", "free android apps download for music lovers" etc.
Although ideally, it is not impossible to rank for any keyword but you need to target long tail keywords to lower down the efforts you'll have to make in order to rank for the particular keyword.
Apart from the length of keywords, check the average monthly search and suggested bid also to improve your keyword research and find keywords that have the potential to drive traffic and grow your business.
Though finding such keywords is not so easy and it may be a time-consuming task but with effective use of Google Keyword Planner tool, you may easily find them. You may also sort keywords by increasing/decreasing search volume, increasing/decreasing suggested bid etc.
 The Google Keyword Planner tool also allows you to filter keywords based on location, average monthly search and keyword competitiveness etc.
You may also customize what keywords to include and what keywords to hide – just to make your keyword research process a little bit faster. Although this basic keyword research guide for beginners will help you find best keywords in any niche but you need to further learn to master profitable keyword research technique at an advanced level.
 

The Advanced Guide to Find Profitable Keywords in Any Niche (to Build Profitable Business)
Although Google Keyword Planner tool is a free keyword research tool with many powerful features. With proper keyword research technique, you may easily find the right keywords to target in any niche. But there are other alternatives to Google Keyword Planner tool that may take your keyword research to advanced level.
A powerful keyword research is not all about finding traffic driving keywords only. You need to find profitable keywords with commercial value and create content around them. Targeting profitable keywords with better commercial value will take your business blog to unexpected heights in quick time. But unfortunately, Google Keyword Planner tool doesn't offer quick and easy process to find such profitable keywords with higher commercial value.
Don't get me wrong here, I'm not saying you can't find such keywords using Google Keyword Planner. But finding such profitable keywords using Google Keyword Planner is time consuming process. However, good news is : I'm going to reveal various powerful Google Keyword Planner Alternatives that make finding profitable keywords easier and help you find extremely high value keywords.
Find Highly Profitable Keywords Using SEMRush [Paid] :
Among the various highly effective content marketing tools to build your blogging business, I think SEMRush is most crucial to speed up your organic traffic growth. SEMRush is a premium (paid) SEO tool that not only helps you find profitable keywords at a competitive level but allows you to do more than that. In fact, it is a complete SEO package for other SEO needs also. But here we'll be discussing about the profitable keywords research technique using SEMRush only.
First of all, go to SEMRush.com and register for an account.
After completing the basic activities of account creation, enter any seed keyword in SEMRush and hit ENTER.
SEMRush has a huge number of keywords from US, Canada, UK, France, India and other databases. Before clicking on the search button, you may choose your target location to find profitable keywords in your specific location.
As you'll click on search or hit ENTER, you'll see the various details about particular keyword. The details like search volume in particular country, CPC (cost per click) distribution in various country, competition, trend etc. will tell you enough details about any keyword to decide whether that keyword is profitable or not.
Apart from keyword analysis, SEMRush also tells you which websites is already ranking for that keyword is top 100 of Google search results. Although it is not much important if you are just figuring out whether a particular keyword is profitable or not.
But it provides you enough information whether you need to target that keyword or not. Because if you'll compare the SEO strength of your site with that of existing sites in search results, you'll come to know whether targeting that keyword is worth your time or not.
Alternatively, you may also enter your competitors' website URL in SEMRush to know what keywords they are ranking for as well as their ranking position in Google top 100 for each of those keywords.
Overall, SEMRush is a very powerful keyword research tool that makes finding profitable keywords with a high commercial value very easier. But the only downside is : it is a premium keyword research tool. Hence, you need to buy a monthly subscription to access full features of SEMRush.
<Start Finding Profitable Keywords on SEMRush Now>
Find Profitable Long Tail Keywords in Any Niche Using LongTailPro [Premium] :
As I discussed above in this post, the use of long tail keywords in search queries in Google and other search engines is rising because the users want more specific answer to their queries or problems. So it is a wise idea to create your content around long-tail keywords. By doing so, you'll be able to provide users what they want.
But finding long tail keywords using free keyword research tool like Google Keyword Planner is a time-consuming task. However, there is a premium software tool for finding long tail keywords – LongTailPro. LongTailPro is an amazing keyword research tool that helps you find profitable long-tail keywords in any niche.
First of all, visit LongTailPro.com and register for a free account as it offers 10 days of free trial. After getting your copy, create a new project and enter seed keywords. You may also customize the data and use a pre-filter option to find long tail keywords to the specific category.
After entering seed keywords and your customization option, click Generate Keywords & Fetch Data. You'll be asked to enter your Google AdWords login credentials. After successful login, the LongTailPro will show you various keywords, suggested bid (CPC), local/global search volume, keyword competition, keyword difficulty etc. details about various long tail keywords.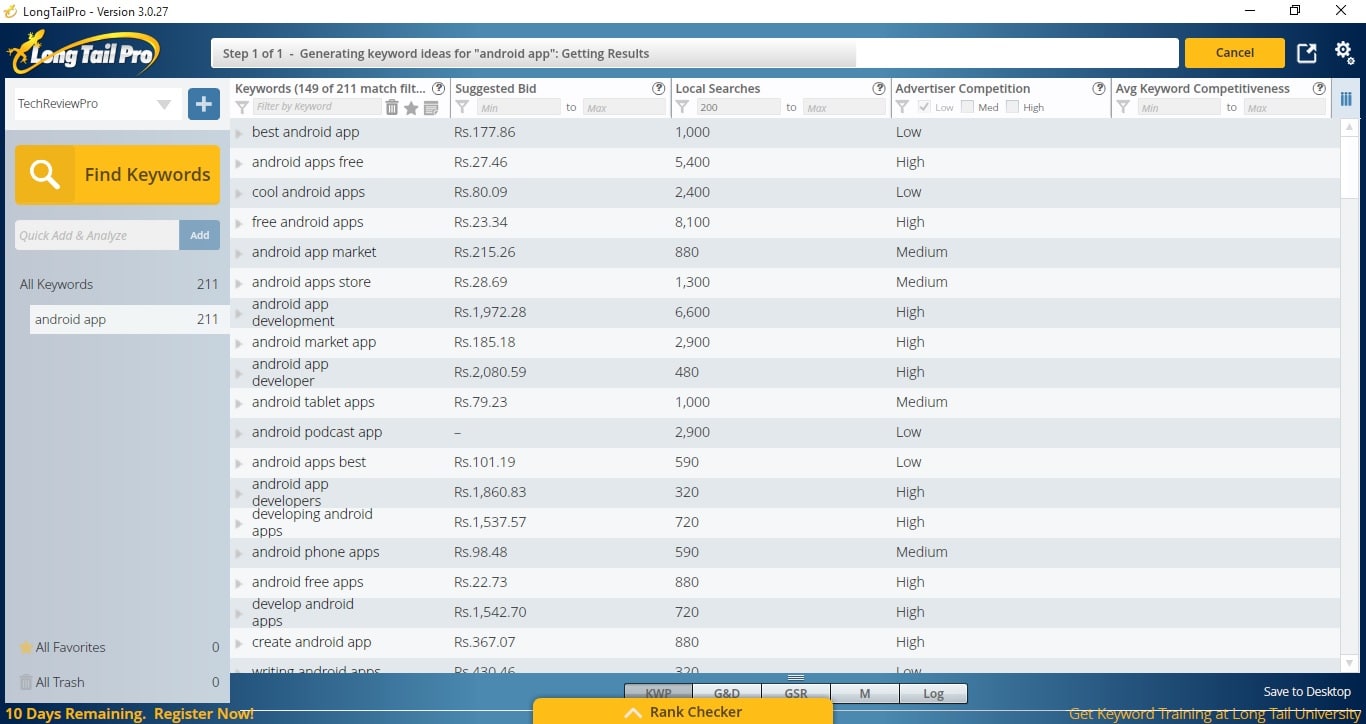 Using this simple to use but effective keyword research tool you may easily find a large number of long tail keywords in any niche. LongTailPro offers many options to customize your keyword research process.
<Start Finding Profitable Long Tail Keywords Now>
The Pro Review from TechReviewPro
Finding profitable keywords and building your content around them is very crucial for the quick success of any business blog. If you want to increase your blog traffic, you need to start working smartly. A profitable keyword research technique is just the beginning of that smart work. Take advantage of this keyword research tutorial I have provided and start targeting right keywords.
Although it takes some time to rank in search engines and start getting quality traffic but if you don't start now, you'll never reach there. And the best thing is, using premium keyword research tools like SEMRush and LongTailPro, you'll be able to boost your blog traffic and sales very quickly.
Do you know any other way to find profitable keywords ? Let us know using the comment section below. Have any doubt or queries regarding profitable keyword research technique ? Contact me now !
Don't Miss :