The best browser for Android or the best browser for Windows can not be the best browser for Mac. Even the fastest browser for iOS is not supposed to be the fastest browser for Mac OS. As each operating system has different features, functionality and requirements, so you need a powerful internet browser for your favourite OS.
Whether you want to read the news, blogs, ebooks etc. online, chat with friends, play online games, shop online, download mp3 music, stream music online, listen to free music online without downloading, stream movies online, watch movies without downloading, share files online, learn something exciting online or whatever else be your browsing needs – without fast internet browser, your browsing experiences will surely be mediocre.
Even though you may browse quickly without an internet connection but for an all-around better browsing experience, you need to have the fastest internet browser installed on your device. We have compiled a list of the top 7 best web browser for Mac users.
Don't Miss: 13 Excellent Microsoft Edge Tips and Tricks for Windows 10 Absolute Beginners
Top 7 Best Browser for Mac Users
Though Apple Safari is a very popular internet browser among Apple's OS lovers as it comes as a built-in web browser for iOS or Mac users, yet sometimes it doesn't work properly in Mac OS X as it fails to load some scripts required to view some excellent sites correctly.
Due to its failure in loading such scripts, it fails to provide the fastest browsing experience to users. But certainly, there are many Safari Alternatives to replace and provide the best web browsing experience.
So have a look at the fastest Mac web browsers – if you are wondering what's the best internet browser for Mac?
1. Google Chrome – Best Mac Browser for Developers
Google Chrome is the world's most modern internet browser and it is because of its powerful functionalities. Developed by Google itself, it is the most powerful web browser designed with a minimalist user interface. It has robust support for a huge number of Chrome extensions and plugins that add to its functionality.
With Google updating it now and then, new and improved features and functionalities like better JavaScript performance, HTML standards compliances and built-in flash rendering engine, etc. are added very frequently.
Frequent updates keep user experience improving while Google developers support it best internet browser for developers. As it is the fastest web browser for Mac and allows you to browse securely, you must give it a try for Mac.
Download Google Chrome Internet Browser for Mac
2. Mozilla Firefox – Best Mac Browser for Customization/Tweaks
Mozilla Firefox is one of the best web browsers for Mac users. Since it is an open-source web browser, so it is available for free download. Mozilla Firefox comes with several built-in powerful features that are beneficial for web developers/designers in customizations and tweakings.
Whether you want to surf the web exclusively, block pop-ups and annoying ads or manage your bookmarks effectively – Mozilla Firefox for Mac OS is the best internet browser that keeps you organised and prevents malware and spyware away. With many powerful add-ons available, it adds functionality to your safe and secure web browsing.
Download Mozilla Firefox Internet Web Browser for Mac
3. Apple Safari – Best Overall Browser for Visual Balance
Safari is the default web browser for Mac OS X that comes as the pre-installed web browser for all Mac OS devices. Being the official web browser developed by Apple, it comes with many powerful features. And Apple keeps adding new features and improved user interface to compete with other web browsers.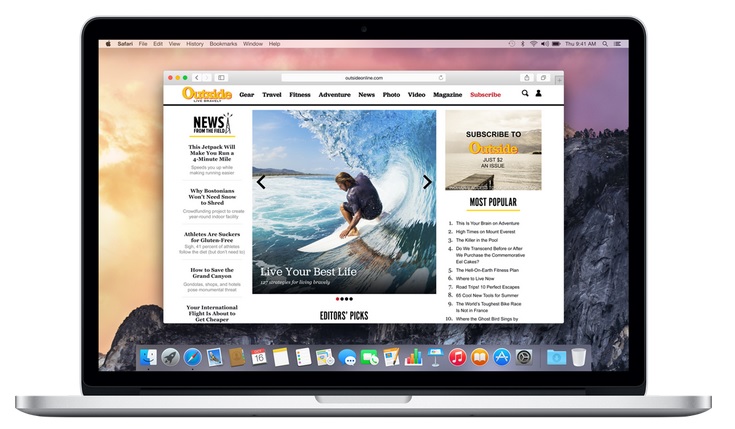 Those who are using iOS on their iPad or iPhone etc. other Apple products know that Apple Safari is the fastest web browser for iOS but when it comes to Mac OS, it lacks some features as compared to other Mac web browsers. However, the clean and uncluttered design with compelling visual balance, iCloud integration, RSS integration, etc. features make it the best overall Mac web browser.
Download Apple Safari Internet Web Browser for Mac
Also Read: Top 7 Best Safari Extensions – Best Safari Addons Plugins for Everyone
4. Opera – Best Internet Browser for Speed
Gone are the days when Opera used to be a slow browser with a cluttered design. Now, the Opera web browser has improved itself to be popularly known as one of the best internet browsers for speed. With a simple, sleek and minimal design, Opera is a very powerful web browser for Mac users.
The latest Opera browser updates have added features like powerful rendering, server-side compression and Off-Road mode that is built with innovative ideas to speed up the browser for a better and faster browsing experience. Also, several Opera add-on lets you customise your web browser easily.
Download Opera Internet Browser for Mac
5. Torch Browser – All in One Mac Browser for Multiple Needs
If you are quite disappointed with all other popular Mac web browsers like Firefox, Safari, Chrome, Opera, etc. you need to give Torch browser a try. Torch browser uses the same Chromium project as Chrome. It comes with many features and add-ons that add to its functionality and make it a very popular Chromium browser with multiple functionalities.

With built-in features like media grabber, Torch torrent, Torch player, Torch music, Torch games, Torch facelift, etc. already integrated, Torch browser is all in one Mac web browser for your multiple needs. It is fast, beautifully designed, secure as well as a dominant browser for Mac users.
Download All in One Torch Web Browser for Mac
Check out: Top 9 Best Free Games for Mac OS X
6. OminiWeb – Best Mac Browser to Stay Organized
OminiWeb is a powerful award-winning web browser for Mac users that aims to provide better browsing for everyone. It is a super fast, secure and feature-rich web browser that you may consider as the best alternative to other standard Mac web browsers.
OminiWeb is popularly known as the best browser for organised people as it lets you organise your bookmarks and comes with features like a visual tab drawer for quickly managing and restoring web pages.
Though OminiWeb browser for Mac is a well-designed web browser with many useful features, yet I feel it still lacks many features. However, if you wish, you may check it out yourself.
Download OminiWeb Browser for Mac
Also See: Top 6 Best Private Search Engines for Anonymous Web Surfing
7. Maxthon Browser – Best Cloud Based Mac Browser
Maxthon Cloud Browser is yet another powerful web browser for Mac users. It is a super fast and secure internet browser that you may operate on multiple platforms and devices which make it easy for you to manage your bookmarks, tabs, reading lists and surfed websites history, etc. accessible from a cloud system.
Maxthon Cloud Browser sets you free due to its latest cloud-integrated powerful features that let you sync, share and manage your files on various operating systems including Mac, iOS, Android, Windows phone and Linux.
Download Maxthon Cloud Browser for Mac
Also Check: Top 7 Best Web Browser for Linux OS – Best Linux Web Browsers
The Pro Review from TechReviewPro
While selecting the best browser for Mac/iOS/Android/Windows/Linux or any other operating systems – the selection may differ based on the choice of people. As you might have noticed in this post, the best browser for developers is not the one that is also the best browser for designers.
Therefore, it is recommended to check out any of these browsers yourself and then decide which is the best Mac browser that suits your needs. However, don't forget to add it using the comment box below if I missed any.
Also Check out: