When we talk about photo editing, Adobe Photoshop always comes to mind. After all, it's the best photo editing tool in the world, being used by professional photographers, businesses and even for personal use. It will let you edit any photo in ways you can't even imagine.
However, it is still not the go to tool for most users due to many reasons. First of all, its is very complex to use, making it hard for an average user to take advantage of it, also, most don't need such robust editing features in their daily editing. Last but not least, it is hella expensive and most people can't even afford it.
Fortunately, we don't have to depend on Photoshop for our photo editing needs as there are tons of free and paid photo editing tools available. Of course, they are not as good as Photoshop, but they offer quite robust editing tools and some can be even compared to as best Photoshop alternatives.
Checkout : 17 Cool Computer Command Prompt Tricks and Hacks for Windows Users
10 Best Free Photo Editing Software to Edit Photos Like a Pro
To help you edit your photos on your favorite operating system, we have created a list of free best photo editing software containing editing software for Windows, Mac and Linux. All you need to do is choosing the best photo editing software for your needs and start editing!
Best Photo Editing Software for Windows
Let's check out the best photo editing software available for the most used desktop OS, Windows.
GIMP (GNU Image Manipulation Program) actually works on all three operating systems, Windows, Mac OS X and Linux, so we will start with it. GIMP is a free, open-source photo editor and sometimes called a free alternative to Photoshop. It's editing capabilities are almost close to Photoshop and will let you do all types of basic and complex editing like, effects, crop, sharp, lasso, paint and brush tools and tons of other features to make your pictures look out of this world.
However, it is also a bit complicated to understand, so you better have some editing knowledge or a handy guide to GIMP opened up. It does define what a specific tool does just by hovering your mouse cursor over it, so a little time spent with it can help you start editing like a pro.
PhotoScape is another feature rich freeware tool available for Windows and Linux that is perfect for an average user. It will let you do all types of edits like, resize, adjust colors, add effects, backlight correction, add frames, remove red eye, stamp, draw and add text to a picture. At a time you can add multiple pictures to edit them at the same time and save some extra time.
Apart from photo editing tools, it also has many other features, including Print, create slideshows, create GIFs, split and merge photos, RAW converter, Face search, screenshot color picker and batch rename files. It is a free tool, but if you like the tool and want to help the developers, you can also donate them as much as you please.
Also Read: 6 Best Free Online Photo Collage Maker to Make Photo Collage Online
"Paint", rings any bells? Yes! It is a beefed up version of MS Paint we all loved to play around with in our childhood. MS Paint is a good editor, but it lacks many editing features of a good photo editor, so Paint.Net was created. It is a completely free tool without any kind of limitations and you can use it for personal and commercial use.
It is an extremely light photo editor with tons of handy features. It offers editing features such as, blur, sharpen, distortion, noise, embossing, red eye removal, 3D zoom, effects, add shapes and Magic Wand. All of this available in a simple interface, making it the best photo editing software for beginners.
Pixlr comes with a free version with limited features and a pro membership that offers all the features. The reason why it is in this list is because its free version offers all the features required by an average user. With the free version you will get editing tools like, effects, borders, overlays, auto-adjust, crop/resize, adjust color, remove red-eye, whiten teeth and add stickers.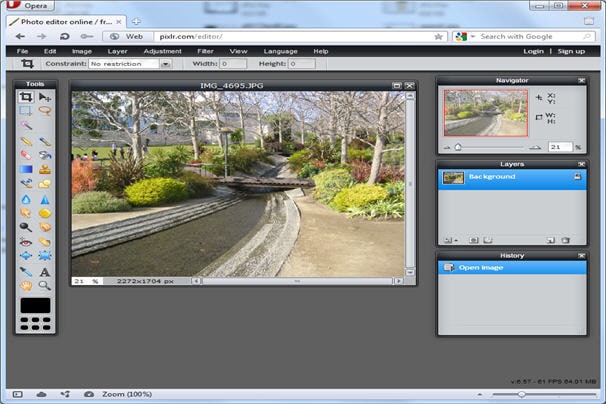 Pixlr has dedicated clients for Windows and Mac, but you can also edit photos right from the web client, so you can basically use it on any OS. Going for the paid version ($1.99/month) will give you more control over your pictures, like editing specific areas of a picture, control effects, double exposure and change color channels.
Also See : 11 Best Free 3D Modeling Software for Beginners to Make 3D Printing Easier 
Best Photo Editing Software for Mac OS X
Although, most editing tools support both Windows and Mac, but there are some specifically made for Mac OS X as well. Let's checkout free photo editing software for Mac.
Photos is a photo organizing tool offered by Apple itself in the latest version of Mac OS X. It organizes all your photos and provides you complete control over what you can do with them. Along with organizing it also lets you edit your photos to make them look fabulous. The editing tools are also quite powerful for an organizing tool, you can enhance photos, use filters, edit multiple photos, add effects, adjust colors, draw, add text and add vignette.
Photos work with Apple's iCloud service, so you can easily edit photos in the cloud and the edits will be made to the photo in all of your Apple devices. You can also easily share the photos right from the app to your favorite social media app or to a friend.
Just like Photos app by Apple, Picasa is also a photo organizing tool offered by Google. It doesn't offer as amazing editing features as Apple's Photos, but if you like basic edits with ease, then Picasa is for you. It will let you adjust your photos, like resize, crop and add different effects to make them look vivid.
Editing features do lack, but it will do wonders when it comes to organizing your photos. It will take all your photo in the PC and show them in a simple interface. Here you can easily edit or share them, and even save photos in Google Drive to save space on your PC. The photos can be synced with Google+ and other web albums on supported sites.
Checkout : 9 Super Smart Tips and Tricks to Click Beautiful Selfies Naturally
7. Seashore
Seashore is a relatively new photo editing tool, so it is still underdevelopment and may have some bugs. However, it is a open-source photo editing tool available for Mac OS X with quite handy features, making it worth adding to this list. It is based on the source code of GIMP, but they have highly tweaked it to make it comfortable for Mac users.
It is made for average users, so it doesn't offer as robust features as GIMP, but it is simple. Its features include, crop/resize, add transparent background, Mask Selection, Aspect ratios, Pencil tool, repeating gradients, brushes, core images, contrast and add effects.
Also Read: 6 Best Photo Organizing Tools and Alternatives for Picasa
Best Photo Editing Software for Linux
Let's check out our selection of photo editing software for Linux.
Fotoxx is a feature rich photo editing tool for Linux that can even be used by professional photographers. It is an open-source tool and completely free to use, and it can both manage and edit photos. Its editing features include, adjust color/brightness/contrast, remove color castes, blur or sharpen images, vignetting, Red-eye removal, smart erase, remove dark spots, clone, crop, resize, add effects, draw/write on image, panorama and much much more.
The program is available in multiple languages and you can use it for both personal and commercial use.
darktable is another open-source photo editor for Linux that is both feature rich and very simple to use. It offers non-destructive editing and speedy edits with OpenCL. Its editing features consist of base curve, exposure, white balance, invert, adjust levels, tone curve, overexposed, velvia, channel mixer, color contrast/zones/correction/transfer, lens correction, raw denoise, sharpen, blur, equalizer and many more.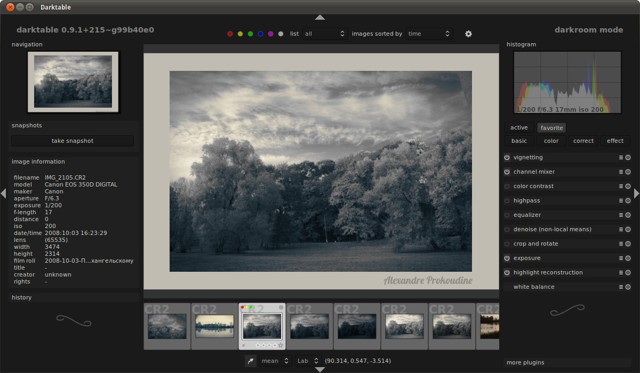 darktable is multilingual and is available in total 18 languages. Its interface is also quite simple and very light at the same time, make it easy to work without any of the latencies.
10 Fotor – Free Online Photo Editor
Fotor is actually a web based photo editing tool, so it works on all OSs, including Linux. Although, you need to sign up to their membership to access all the features, but their free offering is quite good as well. All you need to do is upload the image to Fotor website and start editing without delay.
It will let you add effects, borders, themes, stickers, use HDR, make collages, crop/resize and use templates. However, some of the premium effects, frames, themes and stickers can only be used with the membership.
Also Read: 9 Best Chrome Addons to Create Animated Gifs Easily
The Pro Review From TechReviewPro
Nowadays, everyone is crazy about photos, so need of a professional photo editing software also arises. Fortunately, we can easily access tons of free photo editing software to easily edit our photos.
All the above mentioned photo editing software tools are completely free and we have covered all the major operating systems, so you should be able to find a good photo editor available for your OS. Some tools also have multi-platform support, so do keep that in mind if you find a good tool in this list. Happy editing!
Don't Miss: