Without Search Engines, our life would have been tough! We would have to remember the URL of every website we want to visit — don't you think it's tiresome? Thanks to Google, Bing, Yahoo and several others, any website is a few taps away. Let that be about finding the best web browsers or about choosing the best custom ROM for your device, and Google would have an answer for you. In spite of all these, there are times when we want to get rid of Google and go for a privacy-friendly search engine or (more precisely) private search engines.
Why We Need a Private Search Engine?
It's a public secret that Google tracks you. Not just Google, but almost every modern search engine tracks you! Same is the case with Yahoo, Bing, etc. When you search for something in Google, the details are stored along with your IP address. If you have signed in with your Google Account, things are more obvious. It makes no difference even when you use the so-called Incognito Mode or Private Browsing Tab. The only solution there is to ditch Google and other search engines and go to a private search engine that allows you to search privately.
In this article, we will talk about the best private search engines you can use. Absolute Privacy is still a distant dream, but these search engines are way too better than Google or Bing. At the least, they won't bite you back with the data collected from your search engine uses. For those privacy-conscious people, you can choose one of the following as the default search engine.
Also Read: The Pro Guide: How to Keep Your Android Device Secure?
Top 3 Best Private Search Engines for Private Searching
StartPage calls itself the world's most private search engine. You can search the web, images, videos, etc. via this private search engine service. Along with these, this private search engine also equips Advanced Search controls that help you find clearest results within no time. We discovered that the advanced options are much better than what we get on Google or Bing. Talking of the search results, they are pretty minimal and easily accessible. Once you have got the results, you can find best ones based on time — that's it. StartPage also allows you to add the Search Engine to your Chrome Browser and set it as the homepage in your browser.
There are many reasons why StartPage is perhaps the most active private search engine. Instead of being a full alternative to Google, it combines Google Search results with user privacy. So, when you use StartPage, you'll get the same Google Search Engine results. The only difference is that your privacy/information isn't submitted. Google only sees StartPage, not the StartPage user — doesn't that make sense? This enhancement is one of the reasons why StartPage results are so useful. Moreover, this private search engine also protects your privacy from advertisers, though it may show some ads.
In short, StartPage Search Engine is the most appropriate private search engine for those who love Google results but can't make a compromise with privacy.
When you are fed up with Google's tracking and annoying ads, DuckDuckGo makes enough sense. The search engine is extraordinarily minimal, effective and a strong opponent to Google, Yahoo and Bing. It's also the most popular and most used private search engine around. DuckDuckGo offers a bunch of features you'd love to have. Let's start from its auto-completion. It gives you suggestions as soon as you start typing your keyword. In DuckDuckGo results page, you can filter results from Images, Videos and News. It also lets you filter results depending on date of publishing. In case if you want, you can filter results based on Region too. In other words, DuckDuckGo has all features an ordinary user would need from search engines.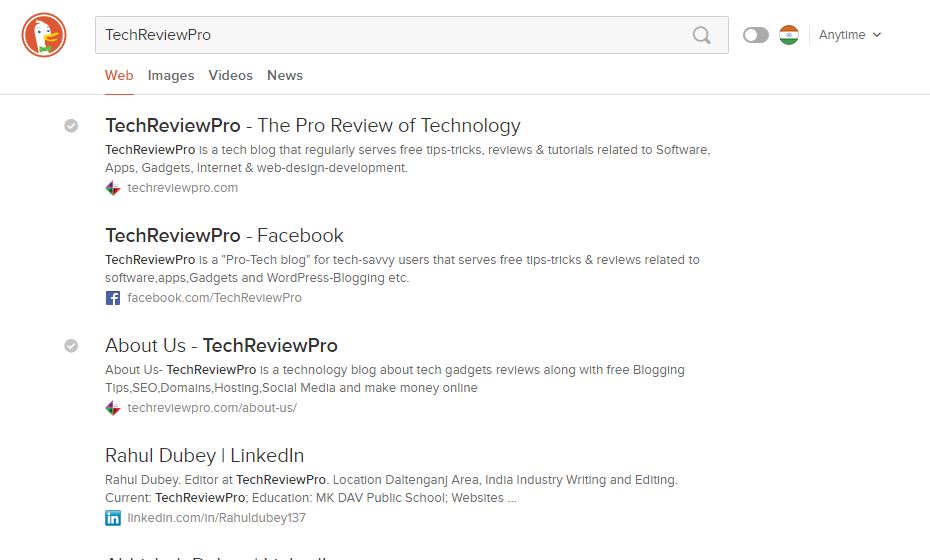 Talking of Privacy and Do-Not-Track Policy, DuckDuckGo Search is the leader. It works in partnership with Yahoo but does not compromise a bit when it comes to user information or privacy. This venture is powered by a worldwide community that cares about privacy and web safety. At the least, while using DuckDuckGo, you don't need to be scared about search leakage or misuse of collected information. Nor will you see ads depending on what you've searched. It makes every search you do privately. When compared to other standalone private search engines, results are better.
If you want to miss Google Results but to embrace user privacy, DuckDuckGo is the optimal choice. You will get not only the power of privacy but also cool features like Ad-Free search, Instant Answers, Auto-Suggest, etc.
Disconnect Private Search is another private search engine solution for those who love results from Yahoo or Bing. In spite of having the results from the modern search engines, the toolbar can protect your privacy anywhere. Disconnect Private Search is a toolbar that you can install in Chrome or other browsers. In addition to that, there is a web version you can try. Independent of the way you choose, Disconnect Private Search lets you be anonymous in the whole course of searching. The best part about the extension is that you can bring the feature into your URL bar. That is, you are going to search quite usually, but the results are privacy-protected.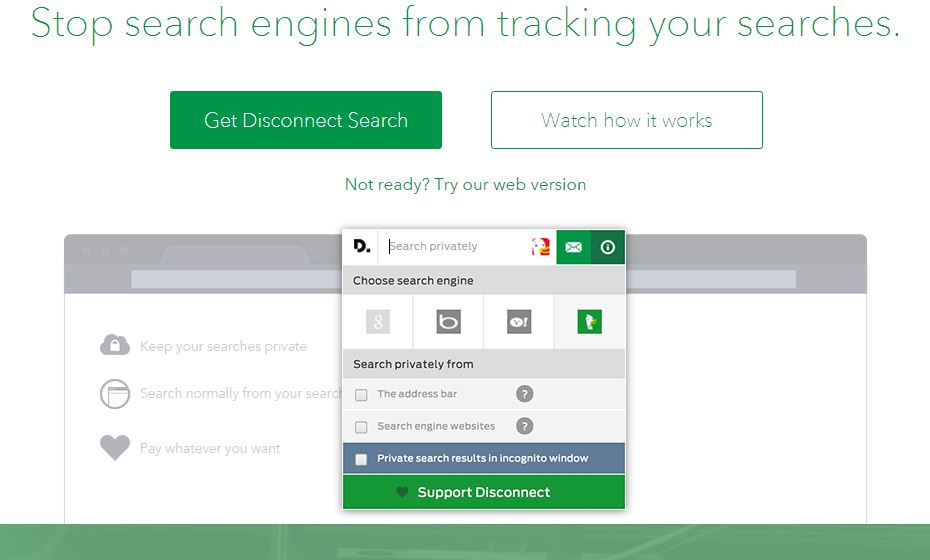 Google is not currently available in Disconnect Private Search, though others work fine. You can have privacy-friendly results from Yahoo, Bing and DuckDuckGo. As we discussed in the case of StartPage, you do not have to forget the usual experience of search engine results. On the other hand, you can get an ad-free, privacy friendly results that are free from the NSA-stuff too. In addition to protecting your privacy from search engines, Disconnect Private Search extends power to thousands of websites and your own ISP. In short, it's a complete privacy solution for the web. Moreover, the Chrome extension is lightweight and does not consume much memory.
Do you want to protect your whole private sphere from tracking and the follow-up ads? Then, Disconnect Private Search is one of the best private search engines you are looking for.
Read: 'Send Anonymous Email' Lets You Send Email Anonymously for Free without Registration
Other 3 Miscellaneous Private Search Engines for Private Searching
What we saw above are the leaders of private search engine experience. Apart from these, there are some small yet useful private search engines. Most of them depend on Google Search results with the help of proxies. That way, it is not possible for Google to track your information. Every bit of traffic is mediated by the search engine web servers. Some of such engines are:
Lukol is an easy-to-use private search engine. It does neither track your information nor store your IP. It has no tie-up with Governments or security agencies to share your data. In short, you don't have to worry about your search indexes getting exposed.
Qrobe.it is another alternative private search engine to rely upon. The interface is way too simple, and you'll be able to search for Images and Web content. You also get some Settings option and Advanced Search
Gibiru claims to provide Uncensored, Anonymous Search Engine experience — both in the web version and with the official Mozilla Firefox toolbar. This search engine is noted for the 128-bit secure encryption, the promise of data safety and optimal privacy.
Also Read: How to Send an Anonymous Email from Anonymous Email Account?
The Pro Review from TechReviewPro
We have discussed the privacy factor in popular Search Engine services. It's a fact that Google isn't safe for the privacy and that you should be conscious of the privacy loss. We have mentioned three main private search engines as solutions and three other private search engines as sub-solutions for private search needs.
Among the primary private search engines, DuckDuckGo is the standalone private search provider and has no connection with Google or Google Ads. Or, if you want to get all the Google features, you can go with the two others — StartPage or Disconnect Private Page. DuckDuckGo remains our favorite, by the way. We loved its UI and features. So, you can choose the one among these private search engines you like in the list. However, you are going to have a Private Searching experience. 🙂
Don't Miss: