Photos clicked through a built-in camera, or Android camera apps can never be enough for photogenic and selfie addicts. Though the scope of Android phones' camera has enlarged to several megapixels, there are some requirements that a typical Android camera can never fulfil. And unfortunately, you cannot carry an SLS/DSLR or any other professional camera everywhere you go. But the good thing is that you may enhance the quality of your pics by editing them in one or the other way using the best photo editing apps on your phone or via PC.
The number of photo editor apps for Android has increased rapidly and finding the best photo editing app for Android is a bit difficult task. Each app or software has a unique feature that makes it stand out from the crowd and fascinate users to try it. While there are some apps whose feature can seem to be unlimited without any boundaries and not all of them are paid.
No one would like to risk their photos by taking a risk to edit them via any unknown third party photo editor app. So, below is the list of highly efficient, paid as well as free photo editing apps for Android.
Also Read: Top 5 Best 3D Camera Apps for Android to Capture 3-Dimensional Images
Top 8 Best Photo Editing Apps for Android to Edit Photos Easily
Cymera is a free photo editor for Android. It is a very popular and flexible app for photo editing. It offers a lot of customizability options which you can utilize to do lots of work. Back then, it was a really simple app with a primary interface. But, in the recent year, it got a complete visual overhaul that made the users love it even more, and it included some harsh criticism as well (It's obvious when you do a visual overhaul, It's always a risk).
It also offers tons of in-app purchases. So, if you have an interest in getting the products provided in the app for purchase you can utilize its features up to their full potential. Don't worry, if you aren't interested, you can do a lot of things with the free items offered as well.
PicsArt Photo Studio is yet another free photo editor for Android. It is one of the most famous and loved photo editing apps for years. Well, if you are an old user who used it previously, and if you had observed, it took a lot of resources to run. But, after the complete overhaul of its function and user interface in recent years, it became resource friendly.
It's a feature-packed photo editing app for Android which a professional would usually love to have it installed on the device. You can figure out from the image above what exciting features it might contain. And, it's free! So, why not try it out?
Also Read: 7 Best Instagram Collage Apps for Making Awesome Instagram Collages
3. Facetune
Addicted to selfies? Well, that's not something unique. Nowadays, getting addicted to taking selfies is a common part of every human's life. I salute the exceptional fellows who aren't taking selfies (not even once!). So, what's the big deal? Everything! If a person takes a selfie, he/she wants it to be perfect in almost every sense. One always dreams of a spot-free face (no pimples!), no dark circles and a lot of other things. But, those are natural things to happen in every individual's life. Even celebrities get the same, but the makeup protects them.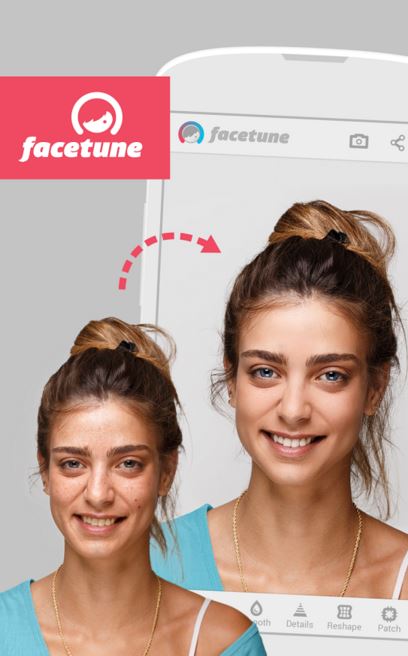 So, to make the selfie look perfect you can get the perfect companion, that's Facetune. It's the best photo editor app for Android that is dedicated to selfies. However, it's a paid app for $3.99. And, trust me, it's worth the price. It's incredible. It turns a face with a lot of spots and blemishes to a healthy and polished as if you're nothing less than a celebrity.
4. Photo Editor Pro – PIP Camera
It's nothing like the others. However, if you are in need of something specific – "creative frames." It's something I would dig for. It offers amazing frames which make the pictures taken memorable and fun-filled. Quite good filters available which suit the collage frames provided by the photo editor app.
5. FotoRus – Photo Editor Pro
It's an all-in-one type photo editing app for Android. Not necessarily the best photo editor for Android, but if you want all the features like – frames, stickers, and professional editing capabilities, you should get this. There's something different about it as well. Typically, you use a locker or a similar photo editor app to hide the pictures which are private, or you want to hide them for a reason.
But, with this photo editing app, you get to create a secret album. This would save you some additional storage space as well. It's better to use a single app for multiple tasks rather than installing various applications for individual tasks. It would consume more resources and storage space as well.
Ah! The name itself speaks for it. It is a product of Adobe. So, you can be sure that it's a quality app. But, what about the features? Yeah, it gives a sound amount of features for free. But, if you want to access some of the features which are premium you need to provide an Adobe ID for that. Well, that's never cheap.
So, unless you're not happy with the free features, you shouldn't even think about going premium. It would be a waste of money. In the end, it depends on the user what he/she likes. It's good enough, but not brilliant!
One of the most popular online photo editors now offers an Android app. It offers a huge number of filter combinations to experiment with every possible effect on the image. It's quite popular among Instagram users. If you're in doubt about what should you edit, then there's an auto fix option for that. It would not necessarily do the edits you want, but it helps in most of the cases.
Developed by the beloved team at Google. The photo editor app provides professional editing features for free with no in-app purchases included. You can transform the picture's perspective across the axes, apply the lens blur effect with ease and a lot more useful stuff.
However, it doesn't offer extraordinary filters, but it does give you a lot of photo editing ability for free. If you're a full stock guy using every Google service to make things easy, then you'll have to opt for it.
Also Read: 8 Best iPhone Security Camera Apps to Turn iPhone into a Security Camera
The Pro Review from TechReviewPro
The above-mentioned is a list of best paid as well as free photo editing apps for Android. Did I miss any? If you have used another photo editor app and found it fascinating, feel free to share your experience with us by commenting below or contact us.
Don't Miss: