Creating a panoramic image from a bunch of digital photos is something that I have always enjoyed doing because it makes me feel like some photography professional! Photo stitching is a process used for the creation of panoramic shot by combining several images, given that all these pictures have overlapping segments. The best thing about this method is that you can have a high-resolution panoramic shot using your 18-55 mm or other lenses.
Photo stitching is the process of combining several images with overlapping fields of view to reproducing a sweeping landscape. For example, during your trip, if you took a series of overlapping images of a landscape and wondered how to combine them to produce a panorama or wide-angle, high-resolution image, then don't be worried.
Many photo editing tools are available that help you edit or merge multiple images but creating high resolution, and the wide angled picture are not an easy task. For a primary camera or even a DSLR, capturing an extended scene in one take is not possible. Usually, software having this facility is expensive and designed for the particular operating system only. But there are also some free stitching software tools that provide this functionality without any cost.
Also Read: 6 Best Free Online Photo Collage Maker to Make Photo Collage Online
Top 10 Best Photo Stitching Software for Panorama Photography
In this post, we have a list of top 8 best photo stitching software, which you can use for creating panoramic images that have enhanced clarity and resolution.
AutoStitch is what I started out using and still use quite a bit when I have pictures that I know will quickly create a great panorama. AutoStitch is a free photo stitching program, which takes multiple digital photos of a scene and blends them together smoothly to create a panoramic photo automatically for you.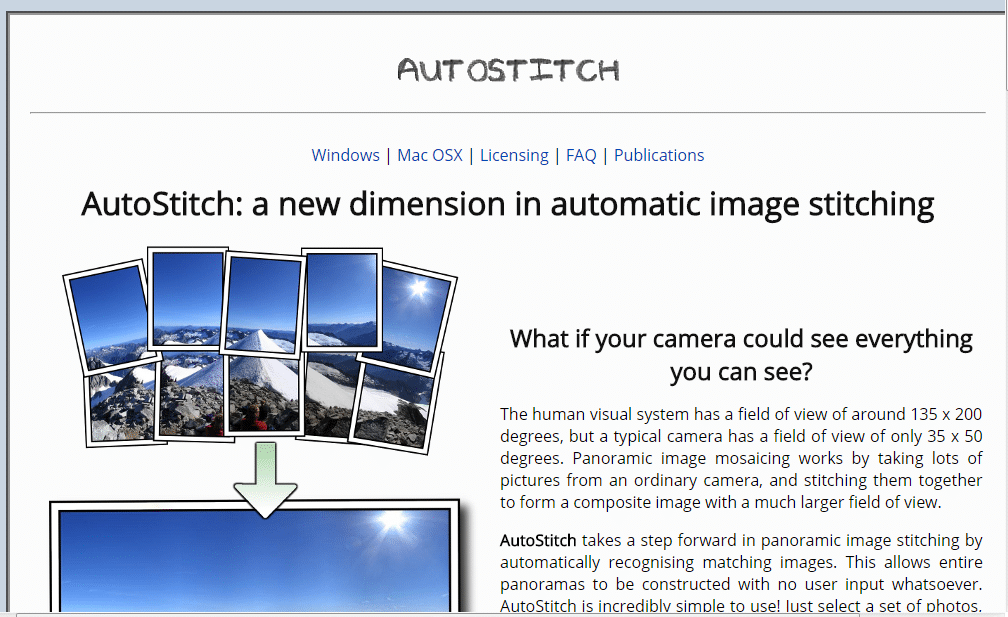 It's mostly for beginners and creates the panorama for you without any user input. You can set a few options, but for the most part, AutoStitch handles everything. Within seconds, AutoStitch will merge all the images and align the color contrast and minor additions to form one main image. Depending on the number of images you select, the time duration is specified, and further output image will be generated.
Hugin is available for Windows, Linux, and Mac OS X and it is being used by a large number of photographers when they need high-resolution panoramic shots. It's a fact that Hugin prioritizes customizability & advanced functions, and thus it's more or less for professionals. For instance, you can find control points and edit the parameters used so that you get the best output.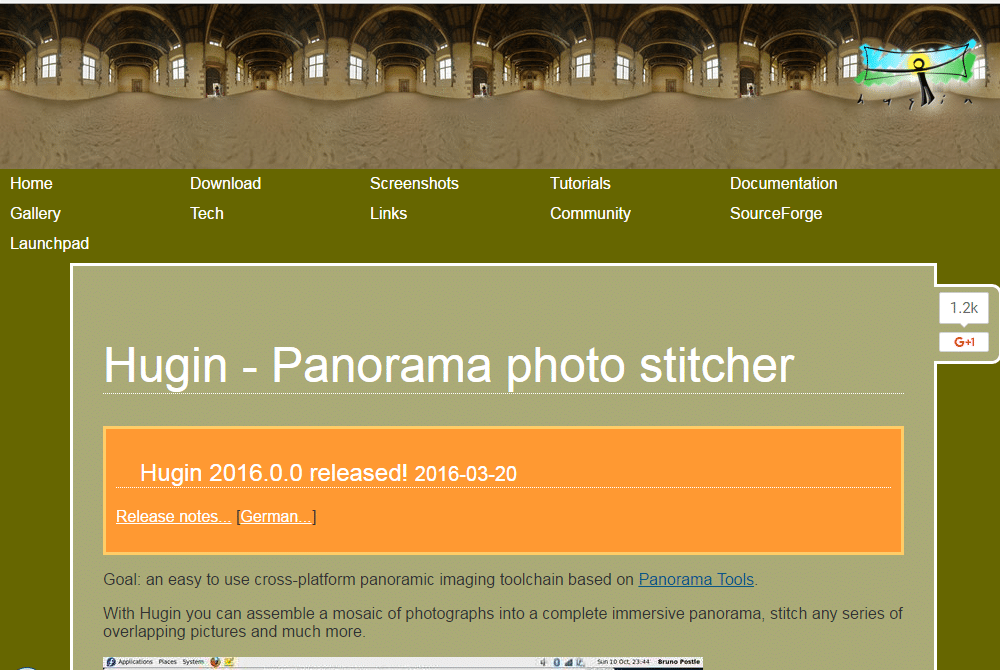 Hugin is different photo stitching software from AutoStitch because it's a bit more complicated, but allows for greater customization and control of your final panorama. Depending on which camera you used to take your pictures, you may get a message saying that the program could not find any information about the field of view for an image. User Interface of Hugin is not that tough, but you can get accustomed to it if you're ready to take some effort. So, go for Hugin when you need a feature-rich and professional panorama photography software.
Another great free photo stitching software tool that is a few years old, but works amazingly well, is Microsoft Image Composite Editor (ICE). What's cool about this program is the fact that you can create a panorama from a video. If you took a video of a mountainside while panning your video camera from left to right, then you can use ICE to create a panorama from the stills extracted from the video. It does all of this for you, so you don't have to do anything complicated.
You can change the camera motion, crop the image, change the export settings and the size of the panorama. The photo stitching program supports unlimited photos, so you can create gigapixel panoramas using ICE. It's also convenient that you can export to other formats like BMP, TIFF, PNG, PSD, etc. Click on Export to disk to save your file out.
Learn: How to Capture Windows Screen? – Top 10 Best Screen Recording Software for Windows
PTGui is another efficient photo stitching software as it can stitch multiple rows of images into a panoramic image. It is sometimes more attractive compared to other panorama maker software as it can create 360-degree cylindrical panoramas, "flat" partial panoramas and even spherical 360 x 180-degree panoramas.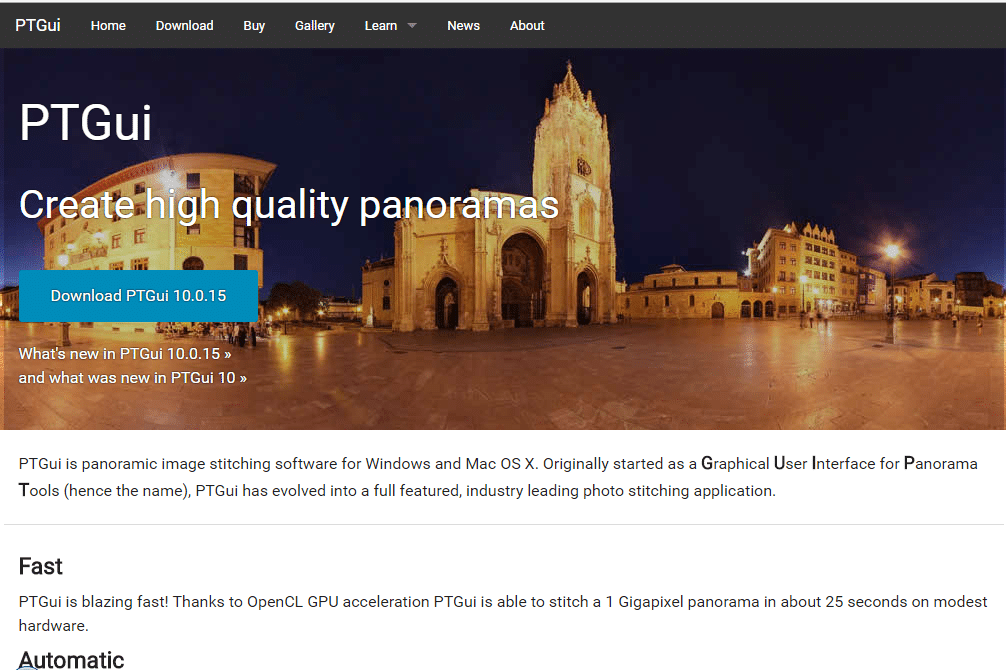 PTGui can stitch rotated and tilted images. It can create gigapixel panoramas from thousands of images. PTGui has a Masking tool which allows full control over the final stitched result. The unique feature about PTGui is that it Stitches most panoramas automatically, but also provides manual control over every single parameter.
PanoramaPlus X4 intelligently recognizes related images and seamlessly stitches together your photos and movie frames to create the final panoramic image. The stitching process works in two dimensions, creating vertical as well as horizontal panoramas. PanoramaPlus X4 can be used to make a panoramic picture from your favorite video footages. It will automatically split movie clips into still frames, and allow you to select the ones you want. It will then stitch them together to create an amazing panoramic photo.
PanoramaPlus has built-in editing tools which help you to crop your photos to fit any frame size, rotate stitched images, and straighten skewed pictures. With one click, you can send your panoramas directly to any installed version of PhotoPlus for advanced editing.
Read: Top 5 Best Linux Screen Recording Software for Screen Recording in Linux
For all the professional and amateur photographers, ArcSoft is considered as the best photo stitching software when it comes to editing pictures. ArcSoft Panorama Maker turns any series of overlapping photos of vast landscapes, city skylines, mountains ranges, lush forests, towering skyscrapers, and cascading waterfalls into dazzling panoramic pictures in just a few seconds. The ArcSoft Panorama Maker software has five auto-stitch modes: Auto, Horizontal, 360, Tile, and Vertical.
Its inbuilt tools scan images selected by the users and align them accordingly for the creation of panoramic images. Its managing capabilities help edit the chosen pictures again and again. The user can go back to the previous step and insert or delete images if required.
PhotoStitcher automatically aligns individual pictures and stitches them one by one into an eye-catching professionally-looking panorama. PhotoStitcher is a fully automatic image stitcher. You just have to snap some overlapping images, select the relevant pictures, and click the 'Stitch' button. You can Crop the result with automatic cropping. You can also purchase a bundle of photo editing tools at $99.94 which consists of a combination of Inpaint, PhotoScissors, MultiView Inpaint, BatchInpaint, iResizer, and PhotoStitcher.
Checkout: 31+ Best Free Graphic Design Software to Create Stunning Visual Graphics
Panoweaver can stitch any number of photos to create a panoramic image. If you are just using a standard digital camera with normal lens, it is also possible to get a beautiful panoramic image with Photo Stitching Software Panoweaver. Both Automatic photo stitching and manual photo stitching are supported in this photo stitching software. Automatic panorama stitching is applied when there are enough matching points between adjacent pictures.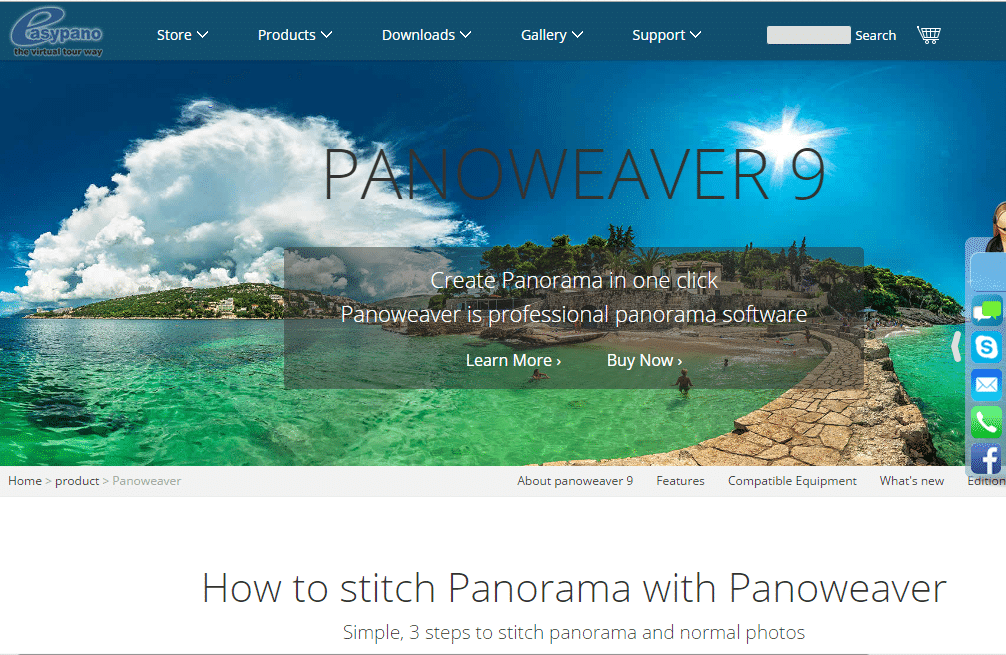 Coming to the output, you can get Cubic, Cylindrical, Spherical or a single fisheye projection mode. Of course, you can have enhanced features if you're ready to upgrade to the Pro variant of Panoweaver 9. There are both Standard and Professional versions of Panoweaver 9, and there is a difference regarding the availability of features too.
Also Check: 6 Best Photo Organizing Tools and Alternatives for Picasa
The Pro Review From TechReviewPro
The best thing is that you don't have to know much about photography to create panoramic images. You just have to keep a few simple rules in mind when taking photos. That wouldn't be so terrible you might say, but what makes photo stitching software so helpful is that it is "sewing" those photographs together with no apparent trace of the seam. What you get is a great single panorama view of what you have photographed with several pictures.
Have you used any of the photo stitching tools mentioned in our list of best photo stitching software? Do let us know in comments section.
Don't Miss: