Photos come in different formats, such as PNG, JPG, BMP, ICO, DIB and many other. Different applications have different demands for image format and each image format serve a different purpose. So converting images to a different format is a universal need. Fortunately, there are many free online photo converter tools available to convert photos online for free.
Also Read: 11 Best Online PDF to Word Converters and Word to PDF Converters
Convert Photos Online with These 8 Free Online Photo Converter Tools
You can use both online and offline tools to convert photos to any format you like. For quick conversions, online photo converter tools are the best as you are not required to download any software to your PC. Today, we will list down different online photo converters to convert photos online. All these tools are completely free to use or, at least, have a free version that offers all the features you need.
Online-Convert is a robust online photo converting service that supports many different formats of files, not just images. You can convert, audio, video, images, documents, e-books, archives and more. As an image converter, it can convert your uploaded image to jpg, png, BMP, gif, ico, tiff, tga and few other formats.
You can upload the image from your PC, a URL or from Dropbox and Google Drive. Apart from basic conversion, it also offers few photo editing tools to buff up your picture. You can select quality, change size, add effects and enhance your picture with these tools. The conversion process is also quite fast with the ability to download the file right inside the browser.
Also Read: 7 Best YouTube to MP3 Converters to Convert YouTube Videos to MP3
Another multiple purpose free online photo conversion tool that will let you convert documents, videos, audio, images, e-books and archives. However, it offers the much more intuitive interface with reliable features. You just need to upload the file from your PC and it will automatically detect its format and offer conversion possibilities according to it.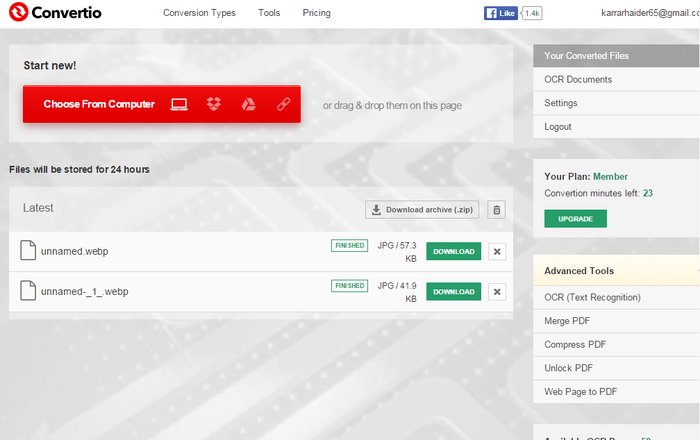 You can select multiple photos to convert, and select a particular conversion format for each photo. You can receive the converted photos in your browser, via email or save them to your Dropbox or Google Drive account. Best of all, if you have multiple files, you can download them all as a .zip file.
Also Learn: How to Convert PDF to Word Document Online for Free?
Zamzar offers 1200+ conversion formats, including video, audio, ebook, image, CAD and many other conversion formats. It doesn't have many customization options, but its support for conversion formats for images are worth checking out. It will only send the converted file as an email attachment, you can't download the file on the spot. However, they are quick at sending the converted file via email, with exceptions for very large files.
You can upload the file from your PC or URL with a maximum file size of 100MB. Once uploaded, you can choose from dozens of conversion formats to choose the format you need. You can select multiple files, and all the converted files will be sent to you in a single email. You can opt for their paid service to get a person dashboard without any limitations to manage your files.  
ConvertOnlineFree is yet another free online photo converter tool. Though it is specially created for converting images to PDF and PDF to image formats, but it has excellent Image conversion capabilities as well. It is an entirely free service without any limitations. You can convert the files to jpeg, JFIF, Gif, BMP, tif, png and few other formats.
It doesn't have support for multiple image conversion, although, it does support conversion of multiple images in .zip format. If you have multiple images, just compress them in a zip format and upload it. It will decompress and convert the images for you.
If you are looking for a complete image manipulation website, then Convert Image is a perfect place. It offers different formats of photo services like, compression, favicon maker, effects, resize, add watermarks, and of course, photo converter. Its interface is attractive, but not that much productive. You can convert one image at a time, and you will have to agree to their terms before converting.
The supported formats include all the standard formats like jpg, png, BMP, ico, PSD, tif, PCX, pdf and gif. It also has a dedicated Facebook share button to share your converted photos directly to Facebook if you want.
Coolutils is a set of paid utility tools, but they also offer a free online image conversion tool. The focus of the tool is to convert WEBP to different formats, but it can also convert other types of standard image formats. You can convert more than one files and convert them to jpeg, BMP, tiff, gif, ico, png and pdf.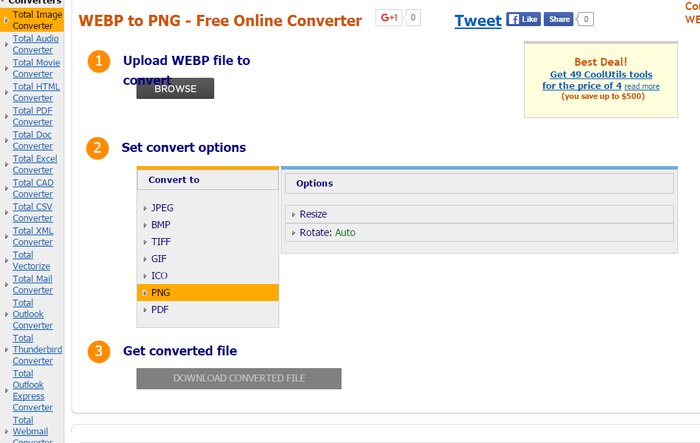 Before converting the image, you can also resize the picture if you want and also rotate it if needed. The converted files are directly downloaded as soon as they are converted. They also offer complete detail on each image format and its uses.
Fix Picture is a feature rich image conversion service which is perfect for people who are trying to bring back older format photos back to life. It supports conversion of photos from more than 400 different types of formats and converts them to most standard formats like jpeg, png, BMP, and pdf, etc.
The maximum file size limit is 3MB, so keep that in mind. You can convert one image at a time and also edit it while converting. You can resize, rotate and add different effects to the picture, and all these options come with custom made values for easier selection.
Go2Convert is an online photo converter tool that has an intuitive interface with the reliable quality conversion. Not only it is one of the most customizable or feature-rich online photo converter tools, but also its format support is fantastic. It has support for over 200 input and output formats and even offers a description of what the format means and its use.
You can also resize the image while converting and select quality to get the picture size you need. Once the image is converted, you can download it or get a link to share it with anyone you like. It also keeps a track of all the files uploaded and converted by you.
Also Read: Top 10 Free Online Receipt Generator and Invoice Maker to Create Custom Receipts
The Pro Review From TechReviewPro
You can use the above mentioned free online photo converter tools to convert photo formats online for free. Most of these tools don't come with any limitations, and one with limitations are still usable in average use. Convertio is an excellent choice if you are looking for a simple yet powerful tool, but Fix Picture is best if you are interested in converting rare formats and don't care about ease the tool offers.
If you know any other good online photo converting tools, let us know in the comments below.
Don't Miss: