Collages are awesome, you know! Instead of limiting the visual impact into one image, collages let you create a quite meaningful compilation of different images, organized in the same meaningful manner! Even before Photoshop, the concept of collages was there. Now, however, things are a bit different, because there are simpler & better photo collage maker tools you can use for creating superb collage images.
Lately, we had brought you a list of top seven best Instagram collage apps for Android and iOS, where we covered the top-rated and impressive apps for creating collages. Nevertheless, today, we have the turn of online photo collage maker sites out there! When everything is turning online, we should also move on accordingly.
Read: 5 Best Facial Recognition Search Engines to Search Person's Faces Online
6 Best Free Online Photo Collage Maker to Make Photo Collage Online
So, when you want to create an awesome collage, you can access one of these best free online collage maker sites. Shall we move to the list, folks?
BeFunky is in the top position when you want to have an effective solution to create superb photo collages online and do a lot of edits, for that matter. The most impressive part of this online collage maker is that it offers different sectors to each category — Photo Editor, Collage Maker and Designer. Right from the homepage, you can select Collage Maker, and you get a fully-fledged page to combine your photographs. BeFunky has an interface that is running in Flash, and you have a plenty of options to check out there.
If we take the case of photo uploads, for instance, there are different options available. You can either use photos on your computer or get them from your Facebook account. If we are talking about templates, there are a huge number of template collages, which let you include varying a number of images. Also, there's better categorization of templates, making it possible to get the most appropriate one for you. In BeFunky, collage creation isn't just about images — you can add your own text and other elements if you want. By the way, the platform has a paid option, if you want the extra amount of features.
Fotor has been on the list of best Instagram Collage app we'd recently come up with. Quite impressively, the simple & productive features are made available through the official site of Fotor. When compared to the other sites here, it's having an advanced set of options and a comprehensive dashboard, to suit the job very well. The only problem you'd face is that Fotor shows some advertisements, for getting rid of which you need to upgrade. Apart from that, there is no issue with using Fotor for photo collage making. And, quite expectedly, there are some features that make Fotor unique.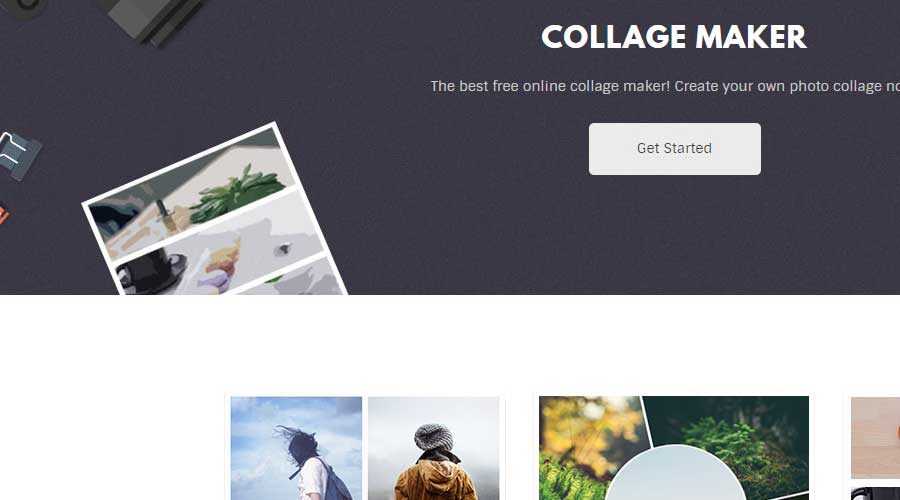 For a diverse set of needs — classic collages, funky collages and photo stitching — you can use Fotor, quite quickly. It is possible to choose the appropriate design sector depending upon what you want to show through the collage. You also get a plenty of supportive features. The platform, for instance, lets you insert stickers, text and other effects to your photo collage in a matter of seconds. Despite the richness of features, the UI of Fotor is altogether simpler, thus making even the newbies confident about getting the best photo collages.
You might be familiar with the official Pixlr apps for both iOS and Android, which let you edit photos and create a lot of collages, right away from your Smartphone. A venture from the same, Pixlr.com is one of the best places to create collages online. Pixlr.com has two options — the comprehensive and complete editor solution and another one that is named 'Pixlr Express'. In the latter option, there is a special section for Collages, with seemingly simple but effective control options and all. As you can see in the screenshot, things are way too simple in the Pixlr scenario.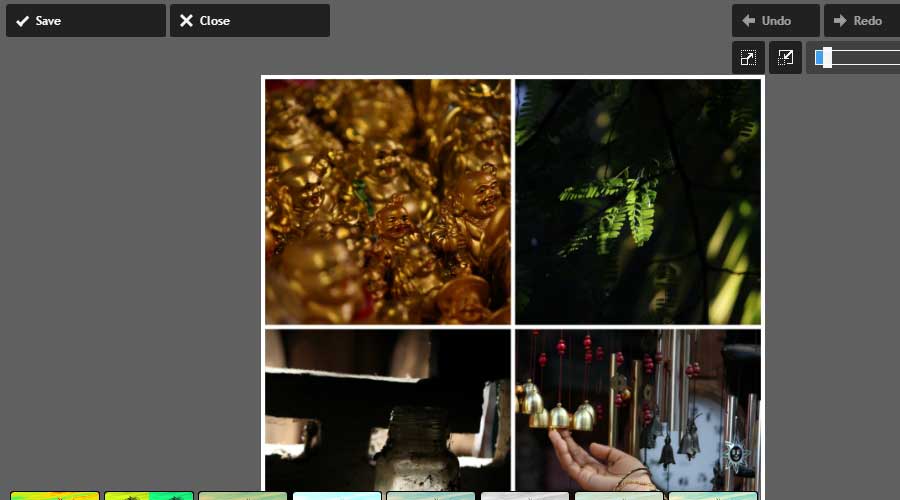 In the layout tab, you can choose the most appropriate collage design, such as a number of photos and all. We'd say it has a satisfactory amount of layouts to offer. Once you choose the best, you've a lot of options. Talking about the ability to customize the photo collage, we should mention its options for adjusting roundness, spacing, proportions, etc. As we get to the next page, Pixlr lets you add specific effects, overlays, borders, stickers, etc. into your collage image. If we are to consider all these, Pixlr.com assures the best environment for optimal collage creation.
PicMonkey is a widely-used online photo editor, which has a special section for creating collage images without that much messing stuff. Out of the four different options offered, you can choose 'Collage', upon which you'll be asked to select the source of photographs; you can upload the photos from PC or get them from Facebook. In the page that comes next, you can start customizing your collage. Although the controls may seem rudimentary in the first look, its functions are way too impressive, per se. We can take the different aspects, one by one.
The layout is the most important thing in a collage, you know. When most of other free online photo collage maker tools offer a big set of layouts, PicMonkey lets you create your own layout, according to the photos you have with you. Apart from this, the collection of pre-set templates can be useful when you want to get the collage done quickly. It also is offering options related to backgrounds and related stuff. Using PicMonkey, you can customize the collage-like you've never before. PicMonkey too has a paid version, by the way.
Photovisi is a quite basic free online photo collage maker which provides an efficient way to create photo collages online, without spending much time on that. First of all, you have to select a particular collage template before you start using the service. Then, several customization options can be done using Photovisi. However, unlike the other online photo collage makers that we have discussed, this one is limited to collage creations — so are its capabilities. For instance, you will be able to add additional shapes or text into a collage. In the same way, you can change the background too.
Nevertheless, as we go deep into editing options, Photovisi becomes evidently limited, in such a way that you would look for something else. Despite these limitations, there are times Photovisi becomes the best online photo collage maker. For instance, suppose you are running out of time, and you want to get a collage in no time. Then, you can easily choose the template and get the job done — in a few seconds or so. In short, we'd say it's useful even when limited.
It'd be bad to call Canva an online collage maker! It's so because Canva is a fully-fledged graphic design solution that gives you all the freedom of designing. It does not matter whether you are planning to create a poster, invitation card or a business card, Canva has all the resources for you available — along with the best working environment, as far as a common computer user is concerned. The case is not different when we use Canva for creating photo collages online. All its options make sense, at least in the second thought. When you land on the main page of Canva, you will be provided with the various options to choose. From that, you can choose 'Photo Collage'.
In light of our experience, we would say that Canva is just best when you need a creative collage and not the classic type. As the first step, you can choose a layout, which is shown along with an illustration. Once you have done with it, you can add different kinds of elements into the collage, such as grids, frames, shapes, illustrations, photos, etc. Also, you have complete control over background and related aspects such as spacing and colour. Another part of Canva that attracted us is the professional environment. Once you have finished designing the photo collage, you can get it as a digital image or a ready-to-print PDF. It's more than anything else here, we assure.
Also Read: How to Resize Images in Windows with Free Image Resizer Tools?
The Pro Review from TechReviewPro
So, we have seen different kinds of free online photo collage makers on the list, which offer varying levels of controls as well as capabilities. For instance, we have seen Canva, which is an all-set web-based platform for designing different stuff like business cards, collages and other graphics. For those who need a creative collage, — and have time to spend —, Canva is an awesome choice. On the other hand, if you want to get the job done in the least time possible, it's better to go with Pixlr or Fotor, which offer the minimalistic way of collage creation. The choice should be based on the primary requirement of yours.
Don't Miss: