Images are the best way to share your experiences with others; you can just let them see what is going on instead of an extra-large description. Now, in this digital world, Instagram has become the common place for photographs! Having said that, there are times when one single image wouldn't serve the purpose. That's when we come across collage — which is a compilation of different images, organized in a particular shape and effects.
Obviously, you cannot take all the images one by one and combine them to create a meaningful collage. Instead, you can use some of the best Instagram collage apps. Right after that, you can share the collage image into Instagram.
Checkout: 5 Best Facial Recognition Search Engines to Search Person's Faces Online
7 Best Instagram Collage Apps for Making Awesome Instagram Collages
In this post, we'd like to bring you a list of the best collage apps for Instagram that you can try for making awesome Instagram collages. Shall we move on to the list?
1. Layout from Instagram
Layout — an official app from the family of Instagram — is one of the best Instagram collage app, offering a truly easy and impressive method of creating collage images. There are various factors that make Layout different from all the other collage-creation apps out there. First up, we have the simple UI, which powers all the sections of that Instagram collage app. From selection of photos to finalizing of the photo collage, you don't have messing up stuff.
In one collage, you can include up to nine photographs; these photographs can be arranged in the way you like it. Depending upon the number of images you have, you can select an appropriate layout. In the coming page, you have the option of rearranging the images as well as the space given for each image. Once you have finished the creation part, you can upload the collage to Instagram — or Facebook. Altogether, Layout would suit the purpose, quite well.
The Layout Instagram collage app is available for both Android and iOS
Learn: 9 Super Smart Tips and Tricks to Click Beautiful Selfies
2. Pixlr
Pixlr is not actually a dedicated Instagram collage app for creating collage images. On the other hand, it is a fully-fledged photo editor, which can conveniently be used to create stunning collages. Pixlr is from Autodesk and is available as a Windows PC-based tool for easier photo editing options. In the case of Smartphone, the app is more or less the same. Just as you open Pixlr, it will show you three options, from which you have to choose 'Collage'.
The process of creating a superb collage is quite simple and customizable if you are using Pixlr. First, you can add up to ten photographs in one collage, and once the selection is done, you have the impressive layout selection sector of the same app. A variety of layouts are available — quite a lot, actually, when compared — and there are also options of customization. You can, for instance, adjust the gap between images or the edge of included images.
Pixlr is available for both Android and iOS
Checkout : 55+ Amazing Cute Baby Pics: Newborn Baby Photography Collection of Baby Photos
3. Fotor
The basic concept of Fotor and Pixlr is more or less the same. Fotor is also a fully-fledged editing solution that has an impressive section for collage creation and related stuff. But, the fact is that the section for collage is so wide as well as useful in the long run. You would be able to add a maximum of nine images in a single collage, and various aspects of the collage can be adjusted accordingly. For instance, you can choose the most appropriate template from the big list that is given; similarly, there are options for choosing the background and spacing options, for that matter.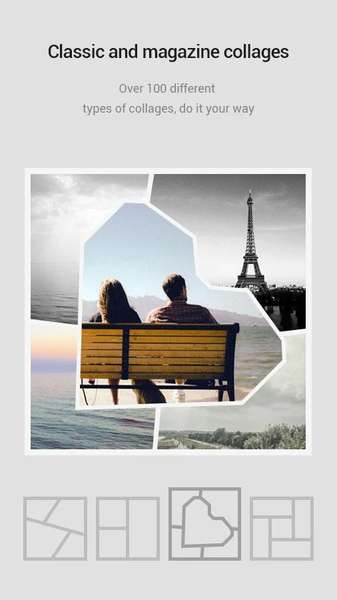 Fotor also comes with another option named Magazine Photo Collage. In the method, the selected photos would be added in the pre-built magazine template. Talking of the templates, Fotor has a collection of unseen and impressive templates; especially if we are to compare it with other collage making apps we've listed. In addition, just as you can guess, you can use all the photo editing capabilities of Fotor to get the best output.
Fotor is available for both Android and iOS
Also Read: Find Snapchat Friends: How to Find Friends on Snapchat?
4. Frame Swagg
Frame Swagg is yet another completely free iOS app to get the right collages for Instagram. There are several sorts of features that make Frame Swagg a bit different from others. First, we can take into the account the umpteen options available for selection of a layout. There are fifty two layouts available, as per the record, but you have all the kinds of freedom to customize the layout for getting the best output. Of course, since Frame Swagg is a dedicated app that is made for creating collage photographs, there are some superb features too.
For instance, we can consider the editing part of Frame Swagg. In this sector, you have a set of superb tools at your disposal. You can use up to 42 color combinations to stylize the collage you've made. Other editing-oriented ways include zooming and panning of photos, border and padding adjustments, circle-based layouts etc. In the end, as we take the case of Sharing, you have direct sharing capabilities to Instagram, Facebook or Twitter, which is a nice thing.
Frame Swagg Instagram Collage App is available for iOS
Know: 5 Valid Reasons Why You Must Have Images in Blog Post
5. LiveCollage
When you want to have an effective Instagram collage app for your iOS-running Smartphone, you can go with LiveCollage that's supposed to give you the easiest process of collage making. Basically, it's an instant collage maker app with a variety of options for customization and all. Used by more than fifty million users in total, LiveCollage is regularly updated in order to make sure that you get the best collage out of the images you have. When compared to the other Instagram collage apps in this list, LiveCollage has a lot of distinctive features, which are creative in the long run.
First of all, when it comes to the collection of layouts, there are more than 5000 layout designs. As opposed to many of the other photo collage apps here, LiveCollage can create a maximum of 16 images in single collage, which is a good feature if it is a huge-enough memory to share. Similarly, the app comes with an in-built photo editor that offers options such as filters and touch-up tools. Another impressive feature we found in LiveCollage is PinBoard, which is an awesome way of creating a content-rich collage, with text, stickers and customizable backgrounds.
LiveCollage is also available for both Android and iOS
Also Read: 6 Best Photo Organizing Tools and Alternatives for Picasa
6. Photo Grid
As the name says, Photo Grid is yet another effective app to create stunning photo collages from different images, giving an option to let one image tell your whole story. The best part of Photo Grid is that you are not limited to collage image scenario. On the other hand, when you create a collage, you have plenty of options for editing the photographs — by adding different filters and other options. In the end, you will have the best collage image for Instagram. Of course, it has different kinds of features in various sectors to make it one of the best Instagram collage app.
As we take the case of collage creation, there are both classic and funny layouts available for you to put your images in. Other good features of Photo Grid include Scrapbook, which offers an option to include your images and set a background image and all. It has to be noted that this ad-free Instagram Collage app is having options for exporting the image to various quality standards, including 1080P and 2048P. When we add into account its features like FilmStrip and VideoSlides, this is a superb option for your collage and photo creation needs.
You can get Photo Grid Instagram Collage App for iOS and Android
Checkout : Amazing WhatsApp DP : 175+ Cool, Funny and Spicy WhatsApp Profile Pics Collection Free Download
7. Lipix
Last in our list of best Instagram collage apps, Lipix makes enough sense as an efficient tool for creating Instagram collages. Despite the fact that it's offering plenty of additional features, the Collage sector is way too feature rich, per se. First of all, you get around 90 templates to choose from, and these layouts can be customized as per your aesthetic taste and style. You'd be able to choose 1×1 or 2×2 or 3×3 style photo grids, and add variety of stuffs such as border effects, magical effects to add into photos, rounded corners effects etc.
Once these things have been selected, you can export the collage into high-quality formats. Also, collage creation with Lipix is not limited to photographs. On the other hand, you have options for adding other stuff such as texts — there are some awesome creative fonts available. Similarly, you get integrated sharing ability to Facebook, Twitter etc. Altogether, Lipix is fair-enough solution for your Instagram Collage needs.
Lipix is available in Play Store and iTunes
Also Read: How to Find High-Quality Blog Images Using Flickr?
The Pro Review from TechReviewPro
Well, we have listed the 7 best Instagram Collage apps you can try, available for both Android and iOS. A major factor to be noted is that some Instagram collage apps do come with included photo editor, while some are just for collage. For instance, you get just the basic collage creation options from apps such as Layout. Nevertheless, if you prefer to go with a multipurpose solution, you can choose Pixlr or Lipix. After all, the choice is based on your requirement.
Don't Miss: