The best currency converter apps for Android are a lifeline for those who keep visiting from one country to another. Maintaining a check on the current currency conversion rate is crucial especially if you are a business person dealing with foreign clients or paying for goods and services in the foreign countries. Although there are money exchange booths available at specific locations in each country to help tourists deal with currency exchange. But there are times when you don't have access to these money exchange booths. That's when currency converter apps for Android devices come handy.
In the present world, we have become highly social beings. And, there's more than 60% of growth in foreign exchanges compared to the previous decade. So, dealing with the money can be complicated when addressing multiple foreign currencies. Memorising every currency exchange rate may be dangerous at times if we want things to happen quickly, or we are in a rush.
And, we've heard this as well – "Money doesn't grow on Trees", which means we've to be very careful while we are talking to a foreign customer, or while placing a bulk order from other international dealers. Using the wrong exchange rate for currencies may cost us a valuable customer (if you're the dealer) or it would lead to more expenses if agreed at a higher rate (if you're the customer).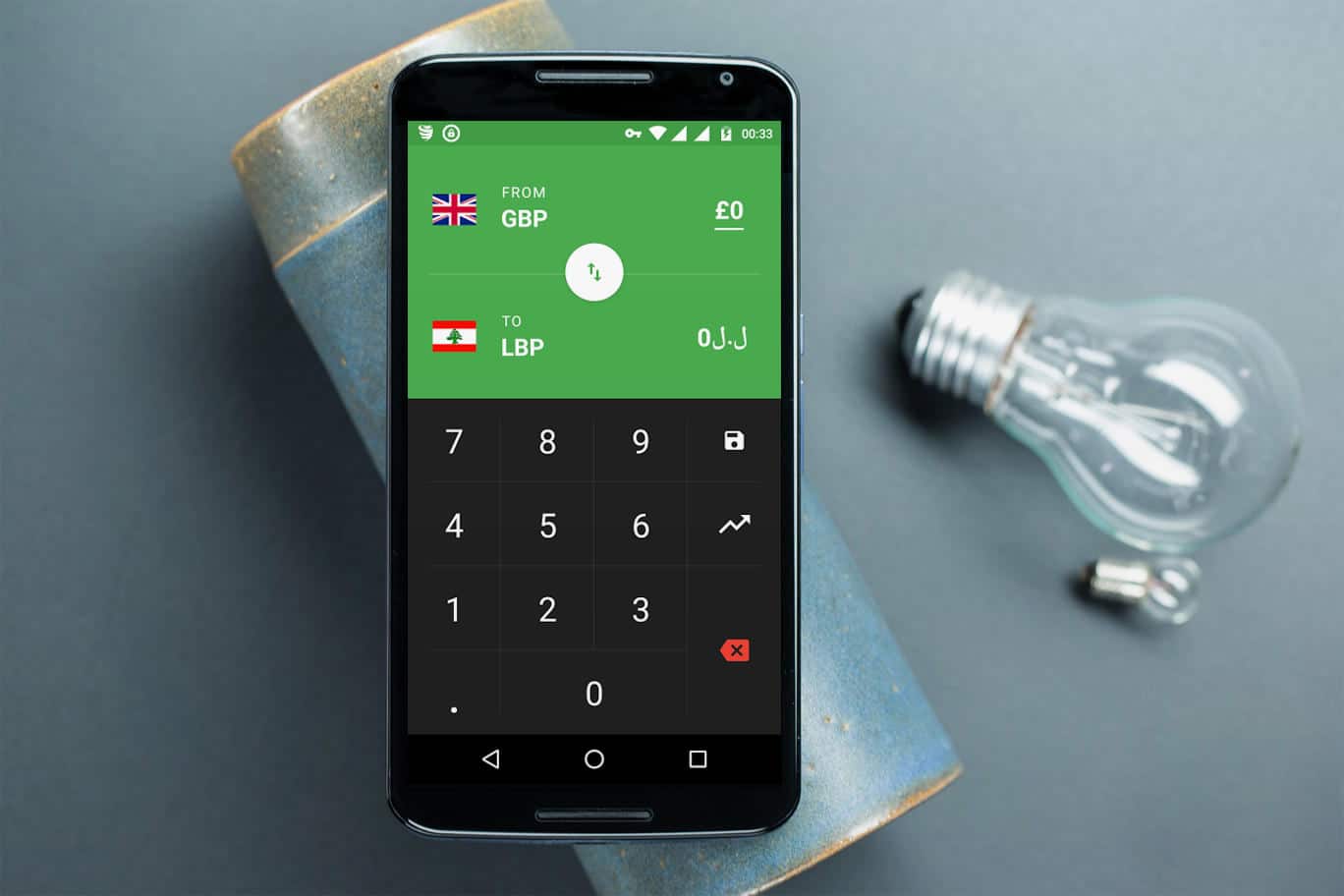 Thanks to the various best currency converter apps for Android available in Google Play store, dealing with quick currency conversion is easier than ever before, and you don't need to remember every currency conversion rate.
Also Read: What is the Best Launcher for Android? – Top 7 Best Android Launcher Apps
6 Best Currency Converter Apps for Android for Quick Currency Conversion
If you're equipped with an Android device, you won't have to think about the hassle again because we have organised a list which includes the best currency converter apps for Android. Simply download and install one of these best currency converter apps on your Android device and keep track of currency conversion rate right through your Android phone's screen.
Easy Currency Converter is a free currency converter app for Android. The user interface isn't much attractive (not at all attractive for some). However, don't judge the book by its cover. The app is regularly updated by the developer team and is free of bugs (most of the time according to what we tracked down). It presents a real straightforward and basic user interface but handy as well. You can find all of the currencies listed in the app for use. Well, that's their primary role. So, they have to keep their currency database updated.
Although you can read news from the RSS feed section provided for the user to stay updated with the current trending currency exchange rates related news and announcements. Also, you can make some of the currencies favourite to access commonly used currency conversion tasks faster. The sad part for all the mentioned currency converter applications is that all the apps contain In-App advertisement to compliment their work and help them earn more through the Ad Networks.
And, this app offers a pro version to it at nearly $1.99 USD which removes ads. I missed one thing – It works offline as well. If you're anywhere outside, and you don't have a feasible roaming network data plan, you can use the offline feature to manage your expenses or other important stuff.
Read: Top 10 Free Movie Apps for Android to Watch Free Movies on Android Smartphones/Tablets
XE Currency is one of the most trusted currency authority. It offers an excellent user interface. It shows all currencies and also, it shows bitcoin ( a form of digital currency) exchange rates as well. It's not meant for a normal user but a robust user who wants to keep track of the currency exchange rates each and every second.
It provides exclusive market analysis reports which you can utilize. If you're really serious to track currency exchange rates most of the time, then you can set alerts by signing up, and the app would notify you whenever the exchange rate goes above/beyond the limit you've configured to watch for. It contains In-App Advertisements, and it offers a pro version to it as well at just $1.99. Other features include rate advisor, money transfer, etc. You'll feel like a pro while using it on your device. I feel I should get into the stock market department after installing this! This app offers a lot of things which typically a professional would want to keep track of.
Also Read: 11 Best Free Spy Apps for Android Devices
Currency Converter is yet another good currency converter app for Android. Developed by Pocketools, it is easy to use a tiny, lightweight app with a size of just 3.5 Mb. The currency converter app allows you to set any currency as base currency while at the same time also allows you to track multiple currencies added in your currency list. You may also switch tabs to read news related to various currencies. The graph for currency exchange rate growth and progress is an added feature what you are certainly going to love if you enjoy keeping a track on currency exchange rate progress.
It's an efficient rate converter to use. It shows less number of currencies compared to other converter apps. However, the app comes with the Twitter integration. Just like other applications, it has an ad-supported version as well. And, it supports an ad-free version which you can get it at just $1.5.
Check out: Top 10 Best Android Call Recorder Apps to Record Phone Calls on Android
Flip Currency Converter is the only material design currency converter which supports Bitcoin, Litecoin, and Dogecoin exchange rates. It provides a great user experience utilizing the material design. You can set favourite currencies, analyse the trend of a particular currency (graph) and sort currencies based on the usage for quick access.
If you are fond of widgets, you'll like Flip's compact widget to stay right on your home screen to keep you updated every 15 minutes. It works offline as well and offers come customization ability to switch to dark mode, no animations, and other useful options. So, you'll enjoy customizing it while checking for the recent currency rate updates. It contains In-App advertisements as well, but you'll have to pay just $0.90 to enjoy an ad-free experience.
Read: How to Lock Apps on Android? – Top 5 Best App Locker for Android
OANDA Currency Converter is a simple currency converter app offered by one of the leading Canadian currency data and forex trading service corporation. There's nothing exciting about the UI. But, it is entirely easy to operate. It provides data of a lot of currencies and additionally lets you calculate the conversion rate taking into account some of the usual commission rates which would help (like ATM rates, credit card fee rates, etc.). It contains In-App advertisements but doesn't offer any ad-free version to it.
With support for exchange of 190+ currencies and four precious metals(platinum, palladium, silver, gold), OANDA Currency Converter is a very handy currency converter app for Android. The real time exchange rate and conversion updates along with the ease at which users may use, make it an essential Android currency app for frequent travellers, business people and the individuals who like paying attention to the global world of economy.
Read: Top 10 Best Video Players for Android to Play Any Video File Formats
Another small app built for the purpose of currency conversion. All Currency Converter app for Android supports over 160 currencies. You can calculate right there on the app. It contains in-app advertisements as well. Also, you can compare multiple currency rates simultaneously (that's multi-currency converter). The All Currency Converter app provides you with the trends and charts to help analyse what's going on, but the charts & graphs aren't something exclusive. It's the same as you can find at Yahoo Finance portal.
Overall, it offers a pretty good user interface with a touch of material design, and there goes again – "No option to remove the advertisements". Apart from being a multi-currency converter and providing a list of exchange rates, currency trends & charts, the All Currency Converter app for Android also provides you news and information about various currencies.
Also Read: 5 Best Custom ROM for Android to Customize Your Android Phone
The Pro Review from TechReviewPro
Among all the currency converter apps mentioned, you would get a better user experience on Flip currency converter and more resources with XE currency converter. Others provide you with the advantages of having a material design, being compact and light.
Let us know which one of these currency converter apps you'll prefer using. Did we miss a useful currency converter app? Tell us about it in the comments section below.
Don't Miss: