Texting has become a common practice among people of all ages and mostly among teenagers of these days. Android's default texting app can never fulfill your requirements if you are a texting addict or professional-like texter. Ultimately, you start searching for the best free text messaging apps for Android smartphones.
With the introduction of short messaging services (SMS), texting on a smartphone has become quite a common trend and hence, a habit for many. Technically, a text is a mere combination of words and phrases that is correct, understandable and meaningful. However, Android's default texting application is way too boring and this is the reason why other texting applications developed by third parties exist.
Texting all day long? Well, I would advise not to do that (if it's not fruitful). However, you can't completely stop texting someone (even I can't!). Do you just send a simple text? No, due to advancements in technology, you can now send emotion icons (also known as emoticons, or emojis), GIFs, pictures, videos, and other files as well. It makes the conversation more interactive and useful as well.
So, you need to choose the right messaging app on your device through which you can get most of the things done. And, there's a bunch of feature-rich and security packed free messaging apps for Android on the store. You just need to hunt them down and get it installed on your device.
Checkout: Top 7 Free SMS  Sites to Send Anonymous SMS from Fake Numbers to Prank Your Friends
15 Best Free Text Messaging Apps for Android Users
In loads of paid and free texting applications supported by Android, it becomes quite difficult and time-consuming activity to try all of them and find a reliable text messaging app. Though there are a few texting apps that actually provide more features than merely texting. So, let's have a look at these awesome free text messaging apps.
We've saved you from the time of searching for a new text messenger by putting the best of the apps on our list below. Here you'll find only the messengers meant for both social chat and managing messages directly from the phone (Mobile Network SMS).
It's a real smooth messaging app with plenty of customization options that you can utilize to make it look fancy or beautiful. It's free but contains in-app advertisements which make it annoying (very little) at times when you are connected to the Internet network.
Also, it includes dual-SIM support. So, you don't need to head on to the SIM settings and change the preferred SIM every time you send a message.
And, if you want to upgrade it to the premium plan by paying $6, then you'll get rid of the advertisements and would unlock some impressive features – Private box, cloud backup, advanced MMS and some others. The Private box can be helpful if you want to hide messages from someone specific, just like the private chat option on other instant messaging services,
Long story short, if you want a messaging app to be secure enough, then this should be your choice. Do you know what? Edward Snowden recommends using it as well. You should get to know about him if you don't have any idea of who he is.
However, the sad part is – it doesn't support dual-SIM functionality. So, you'll have to repeatedly change the preferred SIM for sending messages. If you want to keep your conversation secure and at the same time, you don't want your friend to know whether you have "seen" the message, then it'll be a good choice for you. It literally supports Privacy to its edge.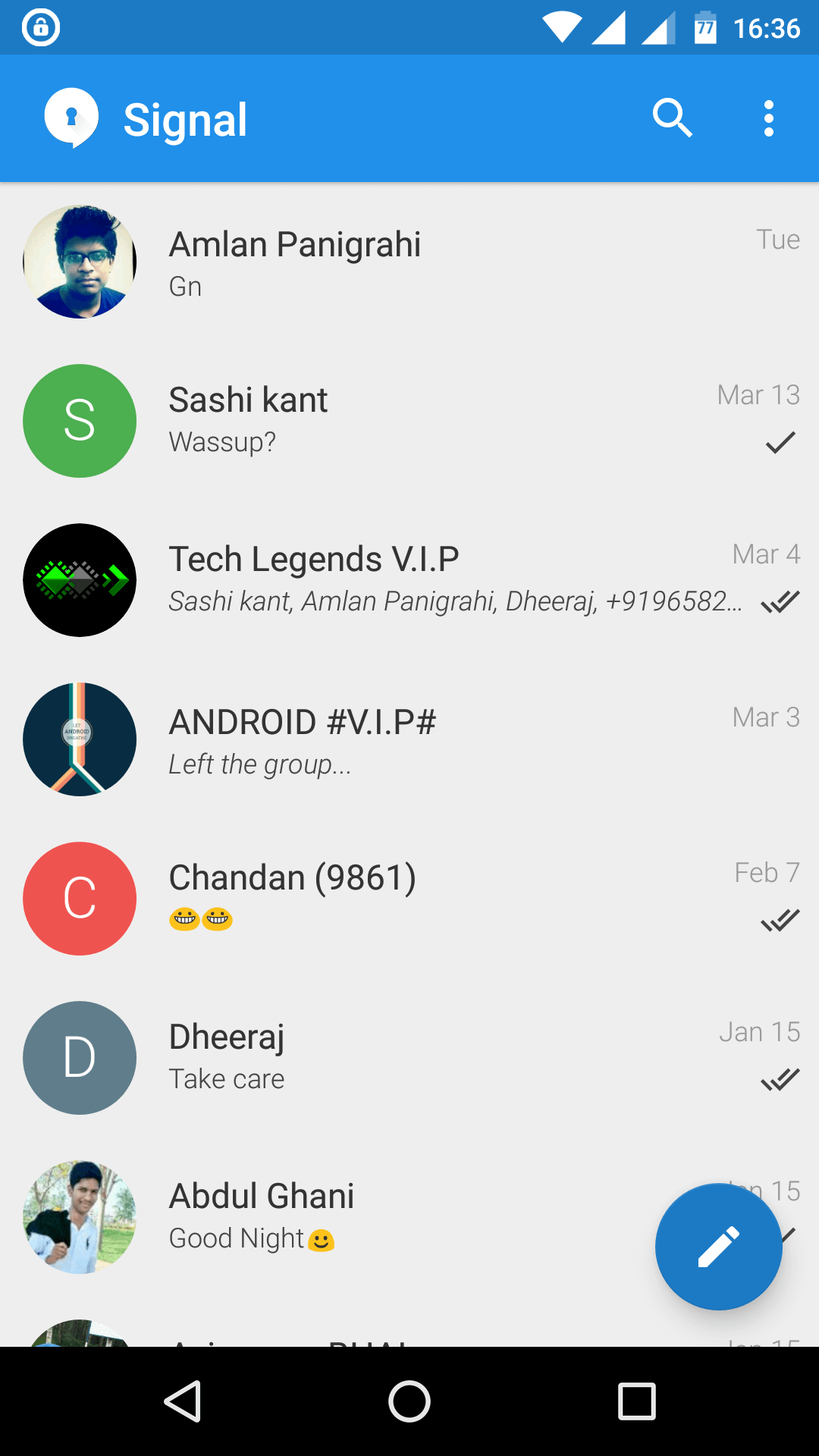 Signal (Earlier TextSecure) is another free text messaging app that lets you be in touch with your acquaintances yet keeping up with its commitment to maintaining the privacy of the users. The app also lets you create groups to chat among a multitude of people simultaneously and share attachments also.
TextSecure (now Signal) is the only free Android open source texting app that uses open source peer-reviewed cryptographic protocols to keep messages safe. The texting app designed with keeping in mind the most constrained possible environment results in faster performance.
It's the stock Android messenger, which comes baked in with the Nexus series smartphones and now Google Pixel phones as well. However, other smartphone manufacturers tend to use their own personalized messaging app.
But, usually, the customized default messaging app isn't good enough in providing the perfect material design user interface and the right security needed.
So, if you're in a similar situation, you should take a minute to think about switching to Google's messaging app which is specially tailored for Android.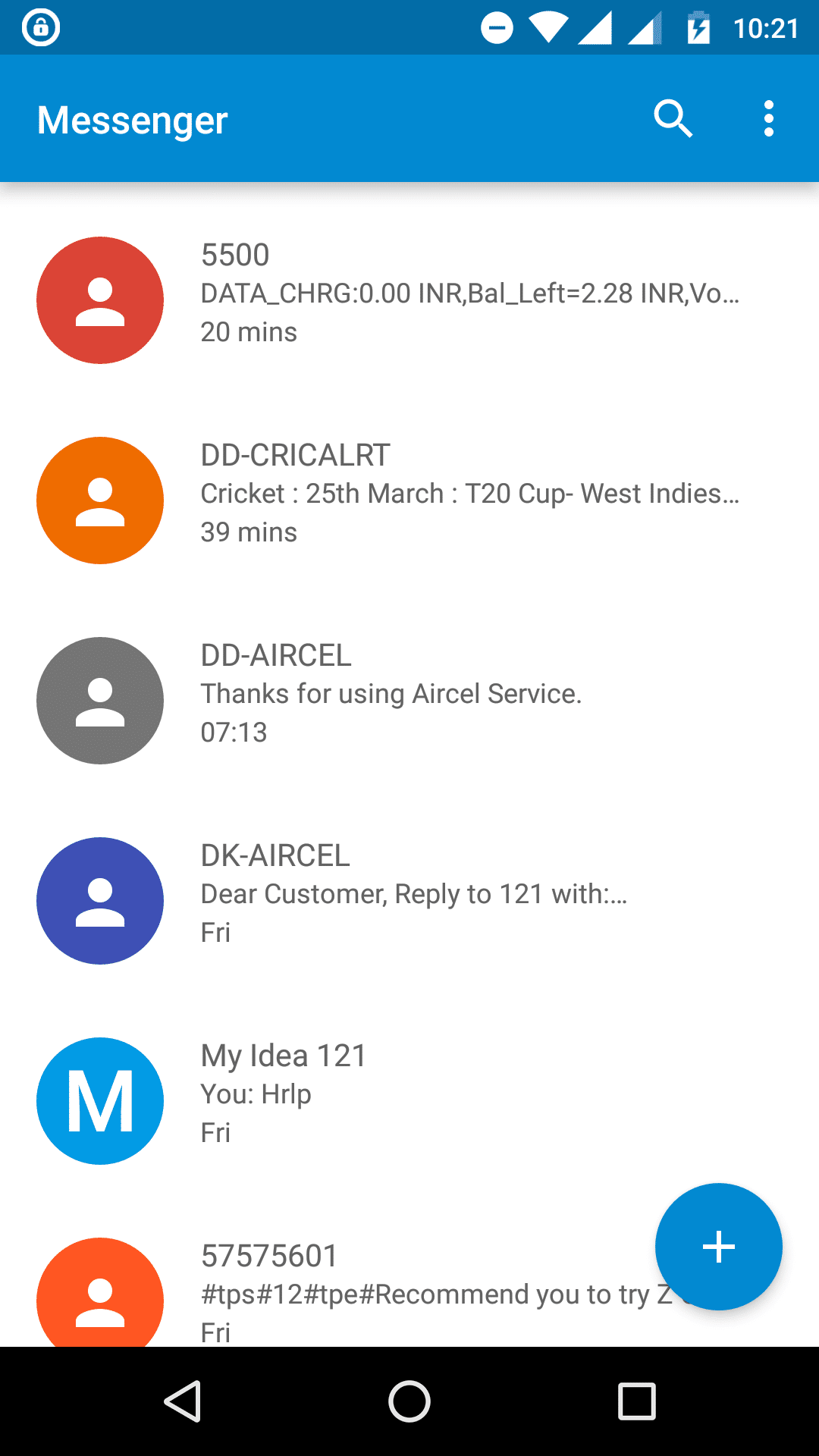 Google Messenger is one of the most popular Android texting apps. Owned by Google itself, it is the most secure, safe and free texting app for android phones and tablets.
Google Messenger lets you send SMS and MMS from any android device to other Android-based gadgets with Google Messenger installed in the latter also.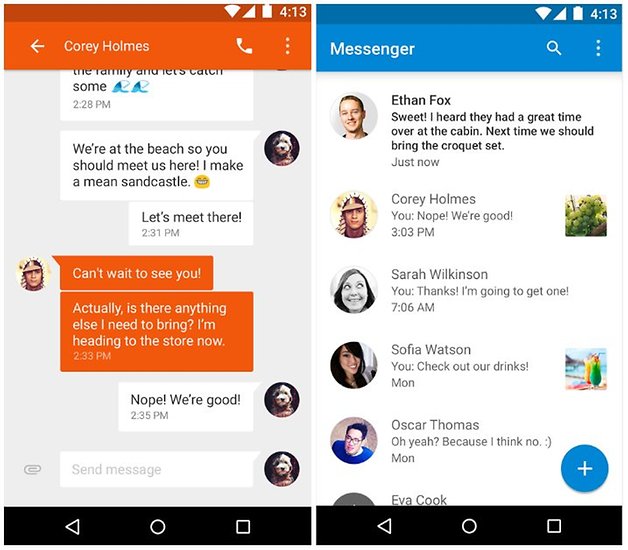 As far as design and user interface is considered, the design turns out to be quite fluid and simple with a unique and unmatched experience. Moreover, users can temporarily or permanently block other users too.
Furthermore, to make your conversation even more interesting, the text messaging app comes with stickers, emojis, etc.
As the name consists of the word TEXTRA, this is yet another best free text messaging app that comes with some unusual yet unique and attractive features like – floating notifications, quick reply popups and lots more. Apart from bulk customization, the app comes with customization options for specific contacts also.
It offers a simple material design UI with a handful of customization options. However, there's no dual-SIM support here either. You'll have to rely on switching the preferred SIM for messaging manually.
Also, you can customize the notification icon and the LED notification color (if you have one). It also supports a quick reply feature. If you've seen Kungfu Panda 3, you may relate the above UI accent color combination with the enemy!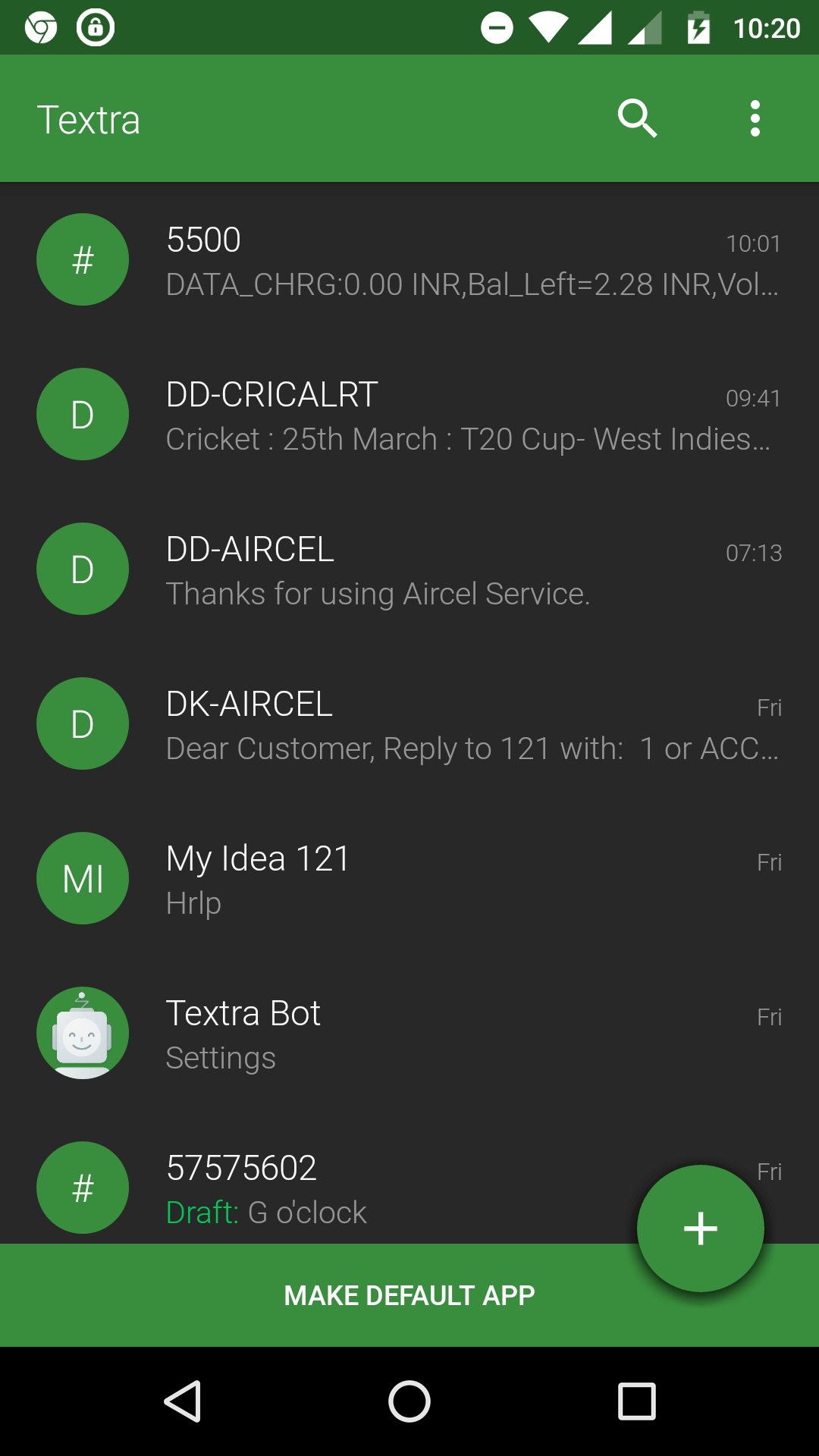 If you are a user of PushBullet, MightText or any Android smart-wear user, the app can comply with these utilities also to produce faster responses anytime. The free texting app also comes with protection against "StageFright" – an exploit that is spread through video messages.
Hangouts is an immensely popular instant messaging app for Android. You can use it as an SMS app as well. However, you won't get any customization options like other dedicated messaging apps, but you'll like the interface.
If you don't like the default customized messaging app, and don't wanna install any 3rd party messaging apps from the Play Store, you should go with hangouts. It usually comes baked in even on a customized ROM.
Also Read: TRP Guides – How to Send a Text Message from PC?
Telegram is yet another one of the best free texting apps for Android phones and tablets that is very much trending these days as it has been regarded as a substitute for WhatsApp Messenger. In addition to multimedia files, Telegram also lets you share the doc, zip, pdf and a few other types of files.
The frequency of members per group can be as much as 200 members and for broadcast, it can be up to 100 members maximum. The app tries to use minimum data and hence can work even with the weakest connections. If you prefer privacy, simply give this app a shot as it also provides a quite unique "Secret Chat" feature.
Read: Top 7 Best Pedometer Apps for Android to Count Your Steps Daily
QKSMS is one more free texting app for Android that has brought revolution in texting with its more than 200 customizable themes. Apart from themes, the prettiness of this app cannot be overlooked due to it's simple yet effective material design and various themes available for night mode too.
QKSMS is completely free, open-source texting app for Android that brings magic in text messaging/chatting with its beautiful and refreshing design interface. For fast texters, typos are quite common and the Delayed Messaging feature of this app is a savior against these typos. Moreover, the app is also compatible with Android wear devices.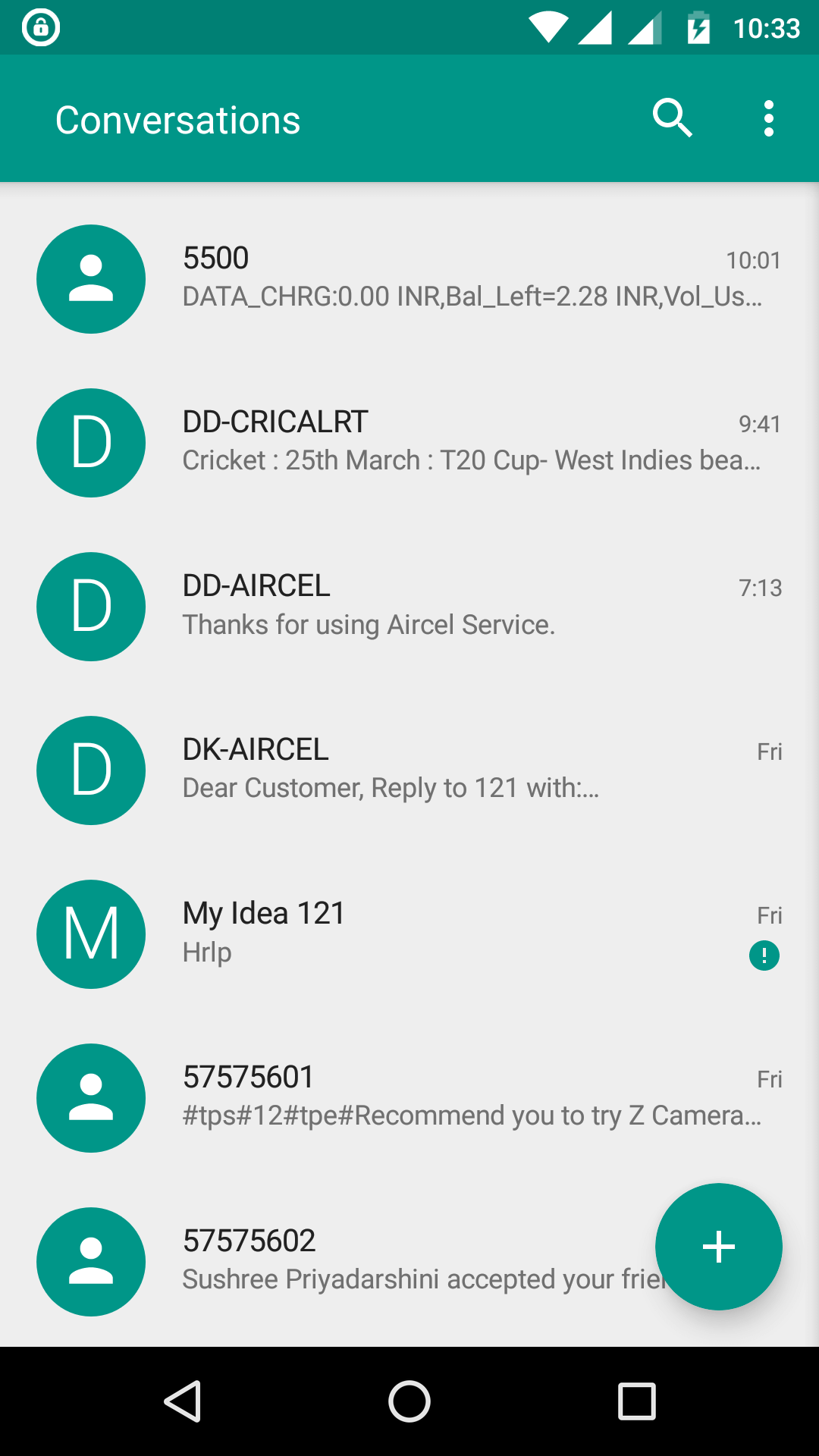 Perfectly tailored user interface. The name itself promotes the app being "quick". And, what a coincidence? It supports a quick reply feature which feels like you're using the 3D Touch on iOS to peek into your SMS conversation.
Again, the deal-breaker for some, it doesn't include Dual-SIM support. So, you've to configure it manually each time. The one thing it misses which every other messaging app mentioned above has is – the message blacklist feature. It would come handy for sure if included in the further updates.
Read: Top 7 Best Call Blocker Apps to Block Calls and Text Messages on Android
Imo is a quite popular free text messaging app for Android, however, it offers more than a mere text messaging app. Besides, texting to your Imo contacts the users can also instantly message on major networks like Google Talk, Facebook chat, Skype and AIM by syncing the respective accounts with Imo.
Though the texting app comes with full efficiency to facilitate texting. It also offers free voice and video calls over WiFi or fast data connection. Furthermore, the app also offers encrypted chats and calls. But the only downside of this free texting app is that it runs on Android 4.0 and up only.
WeChat is another entry to the list of free text messaging app for Android devices as it offers many features to grab the attention of users. Moreover, it also comes with some advanced features like – SHAKE that allows users to share files with their nearby features.
To facilitate communication across regions, the texting app has recently introduced the translate feature. To translate any message, simply long-press it and select 'Translate' in the popup menu. Some other features include – lock for group chats, easily add one or more texts to favorites and a few more. This makes it one of the best group text apps for Android.
Chomp SMS is another free to use yet interesting text messaging app for Android users. Besides texting, it also encourages users to use their creativity to the fullest by allowing to tweak the themes or skins. Moreover, users can also create their custom looks.
You can show what you exactly feel via more than 800 emojis offered by this free text messaging app. In order to maintain privacy, users can set custom passwords. The app keeps you connect with your dear ones via its scheduled SMS system and reminder for events like birthdays, anniversaries, etc.
Checkout: 9 Most Funny Games to Play Over Text – Most Funny Texting Games
11. Kakao Talk: Free Calls & Text
Kakao Talk is yet another free text messaging app for Android devices, that is preferred by millions of people worldwide. Like other reliable Android apps for texting, KaKao Talk also allows its users to text anywhere in the world and with its smart and interactive user interface, users never get bored of using this app.
Though this Android texting app is a multi-platform app, as far as Android is concerned the app offers free calls, emojis, stickers and even free coupons and deals from your favorite brands. Furthermore, the users can also share their locations via this app and comply with their Android wear devices to reply instantly.
Also Read: 6 Best Free Instant Messaging Program Clients for PC
12. textPlus Free Text + Calls
TextPlus, often written as text+ calls, is another free text messaging app for Android which is the most unique one among all the relevant free and paid texting apps for Android. Unlike other apps, the user need not to register with his own contact number, instead, the app itself provides you with a virtual contact number.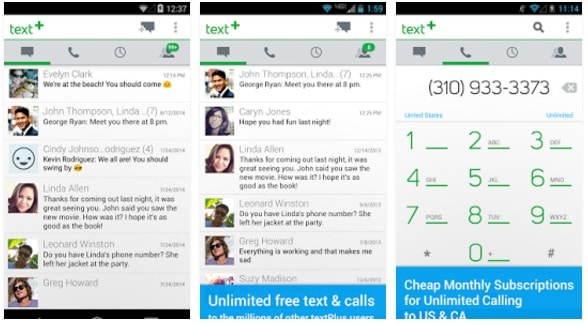 The app also offers free calls to more than 70 million text+ users with more number of users joining the text+ community regularly. Also, all the calls and texts and calls that you receive via text+ are saved to cloud storage to prevent a data breach of the users.
mysms is a free multi-platform based text messaging app that is available for Android as well. The app not only offers free texting via Android devices, but the users can also send or receive texts from their PC's browsers by clicking on this link (app.mysms.com), log in with their registered contact number and follow the simple procedure.
Moreover, if you have lost or restored or changed your Android device, the messaging can be restored easily in no time. With one of the extensions of this app (mysms mirror) two or more smartphones, say personal and private one can be synced. Ultimately, the conversations can also be exported to a .CSV file.
14. Mighty Text – SMS Text Messaging and Group MMS
Just like the previous messaging app for Android, Mighty Text is also a free multi-platform texting app that is available for Android as well. The app makes it easy to text anyone amidst your busy life, regardless of the device you are currently using. Similarly, notifications and received texts can also be checked from any device.
The app is mostly preferred by teens and students as it offers easy texting – both for individuals as well as group contacts. The texts can also be scheduled to be forwarded at a particular time to maintain punctuality even if you are busy. Moreover, bulk SMS can be sent to 25 contacts in one go.
15. EvolveSMS
EvolveSMS is a fantastic and free text messaging app for Android phones and tablets that can be said to have taken an idea from Google+. The app is sleek and stylish yet non-compromising with the in-built features, perhaps the app is designed with the perception of an actual user.
If you are willing to spend more on premium in-app purchases, you can acquire more themes. Though the official orange one doesn't look boring and out of fashion as well. Anyways, there are a few free customization options also available. The texting app is also highly compatible with android wearable devices and comes with a password protection facility.
16. HoverChat Free (Ninja SMS)
HoverChat is another free to use text messaging app for android phones and tablets. Just like Facebook, this app also brings popup bubble functionality or link bubble to your usual SMS texting app. So you need not disturb your phone's screen and work but still, you can reply to texts.
To make the screen even more soothing, minimize popup heads via collapse mode and also drag and drop the window anywhere on the screen. At the same time, users can instantly switch to full texting mode. The app does minimal battery consumption.
17. POP Messenger
POP Messenger is a free android based text messaging app that is officially accessible in more than 100 countries of the world. This free texting app also saves your time as you need not search any contact's name to open the chat or other interaction, in fact, this can be done by simply tapping a pic of that person.
Make your conversations engaging with tweaking the font's properties like colors. To keep the users engaged, the app also offers free sharing of GIF and music other than usual multimedia files like images and videos. The users can send POP messages to anyone, even if the other end does not use this app.
18. Truemessenger
Want to filter out spam and legit messages with ease? Here's the answer to it. Truemessenger takes advantage of its huge database reports to identify spam messages reported by users worldwide. And, it filters out the messages separately.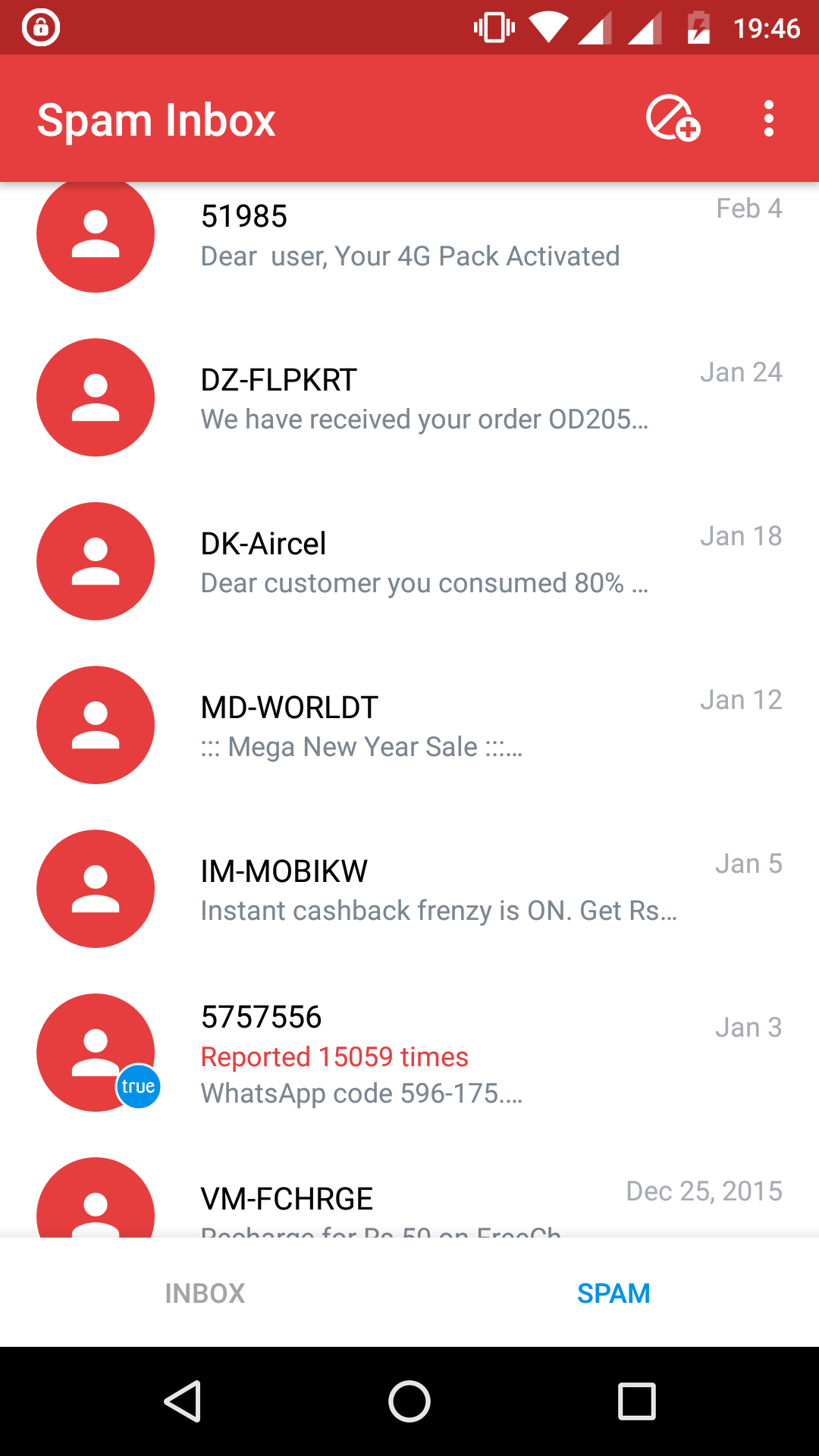 Well, you shouldn't rely always on an automated system, as we've observed that it even puts the Google verification code message into the spam folder. So, make sure you check the spam section and move the messages to the primary section if you think it shouldn't be put there.
Personally, I prefer it on my device and I get only the necessary messages excluding all the mobile service provider's spammy promotional talk time offers, free internet data (not really!) and other value-added services.
Also Read: Top 7 Best Android Apps to Make Unlimited Free Calls Even in 2G
The Pro Review from TechReviewPro
It's straight and simple. Concerned for security? Get Signal Messenger installed on your device. If you're in need of a feature-rich messaging app, then GO SMS Pro would be great. Truemessenger would be a useful addition to your device if you're getting a lot of spam messages.
Other apps? That would come down to your personal preference and requirements, whether you want dual-SIM support or a smoother interface.
Each texting app mentioned in the list of free texting app for Android devices above has its own unique feature and a distinct user interface that seems to be appealing to try that particular app. Hopefully, your search for the best free text messaging app for Android ends here.
Do you use any other text messaging app and still find it interesting? Do share your experience with us using the comment box below.
Also, let us know in the comments below if you think that your favorite messaging app deserves to be included on our list.
Don't Miss :