No matter how much you love your Android smartphone, your kids love your Android phone 3 times more than you. This is the reason why your kids never miss to play their favorite Android games whenever your smartphone is free. There are many free apps for kids available in Google Play Store but we are listing top 10 best android games for kids here.
Smartphones and apps are playing a crucial role in helping modern kids learn lessons visually in the new digital era of learning. And best Android gaming apps are not exceptions. In fact, according to American Psychology Association (APA) playing video games can be beneficial for your kids as gaming enhances various social, memory and cognitive skills such as reasoning, memory, perception and spatial skills etc.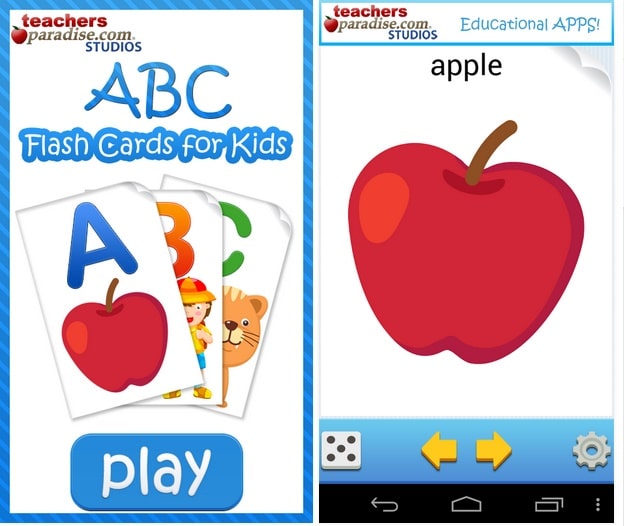 But selecting the best Android games for kids is equally important as neither you want to compromise with your kids online safety on smartphones nor you want to let your kids waste their time for unproductive reasons. So we have got top 10 best Android games for kids in this article.
Checkout : Top 7 Best Android Apps to Make Unlimited Free Calls Even in 2G
Top 10 Best Android Games for Kids – Top Free Apps for Kids
No matter whether you are looking for best android apps for toddlers or best apps for 5 year olds, these are those best kids games for Android which your kids of any age groups can play.
1. ABC Learning Letters Toddlers
ABC Learning Letters Toddlers is one of the best Android tablet game for toddlers that helps in learning letters and numbers by the method simple exercise as your kid learns how to write those complex alphabets and numbers in fun way by exercising on screen and memorizing with sounds as well as visually.
Recommended : Top 10 Free Movie Apps to Watch Free Movies on Android Phone/Tablets
ABC Flash Cards for Kids Game makes learning ABCs easy and fun with its simple but effective alphabet flash cards to help your kids learn phonics easily. It means, your kid will be learning ABCs as well as A for Apple because of its cool alphabet flash cards that teaches your kids to relate alphabet with objects by connecting to the sounds of objects.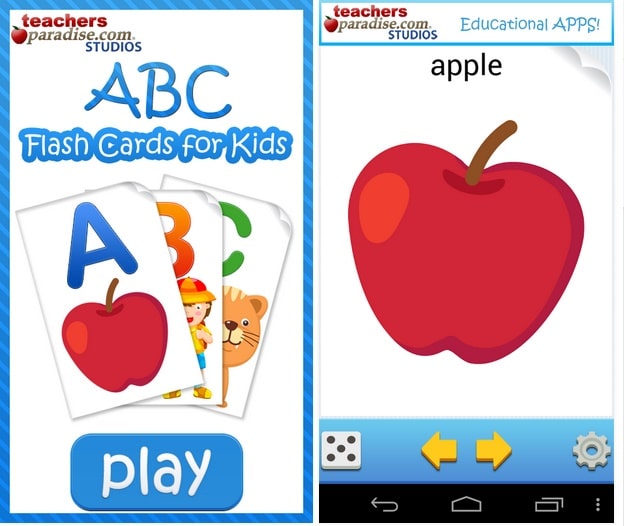 Thus it is a very powerful kids game for Android as it helps children develop memory as well as listening skills.
Read : Super Backup : Best Android Data Recovery App to Backup and Restore SMS & Contacts
3. Kids Game: Baby Phone
Baby Phone Kids Game is yet another free educational apps for kids that makes turning your boring Android smartphone or tablet into an exciting teaching gadget easy. As your kids dial the number on baby phone, they learn the various animal and best animal sounds in fun & exciting manner.
Communication with animals not only help your kids learn animal sounds and numbers naturally while playing the game but also helps in developing the kid's interpersonal skills and curiosity.
Know : 5 Best Free Mobile Security Apps to Protect/Notify Before Your Phone is Lost/Stolen
0-10 Numbers Baby Flash Cards are funny Android games for toddlers and babies with educational purposes. It comes with 22 flash cards containing 0-10 numbers and their object counts as well. This means your kids learn numbers from 0-10 as well as counting in entertaining way with the object counting practice mode.
As each of the number flash card also contains standard English sound of number so your kids easily learn English numbers from 0 to 10.
How to : Make Free Calls on Any Mobile or Landline Users Even in 2G
Kids Finger Painting Art Game is one of the best creative painting game for kids as it helps your kids learn basic painting skills in fun and entertaining manner. It helps you in bring out the artistic talent from your kids by inspiring them to be more creative.
While playing such an excellent painting game for painter of all ages, your kids exercise fine motor skills and quickly develop hand-eye coordination all at the same time.
Read : 11 Best Online Music Streaming Apps for Android and iOS Users
Alphabet Games for Kids is a free educational app for kids of elementary school age that helps your kids learn alphabets in fun and exciting way. It comes with 90 bright cards of real life objects to help your kids study and remember the letters by relating it with real life objects.
The step-by-step ABC process helps your kids learn complete alphabets in entertaining environment without getting bored. Your kids not only learn alphabets and real life objects related to those alphabets but also learn the correct pronunciation of vowels, constants and syllables etc.
Checkout : 6 Essential Free Android and iOS Apps for Coffee Lovers
Learning Colors for Kids is a colorful Android game for kids that teaches various color names and objects like animals or fruits of that color available in surrounding by introducing amazing colors to your kids.
Your kids or toddlers learn to recognize various colors, calling their names and associating the colors with surrounding objects – all in the simple and exciting way of playing.
Know: What are the Best Free No WiFi Games to Play Without WiFi?
8. Kid 2 Paint Free
Kid 2 Paint Free is one of the best drawing game for kids and little painters as it helps your toddlers learn to draw and paint in an entertaining manner as a part of the fun game. The app is designed with simple and easy to use user interface with 23 coloring pages and a save button to save the drawing and painting art performed by your little champ.
Also Read : 9 Best Puzzle Games for iPhone Users to Test Your Puzzle Solving Skills
9. Educational Games for Kids
Educational Games for Kids is one of the best educational apps for children of all ages. It is all-in-one Android game for kids as it comes with complete package of 12 Android gaming apps for free.
Various educational games available in this all-in-one android game are included with a purpose of helping your kids learn various skills like learning professions, matching relations, recognizing 100+ animal sounds, guessing sounds of musical instruments, solving puzzles and many more other skills from 12 different games.
Bonus : 11 Best Android Apps for Free Mobile Recharge Codes
Games for Kids is a learning game for kids that your kids or toddlers can play on Android tablets or smartphone. While playing this educational Android gaming app, your kid learns Phonics (sound alphabet letters) easily.
Games for Kids also teaches your child to identify correct letters, write them quickly and recognize the upper case and lower case letters in a fun and entertaining manner.
Also Read: Top 7 Best Pedometer Apps for Android to Count Your Steps Daily
The Pro Review from TechReviewPro
Though teaching your kids important skills and lessons is easy with the help of these best Android games for kids but make sure your kids don't get addicted to playing games on digital screens for long hours as it may harm your loving kids adversely.
So what other best kids games for Android are missing from this list? Add it using the comment box below.
Don't Miss: