Android is one of the most versatile operating system that allows you to customize your device as per your suitability. Keeping the device operations light and simple may be developers limitations to meet common users requirements but not yours. You have always got freedom to go beyond limitations of default launcher for Android. If you are not happy with the default launcher of your Android phone, you may change the way your phone performs while launching apps or switching between one screen to another. The best way to do so is by installing any of the best Android launcher apps.
Android launcher apps are one of the most useful gift from developers to the users. A launcher app for Android provides a large number of themes, icons, diverse set of options and multiple other customization features to add new way of operations to your smartphone. With launcher apps for Android, you may not only customize how your Android phone operates or works but also you may change how your home screen looks.
If you are wondering what is the best launcher for Android then you are at right place as we have listed top 7 best launcher apps for Android. In this post you'll get to know about best Android launcher apps that may help you customize your Android phone by adding additional customizability.
Also Read : 9 Best Battery Saving Apps for Android to Boost Smartphone Battery Life
What is the Best Launcher for Android – Top 7 Android Launcher Apps
Nova launcher is the best Android launcher app in Play Store which gives the stock experience with a great level of customization. It supports custom icon packs. However, you won't find a complete icon resizing option like Next Launcher 3D. But, you'll get two options to keep it small or as it was previously by default.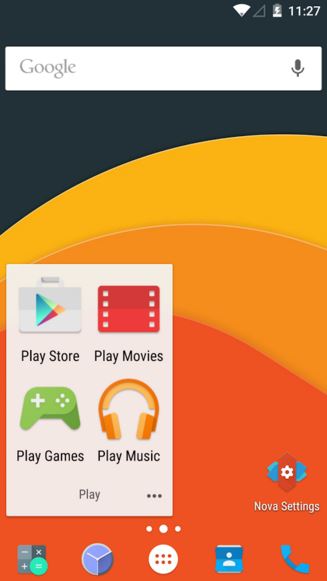 Nova offers a prime version of it. Normally, it is available for 150 INR ($2.2). But, if you could wait, you'll definitely be able to grab the premium version at $0.99 (festive offers, black Friday, Cyber Monday etc). Long story short! It's the most popular responsive material design launcher available on the Play Store.
Know : Trick to Browse Faster on Android Without Internet Connection
It's almost similar to Nova launcher. But, includes some interesting features like a quick drawer, quicktheme, quickbar, covers, shutters and even more. Well, you can definitely argue that this is the best launcher for Android. But, for us, Nova takes the lead in stability, performance, and UI. Although, both are equally deserving to be the best responsive Android launcher. So, that is up to you, which one do you think deserves your device.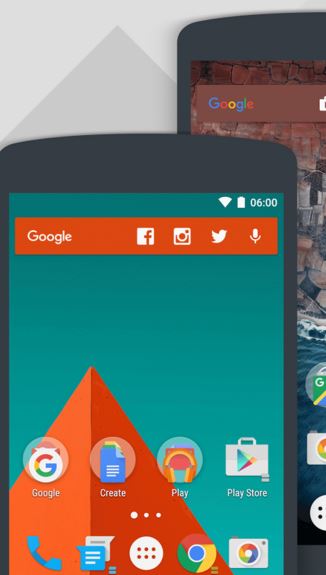 It also offers a premium version (plus upgrade). Unlike Nova, you won't have to purchase a key separately. So, you can upgrade it at 199 INR ($2.95). After you upgrade it to the premium version, you would be able to use locked features like- quicktheme, quickbar, quickpage, smartsize icons, shutters, quickedit, etc. And, probably would get the later premium additions for no extra charge.
Read : Top 10 Best MP3 Music Downloader Apps for Android to Download Free Music
Most of the popular Android launcher apps are trying the stock Android approach (material design) along with customization options. Well, that seems to work very well for the users! In my case too! However, Apex launcher for Android comes with an advanced theme engine. You would have to try it out in order to experience it.
You can unlock the pro features by getting the Apex Launcher Pro (unlocker). It is expensive ($3.75) as compared to the previous mentioned Android launcher apps, and for me, it isn't worth the upgrade. However, as we are talking about the most responsive launchers. So, this makes it through the list of best launcher for Android due to its smooth performance and bug-free environment (at least we didn't encounter a bug till now).
Check : 20+ Best Free Android VPN Apps to Browse Anonymously and Securely
Unlike other Android launcher apps mentioned above, GO Launcher doesn't provide the stock Android experience. Although, it isn't necessary to follow material design guidelines to develop a launcher. It just depends on the user's likes and dislikes, whether they want the stock experience or a completely different yet beautiful experience.
Well, Go Launcher EX for Android offers a wide range of customizable features along with some other premium features. It is highly customizable yet responsive. It is indeed responsive and performs great on low-end and high-end devices as well. But, there's an issue here, and we thought that it should be included because we do not write with an intention to hamper the security of your device.
Also Read: 6 Best Currency Converter Apps for Android for Quick Currency Conversions
Norton mobile security flagged the launcher to be risky (medium privacy risk). For details, refer to the screenshot below:
So, it's your choice whether you would use it or not. But, it deserves to be in the list of best responsive Android launcher apps.
Also Read : The Pro Guide – How to Keep Your Android Device Secure ?
It is the most productive launcher among all Android launcher apps, recently developed by the Microsoft Loop Team. Arrow Launcher for Android doesn't offer much customization options neither does it provide you a home screen to play with. But, it makes things easier for you (access your stuff quickly right from the home screen). And, it supports custom Icon Packs.
There are five home screen pages (Widgets, Recent, Apps, People and Notes & Reminders). You can't add more home screens (for now). As the development of the launcher is active enough, you might get cool features soon.
Read: How to Lock Apps on Android? – Top 5 Best App Locker for Android
It is one of the most innovative launchers for Android. It's simple, unique, fast and beautiful as well. It supports the various set of themes, so you may choose the one that suits according to your taste. Well, the developer has an inspiring story. You can check that out at Android Developers YouTube channel.
It isn't like a common Android launcher app. So, you won't find all the common customization options. But, it is responsive enough along with the material design. You should, at least, give it a try.
Check out: Top 7 Best Calendar App for Android – Best Android Calendar Widgets
Well, it is the stock launcher for Android. But, not having features don't really mean that it isn't responsive. As Google knows Android better than anyone, so it is obvious that the Google Now Launcher has been optimized for optimum performance with the least resource usage.
That is what Google Now launcher does right. So, if you aren't equipped with Stock launcher by default, then you could give it a try and you may observe a visible difference in terms of the response of a launcher compared to other Android launcher apps which aren't included in the list.
Also Read: Top 10 Best Video Players for Android to Play Any Video File Formats
The Pro Review from TechReviewPro
Having the most responsive launcher is the best feeling in the world. If you are already running on stock Android, you should stay with the Google Now launcher or switch to Nova launcher to unlock customization ability. And, if you are running on a custom skinned Android (TouchWiz, HTC Sense, MIUI etc.), you could try any of the above-mentioned launchers which make your experience lighter and smoother. Also, if you are in search for a unique launcher, Smart launcher should be your choice.
So which is your favorite launcher app for Android? Do let us know your views about any other best launcher apps also (if we missed).
Don't Miss: