It can be incredibly annoying to receive calls and messages from strangers. They are just a complete waste of time and also sometimes threatening as well. If you are receiving calls or text messages from unknown people, then you are not alone. It is one of the biggest problems of phone users, and thankfully, there are many solutions to this problem as well. The call blocker apps are one such solution that is very efficient in blocking calls or unwanted text messages.
If you are an Android user, then you can download a dedicated application to stop all unwanted calls and messages in their tracks. These Android call blocker apps come with loads of call blocking and SMS blocking features to give you full control over who can contact you and who can't.
They are not just limited to, contact blacklists and whitelists, you can also automatically block spam or unwanted messages using filters. Furthermore, you can also choose the behavior of how you would like to stay away from calls like you want to hang up the blacklisted calls or answer and hang up them to tease the caller.
How to Block Calls on Android? Block Calls and Spam Text
If you want to block calls and spam text messages on Android, thankfully the latest Android update allows call blocking by default. Here is step by step tutorial for blocking calls on Android without any third-party apps.
Read: Adblock for Android – 8 Best Ad-Blocker Apps for Android
Top 7 Best Call Blocker Apps to Block Calls and Text Messages on Android
There are many call blocker apps for this purpose, and we have compiled a list of the best call blocking and SMS blocking apps for Android. Most of these call blocker apps will let you block calls for free, but you might have to upgrade to the pro version if you need more features or control.
Note: On all Android devices running Android 4.4 (KitKat) and above, it is not possible to use an SMS blocking app side-by-side with the default text messaging app. If you want to block SMS on such devices, then you will have to replace the default messaging app with the SMS blocking app.
Mr. Number is one of the best Android call blocker apps for this purpose, and it is capable of blocking all unwanted calls and SMS (SMS blocking only on Android 4.4 below device). The app comes with filters and community-driven system to block unwanted callers and text messages. You can block calls and SMS from specified numbers, particular area code and even from all unknown numbers that are not in your contacts.
It has a spam filter that blocks calls and SMS from telemarketers and scams, and this filter also uses community suggestions from blacklisting numbers and message types. You can also contribute to filtering by reporting spam calls and SMS right from the call blocker app.
The SMS Blocker Android app is a feature rich SMS blocker app that only blocks text messages. The app is a replacement for the default messaging app on your Android phone, so it will also work on Android 4.4 and above devices. Apart from blacklists, you can also block SMS by keywords, number type, and phrases. The blocked SMS are stored separately and can be easily viewed, deleted or restored to the inbox.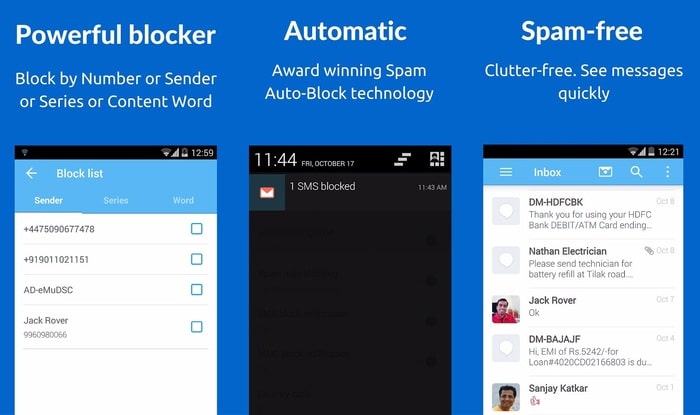 It also comes with a premium (paid) version offering more features. Premium features include Auto response, block unknown numbers, Backup all data, password protection, and all ads removed. If you have an Android phone running Jellybean or a lower version of Android, then you won't have to replace the default messaging with SMS Blocker.
With over 500 million downloads, Truecaller is the most used call/SMS blocker and Caller ID identifier app. Truecaller is primarily based on its huge community of users who report for spam messages and calls and also to see who is calling you even if you don't know the actual number. With a huge number of users, Truecaller keeps a record of all the names registered with it.
It makes it easy for Truecaller users to identify other users if they call each other even if they don't have the number saved in the phone address book.
Using the same huge community, Truecaller has a community-driven spam filter that will surely block all spam messages and calls.  You can also search for numbers and their owners and Truecaller will provide you with the details.
4. Should I Answer?
Should I Answer? is yet another free call blocker app for Android. The Android call blocker app is still in its inception, but it has some great potential to become a leading call blocking app. Should I Answer? already has a rating of 4.8 on Google Play Store and its call rating feature is the main reason for its success. Based on its users, this app rates unknown number so you could see if a number is worth answering or not. The user base is still less so it might not be perfect as of now, but it is improving fast and should be a perfect filtering app similar to Truecaller.
It also has some handy call blocking feature, including the ability to block calls from Caller ID hidden numbers, premium numbers, negatively rated numbers, blacklisted numbers, and all unknown numbers.
5. Safest Call Blocker
Safest Call Blocker is an entirely free call blocking app for Android that is simple to use and offers all the required features. It will let you create blacklists and whitelists to block numbers and has a wildcard blocking feature where you can block numbers containing particular digits. All the blocked numbers are saved separately without any interferences in the call logs and you can easily view them in the Safest Call Blocker app.
The blocked calls will not bother at all — not even a ring — although you can enable notification to keep yourself informed of all the recent calls blocked. It also blocks machine based calls and you can block all unknown numbers or numbers with Caller ID hidden.
6. SMS blocker, call blocker
Another SMS and call blocker app for Android on this list that is a fully featured messaging app with additional features. This SMS and call blocking app will replace your default messaging app and allow you to block calls and SMS on any Android device. It has all the Call/SMS blocking feature you will ever need, including Auto delete Calls and SMS, block spam messages, blacklist, block unknown and hidden numbers, get notifications for the blocked calls and text messages and more.
Apart from a call blocking app, it also offers advanced messaging features including MMS, chat, messages backup, password protection, and some other essential function. Therefore, "SMS Blocker, Call Blocker" app can be a great alternative to your default text messaging app if you want more privacy along with blocking calls and text messages.
Also Check: Top 7 Best Pedometer Apps for Android to Count Your Steps Daily
Call Control is very similar to Truecaller when it comes to functionality, but it keeps a good balance between community-driven features and call/SMS blocking features. It can help you identify an unknown caller similar to Truecaller using its database of users, and uses the same community to offer spam blocking filters. Additionally, the Call Control app for Android also uses FCC Do Not Call data to block unwanted callers and SMS.
Its call/SMS blocking features include blacklists and whitelists, area code blocking, Wildcard support, hidden and unknown numbers blocking, block SMS and MMS, backup and save all the blocked calls/SMS data, multiple methods to respond to a call and much more. For blocking SMS, You will need to make this app as your default messaging app if you are an Android KitKat or above user. The only thing that makes Truecaller better than Call Control is its huge community of users who back it up, i.e., 500 million+ users VS 10 million+ users.
Also Read: 9 Most Funny Games to Play Over Text – Best Texting Games
The Pro Review From TechReviewPro
All the above mentioned free Android call blocker apps will let you block all the unwanted calls and SMS without forcing you to opt for paid versions. Some of these call blocking apps do come with pro versions, but it is not necessary to go for paid versions if you just want to block calls and text messages. You may also have to set some of these call blocker apps as your default messaging app for SMS blocking, but it is worth it if someone is bugging you.
You should give Truecaller a try as it comes with a fantastic Caller ID identifier feature and the spam filter is very useful, thanks to the huge community. If you know any other good call and SMS blocking apps for Android, do let us know in the comments.
Don't Miss: