Let's face the truth; none can learn the meaning of all the words in this universe. Even if you succeeded to learn them, you'll certainly found yourself missing when you'll have to deal with other language speaking people. This is where dictionaries come in to play.
Unlike traditional dictionaries which you were supposed to carry in your pocket, the digital dictionaries have got smarter. And with the ever increasing number of smartphone users, accessing dictionary apps is just a click away. So whenever you struck with new words, just open the best dictionary app and learn the meaning instantly.
But doing so requires the basic internet functionality on your phone as most of the dictionary apps present out there are only accessible online. There is hardly any dictionary app that works offline. So we have compiled a list of top 5 best offline dictionary apps for android users.
Check out: Top 10 Best Android Games for Kids – Free Android Gaming Apps for Kids
Top 5 Best Offline Dictionary Apps for Android Users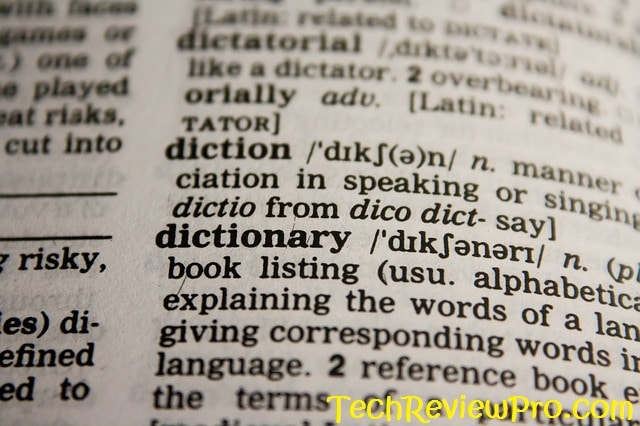 The concept behind offline dictionary is to access the dictionary app on your smartphone even when you are not connected to the internet. This is done by downloading the complete database of dictionary app for offline usage. So, if you are an Android user, you can easily download the app and install the necessary offline database files to use the dictionary offline.
Merriam Webster is so far most popular offline dictionary app for Android users. With around 50,000,000 installs already, it is speaking its worth by the kind of reviews and responses that it has got by users all around the world. One of the exciting features that I love about Merriam Webster is that you may also do a voice search of words and get the meaning.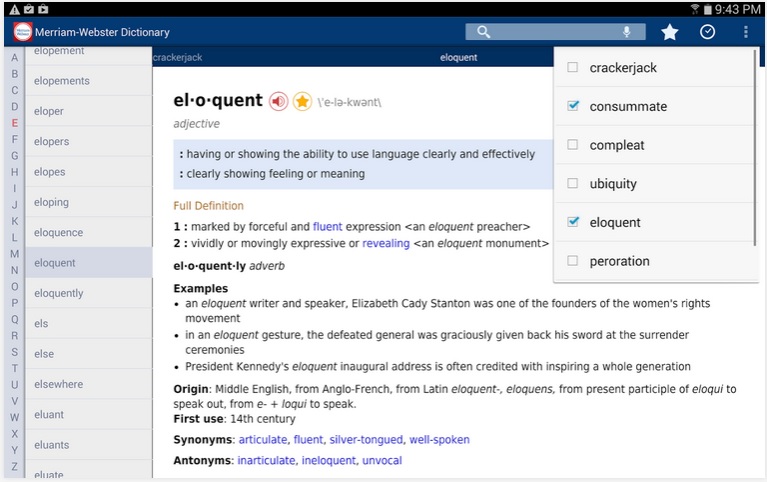 It means if you heard a new word which you can't spell – just speak before Merriam Webster and let the dictionary do work for you. Though the offline version that you get by installing all the necessary offline database files, doesn't support voice search functionality, you may also get antonyms and synonyms of words with it.
Check out: 15 Best Sites to Download Free Audio Books Online
Dictionary WordWeb is a very powerful free offline dictionary app which comes with ads-free tag. It means, the user interface is perfect with no cluttered ads showing all around.
With around 285,000+ words, phrases and derived forms, 225,000+ word sense definitions, 70,000+ usage examples, 85,000+ text pronunciations, Synonyms, similar and related words, etc. it has got everything that you need from an ideal dictionary app.
The best thing I like about WordWeb dictionary app is that even if you misspelled the word while searching, its auto suggests functionality suggests you the possibly correct spelling thus helping you to find the exact word.
Also Check: 9 Best Browser Dictionary Extensions to Find Words Meaning Online
Next to our list of best offline dictionary apps is Offline English Dictionary itself. When you first download the dictionary, it is saved on your micro SD card or local memory. When you install it, with a simple search, you are ready to go with the offline version of the English dictionary.
This doesn't mean you are limited to one language only. You have got freedom with more than 50 multi-lingual dictionaries to choose from, including English, French, German, Spanish, Arabic, Japanese, Korean, Hindi, Hebrew, Russian, Italian, Chinese, Portuguese, Dutch, Czech as well as synonyms and anagrams databases.
If you are looking for a perfect free dictionary that allows you to browse dictionaries without a network connection, Offline English Dictionary is the best choice to go with.
Also Read: Top 7 Best Free Grammar Checking Tools to Check Grammar Mistakes
The leading free English dictionary app for Android – with over 2,000,000 definitions and synonyms has got even much smarter with its offline functionality. The app works offline, so you do not need an internet connection.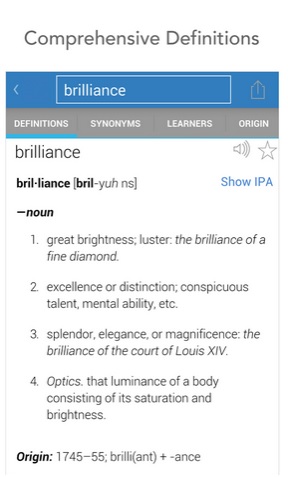 When you first install the Dictionary.com app on your phone, it prompts you to download all necessary database files to access it offline. You can either download all files for offline usage or avoid it if you wish to use it online only. However, it is worth noting that the voice search and pronunciation functionality is available for online users only.
But the word of the day, spelling suggestions and power to know world origin are just like a piece of the cake.
Also Check: 6 Best Currency Converter Apps for Android for Quick Currency Conversions
The offline Hindi Dictionary is again a very powerful dictionary app for android users. Whether you need to translate Hindi to English or English to Hindi, everything is free. Thus you have got the power to search both Hindi as well as English words.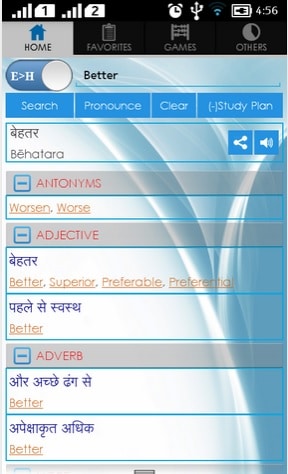 With a simple and easy user interface, the complete offline version of dictionary app with all required offline database files comes with only 12 MB of data download. This means the app is not only powerful and sleek but also avoids overly data usage while downloading offline files.
Also Read: Top 10 Free Movie Apps for Android to Watch Free Movies on Android Phone/Tablet
The Pro Review from TechReviewPro
Having an offline dictionary app in your pocket is crucial as you never know when a new word strikes you. After all, you are not always connected to the internet specially when you are roaming out, away from wifi hotspot, nearly around remote areas where there is no internet accessibility or simply traveling via plane. Thus, these best free android dictionary apps come very handily in such scenarios.
Hope the list of top 5 best offline dictionary app will help you choose the perfect dictionary app for you. Do you know other offline dictionary apps? Do share your views and suggestions to include the missing apps from this list.
Don't Miss :