Audiobooks are great way to relax yourself and listen to free books online without any need to carry a hard copy book in your hand to read. Yes, the traditional paper books are still adored my many book lovers, but book lovers are now showing more interest in audiobooks. We can't blame them either, there are just so many reasons to go for them.
You can store hundreds of audiobooks in your favorite device and carry them anywhere without any need to carry heavy books. Furthermore, listening to books is much easier than reading, as you can freely complete other tasks instead of being bound to read a book. Some of the books are also narrated by your favorite celebrities, so this also adds a special touch.
Audiobooks can cost you approximately $15 and above, so not all people may be able to take advantage of them. Fortunately, there are many free audiobook websites that offer free audio books (legal) online without any kind of limitations. However, free titles are mostly from less popular authors or books that are quite old now and out of copyrights.
Also Read : Top 10 Free eBook Download Sites to Download Free eBooks
15 Best Sites to Download Free Audio Books Online
If you are willing to try out some classic books or don't mind listening to some less known authors, then we got some great websites to access these resources. Checkout our list of 15 best sites for free audio books downloads and start listening to audiobooks for free.
Librophine has a huge collection of free audiobooks with thousands of titles to freely download and to listen to books online for free. It has a simple interface to find audiobooks, both paid and free. You can explore audiobooks categories to find your favorite audiobook to download or listen.
LibriVox is a community driven free audiobooks website with the audio books narrated by users just like you and me. It offers audiobooks in 36 different languages narrated by people from all around the world. You will find books from all the cultures due to the huge community that is running it.
Check: 5 Best Comic Websites to Download or Read Comics Online Free
Lit2Go has a huge collection of free audiobooks from different genres. It offers both stories and educational material, such as, Adventure, Essay, History, Poetry, Realism, Romance and more. You can find books by Author, Genre, Collections and complete books.
Podiobooks is run by advertisement and donation of the readers. You may find many popular classic books and even some new books. The books are narrated by Podiobooks narrators who get 75% portion of your donations, and the books are listed by categories along with featured and popular titles.
ThoughtAudio is focused on spreading the knowledge for free. You will find many titles here that are based on biographies, history and truth. Although, there are also many fantasy stories, but the focus is still on education. You can both download free audiobooks online and read the actual book as PDF.
As the name suggests, Storynory is focused on free story books, including poems, kids story, mythical stories, fairytales, educations stories and more. The website runs on donations made by the readers, and a part of donations go to Storynory narrators.
Gutenberg project is a volunteer based project that is meant to make ebook reading free, including audiobooks. You will find thousands of old audiobook titles in over 50 languages. You can browse books by both authors and titles listed in alphabetic manner.
Loyal Books, formerly known as "Books Should Be Free" has a huge collection of audiobooks with over 7000 titles. You will find many popular titles, like The Art of war, Anthem, The Memories of Sherlock Holmes and many more. You can download complete audiobooks or specific chapters.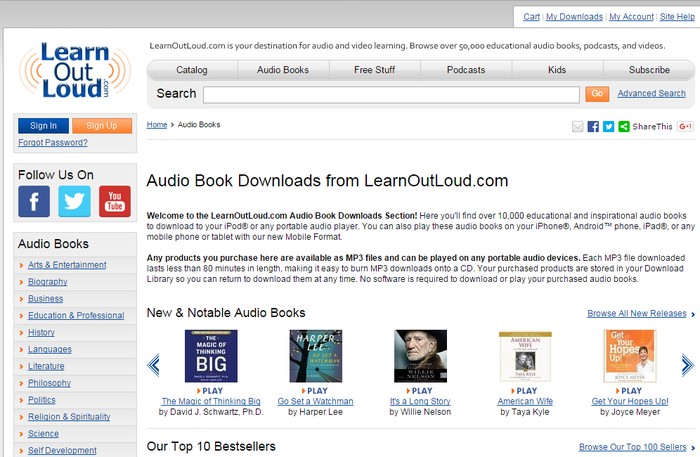 LearnOutLoud is actually a website for downloading paid audiobooks, but they also giveaway paid audiobooks for free every month. Each month they giveaway a book for free, you may get lucky with a book of your interest. Furthermore, they also host promotional events to giveaway books for free.
NewFiction is a website for listening to fictional audiobooks with loads of fun stories. There are many drama based stories, but most of the stories are funny or action filled. You can subscribe to get daily stories right in your email.
Audiobooks.net hosts paid audiobooks, but it will let you have one free book for using their audiobook app. It has a huge collection of audiobooks narrated by popular narrators. All the books are rated by the huge community and you can checkout audio sample before downloading your first free book.
This website is not one of the most intuitive websites, but it does have a good collection of classic books. You can browse the websites with author names, and books can be downloaded in Mp3 or m4b formats. If you are looking for an old title that is not available there, you can also request it to be added.
13. Free-Audio-Books.co.uk
This is another great library for accessing classic free audiobooks. You will find audiobooks like Fiction, Children, Mystery, Horror, Romance and much more. The audiobooks can be downloaded and streamed online and you will see a short description of the book on its main page.
Free Audio Books offers audiobooks from many different genres and even offers audiobooks from the Gutenberg project and Google e-books. You will also find poems and poetry for both kids and adults. The interface is also very intuitive with audiobooks divided by categories, trending, and weekly popular audio books.
Bookrix is not a standard free audio book website that has a huge inventory of old books that are out of copyrights. Instead, it offers new writers to write up books and publish for free. You can access many good titles thanks to the huge supporting community that rates and comments on all the new books. You might not be able to find books from your favorite writer, but you should find some good books if you search a bit.
Check out: 17+ Excellent Websites to Create Your Own Cartoon Character – Cartoonize Yourself
The Pro Review From TechReviewPro
Audiobooks are an amazing way to spend your leisure time or even listen to them while working. You can listen to audiobooks while on the road, taking care of house chores or before going to sleep. If you don't like spending cash on audiobooks or want to access some old titles, then our above list will surely help you find thousands of free audio books online.
Most of the sites will let you both download and listen to free books online, so you can easily choose which book you want to download by listening to it beforehand. Free Audio Books is a great website for accessing a huge database of classic audio books, and if you want a simple website with quick navigation, then Librophine is a good choice. Let us know in the comments what type of audiobooks you like to listen.
Don't Miss: