When I was a kid, I used to prank my friends by sending text messages anonymously. Sending anonymous SMS from a fake number is one of the oldest methods to have fun with your friends which is still a brilliant prank idea. Sending SMS anonymously lets you hide your identity as you may send anonymous text messages without registration. Many anonymous text message services are available as well that help you send text anonymously.
Many people still enjoy sending fake text messages, if you are wondering how to text someone from a fake number; then you are at the perfect place as today I'm going to share top 7 free [fake] SMS sites that let you send text from a fake number. Wondering how to send text anonymously? Stop wondering! Because sending the anonymous text is easy with some free SMS services.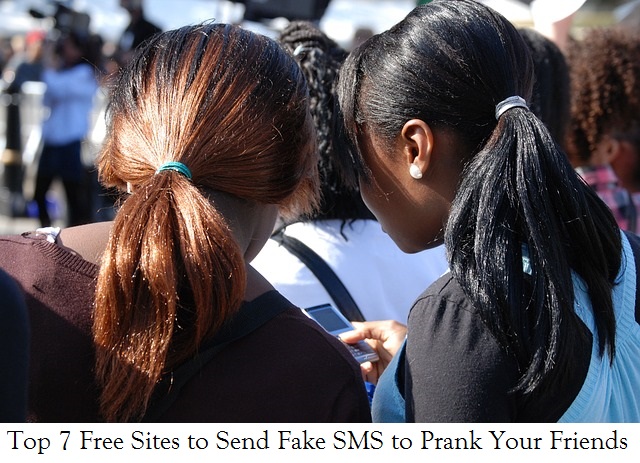 But before I share the free SMS sites list, let me share the steps involved for anonymous texting.
Read: Send Anonymous Email Lets You Send Email Anonymously for Free without Registration
Send Anonymous Text Message Using Free Anonymous Texting Sites
Sending an anonymous text message using free SMS sites is quick and easy. All you have to do is follow these simple steps:
First of all, select your preferred fake SMS site from the below provided free anonymous text messaging sites.
Next is to read the rules. It is crucial because if you use anonymous SMS sending service for illegal purpose thinking that you'll be anonymous, then I'm sorry! You'll be in serious trouble as even if you are anonymous, your IP can be tracked even if you use these proxy sites.
Once you got the point that fake SMS texting service is not for anything other than pranking your friends, type the number of friends you want to send a fake text.
Next, enter your text SMS. This could be anything that you may use to make fun with the fake SMS receiver.
Finally, hit Send button! You may also be asked to fill the captcha before hitting the send button. You'll instantly get success message which marks that the process is complete.
Also Read: 20+ Best Free Android VPN Apps to Browse Anonymously and Access Blocked Websites
Top 7 Free SMS Sites to Send Anonymous SMS from Fake Number
So here we go with our Free Anonymous SMS provider sites list: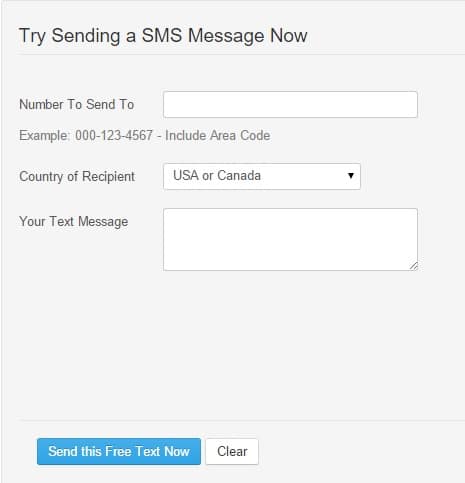 TxtEmNow is a free way to send anonymous text messages which also supports international numbers. Sending anonymous SMS to any number without registration is simple. You have just to fill the form to send free text messages to your friends. TxtEmNow also had a free Android app to send anonymous text, but it has been removed from the Play Store now.
Send Anonymous SMS as the name confirms, it is also a free site to send a free anonymous SMS text message. It is one of the most trusted and World's largest free anonymous SMS service provider. It is a web-based application using which you may send fake text messages via the web.
Also Read: Top 6 Best Private Search Engines for Anonymous Web Surfing
It is also a similar service. In fact, it is just a clone of Send Anonymous SMS as the URL redirects you to the same anonymous SMS provider service as listed above.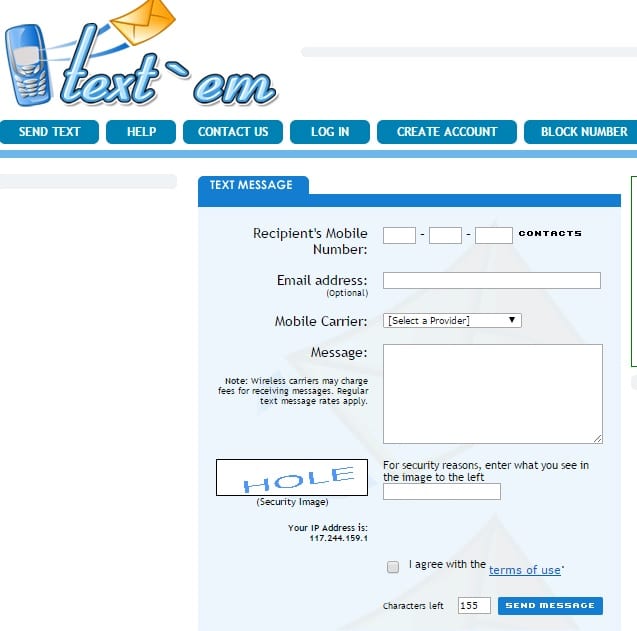 If you want to send and receive free text messages including picture messages also, then Textem is perfect free SMS site for you. Using Textem, you can send free text messages to any number provided by major cellular services of United States. The best thing is you may also send and receive picture messages for free.
Textforfree is another free text messaging service which offers spam free text messaging service. Using this anonymous SMS provider service, you may send SMS to prank your friends to almost any USA cell phone provider. Though you may send the fake text to any top cellular phone services provider in the USA, messaging is limited to 140 characters only.
Also Read: 20 Best Free Anonymous Email Service Providers to Send Email Anonymously
TxtDrop is an entirely free text messaging service that lets you send the fake text to any number without registration. If you are wondering how to text someone from a fake number, then visit TxtDrop, and within few seconds you'll be able to do it yourself.
However, you need to provide your email address to get replies securely. The fun part is you may also block your number so that your friends may not prank you using any anonymous SMS service provider.
Also Read: How to Send an Anonymous Email from Anonymous Email Account?
If you want to propose your boy/girlfriend and confess something anonymously to someone special and loving friend, then this anonymous messaging service is for you. It is entirely free. But unfortunately, it is only available for Australian numbers.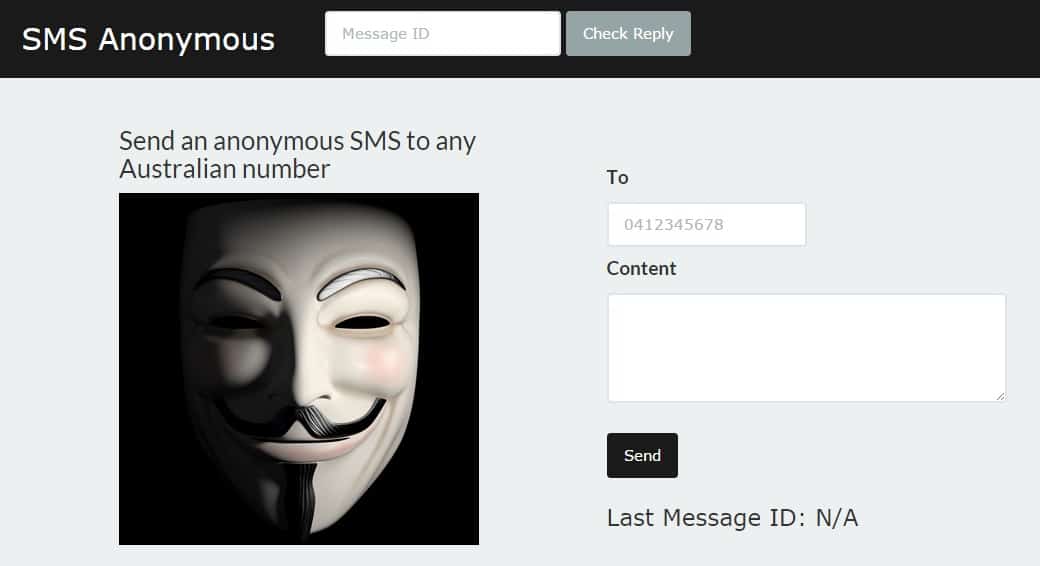 Anyways, if you want to send an anonymous SMS to any Australian number then use this free service to prank your friends with perfect break-up plan. But make sure you don't hurt someone's feelings.
Also Read: How to Send a Text Message from PC?
Free Fake Anonymous Texting Apps to Send Text Anonymously
Apart from various free fake text messaging sites, there are many apps to send fake text messages as well. With the rise in mobile technology and an ever-increasing number of smartphone users, the developers went on to dig deeper into the concept of fake text messaging and developed some good apps for anonymous texting. You'll be surprised to know that now you just need to install any of the anonymous texting apps on your smartphone and start sending fake texts to prank your friends.
Fake Text Message is one such app for anonymous texting that allows you to send anonymous text as well as receive an anonymous text from anyone you want. The app is free but offers in-app purchases as well. The user interface is quite basic but ensures even a newbie user can get used to it easily. The best thing is: you can send fake text from any past dates as well.
2. Yazzy (Fake Conversations)
Yazzy is another cool Android app for anonymous texting. Though it's not primarily an app for anonymous text, instead it's based on the concept of fake number texting. You can create a chat session from a fake number with almost anyone. Not just you can prank your friend by showing off the texting from a fake number, you can also create fake Facebook or WhatsApp conversation using this app. If you want to prank your friend using a cool way to show off the fake conversation, Yazzy is the app for you.
The Pro Review from TechReviewPro
Though there are many premium anonymous SMS provider services like SMSGlobal, who let you send bulk SMS and fake emails anonymously, you need to pay them. Also, there are few other anonymous SMS sites like PimpmySMS and Sharpmail who lets you send a fake text message and spoof SMS, but I haven't included them in this list because they require registration before sending fake SMS.
This means, practically they are not anonymous SMS sites. However, you must not forget that using anonymous SMS services for threatening, stalking, fraud activities and other illegal purposes is a crime, and legal actions may be taken against you if you are found guilty.
If you use anonymous and fake messaging services correctly, they may be much more beneficial and life saver than just pranking your friends. Want to know how?
Report anonymously to police about crime
Report anonymously about smuggling
Speak against any social evil anonymously
Let your Government know about corrupt political leaders – that too anonymously.
I hope, you got my point!
Also Read:
[Source: WkiHow]
Disclaimer: TechReviewPro never promotes any of the illegal activities, if you use anonymous SMS services for illegal purposes, it is you who would be responsible for it.