Instant messaging programs and apps are big things on smartphones with apps like WhatsApp, Viber, Kakaotalk, and Skype all having this feature built-in to make chatting easier. However on the PC, the experience is not as comfortable or at least, not powerful enough than a PC deserves. It's simple and fast to manage multiple instant messaging program or messenger apps on a Smartphone, but same can't be said about a PC.
That is why there are many free instant messaging program clients available for Windows, Mac OS X and Linux to manage multiple instant messenger services in an easy way. Instant messaging IM services are programs that enable you to send or receive messages on your PC quickly and easily. If you have loads of friends on multiple social network sites, then you must try out a PC instant messenger client to easily stay in contact with your buddies.
Also Read: TRP Guides – How to Send a Text Message from PC?
Do you Need an Instant Messaging Program Client for PC? Why ?
In the modern era, when it comes to instant messaging, the people have different options to choose from a variety of instant messaging services. This makes it quite complicated for the end user if one wishes to do instant chatting with friends, family or colleagues. Because since your friends and family members have different taste of choice for instant messaging program, so you need to:
Create a separate account for each social network
Download and install the heavy as well as light weight apps and software for each of them
Manage each of the installed instant messaging apps effectively on your system
This could be easier if you had a high-end PC with massive resources, however very tough if you have limited resources. Also, having multiple software programs to accomplish one activity is a stupid idea as various programs consumes a lot of resources for one purpose. A better idea is to select a multi-protocol instant messaging program client that works perfect for you and also reduces the extra burden from your PC.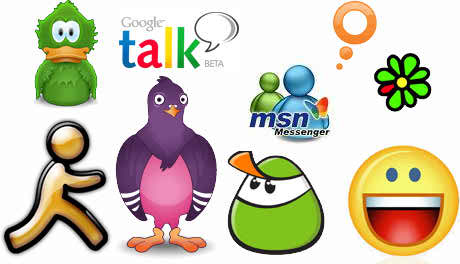 Also Read: How to Send an Anonymous Email from Anonymous Email Account?
6 Best Free Instant Messaging Program Clients for PC
Below you will find six best free instant messaging program clients for Windows, Mac OS X and Linux. You can just select the one that fits your needs perfectly.
1. Pidgin (Windows, Mac OS X, and Linux)
Pidgin is a free and open-source desktop client for Windows, Mac OS X, and Linux that is simple and powerful. Its interface is light and simple, without any bells and whistles. But it offers everything you will need for chatting on multiple networks, including emojis and group chat, etc. By default, it supports Google Talk, Yahoo!, MSN, Bonjour, Gadu-Gadu, AIM, IRC and few other IM networks.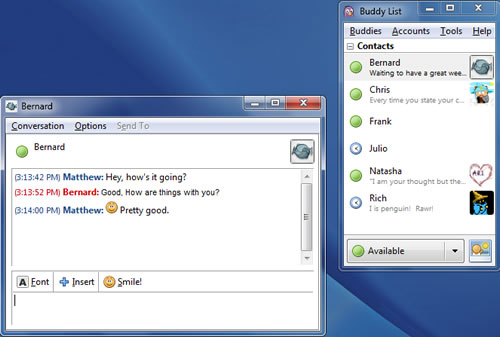 However, its support possibility is almost limitless, thanks to its support for official and third-party plugins. There is a plugin for almost any type of instant messaging (IM) protocol, and there are many plugins for security and other handy features. From a sea of plugins, few drops include Facebook Chat, Campfire, Heroes of Newerth, OkCupid, Skype, TorChat, WhatsApp, Pidgin-Encryption, Alerts, Smart Ear, Pilt Spotify and much more.
2. Digsby (Windows)
Digsby is a free Windows instant messaging program client that puts IM, Email and Social networks in a single interface. It has separate features of each type of system, and it's quite complete as well. You can use networks like, MSN, Yahoo!, Google Talk, Jabber, AOL, Gmail, Hotmail, Facebook chat and updates from social networks like Twitter, Myspace and Facebook, etc.
It will let you merge multiple friends' networks into a single account, multiple tabs for conversations, send SMS, status change for all networks, pop-up notifications, manage emails, social network news feed, various skins for the client and much more. Furthermore, it keeps a complete history of all your conversations, so you could easily track your activity on all of your networks in a single place.
It will also sync all your data and changes over the cloud, so you could use Digsby on any Windows PC without reconfiguring. There is also a widget to be placed on a blog, website or social network profile to chat directly with guests.
If you didn't like the simple interface of above two free instant messaging program clients and want something beautiful, then Trillian is worth a try. Trillian is a features rich IM client with some unique features and an interactive interface. Its free version is ad supported and it comes with a pro version that lets you save history over the cloud and remove all the ads.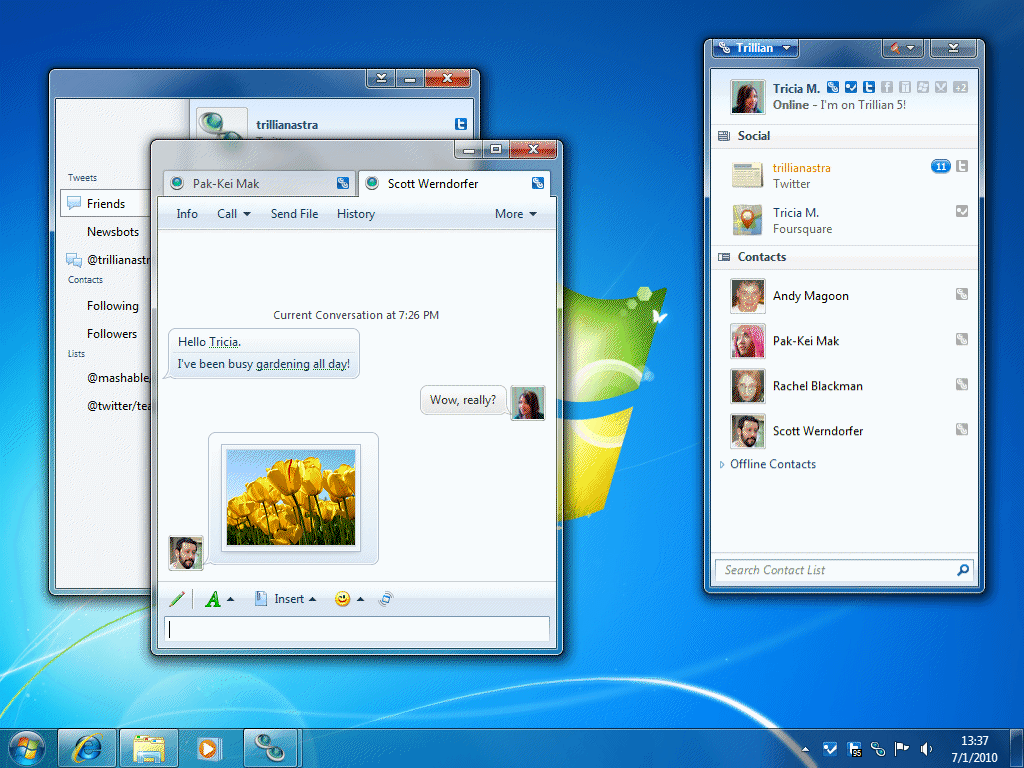 Trillian supports almost all OSs, including Windows, Mac, Linux, iPhone, iPad, Android and Web client as well. Its themes make it attractive with dozens of themes to suit your mood every day. Additionally, it has a unique Game chat feature that lets you talk with other people while playing a full-screen play. Its other features include multi tabs conversation, Hundreds of Emoticons, History on Desktop clients, built-in Spellcheck and many social media features.
4. Adium (Mac OS X)
Adium is an open-source instant messaging program client for Mac OS X that has a beautiful interface and reliable features. It is not as robust as Pidgin when it comes to features, but it is definitely worth a look for Mac OS X users. It supports IM services like Google Talk, Jabber, Facebook Chat, MSN, AOL, MobileMe, Yahoo!, Bonjour and many other conventional instant messaging services for the desktop.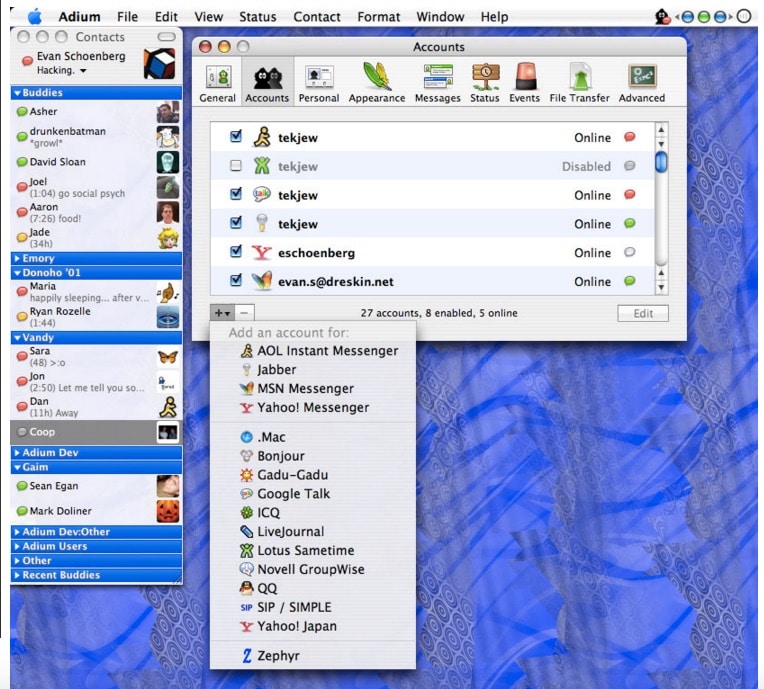 It has multiple themes with the ability to set a theme for chat windows as well. You can put multiple accounts under a single person's name to make it easier to track his/her activities, and it comes in 27 different languages to let everyone take advantage of it. Furthermore, you can transfer files without IM restrictions along with full encryption of messages and files sent. You can also check out Adium Xtras to get more features like, emoticons, message
Miranda is another open-source instant messaging program client in this list that is very tiny but very robust in features. It has a hardly 7MB installer and when you open its primary interface, it has only two options to get you everywhere (how about that for a minimal interface?). From those two choices, you can manage your status and configure Miranda. However, when you start exploring, it never stops. It will let you transfer files, open conferences, quickly find contacts, import and export lists and much more.
When you open its "options", you are bombarded with hundreds of customizations options. You can literally customise anything, including menu behaviour, mouse gestures, search, interface view, themes, avatars, fonts, contact names, menus, hotkeys, group chats and much more. This has been just the built-in features, and it also has add-on support with over 350 plugins ready to be used. If the already robust Miranda client wasn't enough for you, then these plugins should fulfil all your needs. Simply put, Miranda is a small and simple IM client that hides a whole garage of features in the backstage.
6.Instantbird (Windows, Mac OS X and Linux)
Instabird is a quite simple yet functional free instant messaging program client with a minimal interface. Mozilla powers Instantbird so that you will find its interface and menu quite similar to the Firefox browser created by Mozilla. Similar to Miranda, it has a very minimal interface with hardly three options. When you open its settings, there are many customization options like incoming message behaviour, sounds, icons and avatars, tabbed conversation, fonts and colour, privacy options and more.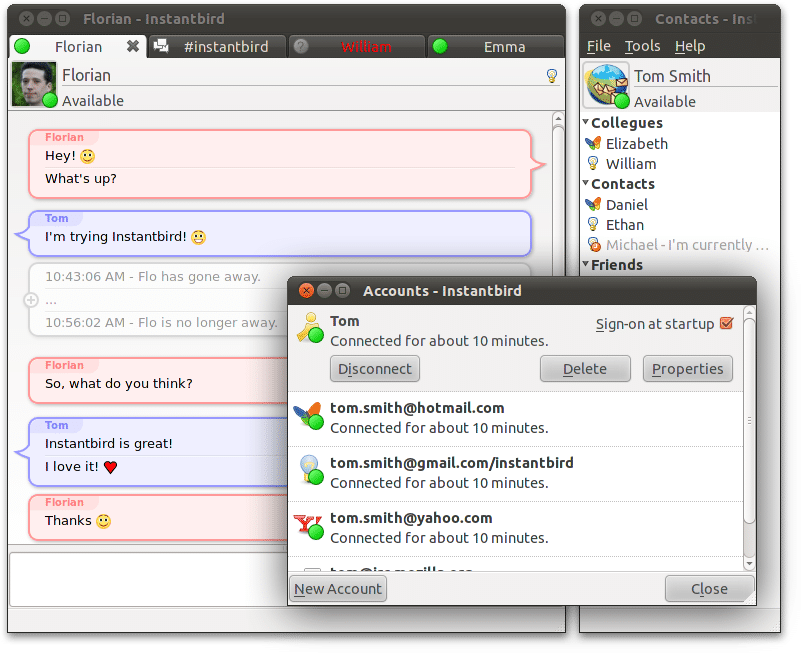 There are also many other features like themes, messaging styles, emoticons, spell checker, encryption and many other advanced features. To top it off, it has the add-on support that will let you add tons of features, including new themes, messaging styles, emoticons, IM support, dictionary, security and many other customization based add-ons.
Check out: Top 10 Cheapest SMS Text Message Marketing Solution for Small Business
The Pro Review From TechReviewPro
If you are a hardcore social media and IM service user and have loads of contacts over different networks, then you must get an Instant Messaging Program client. Above mentioned IM clients are free to use and also very robust in features. For most people, Pidgin will work correctly due to its cross-platform support and tons of features. Although, Digsby is also recommended for its unique all-in-one approach, and tons of features catering these needs.
It should be noted that all these free instant messaging program clients require a prior setup and some practice to use at their full potential. With a few days of use, you should become an Instant Messaging beast with access to all your contacts in one place.
If you know any other cool Instant Messaging Program client that is free and functional, do share with us in the comments below.
Don't Miss: