The new trendsetter – selfie shots – became widely popular with the recent launch of Smartphones boasting camera features specially tailored for selfies. Well, of course, taking a selfie shot is not something entirely new. But, with better front facing camera specs offered, it's lively hot now!
You will probably want to take a lot of good selfie shots if you have a front-facing camera on your smartphone (a minimum of 5 MP). However, the stock camera app does not allow you to take perfect selfie shots. So, you will need to have any of the best Android selfie camera apps to help you along.
With the best Android selfie camera apps installed, you could do a lot more than with the stock camera app. So, we have compiled a list of best selfie camera apps to quench your thirst.
Also Read: Top 5 Best 3D Camera Apps for Android to Capture 3-Dimensional Images
Top 7 Best Selfie Camera Apps for Android You Should Try
Previously, we have shared best Android camera apps to improve your picture quality. Even if pictures takes from these camera apps for Android are not great, you can make them perfect using best photo editing apps for Android.
In this article, let's explore the best selfie camera apps for Android. But before that, don't forget to have fun with your photos using face swap apps for Android.
1. Selfie Camera
Selfie Camera is one of the best selfie camera apps for Android. Selfie camera offers a variety of real-time filters which you can choose before taking a shot. You will observe a lot of filters to enhance the picture.
You can also set a timer to take a selfie. If you have your smartphone mounted on a selfie stick, you can turn on the selfie stick mode to get the perfect selfie. Also, to real-time filters and the selfie stick mode, it comes packed with a feature-rich photo editor where you can do all the necessary image tweaks to enhance your selfie shots.
If you are always taking selfie shots for Instagram, it lets you utilize a square photo mode which gives you the perfect selfie output suitable to share on Instagram.
Eye Candy is one of the best Android selfie camera apps with live filter effects. While you try to take a selfie using Eye Candy app, you will notice that you can leverage a lot of live filters to enhance the picture.
It offers a ton of filters to choose from. As you keep it installed and use it to take selfie shots, you will get the hang to it. In addition to the selfie camera option, you get an inbuilt selfie photo editor which lets you tweak the image in the best possible way.
If you are not sure about what to tweak, you can utilize auto beauty option to let Eye Candy app decide what's suitable for the picture. Eye Candy does save the previous versions of the image, in case you need it.
YouCam Perfect is yet another awesome selfie camera app for Android. YouCam Perfect offers live beauty effects, meaning – it can make your selfie look great even if it does not exist in reality. The auto beautify mode adjusts the saturation, brightness, and the softness in an image to ensure the perfect selfie shot.
You can add filters to your image as well. Similar to the "live photos" feature in an iPhone, you get the ability to record a short video selfie with an option for real-time skin beautifying effects.
Surprisingly, unlike other selfie camera apps for Android, you get to retouch every face in your group selfie shot. That's way impressive! Also, you get the tools to cut out a subject in an image and add a fun background to it. Other editor tools help remove acnes, hide wrinkles, and so on.
BeautyCam is also one of the most loved Android selfie camera apps. Unlike other selfie camera apps for Android, BeautyCam does not focus its enhancement tools on letting the user add a filter but tweak it.
BeautyCam offers quite a couple options while taking the selfie. Moreover, it provides you with tools that would help you turn the image into something extraordinary out of an ordinary click.
You can remove blemishes, brighten eyes, whiten teeth, add filters, edit eye color, and add special effects (like blur effect). Being a selfie camera app, it can also be utilized as a makeup app for Android.
PIP Selfie Photo Editor is primarily a photo editor for Android, but it does act as one of the finest Android selfie camera apps available at the Play Store. You can choose a picture from the gallery or take a picture with PIP.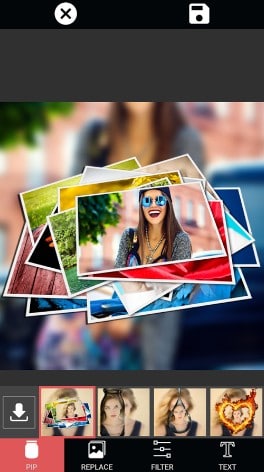 It offers a lot of frames and photo collages layout. If the number of PIP frames are not sufficient enough, you can always head to its online library to get more PIP frames.
Also, you can spice up your images by adding stickers, emojis, and texts. You will not get a lot of powerful features, but if you are in for a treat with collage layouts and frame, this is the one you should have installed.
Also Read: 7 Best Instagram Collage Apps for Making Awesome Instagram Collages
Retrica is one of the most popular choices among the Android selfie camera apps available at the Play Store. Similar to Eye Candy camera, it also provides real-time filters. Here, you get 120 types of filters to chooses from. Most of the filters give a great touch to an image, except a few that might differ when it comes down to personal preferences.
In addition to the tools for photo editing, it also provides you the ability to create GIFs by utilizing any of the videos you have or will record. You can make an album and share it with your friends.
If you do not wish the album to be publicly visible, you can set it as a private album which only your friends can see. The watermark (Retrica's so-called stamp) is quite recognizable and adds value to your image when sharing on social media sites.
Candy Camera is yet another perfect Android selfie camera app. It lets you apply real-time filters while you try taking a selfie shot. You just need to swipe left or right to try on different filters. There's also a beautifying filter for a perfect selfie.
In addition to the cool filters offered, Candy Camera also equips you with certain tools for slimming, whitening, concealer, lipstick, and other makeup stuff. You can directly take a selfie while applying a collage to it. It's fun!
Also, some of us feel embarrassed while taking a selfie at a weird time. What if no one knows that you are taking a selfie? Well, Candy Camera offers a silent mode which lets you capture selfie shots without letting anyone else know about it ( some James Bond stuff!).
Also Read: 6 Best Free Online Photo Collage Maker to Make Photo Collage Online
The Pro Review from TechReviewPro
Finally, now you know about some of the best Android selfie camera apps that you should be using to take perfect selfie shots. Of course, there are tons more applications at the Play Store. But, the applications mentioned above would remain to be the best among them.
If you want less editing capabilities but more filters (precisely real-time filters), stickers, and frames, then you should try YouCam Perfect, Eye Candy, Retrica, BeautyCam or Candy Camera. If you are more into editing the selfie shots after taking them, you can go ahead with PIP selfie photo editor or Facetune.
Among all of the above, Facetune remains my personal favorite. What's yours? Let us know your thoughts in the comments section below.
Don't Miss: