Being a Windows user, you know that you have a pretty customizable computer. There is one issue, though, that the personalizations are limited to wallpapers or using third-party or official themes. The good news is that you have one fantastic tool called Rainmeter. With Rainmeter you can nearly customize everything. And some of the best Rainmeter skins can help you achieve that. In a nutshell, some cool skins for Rainmeter not only help you customize your PC but even Rainmeter as well.
Just in case you're not very familiar with what Rainmeter is, it's one powerful customization tool. It's a free desktop program that allows you to transform how your Windows computer looks completely. You can display information such as Email, RSS feeds, Network statistics and more! But let's see how you can make it look fantastic.
Also Read: 11 Best Kodi Skins (XBMC Skins) to Change the Way Kodi Looks
20 Best Rainmeter Skins to Make Rainmeter Look Cool
If you want to customize how Rainmeter looks on your PC completely, the easiest way to do so is using some cool skins for Rainmeter. I have listed some of the best Rainmeter skins that will help you change how Rainmeter looks on your PC. So let's check out these 20 of the best Rainmeter skins.
1. IronMan-Jarvis
Who ever said that Iron Man is the only one that can use Jarvis? With the IronMan/Jarvis theme for Rainmeter, you can get your very own Jarvis Rainmeter theme and feel that you are Tony Starks.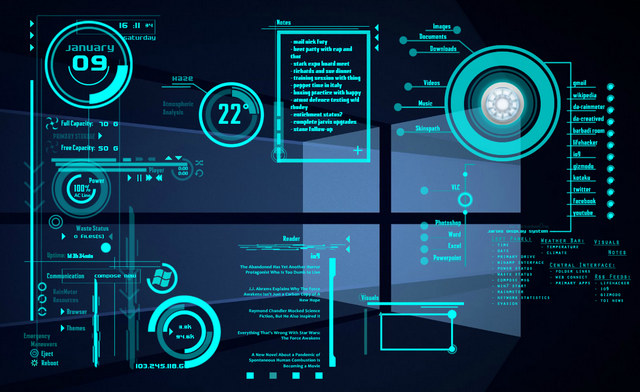 You'll love this Rainmeter theme because it's customizable and it also comes with various modules that you can easily move. You can see information such as Temperature details, Clock/Date, Hard disk capacity, RSS feed and shortcuts to system folders.
2. TECH-A
With the TECH-A theme for Rainmeter, you get the futuristic look you've been looking for. You'll also get a simple yet elegant look. This Rainmeter skin will show you information such as RAM utilization, Per core CPU usage, and the Time/Date.
The Rainmeter skin has more to offer than just the previously mentioned. You also get shortcuts to Disk partitions and system folders such as to My Documents. Other goodies include an animated and revolving core that will just keep you looking at it for hours on end.
3. Elegance 2
If you're the kind of person that likes to keep things simple, then Elegance 2 is your Rainmeter theme. You'll see fundamental system information with pure elegance, hence the name Elegance 2.
You won't have a hard time reading the information since everything is perfectly legible. The skin for Rainmeter is very lightweight so that it won't affect your computer's performance.
4. Adian Bolon Aero
If green is your favorite color, then you should give Adian Bolon Aero a try. This good looking Rainmeter skin will launch your favorite apps and display information such as the local time. It also offers the possibility of you controlling your multimedia player or iTunes.
This Rainmeter skin also shows you a clock with either 24 or 12-hour format. Other essential information includes the date and the temperature. You can also customize specific shortcuts and the information bar. In the information bar, you'll find details about the system, resource usage but you'll also get quick access to Email and drives.
5. Avengers Shield OS
It's time that all Avengers fans had their own theme with the Avengers Shield OS theme. You can get the theme in various resolutions, and it also features useful shortcuts to frequency accessed applications such as Browser and Media Player.
Theis Rainmeter skin also includes media playback/control bar, Volume control, CPU and RAM usage, shutdown and restart buttons, and last but not least the S.H.I.E.L.D Eagle tag.
6. Obsidian
If you're a nature fan, then you're going to like Obsidian. It is one of the best Rainmeter skins for nature lovers. The theme includes things such as a clock in a 12-hour format, Calendar and a drive that shows you the space left in a certain drive.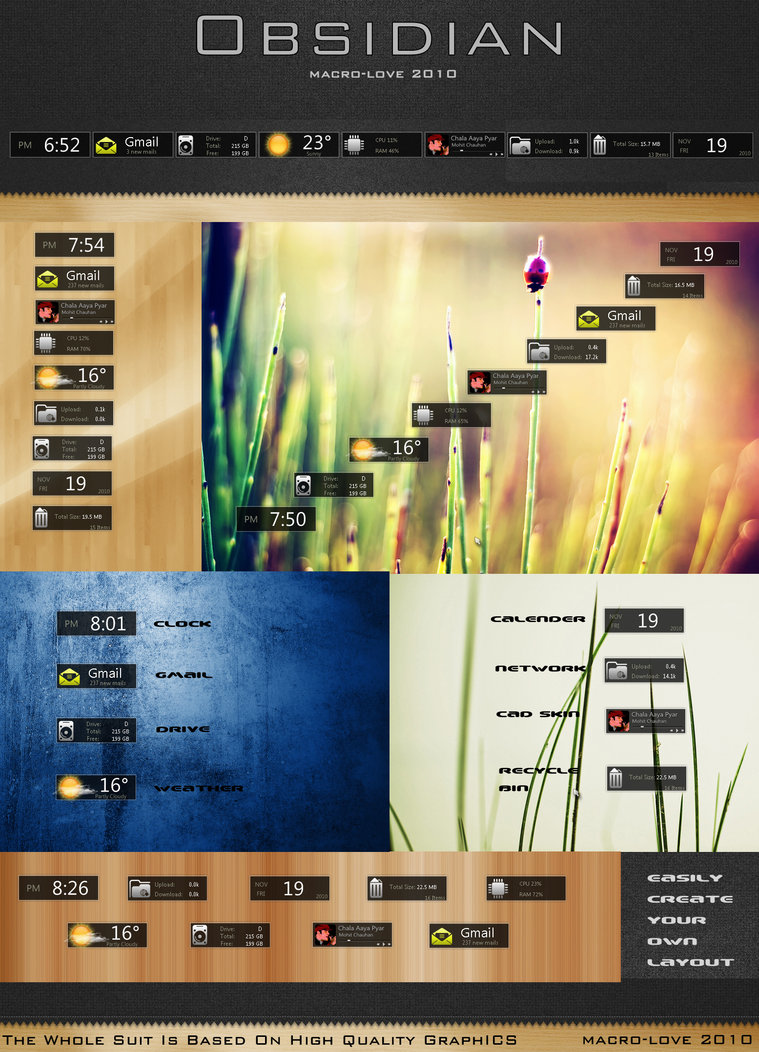 If you want you can change the drive in question. This Rainmeter skin shows you things such as Mail, Network, Recycling Bin, CPU and RAM meters, Weather and CAD skin.
7. Mass Effect
For all the Mass Effect fans out there, you have the theme that has its name. With this skin for Rainmeter, you'll feel like Commander Shepard fighting against the Reapers.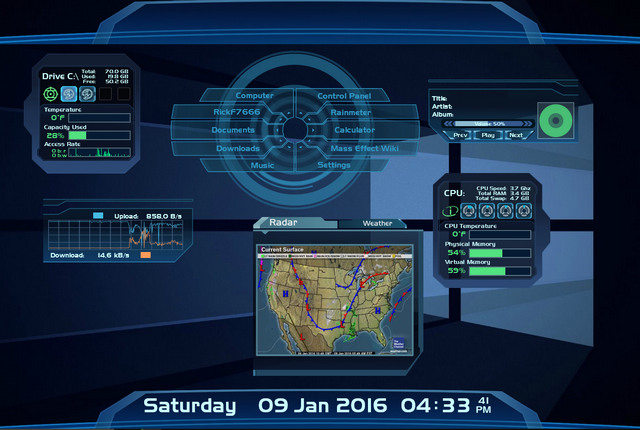 This Rainmeter skin offers a media playback and control panel, time and date bar, network statistic graph, and a hard disk information pane. If you don't like how they are places you can re-arrange them.
8. PILEUS
PILEUS is yet another name in the list of best Rainmeter skins. With PILEUS, you enjoy a theme with sub-elements that have a rare drawn and scrubbing effect. Keep in mind that this is a heavy skin for Rainmeter. The reason it's so heavy is that it shows you a large amount of information.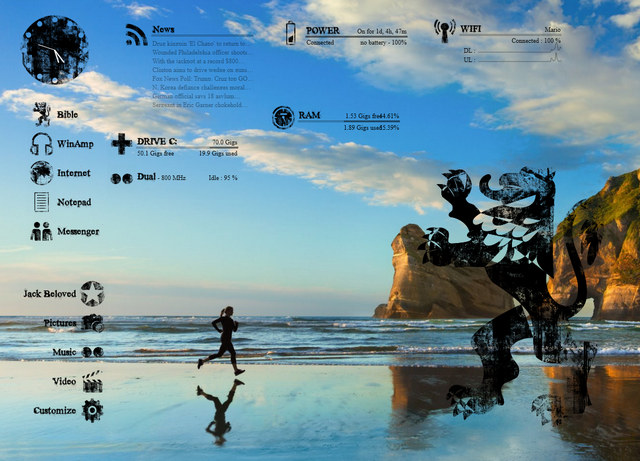 You can see information such as RSS Feed, time and date, and system folder and disk partition, just to mention a few. You can either use the dark or light variant of the theme.
9. Enigma
Enigma is one of the most popular Rainmeter skins out there. Its sub-modules are very configurable, and you can even move them around.  Enigma can show you thing such as Picture slideshow, world time, world weather, CPU and RAM usage among other things.
10. LIM!T
If you just want a Rainmeter skin that does what it says, then you're going to like LIM!T. This Rainmeter skin is made up of clean and big fonts. The numbers as well as the font's colors, fill up when they reach a time frame of 60 seconds.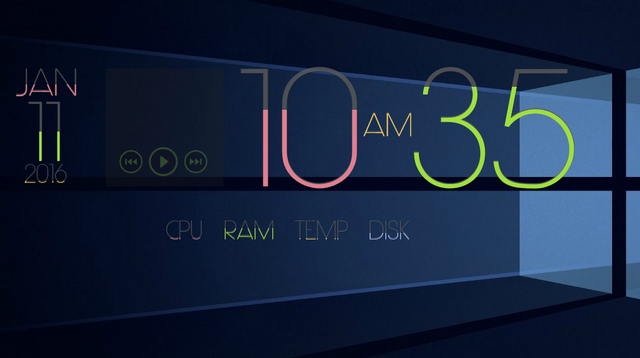 The information the skin for Rainmeter has to offers includes CPU/RAM usage, Date/Time Weather, and current media playback status.
11. Neon Space
Neon Space is one good looking Rainmeter skin, so much that it's almost hypnotizing. It has a large variety of customizable modules that are all animated and glow with their neon blue color.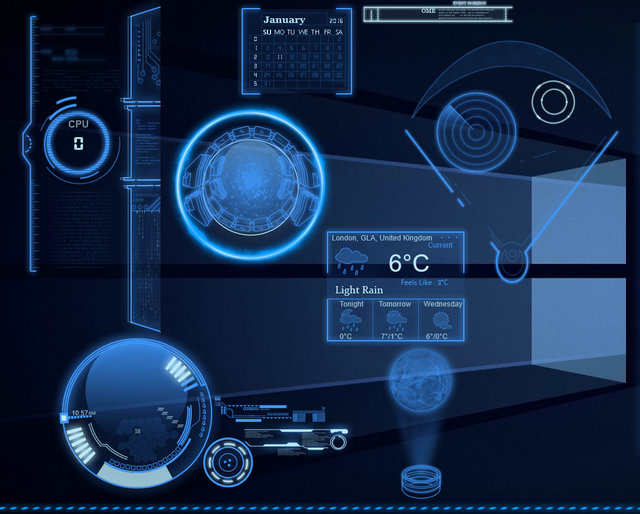 You'll feel like you're in one of those futuristic alien movies but without the aliens. You can see information such as time and date, CPU and RAM usage, weather, and a lot of great visual effects.
12. Wisp
What makes Wisp different from the other Rainmeter skins is that the information it displays doesn't have any borders. It looks as if the info is drawn onto the screen. If you add the right wallpaper, you can get one amazing display.
Just like the other Rainmeter skins, you'll see information such as date and time, temperature, disk partition space usage, CPU/RAM usage, and network bandwidth consumption.
13. Razor
Razor will seduce you with its frosted glass and translucency effects. This is another one of those best Rainmeter skins that if you add the right wallpaper, you can make it look ten times better.  A minimalistic wallpaper is your best choice.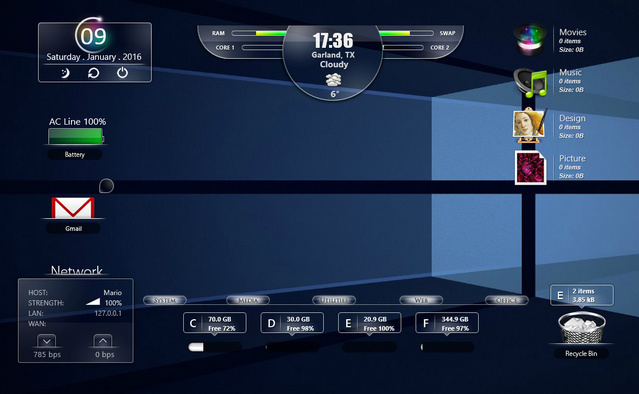 Razon can show you information such as Weather, Time/Date, customizable dock, system shortcut libraries, power status and network length.
14. Galaxy
You don't have to stare outside your window to look at the stars anymore. With the Galaxy skin for Rainmeter, you can have them right on your display. This Rainmeter skin can show you things such as date/time and the CPU meter with a history of ten minutes.
Other useful things include notes, music player, system monitor, map, weather, search and seven programs/bookmarks and libraries.
15. Unity
Unity tries to draw you in with its simplicity and elegance. If you try it out, you'll see that it's a functional Rainmeter skin and it also offers you all the necessary information all the other skins for Rainmeter do.
For example, you'll be able to see info such as weather, time/date, shortcuts to system folders and a complete width Media playback control/status bar.
16. MoonGlow
Another great option for your next Rainmeter skin is MoonGlow. This fantastic Rainmeter skin will give Rainmeter the style you've been looking for without holding back on options.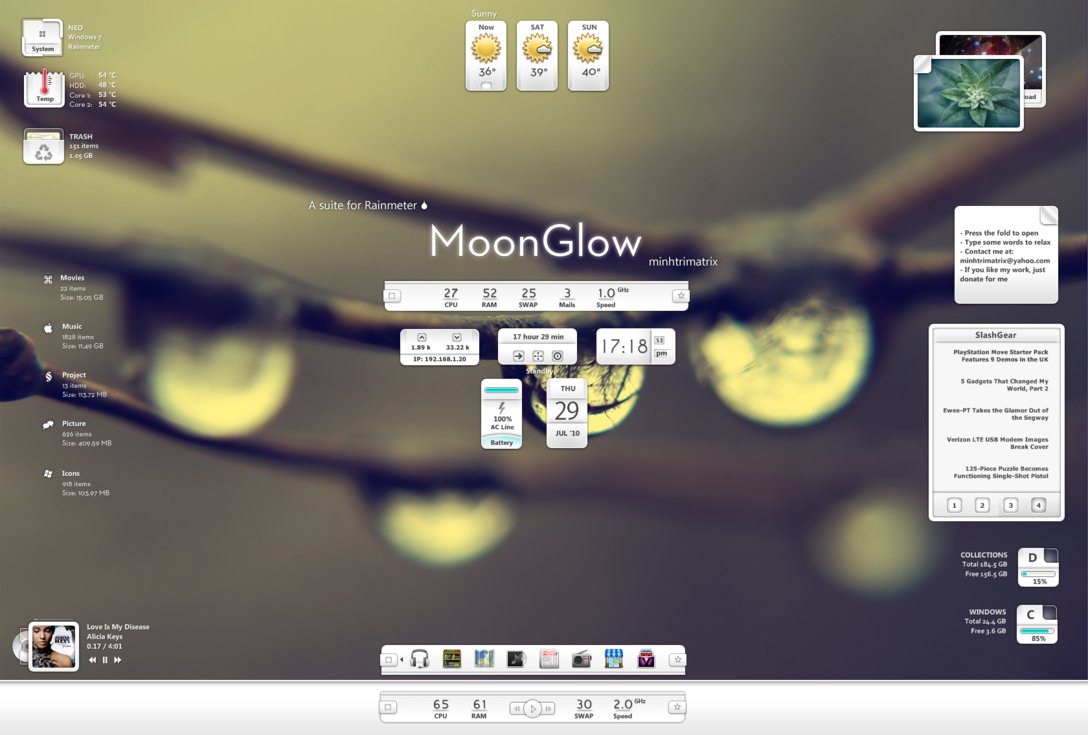 With MoonGlow you can have tools such as Temperature, Multidock, iFiles, Bing, and Notes/Wallpaper. With multi dock, you'll see CPU, SWAP, RAM, and Gmail messages.
17. Senja Suite
I have three words to describe Senja Suite: lightweight, straightforward and clean. It's a Rainmeter skin that offers you the basic and doesn't bombard you with too much information.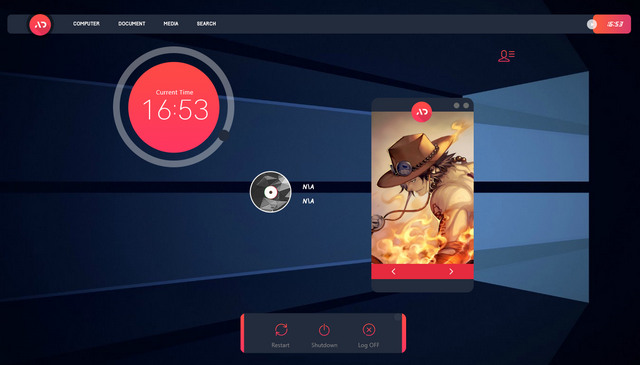 It will show you information such as a slideshow of favorite pics, time, user profile button, media info with control buttons and Retreat/shutdown/log off buttons.
18. Aliens
Aliens is one of those Rainmeter skins that have to be paired with the right wallpaper. It will only look good if you set it up with the companion wallpaper it comes with.
You can customize the modules to things such as power status, disk partition shortcuts, network upload/download speeds and the System date/time.
19. Eker Lina
If looks are everything, then try Eker Lina. You'll love the large variety of sun-modules that even look like small widgets. You can move these widgets any way you want so you can get the look you want.
Eker Line can show you information such as weather, time/date, RSS feeds, drive shortcuts, system folders and media controls.
20. Speed
Last but not the least you have Speed. This is another Rainmeter skin that comes with transparency and glass effects. The sub-modules have a consistent look, and you can move them around to your liking.
You'll always be informed as it displays information such as unread Email count, time/date, CPU/RAM usage, network status, RSS Feed and the weather.
Also Read: 7 Best Free Disk Defragmenter Software Programs to Defrag Your Hard Drive
Which is the Best Skin for Rainmeter?
With so many Rainmeter skins, the only problem you're going to have is choosing which one to go with. In the end, it entirely depends on you that which Rainmeter skin you are going to go with. Whichever one you choose, you'll have to go with great style and options. Which one are you going to choose?
Don't Miss: