Android is one of the most popular mobile operating system based on which a large number of smartphones are running. The simplicity of usage and easy user interface of Android has not only made it easily accessible by common users but also, it has made it easier for prying eyes to enter into your privacy and steal your important private data or information.
You can't deny by the fact that the modern lives revolve somewhat around digital products, and smartphones are one of the most important digital asset where the most of your private as well as important data reside. That is the reason why you need to be concerned about the privacy of your Android phone.
Previously, we have discussed how to lock apps on Android using best app locker for Android. Although there are many free mobile security apps also but choosing an app that cares and guards your privacy is tough. Today, we have got to review one of the best privacy app for Android : Leo Privacy Guard that helps you safe guard your privacy on Android.
What is Leo Privacy Guard ?
Leo Privacy Guard is one of the best privacy app for Android which is developed by LeoMaster. As the name suggests, it is basically a privacy guard that protects your private information from others. It is also an all-in-one solution for your smartphone. It has a very useful built-in security feature that keeps your smartphone clean and protected from malware, cache, cookies and junk files.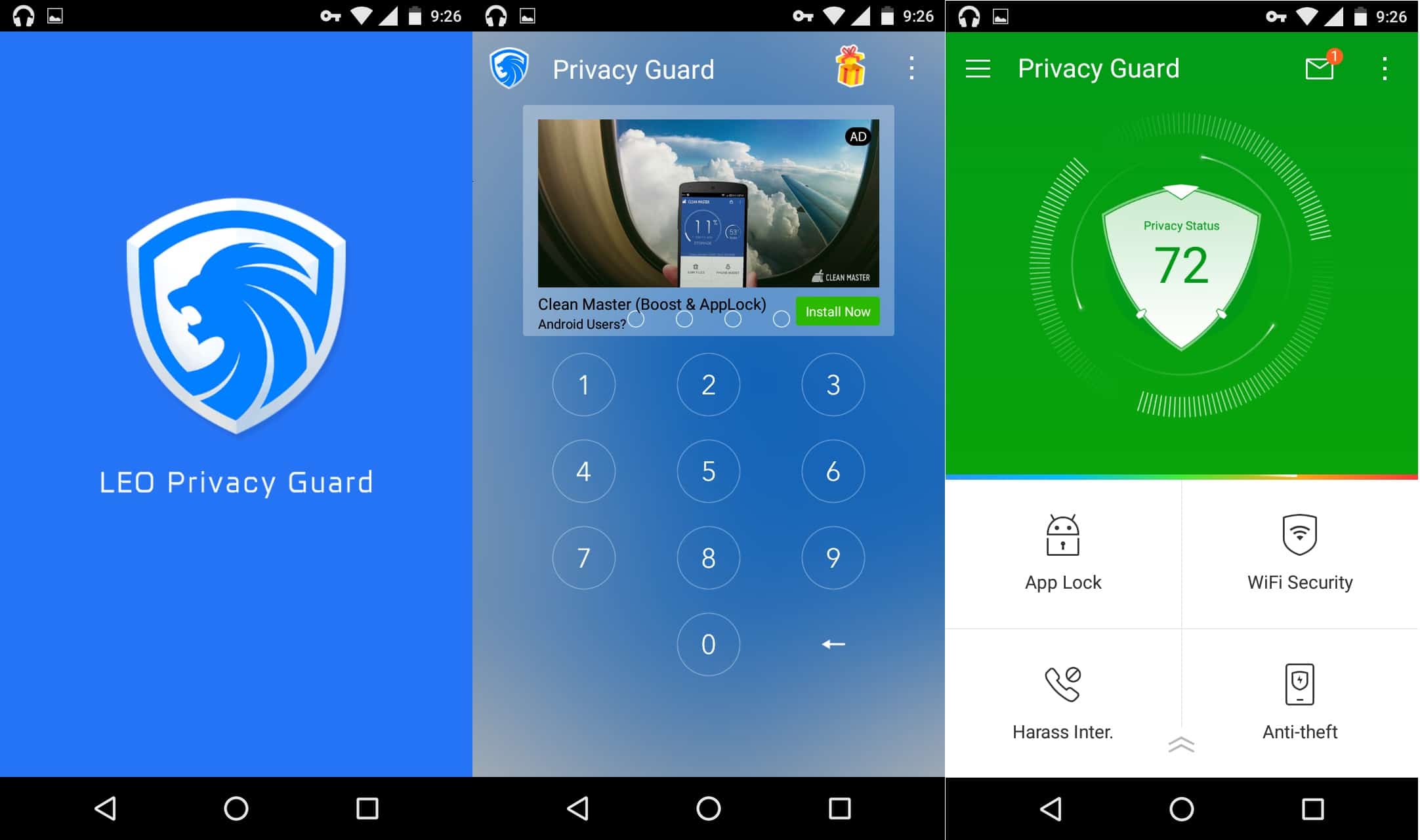 Leo Privacy Guard is an anti-theft, which keeps your smartphone secure and helping it run on the right track. That's why it is one of the most trusted privacy safeguard with over 100 million happy users.
Also Read: Top 6 Best Private Search Engines for Anonymous Web Surfing
Features of Leo Privacy Guard : Best Privacy App for Android
Leo Privacy Guard is no doubt, one of the best privacy app for Android as it has some really great features that protect your private data available in your smartphone from prying eyes including intruders. It provides you with a safeguard for your personal files and folders as well as boosts the performance of your phone. And the most important thing is that LEOMASTER (developers of Leo Privacy Guard App for Android) is not going to charge you a single penny for any service related to that. So let's talk about the features of Leo Privacy Guard.
1. Privacy Scan
Privacy scan is the most important feature of Leo Privacy Guard. Basically, the app is designed for the concern of privacy. Leo Privacy Guard is smartly designed for providing you the real time privacy status of your phone. It provides one-click privacy scan in your phone and notifies you about the security level of the phone.
It also provides the solution and guiding you on how to boost up the security level of your smartphone. Privacy Scan in-and-out analyzes your apps, videos, images, and files. It provides a simple step by step guide to secure your data and private information.
2. App Lock & App Management
Are you concerned about your personal chats and other private data? You must be willing to keep such sensitive data and information private from others. Then app lock feature of Leo Privacy Guard is definitely going to help you. Lock all your important apps like Facebook, Whatsapp, Messenger, Hike and all other such types of apps. Thus helping you to keep others far away from your data and hence, decreasing the chance of your privacy leakages.
The App Lock feature has three different options for app locking :
Modes – It has a smart locking feature that gives you a customization of app locking like guest mode, home mode etc. Meaning that you may lock your apps depending upon its importance as well as the possibility of privacy leakage at a particular place. The time lock and position lock feature of Leo Privacy Guard help you to enable different mode with time and location.
App Cover – Another cool feature of app lock in Leo Privacy Guard is the availability of different app covers. The various app covers like beauty cover, error, the unknown caller, and fingerprint etc. allows you to prank others with the different type of app covers.
Theme – The availability of various themes allows you to customize your app lock theme. You may either use the default theme or you may get a theme of your choice from various online themes available.
The App Management section lets you uninstall unwanted apps that will boost your phone performance. You may also backup your apps for offline installation and sharing.
3. Safe Box
Safe is a secure box where you can hide all your most private images, videos, and other sensitive files. So even if you have lots of private and sensitive files in your smartphone, you don't need to worry about the risk of revealing private files while your mates or parents are using your phone. You may also hide some call logs and SMS that you want to keep safe or hidden.
4. Anti-Theft
Anti-Theft gives you remote access to your lost phone as you may remotely access your lost phone (although, not completely). According to LeoMaster team, the anti-theft feature is based on SMS recognition to work. If you forgot your phone somewhere, then you can ring your phone by sending a message.
Did someone steal your phone ? No problem! This advanced feature of Leo Privacy Guard helps you in locating your phone on the map. Anti-Theft helps you to remotely lock your apps for privacy concern. You can also track your phone as well as format the phone if ever you are in a situation when you think there are chances of your privacy leakages.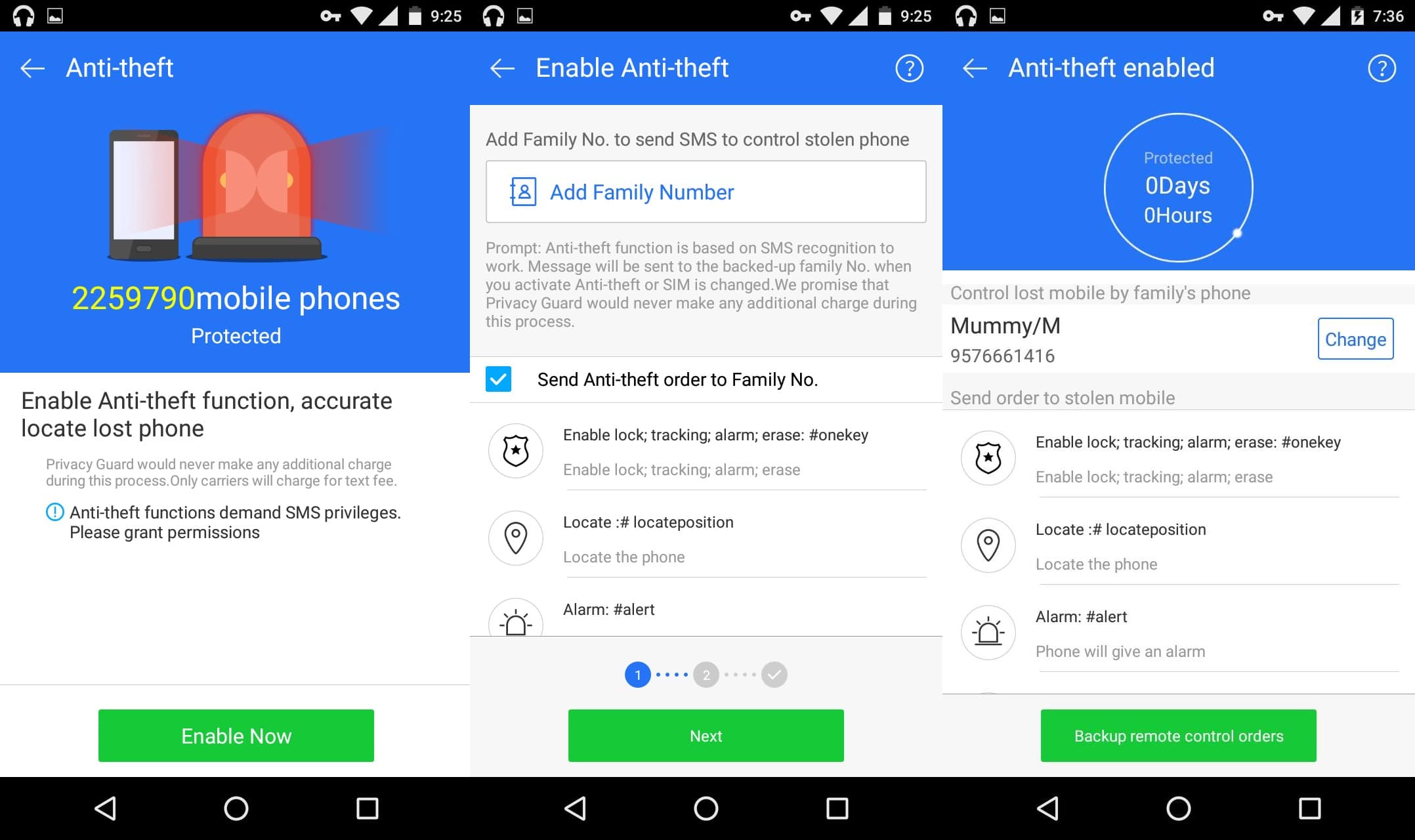 As I already said that it works with SMS services means you don't have to login special website. You only have to add any number as backup number (preferably your family member's number), so that you may have access to that number even if your phone is lost or stolen. Later, this would be beneficial in helping you remotely manage your stolen phone. It also notifies you every time you change the SIM card in your phone – which is effective feature in case your phone gets stolen and someone tries to change the SIM card in your device.
5. Privacy Protect
Privacy Protect includes mainly two features which are quite amazing as far as privacy is concerned. Break-in alert captures photos of the intruder who attempts to access your data but enters the wrong password. While Private contact helps in encrypting your call logs and SMS.
6. Device Monitor
Device Monitor is a unique feature which makes  Leo Privacy Guard very different from all other privacy apps. Data monitor keeps all records related to your data usage. It has a nice graph chart which depicts the daily data consumption. Its app view gives you a detailed information about which app is using up more of your data. You can also set data usage limit with excess alarm that notifies you when you are running out of data plan.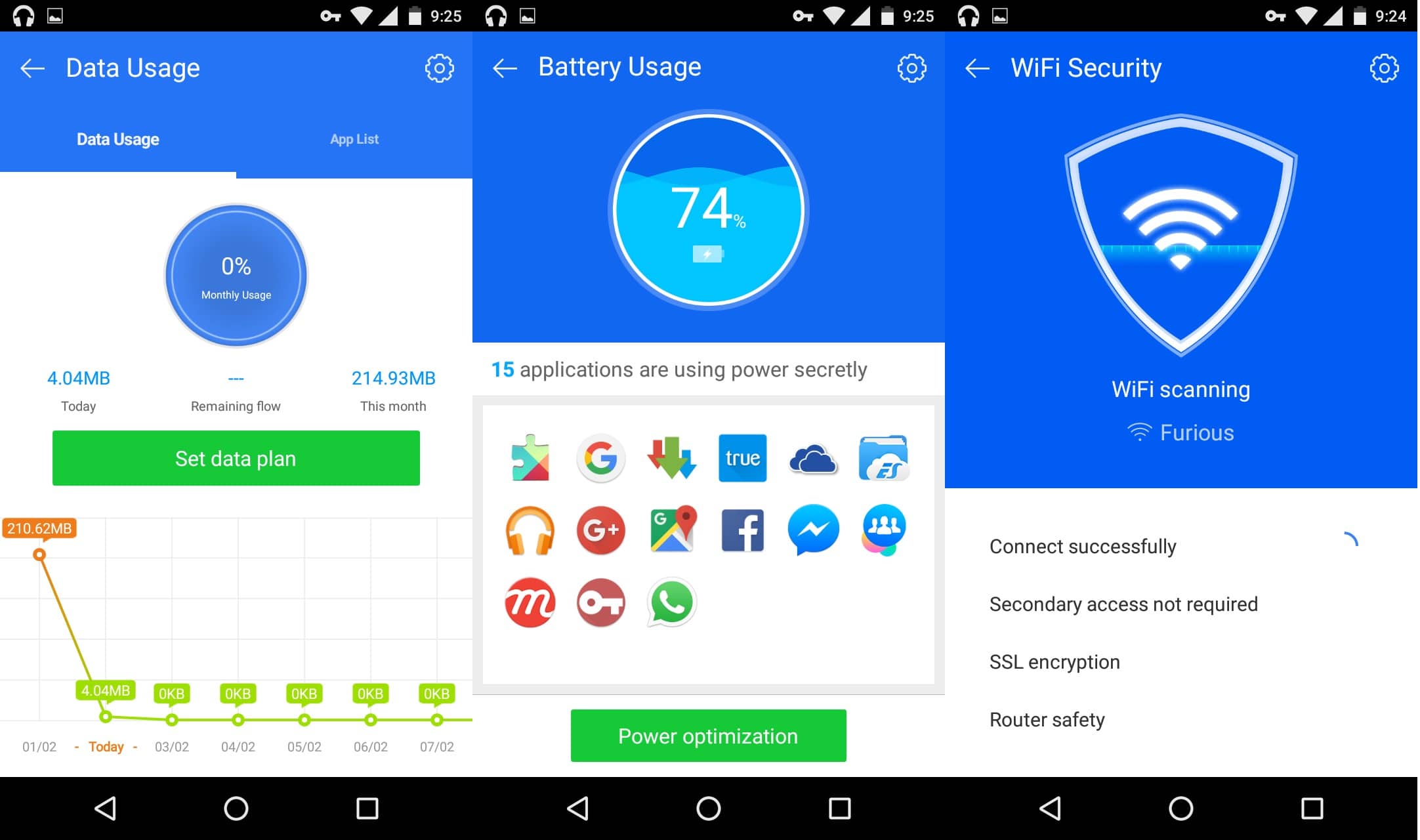 Device Monitor also gives you a battery usage information and the option of single click power optimization. Its power optimization feature blocks background running apps which improve your phone performance and battery as well. It also scans your WiFi network, whether it is secure or not.
Also Read : 5 Best Battery Saving Apps for Android to Boost Smartphone Battery Life
The Pro Review from TechReviewPro
Leo Privacy Guard is one of the best privacy app for Android which we think, as a must have Android app for complete privacy and security. It has a large number of awesome features as we talked above. But the most important thing is It Is Light Weight means high security in the low budget.
Yes, Leo Privacy Guard provides all that world class security as well as encryption of data in only a setup of 3.9 MB. After installation, it takes maximum 20 MB of your disk space. So stop believing that it is going to consume more space on your phone. It also offers a good UI that doesn't let you feel sluggish.
Consider downloading Leo Privacy Guard to safeguard your privacy and to protect your phone as well as to boost your phone performance.
Download Leo Privacy Guard – Lock & Boost
Did you install it ? Do let us know your experience and feedback about one of the best privacy app for Android : Leo Privacy Guard.
Don't Miss :