Privacy is a big issue in today's world. Everyday, there is a new news regarding privacy concerns, and both individuals and corporate are target of these issues. A big contributor to these privacy issues are spying software. There are many types of spying software available these days, which will let you spy on any PC in stealth.
Someone may install a spying software in your PC physically, or you may become a victim of these software by accidentally allowing one to install itself. The good news is, as there are many ways to install spying software, there are also many ways to find and get rid of them.
Also Read : 9 Best Free Adware Removal Tools for Windows PC
How to Find Out if You're Being Spied On in Windows ?
Some of these software are quite easy to detect, but others can be very stealthy and may require help from different software. We will start from the basics and move towards more advanced measures. Let's see if you are being spied on or not.
Check Windows Firewall
Most of the spying software offer ability to both send and receive data from the host PC. This means they will have to communicate with Windows in order to send commands or complete other tasks. These software are mostly installed physically, so if you think some you know have installed a spying software in your PC, then this method will help detect and block it.
Software that communicate to Windows need to first bypass Windows Firewall. You can check all programs that are communicating with Windows and disable the one that are suspicious. To do so, click on "Start" and then click on "Control Panel". In the Control Panel, click on "System and Security" and then click on "Allow a program through Windows Firewall" under "Windows Firewall".
Now you will see a big list of programs that are currently allowed to communicate with Windows. Here look for suspicious programs that you don't remember installing. A spying software may have terms like "spy", "remote control", "VNC", etc. look for such software. If you suspect a program, Google its name and get more details about what it is. There is a chance you might disable an important program in the process, so make sure you search before disabling anything. Once found, uncheck that software and it will not be able to communicate.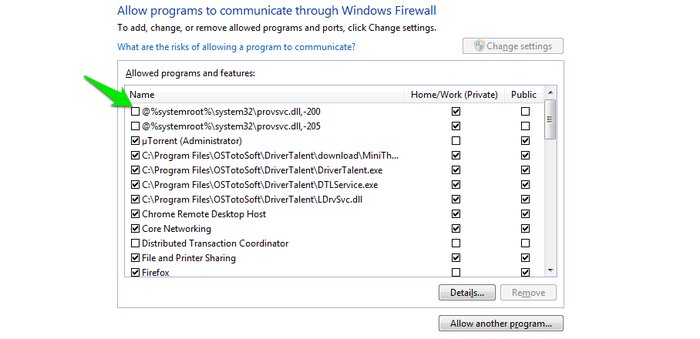 Also Read : The Pro Guide – How to Keep Your Android Device Secure ?
Use Process Explorer to Check Outgoing connections
Above method is quite handy when you need to deal with spy software that are trying to send and receive data from your PC. However, what if the software is only created to receive data from your PC? Windows Firewall will certainly not block outgoing connections, so such software will not be listed in that list.
This is where you can use a third-party software like Process Explorer to check all the processes (hidden ones as well) and detect suspicious programs. Process Explorer is tiny yet powerful processes explorer app, which offers complete information about all process.
Just download and run the program and you will see a big list of processes. Don't get confused by the big list, most of these processes are Windows processes. The best way to check process is to check the "Company Name" written at the end of each process. Just go through all the company names and look for suspicious ones. Of course, Microsoft, Google or your Antivirus company will not be of problem, so you should be able to quickly go through the list.
To make this process even easier, you can check your process with VirusTotal.com. Process Explorer directly integrates VirusTotal.com to check for process and see if they are suspicious or not. When you are done checking the processes manually, click on "Options" and select "Check VirusTotal.com" from the menu. You will have to agree to terms & conditions and then you will see a "Score" at the end of each process something like "0/53".
Here you need to check process that don't have "0" at the start of the score and are highlighted in "Red" color. These are the suspicious ones, if you don't know these programs, search for them on Google and see if they are safe or not. You can also click on the "Score" to get more details on whether the program is harmful or harmless.
Use SpyDetect Free
SpyDetect Free is a light and simple tool that is created to look for known spying and monitoring software in your PC. You can run it on your Windows PC and it will show results in just few seconds. However, it will only say "Probably Yes" or "Probably No" in the results and tell you the location of the program. No further information will be provided, so you will have to search the internet again to get details on the detected program.
Just open the app and click on "Check Now". It will check for suspicious programs, which will take 1 min. After that, you will see the results as "Probably Yes" or "Probably No".
Note: You need to keep the application's window active while it is checking. Otherwise, it will not be able to check if someone is monitoring or not, and it will stop checking.
Also Read: Top 6 Best Private Search Engines for Anonymous Web Surfing
Search for Rootkits
Rootkits are another type of software that are very stealth and let other people control functions of your PC. There is a good chance that you will not be able to find these software manually, so you will need to get help from a good Rootkit finder tool. For this purpose, Malwarebytes Anti-Rootkit Beta is a great tool, which will let you both find and delete rootkits and also fix the damages they have caused.
You can use this tool to scan and clean up rootkits. Once it is done cleaning and can't find any additional rootkits, check if all the functions of the Windows are working fine or not (like Action Center and Windows Firewall, etc.). If there are any problems, use the "fixdamage" option to fix the Windows.
If you are not comfortable with this tool, you can also tryout Rootkit Remover offered by Bitdefender. It is also a great tool and quite simple as well.
Checkout : Top 10 Best Malware Removal Tools for Windows
The Pro Review From TechReviewPro
Spying on other people's PC activity is common, whether for stealing confidential information or just monitoring activity. It should be noted that if you are in a corporate environment, then there is a good chance that you will not be able to detect the software. Big companies can use strong programs to keep a tab on their employees, which can be extremely hard to detect.
The above mentioned methods should be able to help you detect most of spying software that are used by regular people to steal information. If you think someone big is spying on you without your consent, then it is better to let the authority know, instead of running different software to check if you are being spied on. Do you know any other ways to check if you are being spied on? let us know in the comments below.
Don't Miss: