Getting irritated with the slow working of your smartphone? You know, un-installing few apps may boost smartphone speed instantly but what if you have all necessary apps and you can't love to un-install them?
Nowadays, smartphones have become an integral part of our lives. We love to manage our most of the digital activities using our smartphone. And you know, apps are the beauty of smartphones. We have many apps that help us manage and simplify our important activities from calling to messaging, playing games to watching videos, surfing the internet to chatting with friends, checking mails to managing accounts & bills and other business activities.
But let's face reality. Having all necessary apps makes your life easier and efficient but at the same time having a large number of apps affects the working of your smartphone. Not only they affect your smartphone battery life but also slow down the performance speed taking a large percentage of RAM. So you need something that can boost your smartphone speed instantly.
Also Read: Leo Privacy Guard Review – Best Privacy App for Android to Safeguard Your Privacy
How to Boost Smartphone Speed Instantly?
Though there are many free android apps in play store and other app markets that promise to boost smartphone speed immediately, I found most of them nothing but junk. I was much reluctant to find one that works, and fortunately, I was able to find one such free android apps that boost your smartphone speed up to 60% and more importantly, works instantly.
So let me introduce DU Speed Booster before you!
What is DU Speed Booster?
DU Speed Booster is a handy app for Android and is developed by DU Apps. It is an android optimizer that optimizes your android smartphone and cleans up caches and cookies to boost smartphone speed instantly up to 60%. DU Speed Booster usually increases your smartphone performance by removing unnecessary files and apps.
It is all-in-one optimization solution for your smartphone that keeps tracks of all processes happening within your smartphone and thus cleverly manages them by knowing which apps are consuming more power and affecting your smartphone performance.
And adding ice on the cake, it has a very useful security feature with built-in antivirus. That is why DU Speed Booster is a top-rated app among Android users, and its popularity is increasing at a very faster pace.
Features of DU Speed Booster
DU Speed Booster is a free Android app, and it has some handy features that not only boost your smartphone performance but also safe-guard your files, apps, and other important stuff for security purposes. So let's see the features of DU Speed Booster…
1. Speed Accelerator
Speed accelerator is the feature for what DU Speed Booster is mainly known. This includes three important features – Process manager, Auto-start manager, and Freeze app manager.
Process Managers – manages all the processes running on your smartphone. This kills the unnecessary apps running in the background.
Auto-start manager – disables those apps that automatically start and consume RAM as well as the power of your smartphone.
Freeze-app manager – manages and freezes unwanted apps that slow down your smartphone performance.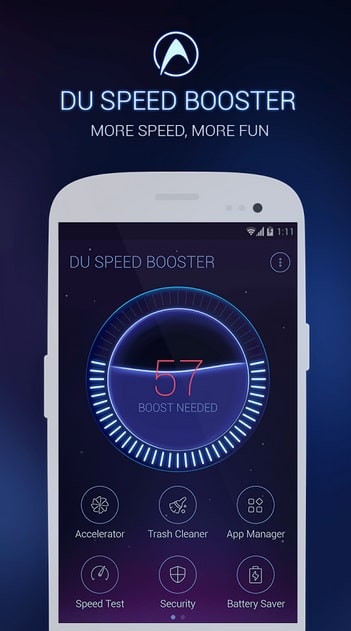 Thus combining all three DU Speed Booster works like a charm for all those who want to have an improved smartphone performance and boost smartphone speed instantly.
2. Trash Cleaner
DU Speed Booster has an in-built cache cleaner that clears caches and cookies. Usually, when you un-install any app from your device, some of the residual files remain there which consume your SD card memory. But trash cleaning feature of DU Speed Booster makes sure such files are removed in a single-click.
Thus, all junk files from SD card are removed and hence the app boost smartphone speed instantly.
3. DU-Security
In smartphones, security is a primary concern as we keep sharing and transferring data and files now and then. But DU Speed Booster comes with a powerful security label antivirus which keeps your smartphone away from virus, malware, and spyware. The powerful security is formed by combining three important features.
Antivirus – Quickly scans and protects your smartphone from all threats and risks.
Permission Manager – Usually apps ask some permission from the user while installation which you can view and manage due to it.
Blocker – Blocks particular app that asks your personal and secure permissions, unwanted calls and SMS that you mention to be blocked.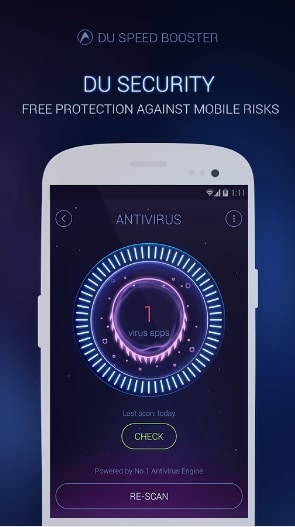 Don't Miss: 5 Best Free Mobile Security Apps to Protect/Notify Before Your Smartphone is Lost or Stolen
4. Game Booster
DU Speed Booster comes with an in-built game booster that ensures you don't experience a speed lag or slow performance while playing games. So if you are a game lover, it is very useful apps for you that not only boost smartphone speed instantly but also improves your gaming experience.
It supports all the required game operations and has also got the manual as well as the auto-recognition game system.
Read: Photomath is Free Maths Equations Solver App for Solving Maths Problem
5. Battery Saver
DU Speed Booster has an important battery saver mode that automatically adapts and optimizes your Android smartphone to save power. Thus, extending your smartphone battery to work efficiently for long hours.
Note: Though it is a different app which you need to download separately, in near future we may hope for inclusion of both apps.
Must Read: 9 Best Battery Saving Apps for Android to Boost Android Battery Life
6. Advanced App Manager
This is an advanced feature of DU Speed Booster that manages all your apps and their files not only on your device's internal memory but also on external SD card. That is why it removes all junk and unnecessary files from your device to boost smartphone speed instantly.
This also provides you the option to transfer apps and files from internal memory to external SD. Thus to lessen down the burden from your device.
7. Speed Test
This is an interesting feature included in DU Speed Booster recently. Speed test enables you to test your real time speed. Thus you can easily track how much download/upload speed your device is getting.

Also Read: Adblock for Android – 8 Best Ad-Blocker Apps for Android
The Pro Review from TechReviewPro
DU Speed Booster is a compelling and must have Android app as it not only boost smartphone speed instantly but also offers many other advances and useful features as discussed above. Also, it keeps on updating its versions and adding new features. So I hope some more features may be included in near future. So consider downloading DU Speed Booster to boost smartphone speed instantly and intelligently.
Download DU Speed Booster for Free
Do let me know your views and experiences about DU Speed Booster in the comment section below. Also feel free to share if you know about any such apps that boost smartphone speed instantly.
Also Read: