WhatsApp is one of the most popular mobile messaging service available on the planet. We love WhatsApp-ing. Do you know, WhatsApp got so popular in a short time that Facebook had much threat from it. Few months ago Facebook bought WhatsApp for big bucks. But the reason behind such huge dominance of WhatsApp in the mobile messaging service is its awesome features. Unlike short messaging service (SMS) where you are limited, WhatsApp let's you update your status, select your profile pics, group chat and many more. So you can make your WhatsApp presence spicy with best WhatsApp status updates.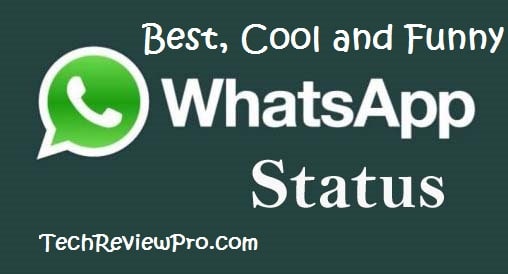 But finding "Best WhatsApp Status Updates" of your choice is tough. Therefore. today I'm sharing a collection of 50+ Best WhatsApp status updates that are not only best WhatsApp status ever but also very Cool and Funny WhatsApp Status Updates.
Also Read : 9 Super Smart Tips and Tricks to Click Beautiful Selfies Naturally
Cool, Funny and Best WhatsApp Status Updates
1. 75% Boys have girlfriends, rest 24 % have brains…remaining 1% are like me, who have both.
2. I will be back before you pronounce "ajgjfahdgykytrbcdhfk".
3. Typing…..
4. I'm not special, I'm just limited edition.
5. WhatsApp Status is Loading……
6. I'm COOL but Global Warming made me HOT.
7. Scratch here ▒▒▒▒▒▒▒▒▒▒▒▒▒▒ to know my status.
8. Distance Sucks…..my room is so far away from the kitchen.
9.  Status is downloading……..99% complete…..downloading failed.
10. Three Mistakes Of My Life : WTF (WhatsApp, Twitter, Facebook).
11. Our marriage is like work-shops. I work and my wife shops !
12. If you can't change a girl, change the girl.
13. God is really creative. I mean just look at me.
14. Life is short….chat fast !
15. Status is under construction…check back soon !
16. I don't have a dirty mind…I have a sexy imagination.
17. Too busy to update a status….. !
18. Life is too short. Don't waste it copying my status… !
19. Happiness is when "Last seen at" changes to "online" and then to "typing.."
20. Dear Maths, please grow up and solve your own problems, I'm tired of solving them for you.
21. I have Good News and Bad News to tell you. The Bad News is I don't have Good News to tell you. And the Good News is I don't have Bad News for you.
22. I wish I had Google in my mind and antivirus in my heart.
23. Error Code 404….Status Not Found.
24. One person's LOL is another person's WTF.
25. I will marry the girl who looks pretty in her Aadhar Card. [UID]
26.  A man asks a trainer in the gym : "I want to impress that beautiful girl , which machine can I use ?" Trainer replies : "Use the ATM".
27. Never let your friends feel lonely. Disturb them all the time.
28.  I speak my mind and I never mind what I speak.
29.  Just finished blocking some numbers on WhatsApp, if you can read this then you got lucky.
30. Win A Blackberry, An iPad , Or A House In Singapoore…Use A Sharp Object To Scratch Here▒▒▒▒▒▒▒▒▒▒▒▒▒▒▒▒▒▒▒▒▒▒▒▒▒▒▒▒▒▒ Please Do it Now. Limited stocks available.
31. Life was much easier when Apple and Blackberry were just fruits only.
32. I loved a girl..she broke my heart into pieces and now every piece of my heart loves different girls. People call it flirt…that's not fair.
33. Always remember two things… 1)Nobody is perfect and 2) I'm no body. Now got it ?…..Why I'm perfect ?
34. I did lots of stupid things on social media but perhaps I never commented on a girl pic like this – "Cute pic dear".
35. Life is too short to remove pen-drive safely.
36. I'm not lazy…I'm on energy saving mode.
37. I'm going to update my status….but better you focus on your own.
38. That moment when a bird hits your window…..God is playing angry birds.
39. God made everything that has life…rest is "made in China".
40. I have been using Google for last 12 years but I have no idea who uses "I'm feeling Lucky".
41. Oh shit….after Monday, Tuesday even calender says W,T,F…!
42. People say they can't live without love…I think Oxygen is more important.
43. Throughout my life, I was knowing "Air is Free" until I bought a packet of chips.
44. Love girls like coffee…taste them before their hotness goes.
45. Yea you, the one who is reading my status….Get lost.
46. Science reveals that world is made of electrons, protons and neutrons but I won't forget to mention that World also consists of morons like you.
47. Best moment of the year… when my annual exam finishes.
48.  That cool moment when I feel proud….when a girl asks "Are you on WhatsApp ?
49. Don't have you any work other than checking my WhatsApp status ?
50. Life is ……when you think beyond LOL, WTF, AWW, :P, ROFL.
Which status do you consider best WhatsApp status from above listed ? Do let me know if you want to add any in this list of best WhatsApp Status.
175+ Amazing WhatsApp DP : Cool, Funny & Spicy WhatsApp Profile Pics Collection Free Download
Brb Meaning : 231+ Handy Facebook, Twitter & WhatsApp Chatting Abbreviations
Enjoyed these best WhatsApp status ? Consider sharing with your friends or in your WhatsApp group.
Also Read: