Are you looking for the best watermark software to protect your creative work? You have jumped into the right place on the Internet. You may find a lot of watermark free images available on the web. If that's royalty-free, it is okay to some extent. However, if it isn't a royalty-free image and no copyright measures implemented, it becomes easy for people to utilize your work commercially.
But, you should be the one to get the credits at least (if not financially) for your work? That is where a watermark comes handy. Even if someone scrapes off your image art or photography online, the watermark will ensure that one will always be aware of who's responsible for the image and you could file a copyright infringement for the same as well.
Also Read: 10 Best Label Maker Software and Tools to Make Custom Labels
Top 7 Best Watermark Software to Watermark Your Creative Work
There might be watermark removing software available at the same time, but that rarely works and is not worth the time of a professional. So, let us take a look at the best watermark software to watermark your creative work:
uMark Photo Watermarker from Uconomix is an interesting batch watermark software which is undoubtedly one of the best considering the price tag and a free version offered. You can either download it and utilize it as a free watermark software with some restrictions on certain features or purchase it for just $30.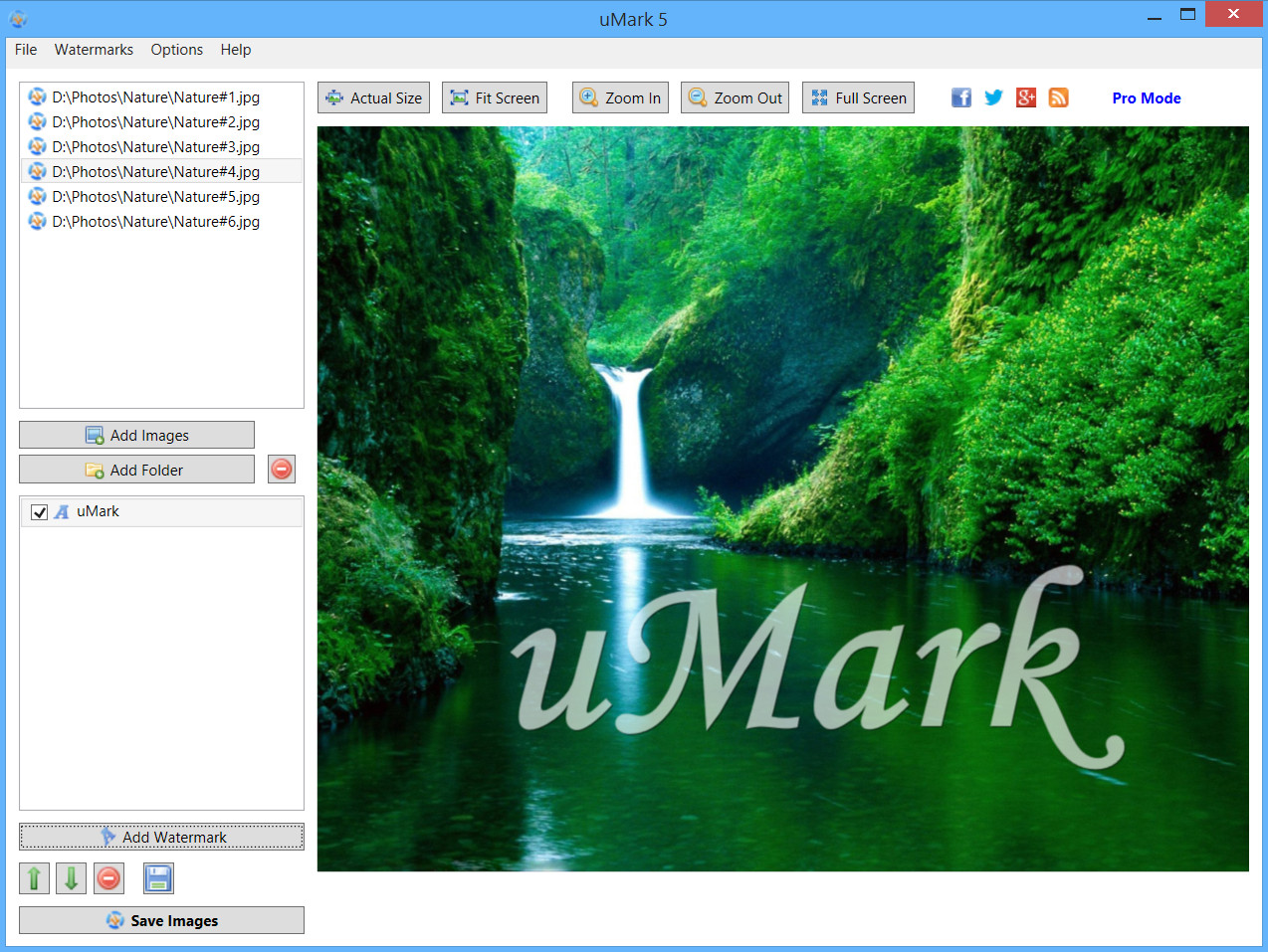 It supports both text and image watermarks. So, you can make use of either of them as per your requirements. It just does not stop with the watermarks; you can even add QR scan codes on your images or artwork to let people get in touch with you for more details on it easily. To add to its usefulness, it also supports adding shadows and frame boxes to make the picture look even better.
It is an excellent watermark software and is available for Windows & Mac systems.
Also Read: How to Colorize Black and White Photos? – Convert Black and White to Color Photos
Bulk Watermarker is a simple watermark software which does the work if you only want to place a basic copyright mark with no fancy tweaks to adjust its position and transparency. Of course, it does support creating layers and implementing the watermarks as per your choice.
In addition to a basic user interface and functionality, it lets you utilize a few basic blending effects to make the watermark look more natural and professional. It is a watermark software available for Windows systems only. So if you are looking for a watermark software for Mac, keep reading!
Watermark-Software.com offers both photo watermark and video watermark software utilities. It is even cheaper than uMark Photo Watermarker. The user interface of this watermarking software is decent enough. You can either try the photo watermark software or the video tool with both priced at 24 and 34 USD respectively. It isn't anything expensive considering the perfection of the work it'll let you do.
It also supports batch processing for watermarking a lot of images at once. You can even implement the tile watermark design with this watermark tool which would add even more protection to your work. Also, you can edit the EXIF data at once while selecting multiple images. If you have a video to protect, you can utilize the video watermark software anyways.
It is a good watermark software available for the systems running Windows.
Wonderfox Photo watermark software tool is yet one of the best watermark software available out there. The user interface is quite nice and straightforward without using much of the modern UI elements. It is at least fast and quick to use.
Just like the other watermarking software utilities mentioned, it also supports both text and image watermarks. You also get the ability to batch process a set of images to add watermark. Interestingly enough, it offers you a couple of watermark templates – not just the tile template to enhance your digital protection. And, the most important feature that you get with Wonderfox photo watermark would be the conversion tool that comes with the watermarking software.
Yes, you can convert the image formats (JPEG, PNG, BMP, GIF, etc.) It surely is one of the most useful watermark software with some basic photo editing capabilities.
Of course, more watermarking applications are available for the systems running on Windows. But, don't worry, we've got your back with some more watermark software utilities for Mac as well.
StarWatermark is available for both Windows and Mac but is quite popular for its Mac counterpart. It also supports batch watermarking of PDF files (considering you get the PDF watermark tool). Similar to the others, it supports both image and text watermarks.
The user interface is quite hollow, but you do find the options for what you need to do. You wouldn't get other watermark templates other than the tile implementation. If that is within your requirements, it is one of the best watermark software available.
Also Read: Top 7 Best Visio Alternatives Diagramming Software for Windows
TSR Watermark Image is one of the best watermark software utilities if you want to have a huge collection of fonts to apply to your text watermark. Of course, it supports image watermarks as well. Along with the general 2-D watermark support, you also get the ability to implement 3D watermarks – if that's relevant to you.
With the trial version of TRS Watermark Image software, you will get an additional watermark hinting at the software used. If you want to unlock all of the features, you can do that for 30 USD. However, the special number of fonts won't be included unless you opt for the $60 plan with FTP and WordPress upload support.
It could prove to be one of the best watermark software only if you are running on a Windows 7 platform. BImageStudio is compatible with Windows 7 or lower, and the UI elements blend in well when used on a Windows 7 machine.
Also Read: 8 Best Photo Editing Apps for Android to Edit Photos Easily
The Pro Review from TechReviewPro
So, there we have some excellent watermark software tools that you can utilize on your Mac or Windows machine. You will find more watermark software tools on the surface for the systems running Windows than for Mac platform. Accordingly, you need to decide what kind of features do you need and do the watermark software tools mentioned here offer the same on your platform?
In either case, you can utilize the professional photo editing tools like Photoshop to create the watermark – but it might consume more of your time learning it. Which one of the above do you prefer using? Let us know your thoughts in the comments below.
Don't Miss: