If you have the best label maker software and tool, then creating the labels in different sizes and styles will be an easy job. You can even customize your labels depending on your business and type of work, and all this is possible only if you make use of the most reliable and easy to use label making software tool.
No matter you want to label the music CDs or home movies, create package labels for the items you want to send, label your office inventory or want to label up goods in your grocery store, the best label maker tools with customized options can make your job a hassle free one. They work more or less like printers, and they come with particular design and printing options. You will be able to use these label maker tools to come out with labels that suit your packages, discs, folders, envelopes, file cabinets, etc.
Also Check: 5 Best Facial Recognition Search Engines to Detect Person's Faces Online
Top 10 Best Label Maker Software and Tools to Make Custom Labels
The following are the best label maker software that you can use to create some of the unique customized labels.
Label Factory Deluxe 4 is one of the best and easy to use label maker software to make labels. The label maker software contains wizards that will help users to make complex kinds of labels for their project easily and in a matter of minutes. You can create professional style labels using this label maker tool.
The label maker software is designed to help novice label creators to create the professional looking labels. All you have to do is to choose any of the wizards on offer to create a label. Then you can add graphics, logos, text messages, cartoon images, etc., on the wizard to customize the label and finally get it printed through any inkjet or laser printer.
The key features of Label Factory Deluxe 4 software are:
1500+ ready-made label formats and templates.
50,000+ clip art images to use in the labels.
Support for 13 barcode formats.
The option to import logos and other graphics.
600+ exclusive label fonts.
Label Maker Pro is professional business printing software that can print flyers, letterheads, ID cards, labels and postcards with consummate ease. The label maker software offers a host of pre-designed templates to suit various business needs, and it supports all popular paper stocks that include Avery papers.
The label software provides easy and quick cut, copy and paste option and allows you to copy and paste images from other applications to its templates.
Some of the exciting features of Label Maker Pro are:
With so many ready-made templates on offer, you need to just choose one; insert your text and image to create labels.
Add your clip art, logos to design the labels that you want.
Option to use many of the supplied backgrounds, or even create a background of your own.
The professional design tool set offered to create a professional looking label.
You have full control of the color blend and the color of the texture of the labels, letterheads and postcards you create.
Undo and redo function and the option to align the chosen item to left, right, top and bottom or even rotate it to any of the desired angles.
With the Label Design Studio, you have not got the label maker software to create just a label, but you can use it to do more with the labels. You can easily create your own and unique looking label in a matter of minutes with the help of label maker software. There are many well-designed templates on offer that you can use to create labels, posters, and letterheads.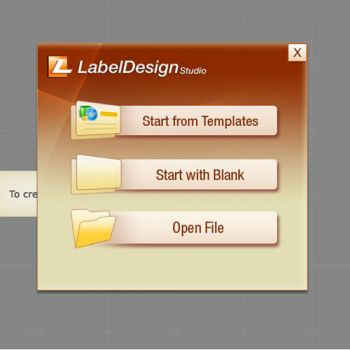 Label Design Studio is a versatile label creation software to use, and you do not need to have previous experience working on this label maker tool to create outstanding labels to suit your needs.
The attractive features of Label Design Studio are:
A whole range of different kinds of label templates to suit different purposes. Offers templates usually in a wide variety of shapes, sizes, and designs.
Allows you to insert data from an Excel or an Access file and the data gets automatically inserted on your label.
You can print out the labels you design using the lable maker software, in excellent quality using your home based computer and printer.
You can export all kinds of image files like BMP, TIFF, JPG, PNG, etc.
Offers an image library for users to use from many photos and clip art in the library.
Option to add different kinds of shapes to your labels like diamond, square, rectangle, etc., to make it look unique.
You may edit the images and texts in the labels and give a few visual effects to enhance its look.
Label Designer Plus is a popular label maker software that helps to make customized labels quickly and easily. You can use Label Designer Plus software to create some of the most excellent and unique CD/DVD labels, bottle labels, name tags, envelopes, business cards, letterheads, file folder labels and much more.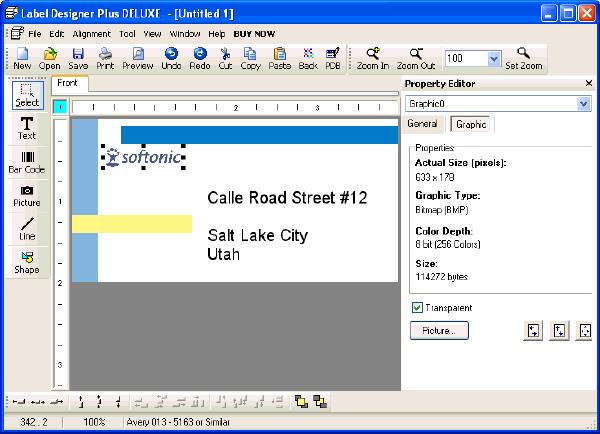 This label maker software offers a very comfortable and clean interface that gives everyone the opportunity to create some beautiful labels to meet their business needs. The main features of the Label Designer Plus software are:
The design wizard offers you the option to create a custom looking label from the wide range of label templates within minutes.
Use your images or over 50,000 clip art images that the label maker software offers to create your custom labels.
You can link your label to any of the inbuilt databases like SQL, Access, Text, CSV or Dbase or any other external database.
You are the liberty to add your company logo and other images in your labels to make it unique.
Get top quality support for the customer support team if you have any problems using the tool.
If you are looking for a label maker software that is very easy to use and offers plenty of options to customize the labels, then Visual Labels are a good choice.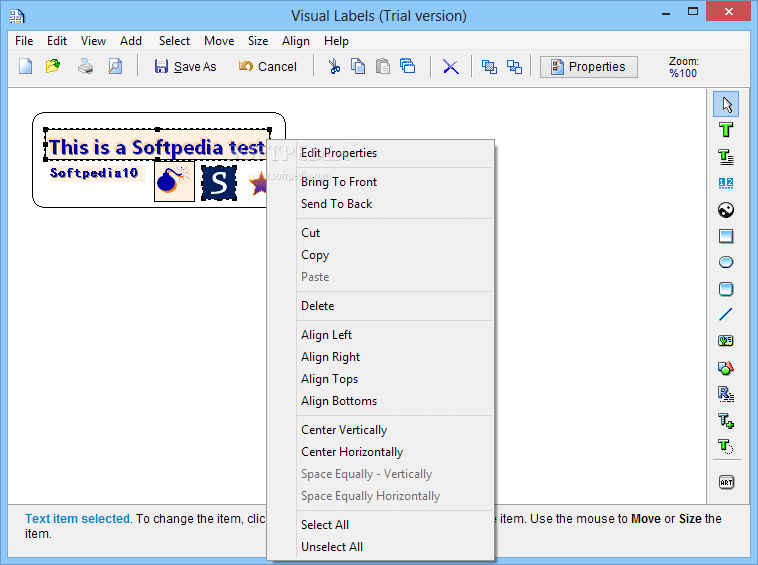 This label maker software is very simple to use, it helps you to create some of the most astonishing labels for diskettes, CDs/DVDs, return address labels, mailing address labels, folder labels, etc.
The key features of Visual Labels are:
The label maker software offers plenty of text and font options to create unique labels. You can use any font, color and even rotate the text as you like when creating labels.
Design labels in any shape you want, and you can use any colors, line thickness and gradient look to the label.
You can get an instant print preview of the label you have created.
It allows you to add all modern clipart and famous images in any format on the label.
You can also create Avery labels using the pre-designed Avery label templates.
The DYMO LabelWriter 450 Turbo Thermal allows you to easily make and print four line address, barcode labels, name badges, file folder and shipping labels. Using this label maker saves a lot of your time as it can print as many as 70 four line addresses in one minute. You can use it to reduce the waste and hassle that you experience when using sheet labels. You can print DYMO Stamps and postages right from your desktop with ease using these machines.
The thermal label maker is used to make badges and labels like price tags, CD labels, postage, etc. The machine can print quickly on split back D1 tap that you can easily peel and the size of the labels can be ¼, ½ and 3/8 inches. It uses thermal printing technology, and therefore you get high-quality labels printed. You can connect it easily to your Mac or PC and print labels right from Outlook, Word, Excel and other computer programs.
It is one of the best label maker machines you will find that is ids printable and works very efficiently. It is a very compact label maker as it does not come with an inbuilt keyboard like most other machines. You can connect it easily to your PC or Mac using a USB cable. You do not need to install any drivers or software to make it work with the PC or Mac.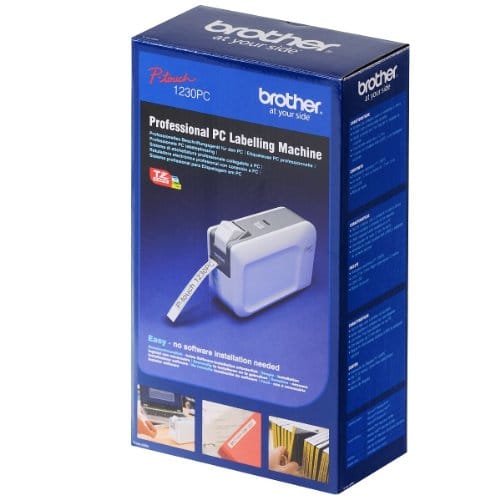 Besides, it allows you to customize the size of the labels, and you can use the Brother PT-P700 to print labels with a maximum width of 24 mm. You have the option to customize your labels the way you want to by adjusting its colors fonts or graphics. There is also the option to download more templates to your library.
If you are looking for an easy to use and ideal home or office label maker, then the Epson LabelWorks LW-300 fits the bill perfectly. There is no restriction on the fonts, sizes, frames and the symbols you use to create labels. It supports dozens of taps in a wide range of styles, colors, sizes and designs to offer you the option to create unique and attractive labels for your business. The Label Printer comes with 300+ inbuilt symbols, 10 styles, 14 font styles and 75 frames make label creation fun and easy. It can print up to two lines of text and offers more space to add frames or symbols of your choice to add looks to your label design.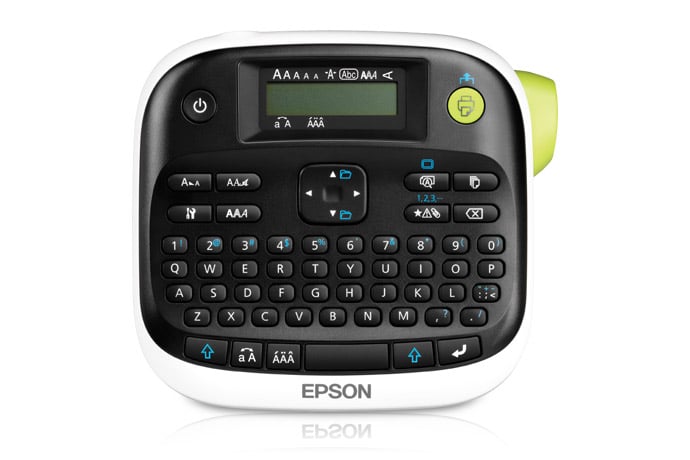 This label maker will print labels without making any noise, and it prints labels with a split back so that you can peel it off easily. This label maker offers an ample storage space, and you can store as many as 30 different custom label designs.
9. Seiko Instruments Smart Label Printer 620
The Seiko Instruments Smart Label Printer 620 is a very easy to use and perfect label maker for creating simple and quick business cards, address labels, name tags, file and folder labels, etc. It offers you enough time to concentrate on your business as it will make the labels you want very quickly. The label printer is designed in such a way that it can automatically import the address information located in various applications. It saves you a lot of time. There is no ink, toner cartridge or ribbon used to print out the labels.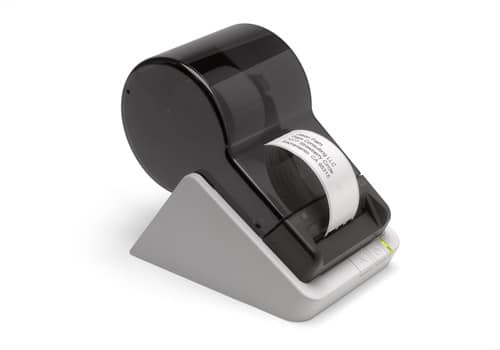 It is a thermal printer and very compact in size for easy transportation. You can import graphic texts, logos, and images that you like to customize your labels. You may connect it to your PC or Mac through USB interface, and its printing speed is 70mm/s. The paper width of the Smart Label Printer is about 58mm. You can print labels directly from any Mac or Windows application using this label maker.
The Brady BMP21-PLUS Handheld Label Printer is a very handy and compact label maker that you can carry easily. This label printer is very easy to use, and hence you do not have to spend a long time using it to print labels. It comes with a comfortable keyboard that is very easy to use and offers you the option to type any text that you want to see on your labels. This handheld label printer has a large enough LCD screen to see the type of labels you are creating quickly.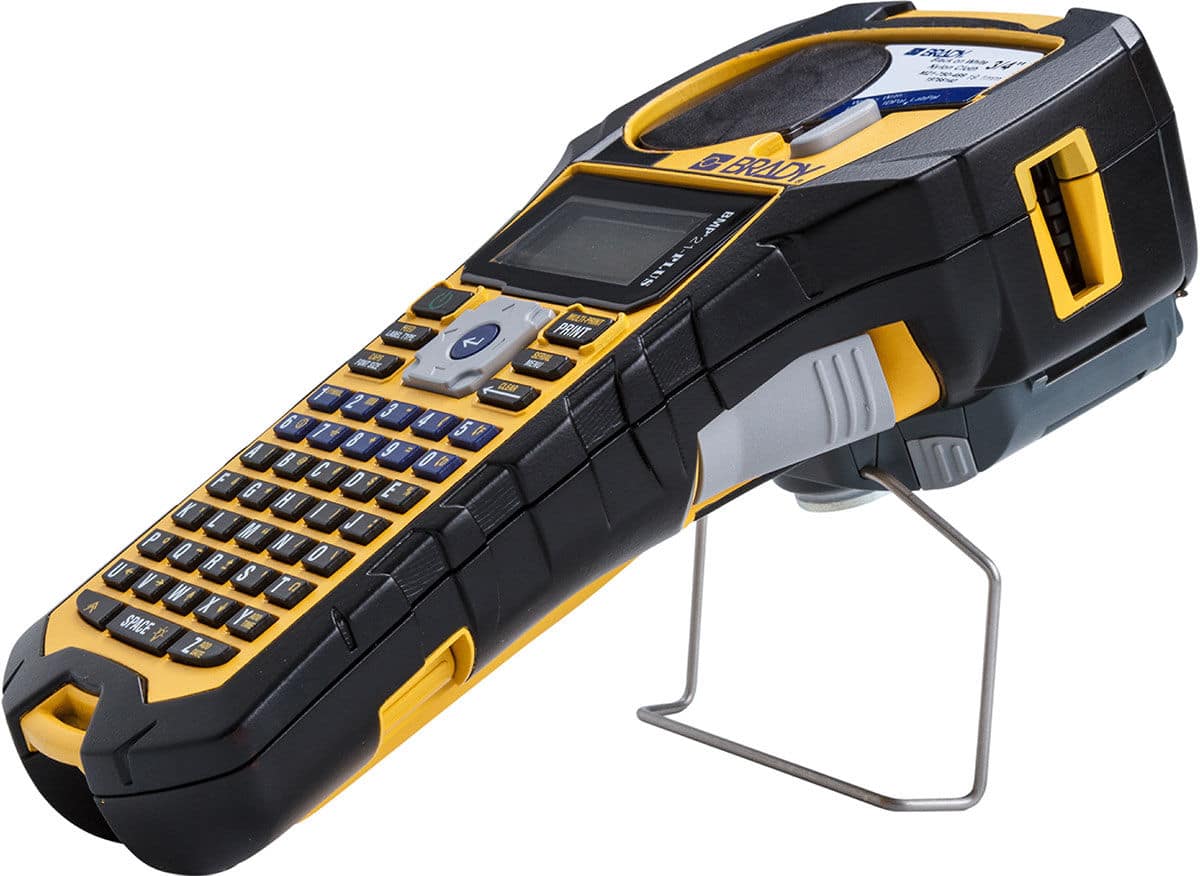 You can edit and make changes to the labels by seeing through its screen before taking the final label printout. There is no need to link this handy tool to your computer to make edits to your label on the computer's screen. The smart automatic formatting feature helps you to create labels in a matter of minutes. The printing technology used in this label maker is thermal printing. It only offers single color printing, and printing resolution is 203 dpi.
Also Read: Top 10 Free Online Receipt Generator and Invoice Maker to Create Custom Receipts
The Pro Review from TechReviewPro
With so many label maker software and machines on offer, you just need to choose the one that suits your label making needs. Hopefully, this list of best lable maker software and machine tools will help you choose the best lable maker to create custom lables of your choice.
Did we miss any of the best label maker software or tools? Let us know using the comments below.
Don't Miss: