If you're a soccer fan, then you surely have any good soccer app on your Android device. If not, it's time to finally install one and have access to this exciting game all the time. You won't have to wait to see a soccer match on TV to be able to see how your favorite team wins. Instead, you can download one of the best soccer apps on the Android phone and experience the soccer gaming experience on your Android phone.
Many soccer apps are available in the Play Store, however, it's quite confusing for choosing the best among them as per your needs. The reason for such confusion is: if you search for soccer apps on Android, you'll find soccer gaming apps as well as soccer news apps in the Play Store. The soccer news apps are good if you want to stay updated with the latest news about your favorite sport and the soccer teams you like. However, soccer gaming apps are for those who want to feel the pleasure of playing soccer games on an Android phone.
If you belong to later category and want to play soccer games on your Android phone, then you probably need one of the best gaming soccer apps for Android.
Top 10 Best Soccer Apps for Android
The following apps are the best soccer apps for Android. They have everything you need to stay entertained for hours on end. They are the most played soccer apps on Google Play so you can be sure that they are not boring at all.
1. Dream League Soccer 2018
One of the most popular soccer apps on Google Play is Dream League Soccer 2018.  Before you install this soccer game, make sure you install it over a WiFi connection since this is a significant file. You might want to get something to drink while this installs since it does take a few minutes.
With Dream League Soccer 2018 you're the team's manager, and you're responsible for your team's success. You'll have to work through six divisions and over 7 cup competitions. You can even build your own stadium so you can give your team nothing but the best.
Pick up where you left off on another Android device thanks, to Google Play Cloud. When you first install the game, you're given a tour on how to play this soccer game and the button you'll need to play to control your players. You'll even be showed how you can perform a trick here and there as well.
2. Soccer Stars
Next soccer app on our list of best soccer apps for Android is – Soccer Stars. How you play Soccer Stars is very different than how you play the first soccer game on the list. Instead of having to deal with players and having to learn what various buttons do, you only need to worry about making one move.
You'll need to make a slingshot type move to shoot the ball right into the scoring area. You can either play offline or online in multi-player mode or one on one. It's a straightforward soccer game to play, and it's languid pace for those times when you just want to relax playing a soccer game that won't make you too nervous.
Soccer Stars lets you collect different cups and teams so you can show everyone whos boss.
3. Mobile Soccer League
With Mobile Soccer League, you won't find famous players, but you will see well-known teams. You can choose from various leagues such as:
Champions League
Europa League
Major League
Spanish League
England League
Italy League
French League
Turkish League
The soccer app for Android offers you to either start a half or a full season, and there's also the possibility of joining various cup tournaments. You can either enter the upcoming Russia 2018 World Cup, Euro 2016 France, and Copa America 2016 USA.
The soccer game is so straightforward to play that there is even no need for a tutorial. When you start playing you'll see a joystick on the left side of your display and buttons to the right. The sprint button will be in green, the through button will be in yellow, the pass button will be in blue, and the shot button will be in the orange.
4. FIFA Football EA
FIFA Football EA is a complete soccer game for Android that requires that you go through a training program. You'll need to learn to pass, steal a ball, shoot, pass, and run. You won't be able to play against anyone until you complete the training program.
Throughout the whole training program, you have Cristiano Ronaldo showing you the way around the soccer app. You'll need to build the ultimate team and to help you, you get a new player in the middle of the training sessions. Once it's completed, you get your very own Cristiano Ronaldo.
You can either play the single player mode or play against others and see if you can last the whole 90 minutes. Complete daily tasks and you will get rewards that will help you achieve the ultimate team.
Also Read: 9 Best Racing Games for Android – Paid and Free Android Racing Games
5. PES 2018 Pro Evolutions Soccer
Before you decide to install PES 2018 Pro Evolution Soccer, you should know that this is quite a huge file. It's going to take several minutes to install. So, it's not a good idea to install this soccer app if you're in a hurry.
Once it's installed, you'll enjoy one excellent soccer game for Android. You're also asked if you want to use the essential control or the more advanced one.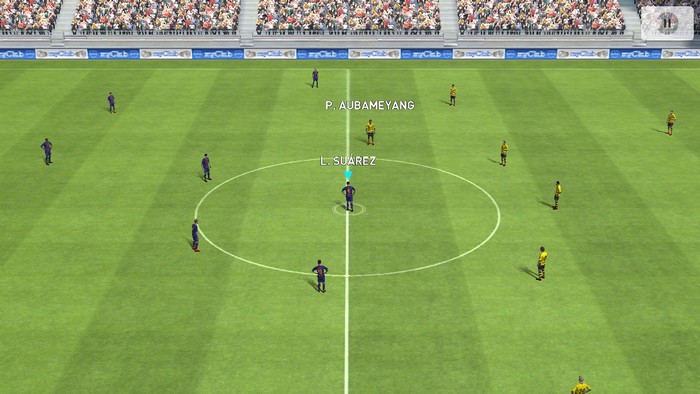 How you control the player in this soccer game is different from the rest of the soccer apps for Android on the list. That's why you're taken through a training program to show you how to play.
You can get your players either through agents, scouts, or the scout auction. Play in various leagues such as the Champions and the Spanish league as well. Your team can either be F.C Barcelona, PSG, Manchester United, Arsenal and more!
Also Read: Top 10 Best Android Tower Defense Games [Free and Paid]
6. New Star Soccer
New Star Soccer also has what it takes to keep you entertained for hours on end. Unlike the other soccer apps on this list, it does have a training session but only if you choose to go through it. The soccer app for Android doesn't make you train if you don't want to.
A unique feature of this soccer app is that (just like the real world) you'll come across bribes you can't resist. With this soccer game, you'll also have to manage your team and somehow control, so your players don't want to transfer to another team.
Make sure you have enough energy drinks for the team to keep their energy levels up. The soccer game gives you three to start with.
7. Soccer Star 2017 Top Leagues
A soccer app for Android wouldn't be complete if you couldn't play in the best leagues out there. That's why Soccer Start 2017 Top Leagues lets you play in leagues such as UEFA, Champions, Spanish league, Italian League, and more.
You'll also have to negotiate player's careers and contracts. Make sure you get the best soccer kits, get epic boots, and that your players are eating healthy. The soccer game will start in the 2016/2017 season, and you'll have to work your way up to the 2017/2018 season.
8. Head Soccer
If you like the style of the old Street Fighter game, then you're going to love Head Soccer. It's one one-goal battle with your opponent where you have to kick the ball over your competitors head so it can make it's way to the goal area.
You can choose from 73 avatars and seven different game modes. For example, you can select from Tournament, Arcade, League, Survival, League, Head Cup, Death Mode, and Fight Mode. There's also the option for an online multi-player mode through Google Play Service.
9. Online Soccer Manager
Online Soccer Manager is for those who want to enjoy the manager side of the soccer game. If you're into managing more than you are in play, then this is your soccer game app. You'll have the chance to lead over 5 million players all over the world.
You can play against your friends, and you'll also have to know how to buy and sell players as well. You'll even have to think carefully as to how you'll create the starting lineup so your team can win. Keeping your stadium in good conditions will also be a part of your responsibility as a trainer.
10. Soccer Manager Arena
Soccer Manager Arena is also a manager type soccer app but with style all its own. For example, you'll need to collect 106 cards with different players to create the perfect team. You'll have to go through a mandatory training session before you get to play the soccer game.
Each card has a player that falls into a different category such as good, excellent, and elite. You can combine those cards to create the winning team. Each player also has his unique skill that will be displayed on the screen. Tap the skill icon to use it at the appropriate time.
Also Read: Top 10 Best Android Games for Kids – Free Gaming Apps for Kids
The Pro Review from TechReviewPro
Now, you have got your list of best soccer apps ready. Some are for soccer enthusiasts who like playing a soccer game on Android while other soccer apps are for those who like to manage a soccer team. No matter what's your choice, Soccer is a fun sport to play, either in real life or on your Android device. I'm sure you'll have a lot of fun with any of the soccer apps as mentioned above.
Which soccer gaming app are you going to play first? Leave a comment and let me know.
Don't Forget to Check out: