Oh, snap! My Android web browser isn't responding anymore! 🙁 Do you encounter such situations on your Android device? Well, I sometimes do, when I'm searching for something important on the web, and the "so-called" best Android browser doesn't load up the website, instead crashes! And, that is annoying.
It is mostly because you have a bad Android web browser. So, you need the right browser for your Android device to enhance your web experience. The webmasters (website administrators) try their best to optimize their site for the best user experience, but browsing a site through an incredibly bad browser can turn the tables.
Most of the Android web browsers available on the Play Store are free, but there's a lot of Android web browser apps, right? And, finally leading to confusing or forcing you to try each and every Android browser you find at the store until you've found the one you're searching for.

Check out: Top 7 Best Safari Extensions – Best Safari Add-ons for Everyone
Best Android Browser: Top 5 Best Free Web Browsers For Android
So, we'll make things easier for you. Here you'll find the list of best five free web browsers for Android devices. Choose the best Android browser yourself!
Opera Browser for Android is the best data saving browser for Android. So, if you have a limited internet data plan, you would be noticeably benefited by using it. You get a video compression feature which, when enabled saves you more data while watching videos online. It supports syncing capabilities (which includes bookmarks, speed dial shortcuts, typed history, etc. generally) across multiple devices.
And, for some reason, if you're not familiar with the developer options, you can head on to the opera settings to enable force zoom on any site. You can try it now if you've got it installed. Here, the user interface is pretty basic but comes handy most of the time. However, as it's meant for saving as much as mobile data possible, it won't give you a high-quality or retina-ready experience on the device.
Well, the holy grails browser app for Android (not really!). Google Chrome is undoubtedly the best browser for Android overall. The developers at Google know Android better than anyone out there. However, they haven't optimized it in a way such that it wouldn't suffer from stutter issues on devices. It comes as the default Android web browser on most of the Android devices. However, on the low-end device tend to use browsers similar to Opera for minimizing the resource usage and maximizing the web experience with what power they have got on the device.
If you have a got a good performing device, Google Chrome is probably going to work smoothly. And, the chrome beta is going to spice up your web experience. How? The beta version receives the useful experimental features which you'll love using (usually a step ahead of your friends). There's a slim chance that your web experience may get annoying because it is still a "beta". So, if you encounter horrible issues, you can't keep it installed on your device unless you are a serious beta tester.
Dolphin Browser for Android is the most amazingly best Android browser I've come across in years. It's feature-rich, optimized perfectly and supports a lot of useful add-ons. Some impressive features are present such as gesture controls, voice control, and similar other options that you wouldn't normally find in other Android web browsers.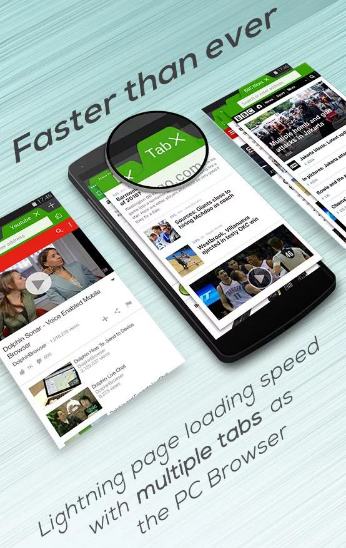 You can also download multiple themes to change the look of the browser to suit your taste. And, additionally, it would take up some more storage space on your device. So, make sure you don't keep downloading most of the themes and then not deleting them. Alternatively, you can get to know how to free up space on Android to put the balance right and keep on installing attractive themes. Its user interface is quite appreciable as well. Overall, it is the best Android browser you can get on your device.
4. Brave – Link Bubble
Love multi-tasking? That's an obvious yes! But, you would frequently switch between multiple apps compromising one to get to another unless you have the multi-window feature. And, with link bubble you won't be needing to head on to the Android browser app minimizing the current app you have opened, you can open any link right there in a floating window of the free Android browser.
It's quite similar to the chat heads, we find when using Facebook messenger. Also, if you're having trouble with the internet connection (bad connection or slower speed), then you won't have to wait for it, looking at the blank screen. It would notify you once the web page successfully loads. It saves time as well! You should install this if you have a device with sufficient RAM free. To make sure that you have sufficient RAM free to handle the multi-tasking link browser on Android, you can head to the Android settings.
Nowadays, users don't want to leave a trace on their online browser activity, whatever the reason be, but they want their online behavior to remain private. In short, they want to stay anonymous. However, using a private browser doesn't keep you anonymous from your Internet Service Provider.
The real benefit of using a private browser is to just not keep the history, prevent cached pages from loading and no cookies mean you're untraceable. I would suggest you to make use of the private browsers when you're changing a password of any account which you want to be secure at any cost. When you pull up a web page, it notifies you of the active trackers on the page and then you could analyze and decide whether the tracker is alright. If you don't want to block the trackers manually every time you visit a web page, just activate the automatic blocking feature from the settings.
Ghostery Private Browser for Android is one of the best Android browser when it comes to privacy. It's a light-weight Android browser app and provides ample options to protect an individual's privacy.
Also Read: 9 Best Chrome Add-ons to Create Animated GIFs Easily
The Pro Review From TechReviewPro
Among all the best Android browser, there's not the one which we would urge you to get it installed on your device. It all comes down to your personal choice, whether you want more add-ons, themes, data saving feature, or a browser which enhances your multitasking capabilities. Now, probably you've figured it out.
Let us know which is the best browser for Android, you are in love with? Do you think any of your favorite Android web browsers should've been on this list? Say what? Let us know in the comments section below and we'll take care of your favorite Android web browser as well.
Don't Miss: