Reverse Image Search is a process of searching data on the internet using an image instead of text. The tool holds extreme power, unfortunately, many people don't know about it due to lack of its use. There can be numerous reasons why you may want to do a reverse picture search. You can find real owner of a picture, make sure your picture is not being copied, gain more information about a picture, find a better resolution of a particular picture or may be you just want to search for similar wallpapers.
You may not be required to search the internet using an image everyday, but the need will come one day and knowing how to do so will help. Fortunately, there are many reverse image search engines and apps available that will let you search by image.
All you need to do is provide source code of the image or upload the image itself to start your search. The image will show results similar to a keyword, including all the information such as, official page, wiki page (if there is any), exact/similar images, apps/programs (if there are any) and almost all other information related to the image (if supported by the search tool).
Know : How to Capture Windows Screen ? – Top 10 Best Screen Recording Software for  Windows
8 Best Reverse Image Search Engine and Apps to Do Reverse Image Search
Now that you know what reverse image search is and how it can benefit you, let's see how to do a reverse image search using dedicated tools. We have created this list of 8 best reverse image search tools, just choose the one that fits your needs best.
Google Images is one of the best tools for reverse image search due to its huge data base and ease of access. You don't need to access any third-party websites or download any apps, just visit Google Images and click on the "Camera" icon in the search bar.
Here, you can paste image URL of the image for which you want to do reverse image search. You may get the image URL of particular image simply by right-clicking on any image and selecting "Copy image address" from the context menu. If you have an image in your PC, then you may also directly upload the picture.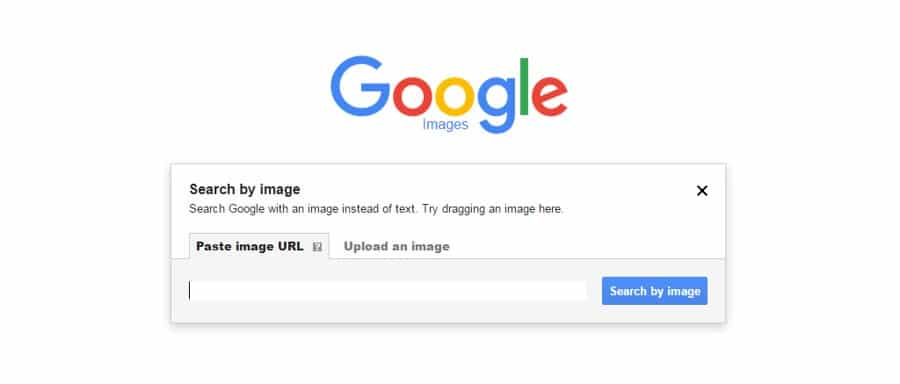 After a short delay, Google will show all the results related to the image, including similar images. Google will both scan the image and use image's source code to show the results. This means, even if an image is not available online, it may still show similar results.
2. TinEye Reverse Image Search
TinEye is a renowned search tool in this field (reverse image search) and it is dedicated for finding similar images. It will not display information about a specific image, instead you will see all the copies of the uploaded image available on the internet. They have a database of over 13 billion images and growing, the uploaded image is searched in this database.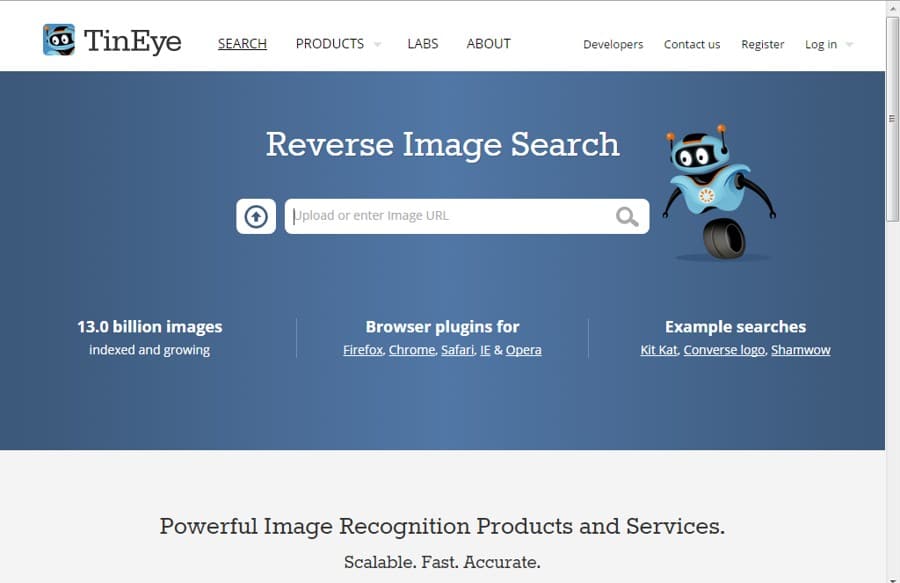 You can either provide the image URL or the image itself on the TinEye website. There is also availability of free TinEye plugin for a faster search. The information provided by TinEye reverse image search engine include, image preview, website name, image name and the page name on which the similar image is located. You can also set TinEye alerts to track and be notified if your image gets uploaded anywhere else.
3. RevIMG – Reverse Visual Search
RevIMG is yet another best reverse image search tool that will let you search for similar images on the web using a sample image. However, it is only limited to finding images of specific types. After uploading the image, you will have to provide a category to the image, such as, Flags, colors, shapes, coins, logos and monuments, etc. After that, the tool will search the image in that specific category and show the similar results.
It will also show how much identical an image is to your uploaded image using a percentage based mechanism. This tool might not be the best for looking for copies of your uploaded image, but if you want similar images from a dedicated category, RevIMG will do a great job for providing such image search.
4. Reverse Image Search by Image Raider
Image Raider is another reverse image finder tool that will let you find similar images. It combines searches from popular search engines like, Google, Yandex and Bing to provide results in one place. It supports multiple image upload (up to 20 images), so you can find multiple similar images with just one search.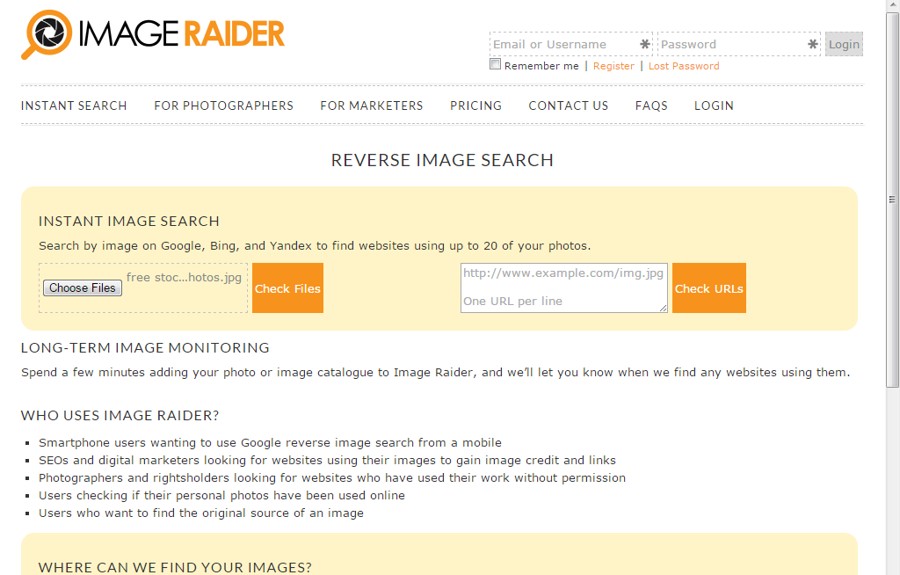 Image Raider will provide link to the official website where the picture is posted and also provide all the pages of that website where that image is posted. Furthermore, there is also paid subscription which will let you automatically search for copies of your images on regular basis.
5. Yandex.Images – Search for Images on the Internet
Yandex is another search engine similar to Google, but it has its grip only in Russia. Just like Google, Yandex also has a Image search tool using which you may perform a reverse image search for images. It offers access to huge data, but it is mostly targeted towards Russian visitors. You can either provide image URL or upload the image directly to start the search.
The image search results will include all the available image sizes (if possible) starting from 300 resolution to 1600 resolution. There is also a section of similar images,  and links to all the websites where the image is used.
6. Karma Decay – Reverse Image Search of Reddit
Karma Decay is a reverse image search engine specially created for Reddit (users). Its image search is only limited to Reddit.com. It finds all the images and stories related to the uploaded image on Reddit. This is quite handy tool when you need to uploaded content to Reddit and make sure it will not lead to any duplicate content. It is worth noting that Reddit community very strictly monitors content on its site. The duplicate content is never enjoyed by Reddit moderators.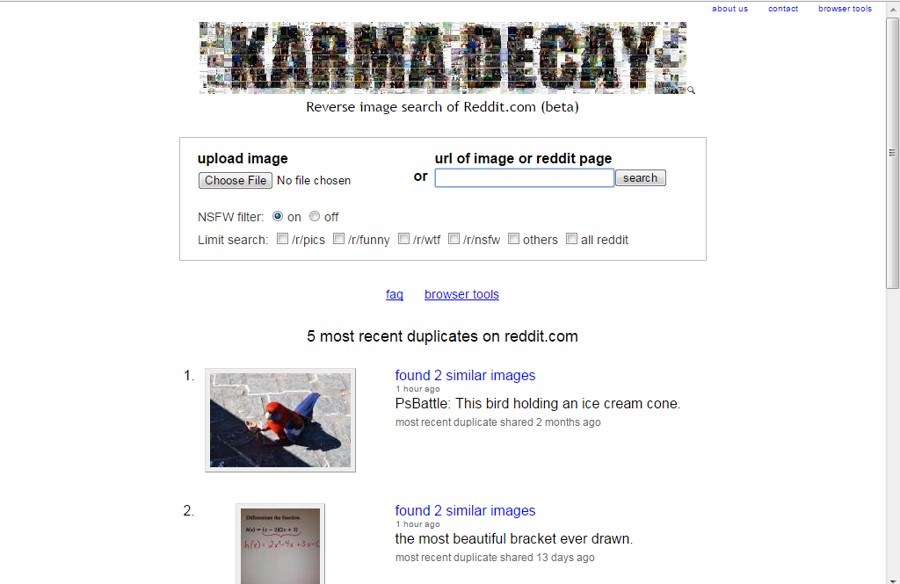 You can easily upload image using the "Choose File" button. The tool will search the whole Reddit site, but you can limit the search using built-in limiters like, funny, nsfw, pics, etc. to get more precise image search results. There is also a Karma Decay user script available for popular browsers to search for similar images in a zippy.
7. Google Goggles – Reverse Image Search App for Android
If you want to search similar images on your Android phone, then Google Goggles is an amazing reverse image search app. It is actually an image recognizing tool that will let you use your phone camera to recognize paintings, text, translate road signs, translate text and of course, find similar images. Leaving all the rest of the features, you can use Google Goggles to upload or snap a picture to find similar images on the web.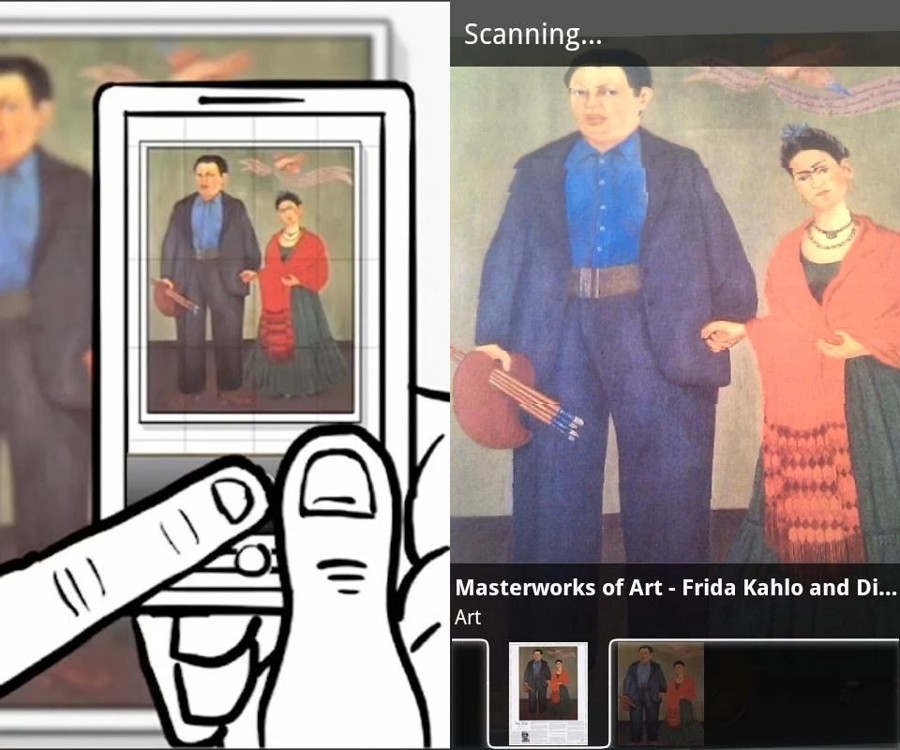 It uses Google's Search engine to find similar images, so you can expect some good quality search results for images. If the picture you have taken is recognized, it will show all the exact results, otherwise, you will see similar images.
8. Search by Image – Reverse Image Search Extension for Chrome
Search by Image is actually an extension for Google Chrome that uses Google Images to show results. It offers same results as Google reverse image search, but it makes the process very easy. All you need to do is add the extension to Chrome and you will start seeing a "Camera" icon at the bottom of each image you see.

Just click on the icon and select "Search Google with this image" and the search will be executed. Rest of the details are same as Google Images, including similar images, wiki pages and other similar data.
The Pro Review From TechReviewPro
It is true that a picture speaks a thousand words. With reverse image search technique you can search the web in a way that even words cannot. If you have a picture, but can't explain what is in it, just do a reverse image search and you will get the answer. You can also easily keep up with copyrighted photos to ensure no one steals your work.
There are tons of ways you can take advantage of reverse image search technique and the above mentioned reverse image search tools will help you with your search. If you have any questions or know any other good reverse image search tools, let us know in the comments below.
Don't Miss :