Ever tried to wear an incredibly unique hair style but creativity seems to be the primary challenge? Do you desire to have some colorful hair designs done on your head like some of the celebrities but you don't know how? No need to stress yourself further as the hair styler apps for Android make it easier and faster for you.
The emergence of technology and its extensive usage in the modern era has tremendously made life easier in no small measures. A perfect example of such technological aid is the hair styler apps for Android that allow you to choose the best hairstyles that suit you perfectly far before you visit the salon.
Since the desires of every human being; both male and female alike are to look good and get praise for elegance and breath-taking beauty. Hairstyles and hair colors could form primary requisite in bringing out your inherent beauty. Many hair styler apps for Androids will surprise you and other folks with styles you can't image. These hairstyles will dramatically transform your look.
The sense of discomfort that accompanies the wrong choice of hairstyle at the salon, even though trendy, could be overwhelmingly down casting. The low self-esteem and the feeling of shame from the terrible haircut could even cause a temporary social set back. With your Android device, you can download loads of best hair styler apps that could enhance your look and give you self-confidence.
Also Read: 7 Best Instagram Collage Apps for Making Awesome Instagram Collages
Top 7 Best Hair Styler Apps for Android to Try Different Hair Styles
Google Play Store has many hair styler apps that you can download for your personal usage. The robust functionality of these apps allowing you to have fun trying different styles alongside your friends. Since we desire to see you look great and boost your self-confidence through your hairstyle, below are the top 7 best hair styler apps for Android we hand-picked purposely for you. Explore them!
Hair Style Changer app is one of best Android hair styler apps designed for an elegant look for both men and women. This unique app enables you to see your new look on your photo with different kinds of hairstyles makeover and hair colors. It gives you wide ranges of options divided into packs that perfectly suit you to become the man or woman you most wanted to look alike. Hair extension or hair wigs for both men and women as it's supposedly called helps you to build high confidence and earn you much more respect than you previously command.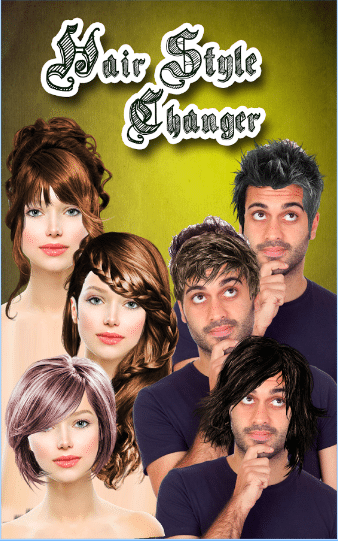 Hair Style Changer app is composed of two sections inside app which make up girls/women hairstyles in one section and the boys/men hair styles like in the other section.
Among the girls/women hairstyles section which is composed of different hair styles and the color collections of the Blond pack for braided, wavy, curly, long or short hair styles. Party pack for various Exquisite hairstyles for the party, dinner, and other social events; Bouffant pack like celebrities/actresses hair styles. The boys or men section ranges from World Cup pack for famous footballers, Curtained pack for senior men, Savvy hair, cut pack for cool or fashionable guys, amidst others. Lay your hands on this hair styler app today, and you would be glad you did.
2. Hairstyles For Men Pro
Hairstyles For Men Pro is another great hair styler app that modifies men hair styles completely. It helps in eliminating or reducing the risk of expenses incurred from haircuts that do not necessarily befit you at the salon. It allows you to design your exclusive hairstyle that would suit the structure of your head and face simply by importing your photo in your phone's gallery or by taking a new one with your phone camera. Try this out, and you will surely like it.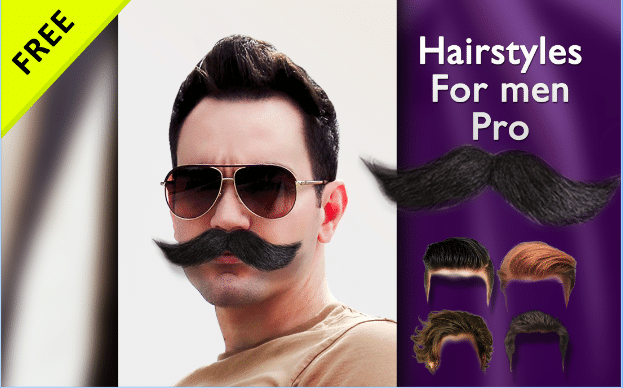 Some amazing features of the Hairstyles for Men Pro app are the virtual designs of prolonged hairs, mustaches, beards and other features that enhance the structure and outlook of your mouth and jaws in an elegant manner. We recommend the Hairstyles for Men Pro Android app especially to any man who is considering wedding or modeling, gentlemen handling office works and anyone that cherishes attractive appearance.
Hairstyles For Men Pro is user-friendly where you can resize the features to your desirable size. It also allows sharing your new look on social media platforms with friends and family such as Facebook, Instagram, Google+ and a host of others. After selecting the hairstyles, beards and mustaches of different colors, shapes, and sizes that suit you, you may share it on social platforms.
3. Mary Kay Virtual Makeover
Mary Kay Virtual Makeover app is unique hair  styler app with some impressive features that transform the users into entirely different pretty personalities. Doing so is possible by modifying the users look with series of hairstyles combined with breath-taking makeups, lip colors and a host of other accessories.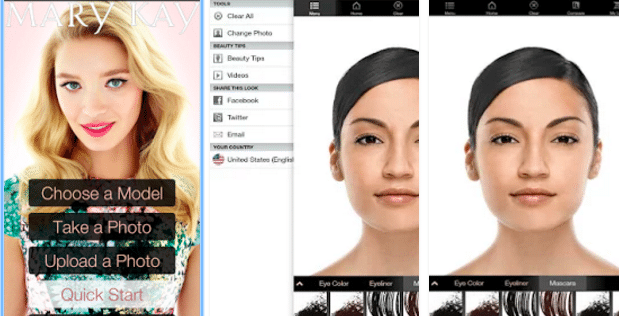 Mary Kay Virtual Makeover app offers you various options in determining what you want to look like exactly. The options include choosing a photo from your phone gallery or other mobile devices and selecting the model of your choice out of options available. Save your favorite makeovers and products and then download. You could also go ahead to purchase the entire look after following a few steps.
The major features of Mary Kay Virtual Makeover app includes: Hundreds of hairstyles and hair colors blends out of which you choose the one that best suits you. In addition, there are countless of eye makeup, lip color and other accessories that can give you a dream look. Also, it provides you the opportunity to have your face on the cover of "the Look" where you share with loved ones on social media and at the same time create your shopping lists.
4. Celebrity Hairstyle Salon
As the name implies, Celebrity Hairstyle Salon app is one of the best hair styler apps ever designed for right-on-point beauty and attention-drawing hairstyles. It allows you to try tons of specially designed celebrity hairstyles on Android without necessarily going to the salon. If your long-nursed ambition is to look like a celebrity, Celebrity Hairstyle Salon app is perfect choice. This hair styler app offers you the opportunity to go ahead right away with different hairstyles in a single app.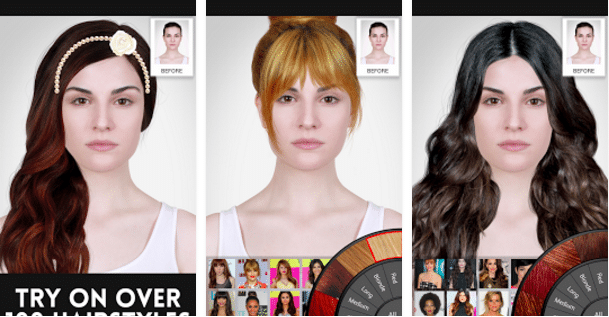 With Celebrity Hairstyle Salon app, you can creatively come up with all sorts of hairstyles, hair colors and haircuts such as wedding hairstyle, wavy, blonde, curly, short or long hairstyles. In a nutshell, you are not limited to your appearance as celebrity or model, depending on the hairstyles you choose. You can also have fun with added accessories such as sunglasses, jewels, hats and other accessories that make you look cool.
Choose the best hairstyles that match your photo already imported from your phone gallery, adjust to suit your desires and then share on social media. The likes and comments would amaze you!
Hair Color Changer Real is a specially designed hair styler app for Android that changes hairs to suit the users. If you want your hairs to reflect beautiful, amazing colors and to be dashing, this is the app for you.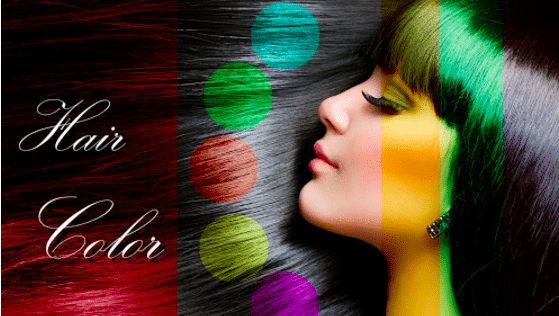 To use Hair Color Changer Real, take your photo from your Android device gallery or take a fresh picture with your device's camera, then neatly brush your hair and chose the colors of your choice from several options available. Once you are done with the makeover, you will see your modified look. If you like what you see, you can share with loved ones through email or social media platforms.
Other amazing features of this hair styler app gives you the privilege to design or remove hair region, control hair color intensity, smoothness and ultimate brightness.
6. Men Hairstyles – Hair Changers
Men Hairstyles – Hair Changers is also one of the rarest hair styler apps that provides men the precise handsomeness that they most craved for. Designing with its different features gives you entirely different look that you can't imagine. Even if you have receding hairlines, the packages in this Men Hairstyles app can help you refill those faded scalps. Just, import your photos and get the biggest surprise look of your life. Could you imagine how friends that have supposedly seen you as a bald man could have a redefined perspective about your new look? This hair styler app could help you create such impression that you most desire in your life.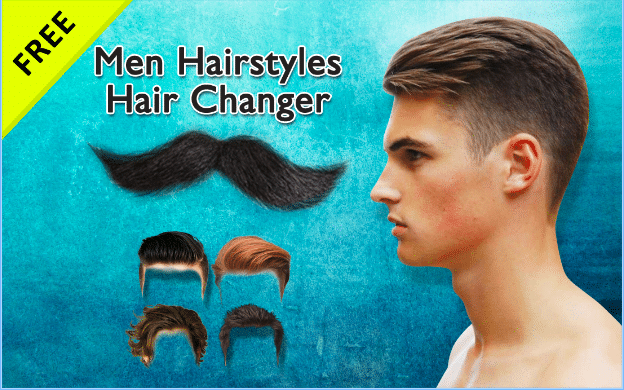 The hair styler app loaded with beards and mustaches of different colors would most interest you and restore your confidence as you appear in various looks and characters.
Also, many haircuts are available inside this hair styler app that could impress your worst enemy with your new look. Download this app, import your photos today and sit back for the awesome surprises of your life as you share via social media and email. Enjoy it.
7. Short Hair Salon Selfie Cam
Short Hair Salon Selfie Cam has earned the reputation as one of the cutest and best hair styler apps for Android. It is the composition of multiple templates, several photo frames, and some unique free special effects. This hair styling app enables you to have your hair short and cute without necessarily cutting your long one.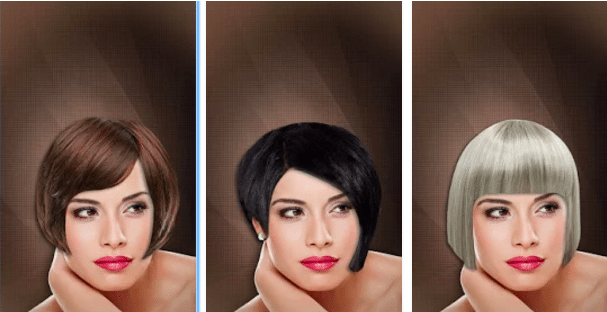 The features of Short Hair Salon Selfie Cam include but not limited to several collections of short hairstyles selfie stickers for women; virtual makeover pictures that give you a new short and cute hairstyles and other amazing features.
Enjoy this hair styling app by simply downloading it now and use selfie cam to import your face in hole and create breath-taking photo art of yourself. It also gives room for adjustment until you get the perfect look of your choice.
Also Read: 17+ Excellent Websites to Create Your Own Cartoon Character – Cartoonize Yourself
The Pro Review from TechReviewPro
Every human being desires to get appreciation; that's an undeniable fact! As a matter of sincerity, the greatest craves in the male and female's heart is to feel important and getting such treat. Daily happenings and experiences reveal that hairstyles and facial appearance play a crucial role in actualizing this intrinsic ambition. If you look good, you tend to see the world from a positive perspective and ultimately relate to others with confidence. But the opposite is the case if you don't look good most especially with your hair style.
The good news is; you don't necessarily need to visit the salon before you determine your hair styles and how you ultimately look. With hundreds of free hair styler apps for Android available, you can modify your hairstyles before you visit a salon by using the best hair styler apps we've carefully selected for you. Did we miss any? Let us know in the comments below.
Don't Miss: