Real luxury is customization. And, Android gives you the broad range of possibilities to customize the look of your device. You may customize everything, starting from the notification bar to the icons and much more. However, you need to root your device and try different custom ROMs to achieve the required look or customization capability. But, if you're a user who fears/doesn't want to void his/her device's warranty, or if you don't have an idea about rooting/flashing, then you shouldn't even try doing that. If you do it without proper skills, you may end up with a non-functional device. Well, you can show off your device setup (look) on social media with easy workarounds. The easiest of them is using Android Icon Packs.
The Android icon packs don't even consume your system resources thereby not affecting the device's performance., However, to use an icon pack or an icon skin, you would need a compatible launcher. And, Google Now (stock launcher) doesn't come with the support for Android Icon Packs. So, you need to gear up before starting to use a beautiful and stunning Icon Pack for Android.
We would recommend installing a favorite yet buttery smooth launcher for your device among the best responsive Android launchers. After you installed a compatible launcher or already have one of the compatible launcher (any launcher including those not included in the list), you are ready to try the best icon packs available for Android.
Also Read: 6 Best Currency Converter Apps for Android for Quick Currency Conversions
What are the Best Android Icon Packs? – Top 10 Best Paid Icon Packs for Android
Retrorika, developed by sikebo is a trending paid icon pack that's available for around $0.99 (for sale at the time of publishing this). The reason why we mentioned it at $0.99 is that you'll find it for sale at regular intervals. If you find it priced higher, I would suggest you to wait for the next sale which would surely come soon enough.
So, Retrorika is a beautiful paid icon pack for your Android device. It's dirty, it's old, and brings along a true vintage (retro) look to your icons. A lot of you may not find it as a suitable icon pack for your smartphone, but those those who prefer a vintage shade for a better user experience should definitely grab it.
You can incorporate this icon pack with launchers like Nova, Action, Apex, ADW, Holo, and Arrow launcher.
Developed by the FlatEdge team, Around icon pack is a treat to have installed on ones device. It's actually a subtle yet pleasing take on icon packs for your device.
If you're up for circular icon packs, with the most pleasing look as shown in the image above, you could definitely go for this. In addition, it comes with the support for Nova, ActionPro, Aviate, KK, ADW, TSF, CM theme engine, and a couple more launchers.
Developed by the same FlatEdge team, Crispy is a gorgeous icon pack to have installed on your device. It's actually quite unique and when used with a launcher like ActionPro and Nova, would make use of its full potential.
However, it comes with the support for a variety of launchers like Apex, ADW, Solo, Smart, Next, and a couple others. To our experience, it gave the best user experience on Nova launcher and ActionPro launcher as well.
#10. Viper Icon Pack (Size: 30 MB, Price: $1.9)
Developed by Stealthychief, Viper is one of the best Android icon packs. Well, people usually assume that whatever Stealthychief develops is the finest, and I don't disagree either! Viper is one of the most loved paid icon packs for Android. It is available on the Play Store with a beautiful gradient finish. Although, being rectangular in shape, it offers an enormous amount of details enclosed by a semi-transparent border.
It supports almost all of the popular launchers available at the Play Store which includes Nova, Action, Smart, Aviate, Holo, Next, Apex, etc
#9. Muffin Icon Pack (Size: 17 MB, Price: $0.86)
Developed by Prodigy Arts, Inc., Muffin is a creative collection of icon skins for Android. It is plain and straightforward yet innovative in its design. And, also the icon pack is perfectly optimized for Quad HD display screens. It would be a significant makeover to your current compatible Android launcher.
#8. Wood Icon Pack (Size: 41 MB, Price: $1.8)
Wood is yet another loved Android icon packs developed by Stealthychief. It is a bigger package (regarding its size). Although, the icon design is basic, but it would add a classic look to your home screen. It comes baked in with a lot of high-quality icons. It isn't one of the most colorful Android icon packs. But, despite that you can give it a try!
#7. Impulse Icon Pack (Size: 16 MB, Price: $1.5)
Developed by the emerging developer team at Prodigy Arts, Inc., Impulse is a brand new Android icon pack that offers high quality conceptualized icon designs. The icons have been colored by a fixed set of color combination which looks great! You get a great wallpaper collection as well along with the icon pack. Most of the icon packs offer a separate collection of wallpapers within the icon pack dashboard. The above mentioned Android icon packs offer a great collection of wallpapers as well!
#6. Devo Icon Pack (Size: 18 MB, Price: $1.8)
It looks like Stealthychief offers the best of the Android icon packs available at the Play Store. Well, there are other talented developers (designers) as well. But, looking the current trend, Stealthychief products are in high demand. Devo is one of the most beautiful Android icon packs with a dark yet colorful look. There's no doubt about the quality of the icons; they are perfect!
Developed by Kxnt, Click UI is a widely popular paid Android icon pack. It offers high-quality icon designs and looks great with a touch of the stock icon design concept. Excellent wallpaper comes baked in within the app. Well, I guess you would have to purchase it to set the different wallpapers and make your home screen look better than ever before.
Developed by Vertumus, Umbra is one of the highly rated Android icon packs in the current trend. It offers a broad range of icons and 50 QHD wallpapers. And, there's a 50% discount on it currently. So, make sure you get it now before the sale ends!
#3. Vintage Icon Pack (Size: 45 MB, Price:  $1.99)
As we know – "Old is Gold." Such is the case with the Android icon pack developed by Stealthychief -"Vintage." It isn't something modern, stunning and which offers material design. But, it gives a significant makeover to the home screen which is even better than the new conceptualized Android icon packs.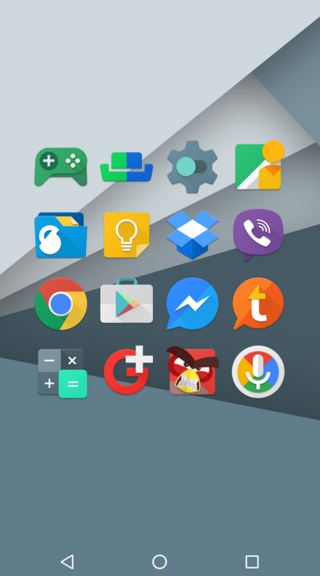 Urmun is yet another Android icon pack developed by Vertumus. And, what a coincidence! This Android icon pack is also on sale! It is a highly creative and attractive icon skin pack. Why wait? Grab it while you can before the sale ends!
#1. Agent Icon Pack (Size: 15 MB, Price: $1.99)
Agent is one of the most beautiful Android icon packs you could ever find on the Play Store. It transforms your home screen to a dark UI with a stunning look. The above image says it all!
Also Read: Top 7 Best Pedometer Apps for Android to Count Your Steps Daily
The Pro Review from TechReviewPro
Well, the perception changes for each person. And, every one of us has different likes and dislikes. So, the above mentioned Android icon packs are not necessarily the best-suited Android icon packs for you. But, considering various factors like popularity, quality, and user experience, we chose the best 10 icon packs for your Android device. If you want a stunning dark look, get the "Agent" icon pack. If you like creativity, Urmun would be a match for your wishlist.
Do you have any other awesome Android icon packs to share with us? Let us know in the comments below.
Don't Miss: