Ever tried to share large files online only to get an error message "file is too large, and you can't share it as an email attachment"? It happens when you are looking to transfer large files online via email attachment. Even when you are sharing large files like large video files etc. with your friends locally, you may do it easily using the flash drive, but that is certainly not the best way to share large files especially when your friend lives miles away from you.
So you often get stuck, how to share large files? The good thing is that sharing large files is still possible. Sharing large files is not a rocket science that you have to get worried about it. There are many best large file transfer apps and online tools that enable you to transfer large video files as well as perform other online file sharing activities.
Also Checkout: Top 10 Best File Sharing Software for Peer to Peer File Sharing
Most of those large file sharing tools are easy to access and quick as compared to traditional ways also. And the best part is you don't have to pay for premium large file sharing services as these free online file sharing services enable you to transfer files for free as well as very securely.
After analyzing various large file sharing tools to send securely and share large files online, we are presenting you with the list of our favorite.
Just like the phrase "Googling" is used for browsing the web, "Photoshopping" is used for image editing and so on, "Dropboxing" has become a common term for sharing large files securely. Dropbox is a cloud file storage drive that also lets you share, collaborate and access files from any part of the world as long as you have the internet connection available.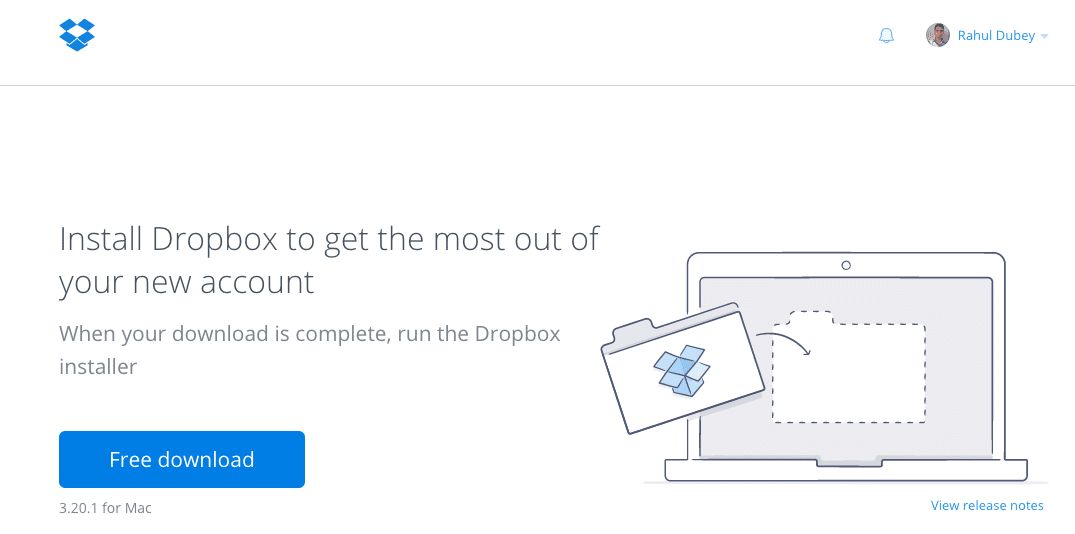 Dropbox is one of the easiest and most trusted ways to send large files securely. When you sign up for a free account, it provides you 2GB of free drive space where you may create, upload, save and share large files for free. You may either share folder directly or links to file/folders. The basic plan is good as long as your file size doesn't exceed 2GB. However, you may consider upgrading to Pro, Business or Enterprise plan depending upon the amount of extra space you need.
Also Read: How to Send an Anonymous Email from Anonymous Email Account?
2. JumboMail – Send Large Files Up to 5 GB for Free
JumboMail is currently the fastest growing cloud-based file transfer service in the world. What makes JumboMail stand out from all other large file sharing services is its unique online media gallery for viewing shared files on the download page. This rich media gallery lets users view all types of files (audio, images, documents) online before choosing to download them, making the service especially useful for professionals such as photographers, graphic designers, musicians, etc.
With JumboMail, you can send large files online for free up to 5GB for free with no need for registration, and up to 20GB using one-time upload codes. Users can enjoy great features such as advanced security options, uploading entire folders, social sharing options, long term storage, and much more. Users can send their files to multiple recipients or opt for a quick link to the download page for personal use. It's simple to use, and intuitive interface makes JumboMail an ideal choice for anyone looking to send large files online which are too big for standard email services.
3. TransferBigFiles – Email or Send Large Files for Free
TransferBigFiles is the easiest way to send and receive files that are too large for email attachments. The user interface is very simple. All you have to do is – just visit the homepage and create a free account. Then select your large files/folders up to 20 GB of file size.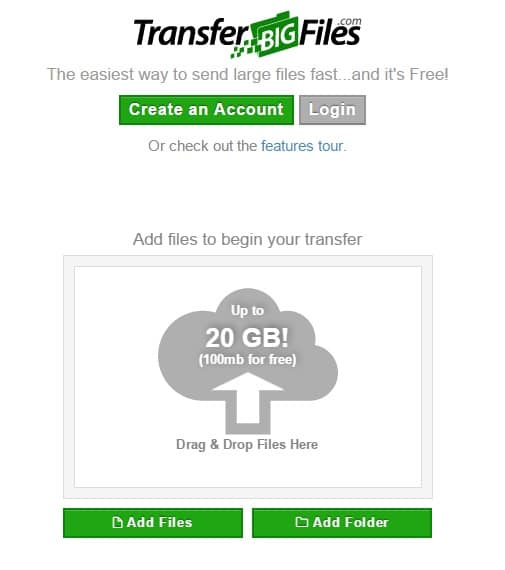 Once you choose the file/folder, it instantly uploads the file/folder to the safe and secure server of TransferBigFiles. Next, you can add recipient(s) name/email and custom message you want to send. Click "Send" and you are done! You may also password-protect your files.
Also Read: How to Create WiFi Hotspot Using Command Prompt and Share Files Easily?
4. WeTransfer – Transfer Gigantic 10 GB Monster Files
WeTransfer is the simplest online file transferring service that lets you transfer large files unlimited times. Just like TransferBigFiles, the user interface of WeTransfer is also incredibly simple. When you visit the homepage, you may add your large file without the need of any registration.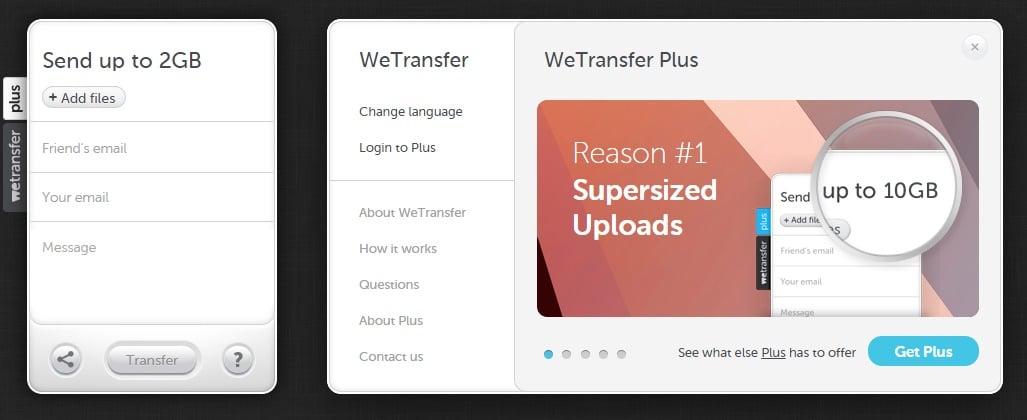 Your selected file is uploaded to its server securely and then enter your friend's email, your email and message you want to add with the large attachment. Click "Transfer" to complete the process. However, there is a limit for the maximum file size of 2GB with the free package.
5. MailBigFile – Send Large Files Up to 2 GB for Free
MailBigFile is yet another excellent way to share large files online. On the homepage, you may upload your large files/folders by selecting from local drive or through drag-and-drop feature. Next, add the recipient's email and your email including the optional message you wish to add and then send the file with a single click.
It is incredibly easy to send and receive massive files up to 20 GB, but you can send up to 2 GB only with a free account. If you need even larger transferring limit, then consider upgrading to their business account.
Also Read: How to Send an Anonymous Email from Anonymous Email Account?
6. SendThisFile – Trusted File Transfer Service
If you want to increase your productivity by seamlessly integrating powerful business features like Outlook plugin integration and sending large files to multiple recipients for free, then SendThisFile is perfect online file sharing service to start.
It offers a 15-days free trial in which you may send unlimited files to as many recipients as you can up to 50 GB of encrypted bandwidth. The file box to receive large files and useful integration make it a way ahead than its competitors. But for unlimited business usage – you need to pay premium subscriptions cost.
7. FilestoFriends – Email or Send Large Files to Friends
With FilestoFriends, you may transfer large files up to 1 GB for free. Though Plus package lets you send up to 5 GB and provides other premium features, yet free online file sharing service of FilestoFriends is a perfect way to start sending large files.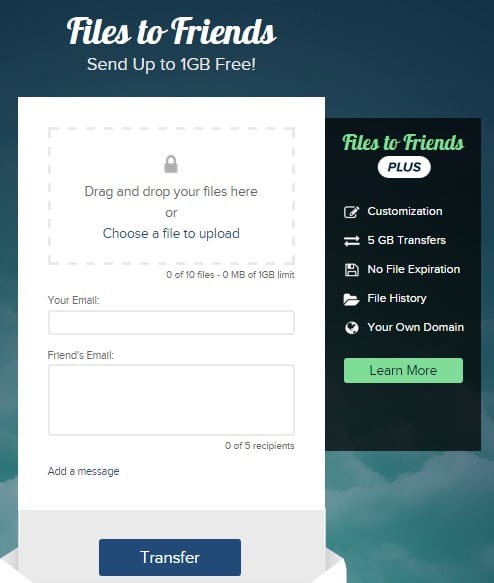 On the homepage, you'll get a secured box where you may choose a file or drag-and-drop file(s) to upload. Then add your email, your friends' email and click "Transfer" to send files. You may send up to 5 recipients at once.
8. SecurelySend – Send Large Files via Email Safely and Securely
One thing that SecurelySend does best is – it handles your files very securely. From the moment you upload your large files on its server at the moment, it is received by the recipients – your files are completely secure.
Send large files for free up to 2 GB very securely with SendSecurely. Apart from the free online files transferring service, you may also get some useful tips to learn more about sending large files by email and security best practices.
9. HighTail [YouSendIt Earlier] – Large File Sharing
HighTail is a premium file sharing service that lets you send large files online and access them from any device. But the lite version of HighTail is completely free and allows you to share large files up to 2 GB for free with a maximum file size limit of 250 MB.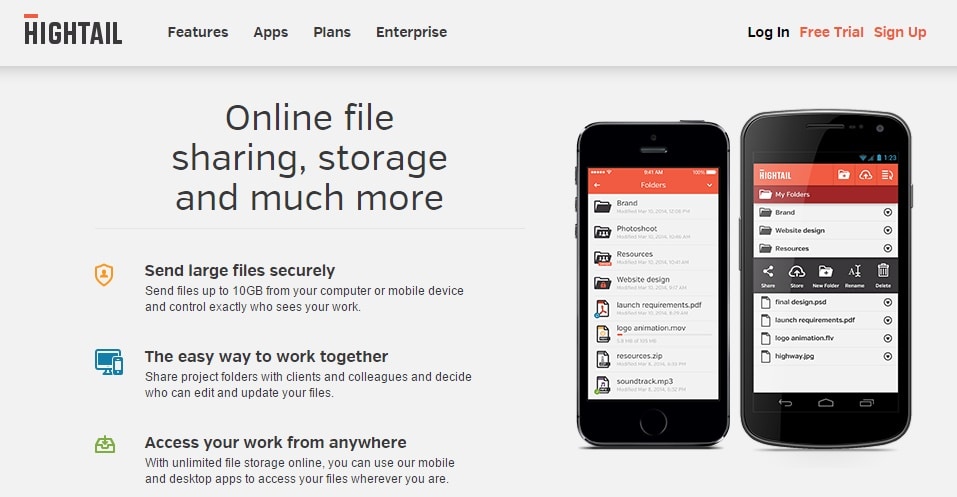 The online file sharing is very secure, and it encrypts your files for secure and safe transferring. You may also Microsoft Outlook plugin to access it and increase your productivity.
10. TitanFile – Easy & Secure File Sharing Built for Professionals
TitanFile is yet another free large file sharing service which lets you share your large files very quickly and securely. It is a very powerful file transferring site that offers you many useful professional features like email integration to send files directly from Outlook or reply from inside your email.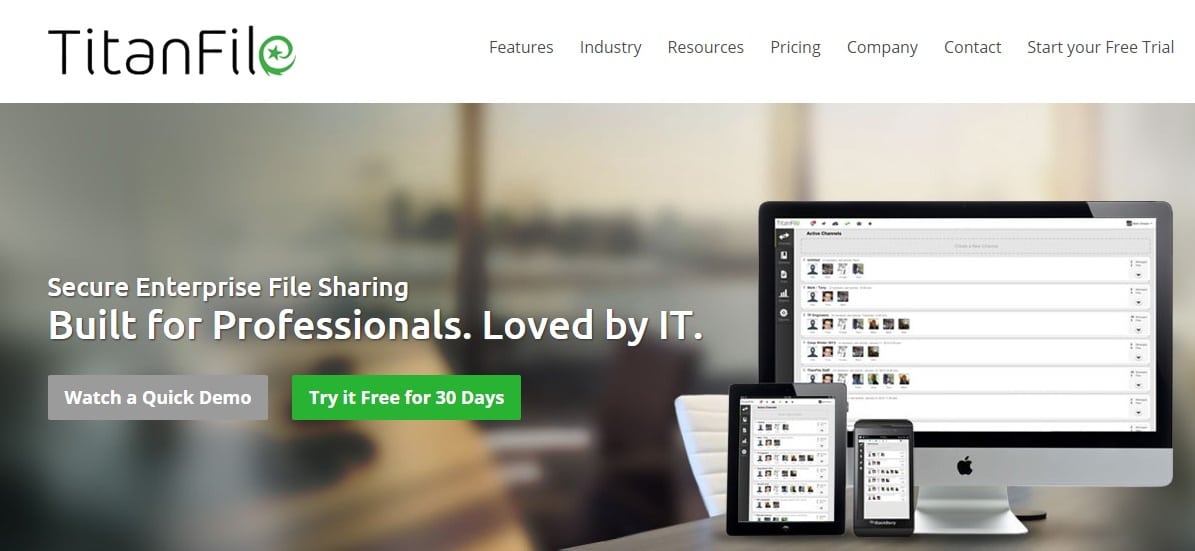 Group communications, audit logs, client portal and mobile access are just like icing on the cake. Though it is built for professional files transferring yet, you may enjoy a free file sharing service for 30 days with the free trial.
11. StreamFile – Secure Business Files Transfer
StreamFile is next best way to transfer large files. Sending large files is easy as well as free with its basic free plan. You may send large files up to a maximum file size limit of 300 MB as long as you don't exceed the monthly bandwidth limit of 1 GB.
Though for higher bandwidth and file size needs, you may consider selecting their Pro plan or Business plans, even the basic free plan is not a bad idea considering the secure file transferring it offers with 128-bit encryption.
12. WikiSend – Free File Sharing Service
WikiSend is one of the simplest ways to send and receive large files up to 100 MB maximum file size limit. You don't need to create an account. Just visit the homepage, upload your file, enter recipients name and custom message and send the file.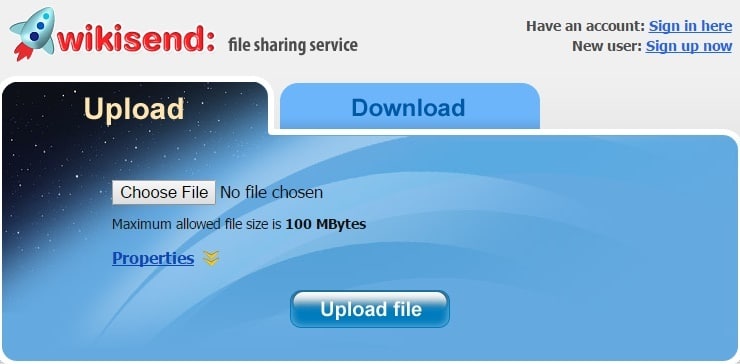 It is simple, secure as well as free. For receiving large files sent from your friends, you have just to enter an id of the file you wish to download and click on download file to receive the large files quickly.
Read: 'Send Anonymous Email' Lets You Send Email Anonymously for Free Without Registration
13. MediaFire – Simple File Sharing and Storage
MediaFire is well known for the secure cloud storage that it offers but you may also share large files with its simple file sharing features. With MediaFire, sharing files, photos, videos or documents is easy, fast, and reliable.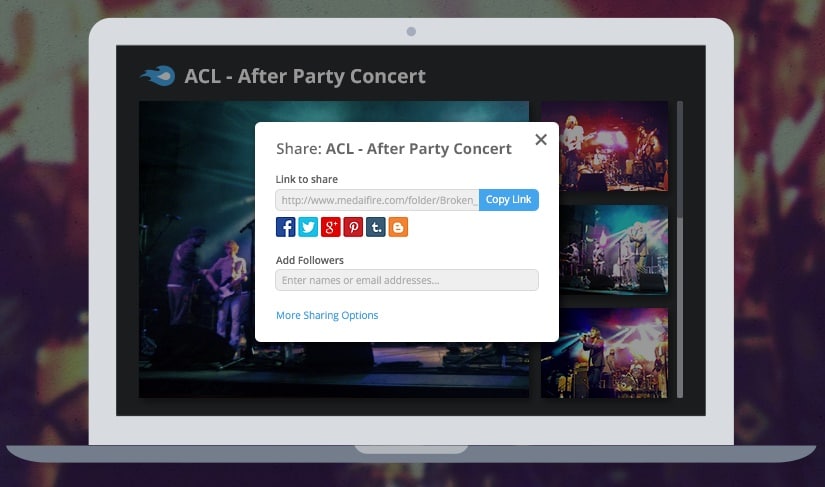 Sharing, listening and viewing large media – photos, videos, songs, and documents are possible withing your web browser or mobile device as it is available for multi-platforms. The basic account lets you send files up to 1 GB of bandwidth for free.
14. DropSend – Send Large Files Instantly
Whether you want to email large files or send large files securely – DropSend has got answers for all your needs as you don't need to download any software or additional files for sending large files.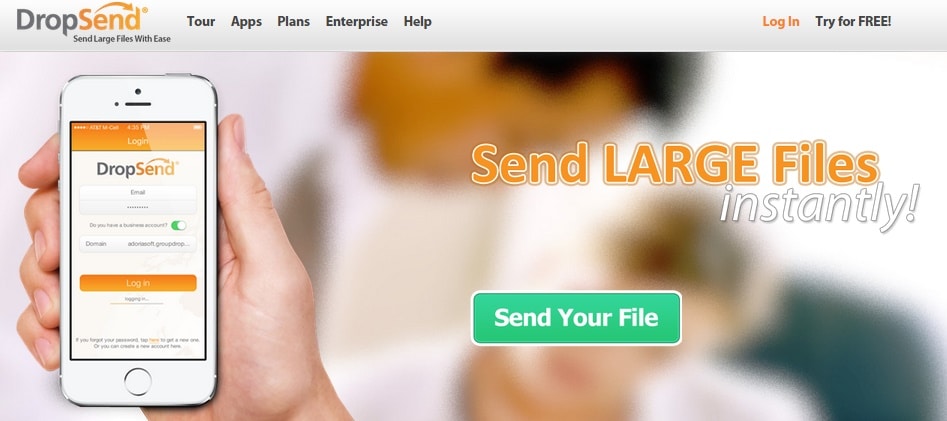 On the homepage, you may pick a file to send instantly without the need of any registration – of course; you'll have to enter your as well as recipients email for secure file transfer with 256-bit AES security encryption. You may send files up to 8 GB for free.
Also Read: TRP Guides – How to Send a Fax Online? : Best Online Fax Services
15. SendSpace – Free Large File Hosting
SendSpace is yet another easiest way to send big files. You just have to drag and drop or click to browse and select the large file that you want to transfer. When you choose the file, it is uploaded to SendSpace servers very securely. Next, you have to enter recipient(s) email and your email to send.
You may either share the files or keep them stored. The maximum file size limit is 300 MB. It comes for other platforms like Windows, Mac as well as Linux. Apart from the web browser, you may also access it from mobile devices using Android app.
Read: 11 Best Cloud Storage Services with Multi-Device Sync for Free File Hosting
The Pro Review from TechReviewPro
If you are still wondering "how to share large videos files" then you should stop thinking as through these free online file sharing services, not only you may share large video files but also other large media files including images, documents, etc.
So which is your favorite online file sharing tool? Did I miss any? Share with us using the comment box below.
Also Read: