Ever tried to create your own cartoon character? Creating cartoon characters is not so tough as you think. If you are wondering how to create a cartoon character, let me tell you: you don't need to pay an artist to cartoonize yourself.
There are many free cartoon creator websites that let you cartoonize yourself simply by uploading your photos. You don't need technical skills for managing "animated cartoon software." Neither you need to have Adobe Illustrator, and Photoshop skills nor you have to be a great artist.
There may be many reasons why you wish to create your cartoon character. But one strong reason I guess is – either you have Anthropophobia [A kind of social phobia due to which you hate being social], or you want to represent yourself as an anime character, just to have fun hiding your privacy online.
No matter whatever be the reason, if you want to animate yourself to represent as a cartoon character for various online avatars – from Facebook, Twitter, WhatsApp to WordPress Gravatar or your own blog profile: take a look at these 17+ excellent websites to create your own cartoon character and cartoonize yourself.
Also Check: 9 Best Chrome Add-ons to Create Animated Gifs Easily
17+ Cartoon Creator Sites to Create Your Own Cartoon Character ~ Cartoonize Yourself
1. 8biticon – NFT Avatar Maker
8biticon is a free pixel art avatar maker. With this avatar creator tool, you can create, buy and sell your unique avatars like NFT art. Just play and earn. Isn't that a cool idea? So, what is 8biticon? It is an NFT avatar generator that makes it possible to create your own unique avatar, sell it and make a profit as well.
Each avatar you design on 8biticon cannot be reproduced and will always remain 100% yours. As soon as you finish your artwork in its pixel art avatar creator, it becomes an NFT. This means that it can be transferred, gifted, sold or kept as part of your 8biticon pixel avatar collection.
Since all avatars that you made are unique, you can claim rewards for each one of them. If someone buys the glasses, you will be rewarded with 80% of the amount of the price increase, distributed evenly among other players holding the same element. The avatar price is formed as the result of the Minting price and Demand adjusted markup.
The minting price includes avatar development, art, hosting, CDNs, storage and smart contracts functionality. This cost is applicable when you purchase all art-related elements for the first time.
Demand adjusted markup or DAM depends on how many times your avatar gets purchased.
As a result, with 8biticon avatar creator, you get a unique avatar that is linked to an NFT that in turn makes it transferrable. This avatar creator site lets you create an unlimited number of avatars with each user profile.
Portrait Illustration Maker is a free avatar generator. Creating cartoon characters is free and easy. You just have to select your desired cartoonish avatar from the available characters on the website. You may also customize them by changing, background colour, the design of the face, the size of the eyes, and much more.
Once completed with all customization on your avatar, click on the download button and get your free avatar to use it anywhere. You may use it on any of your social profiles. However, I recommend that you provide a link back if you use it on your professional blog.
The Cartoonist is a world-class top caricature maker which lets you create your real cartoon character. The Cartoonist.me helps you create your cartoon character by turning your photos into beautiful cartoons. If you want to create your own cartoon character, click on the upload button to begin cartoonizing yourself. The free service that makes your work easier is named "Cartoonize Deluxe."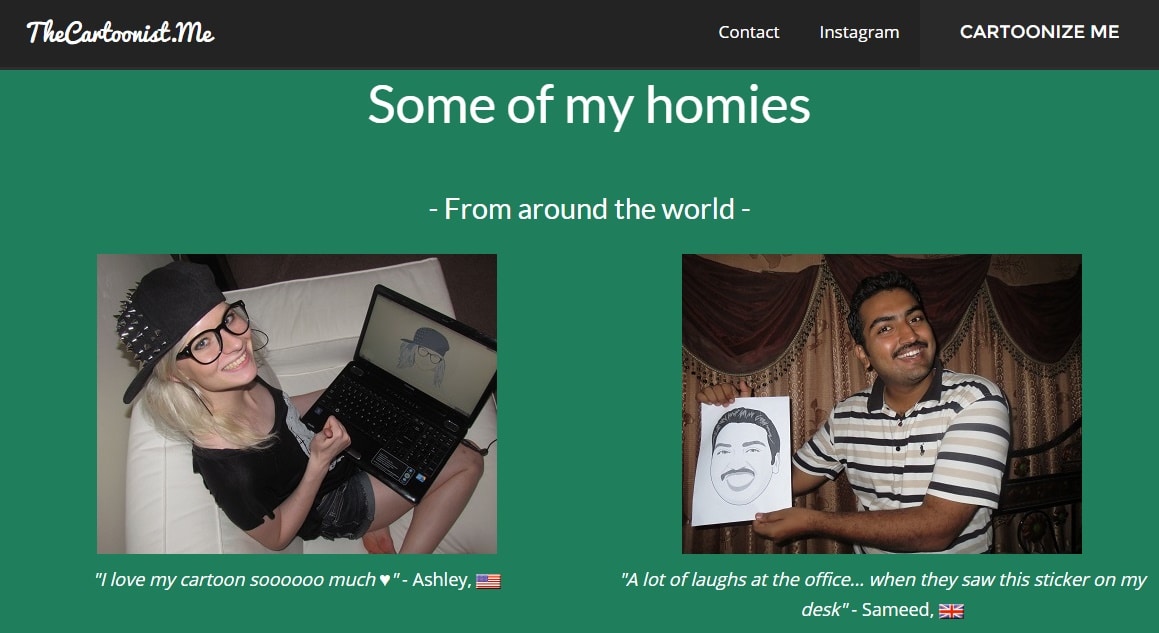 4. Cartoon.Pho.to – Create Cartoon of any Photo
Cartoon.Pho.to lets, you convert any photo to a cartoon. You may also animate your photos with various emotions. If you want to create a funny caricature from your photo in one click, then this is the perfect website for you.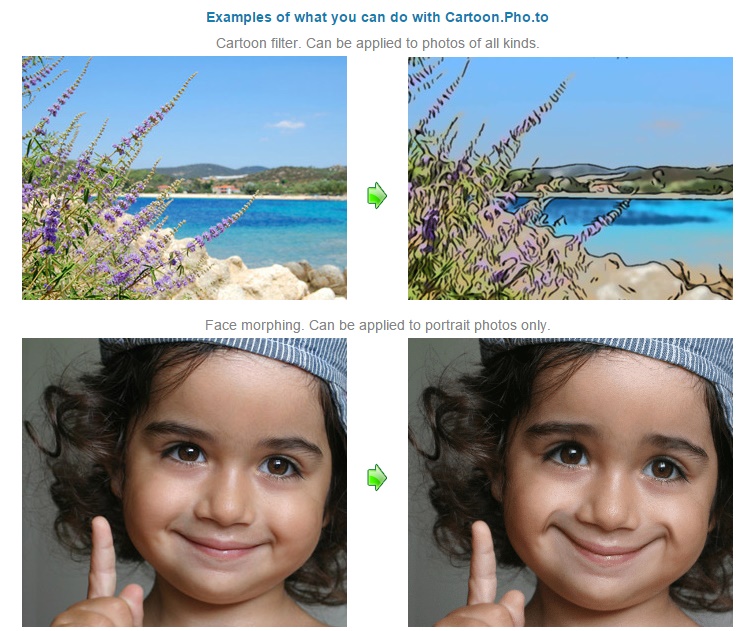 Cartoonizing your face is easy. Just start by uploading your portrait photo and create a gif animated face online. You may also have more fun when you add various emotions to your face.
Check: 5 Best Comic Websites to Download or Read Comics Online Free
5. Pick a Face – Free Online Avatar Creator
If you want to create a personalized cartoon character of yourself – Pick a Face is a place to go. Pick a Face is a free online avatar generator that lets you create professional avatars online.
With 550+ special design features, it provides the best avatar print in high definition. It is basically a profile picture creator. You may register for a free account and start creating avatars. However, to get an HD print of your avatar, you need to pay.
6. Cartoonize.net – Cartoon Yourself in One Click
Cartoonize.net is another powerful website to create a cartoon character of yourself. It lets you convert any image into a cartoon in just one click. It is easy and free. Cartoonize.net is an online cartoonizer that lets you create cartoon characters in just one click. Simply select your photo from your PC or local disk and upload it to Cartoonize.net and convert your photo to a cartoon character in few seconds.
The various available editing tools let you customize your cartoon character easily. However, the cartoon creator site also provides you with other cartoon creator tools like Avatar Maker which is an online avatar generator, iToon which allows you to apply cartoon effects to your images, FX cartoonizer, image cartoonizer, and many more. Moreover, the cartoon creator site also comes with an image cartoonizer app for iOS which lets you create your cartoon character using iPhone as well as iPad.
7. FaceYourManga – Create a New Mangatar
FaceYourManga is one of the latest names in the list of free avatar generators. It is in beta version but it so powerful that you, yourself can easily create a cartoon character using its free Mangatar generator service.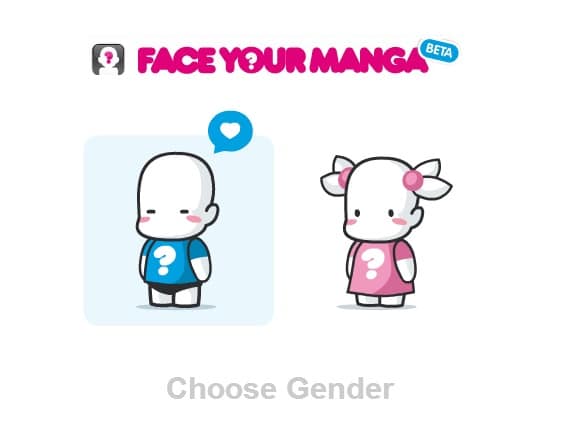 Start by choosing gender – male/female and explore your favourite popular characters easily. You may also customize them as per your needs and once done with customization download and print your avatar to use it anywhere for free.
8. Pixton Avatar Builder – Create Comic Characters to Make Comics Online for Free
Pixton is another cool site that you can visit to create your cartoon character. It is primarily a comic creator site that allows you to create your own comic or storyboard. However, it is not limited to that only. You may also create your own cartoon avatar using its Pixton avatar builder. No matter whether you are an educator, student, or simply want to have fun creating your cartoonized character, Pixton has every option available for you.
Simply create a free user account, you'll be presented to choose whether you want to go with the basic free plan or activate Pixton+ which costs $8 per month or $6 per month when billed annually. Although you automatically get a 7-day free trial to premium services.
If what you all want is to create a cartoon avatar of yourself, you don't need to pay anything, as creating a cartoon avatar using this cartoon creator site is completely free. However, if you want premium features, consider upgrading to the Pixton+ plan for premium services.
9. BeFunky – Free Online Photo Editing and Collage Maker
BeFunky is yet another free online photo editing website that you may use as a cartoon creator app. It lets you turn your photos into beautiful works of art. You may use your creativity by adding various photo effects to design stunning images.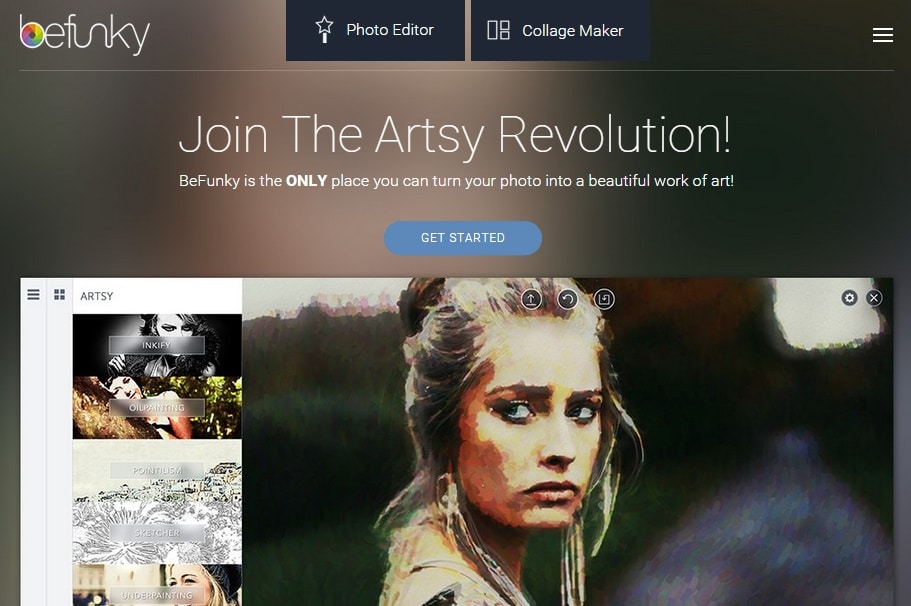 If you want to tell a story, share your adventure or create a card for a friend, then Collage maker is also there for you. You may also look for Photo editing inspiration ideas as BeFunky also provides various Tutorials along with photography tips and tricks.
As Befunky comes with its iOS and Android apps also, so you may also create a cartoon character of yourself using your iPhone, iPad, MacBook, Android smartphone, or Chromebook.
As the name suggests, South Park Studios is yet another free cartoon creator web app that lets you create your own cartoon characters. If you are a great fan of the South Park series, go ahead and create your South Park character.
Either start creating a new avatar or use pre-made avatars from avatar galleries. You may also use the randomizer button to get a randomly picked avatar which can later be customized easily.
11. iPiccy – Free Online Photo Editing for You
iPiccy is an innovative online photo editor that lets you make awesome photos online by editing them using powerful photo editing tools. Edit pictures, apply beautiful photo effects, add text and even paint!
Let your creativity shine and thus make the best of your images by turning them into your own cartoon character. You may also edit the ready-made photos and customize them as per your requirements.
12. Anime Avatar Creator
Anime Avatar Creator lets you create your own cool and unique-looking avatar. There are already tons of apparel, a combination of hairstyles, and different facial expressions to suit your mood and personality.
Though it is an awesome game at Dress247.com, it lets you create a female avatar and cartoonize your face by creating a cartoon female character of yourself.
13. WeeWorld – Create Your Own WeeMee Character
If you want to create your own WeeMee character, WeeWorld is yet another free online avatar generator service waiting for you. WeeWorld is a very popular network of cartoonists where various cartoon lovers hang out playing games, socializing with each other, and discussing in forums.
If you want to make a cartoon, just visit this cartoon networking website and start cartoonizing yourself using its simple to use but efficient WeeMee cartoon maker.
14. Meez – Create Animated 3D Avatar
Meez is a social entertainment network where you can play games and have fun. Start by creating a free account using your email or use Facebook to play Meez games.
Meez also lets you create your own 3D animated avatar. Once you animated yourself, you may download your cartoonized avatar to use anywhere from playing casual online games to using on social networks like Facebook or for hiding your privacy in online forums.
15. Avatar Face Maker – Manga
Manga Avatar Face Maker is one of the most powerful avatar face generators which lets you create animated cartoon characters for free. It is a useful cartoon character app that works wonderfully for creating anime characters.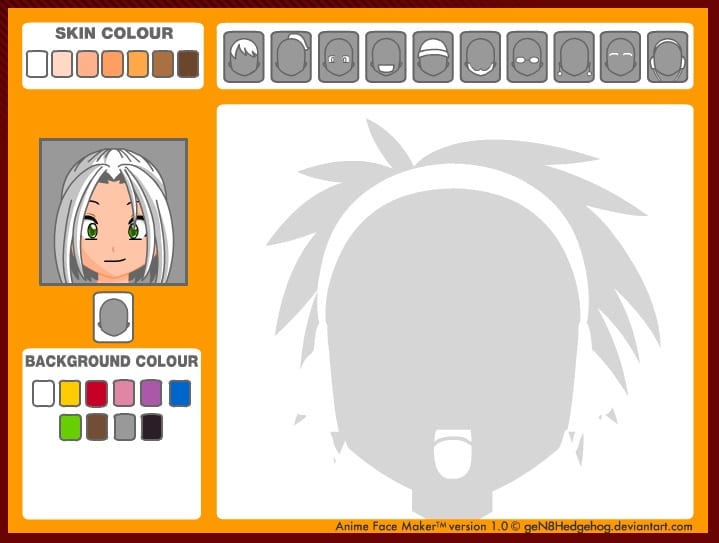 The easy-to-use interface lets you customize your animated avatar from changing the skin background colour to change in hairstyle etc. Once completed you may download your cartoon character for free.
Other Useful Websites to Create Your Cartoon Face
16. Messdudes – Create Free Custom Display Pic and Icons
17. Voki – Create Speaking Cartoon Character and Add Your Voice
18. Instructables – Turn Yourself into Cartoon
19. Custom Anime – Create Custom Animated Character Online
The Pro Review from TechReviewPro
Creating a cartoon of your face is one of the best ways to represent yourself online especially when you are looking to hide your real face for privacy purposes. If you cartoonize yourself, you not only stand out from the crowd but also provide people around you a reason to burst into laughter.
One of the greatest cartoon characters ever, Charlie Chaplin had once said:
A Day Without Laughter is A Day Wasted.
So why not animate yourself to make yourself laugh as well as to let others laugh. Hope you enjoyed creating cartoon characters with the help of this article. Do share your favourite cartoon creator website using the comment box below. Also, let me know if I missed mentioning any.
Don't forget to share this post with your friends, if you found it useful.
Also Read: