Thanks to various video chat apps available today, you can talk anyone no matter where they are in the world. Not only can you catch up on the latest gossip but you can also hear and see them as well. There are various random video chat apps you can try that will definitely deliver. But how these random video chat apps are different from usual video chat apps is that the usual video chat apps only allow you chat with people you know while the random video chat apps allow you to chat with random people. These random video chat apps are not only great to meet new people but also find random people and chat them anonymously.
Although you already know some of great video chat apps, and you can probably even name a few of them right now. Just in case you want to try a new video chat app say random video chat apps (more precisely) but don't have time to test all the apps available, here is a list of a few random video chat apps that I think you may like.
Also Read: 17 Prank Sites with Funny Prank Ideas and Mind Tricks to Play on Your Friends
Top 7 Best Random Video Chat Apps for Android
Holla – Random Video Chat app is one of the best random video chat apps for Android as well as iOS. If you ask anyone to name a few apps for random video chat, he/she will respond with Holla for sure! But Holla is not the only random video chat available. Find out the various best apps for random video chat available.
1. Holla: Random Video Chat
One of the best use of video chat apps is to talk to people you already know, but there are times when you feel like talking to a complete stranger. If that's what you feel like doing then you should definitely give Holla: Random Video Chat app a try. Holla is a very popular app for random video chat. The app allows you to meet fun people and it doesn't end there, the app is very addicting as well. Once you get used to chatting with random people, you'll find yourself spending more time.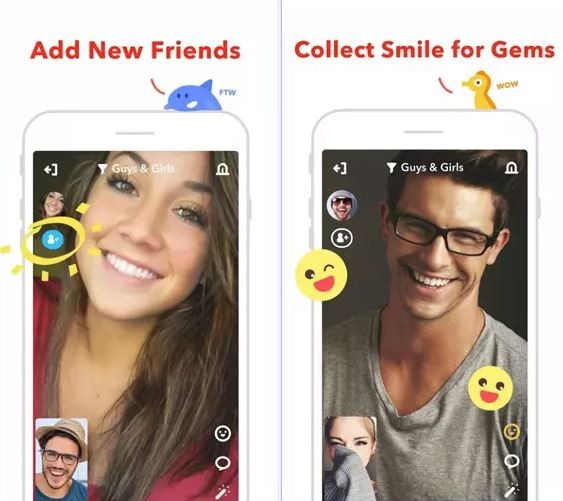 With this random video chatting app, you'll get to talk to real people for free. You can sign up with either your Facebook or Google account. Once you set up your account you can be connected with one of 7 billion people and who knows, you may even meet your new best friend.
2. Chatous
Chatous is another cool app to chat with random people online. It uses something that Twitter users are very familiar with, hashtags. To find users with the same interest, just type hashtag and your interest and watch the options pour in. You can either sens pictures, audio messages, and you can even use HD video calls.
This free random video chat app has a user-friendly interface, so you have nothing to worry about if you're not very tech-savvy. You can create your own profile with a picture, description, and all.  This information is synced with Chatous' main site and the app will even send real-time notifications.
The app does a great job of protecting your identity and delivers clear audio messages. You'll definitely love the cross-platform compatibility of this free random video chatting app.
3. MeetMe: Chat and Meet New People
Another popular app where you can have random video chats is MeetMe. With this free random video chat app, you can meet a lot of people with various backgrounds. It has over 1 million users from all over the world that want to make new friends as well.
When you first open the app, it will show you people it thinks you might want to get to know. If there's a green dot beside their name that means that the person is online ready to chat.
If you don't know the suggested person you can always swipe left to eliminate them. To talk to the person, just tap on the green button that says "Say Hi". MeetMe will give you a total of 28 people to meet.
In the video chat section, you can either meet people that are trending, nearby or new. If they are available for a video chat, you will see a red camera button to the right. Simply tap on that and you'll be able to chat with that person.
4. Badoo – Free Chat & Dating App
With over 3 million users, your bound to meet the right person sooner or later with Badoo which is a free chat and dating app. In the beginning, the app will ask you why you're using the app. For example, it will ask you if you using the app to make friends or to date.
It will also show you how popular you are in the app and you'll also be sent notifications when there is someone nearby that wants to talk to you. The random video chat app has a simple design which is great since it only makes it work faster.
In the app's Settings, you can see what users you've blocked and that basic info you've set up your account with. You can also get any help you may need with the app as well. A curious feature is that the app works like a "chat with strangers app" as it can also pair you up with people you look like – just like the facial recognition search. You'll obviously need to upload a picture for this to work.
Also Read: Top 10 Best Dating Apps Like Blendr to Meet New People
5. Spark – Live random video chat & Meet new people
Spark is one the best anonymous chat app. It may not be as popular as some of the previously mentioned free random video chat apps but it does have a feature that they don't. If you ever get bored while on the video chat, the app has three games that you and your new friend can play. You can either play Flappy Bird, Crazy Race, or Brick Breaker.
There are also fun stickers that you can add to make the conversation even more fun. The app can either set you up randomly with anyone from around the word or from people in your region. You can also set up the choice so you only talk to women, men, or both.
There is no obligation to only use the video chat feature. You can also communicate with others by text message or chat. Unlike the other chat with stranger apps, with Spark, you can send and get gifts and likes, just in case you feel like flirting with your friends.
There are also various ways you can sign up for this free random video chatting app. For example, you can either use your Google account, Facebook, or your phone number. Whatever works best for you.
6. Hello Chat – Random Video Chat
If you hate having to create an account with every random video chatting app you try, then you're going to love Hello Chat. You can start using the video chat app without having to give out your Email or other personal information.
It will only ask you to create a username and specify if your male or female. The random video chat app works with points and when you first sign up you're given 130 to use. If you only want to talk to women, it will deduct points for the switch.
If you're willing to watch a few ads here and there, each ad you watch will earn you 2 points. Gathering a total of 500 points will give you the possibility of getting rid of ads for good.
The app has a very straightforward interface where you specify who you want to talk to and then just tap on the purple Start button. You can send images, voice messages, and video messages as well.
7. Rokk – Random Video Chat & Face Swap Filters
Last, but not least, you have Rokk Video Chat. With this random video chat app, you can either use the Instant Match feature where it pairs you up with a complete stranger or you can have a one-on-one. To make the conversation more interesting you can add Snapchat-like filters and effects to your face.
For example, you can turn into a bunny, a horse, a panda, a paper bag, and you can also add accessories to your face. At the top of your display, you'll see a drop-down menu where you can add who you want to meet.
There is also a section where you can see all the messages you have received and there are also coins you can use for various things as well. If you tap on the camera on the upper-left hand corner you can also create your own customized GIF. Once you've created it you can either publish it or you can download it.
You can also add all sorts of face stickers such as animal, funny frames, love, funny faces, your face on device's display, and many more! You can either create GIFs or you can create a funny video to share with everyone.
Also Read: 17+ Best Cartoon Creator Sites to Create Your Own Cartoon Character
The Pro Review from TechReviewPro
You surely have your circle of friends that you call whenever it's time to have some fun, but thanks to these random video chatting apps you can add more friends to the list. It's a great way to meet people you normally would never come across and who knows, you may even meet your new best friend that happens to live in another country.
If these chat with strangers apps are not what you expected you can always just uninstall them since they are all free to use. Most do require that you sign in with an already existing account, but it's well worth it. After giving the free random video chat apps a try, don't forget to share what you think of them in the comments below.
Don't Miss: