Various free dating app and the Hookup apps for Android are becoming a part of our culture. It may be thought of something bad at some of the countries, but it is completely okay as long as its safe and does not present fake people. Let us assume that you think using the dating apps and hookup applications is a complete waste of time. So, I'll ask, what were you planning to do? Ask a stranger to go on a date with you? Why would someone go?
With the best dating apps available, you could verify a person and then decide whether to head on to a date with him/her. Some people simply do not have the courage to go and tell a girl or boy that they want to date him/her. Here, such people need not fear, they can bump up their confidence by having a conversation first and could plan how to treat the other person prior to the date.
In this article, we will take a look at some of the best dating apps like Blender.
Do we really need alternatives to Blender?
Yes, of course. Finding alternatives to a service would let you enhance your reach (more people -> more chances of meeting the perfect one).
Blender, unlike other common free dating apps, relies heavily on location services to pick users and then presents a match to you.
So, while relying on the location services, no one can guarantee you that people nearby are surely using Blendr (may be a YES, but few of them!). If there are a couple of users nearby, how would expect it to present a match for you?
Unless you are sure about the location and its people (that they are using Blendr), you will not find it much useful. So, there is surely a need to find an alternative for Blendr.
Also Read: 9 Most Funny Games to Play Over Text – Best Texting Games
Top 11 Best Dating Apps Like Blendr
Blendr has been one of the best dating apps every created but that's not the end of life. Many alternatives to Blendr are also available that could help you increase your reach. Looking for the best dating apps like Blendr? Check out these cool dating apps for Android.
OkCupid Dating is one of the best dating apps that are similar to Blendr. It brings some excitement to the table by letting you swipe left or right to find the perfect match for you. OkCupid Dating app offers a simple user interface. Nothing fancy. But, something easy-to-navigate.- With some of the cool dating apps mentioned on our list, you need credits to send a message to someone you like. But, OkCupid is a different dating app as it lets you message your match instantly without needing additional credits.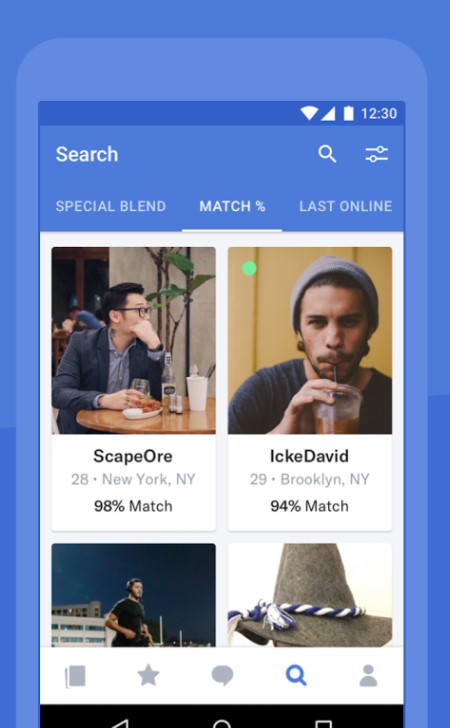 The matchmaking process is really impressive where it collects your information through a set of questions. Its original algorithm figures out what type of person you are and who can be an ideal match for you. It may not be a perfect process, but it's at least better than the course of finding a match taking your looks into account.
Match Dating is already a popular web service that helps you meet singles. So, it did introduce a cool dating app for Android as well. While we know about its popularity, one can be sure that it can show you a lot of ideal profiles to match with. Similar to Blendr, Match Dating connects you with most of the local singles. You could observe that while searching for a match. When you like a profile and want to have a conversation with that person, you need to send a wink at them to let them know you are interested. And, when they are interested as well, you can have the option to chat with them.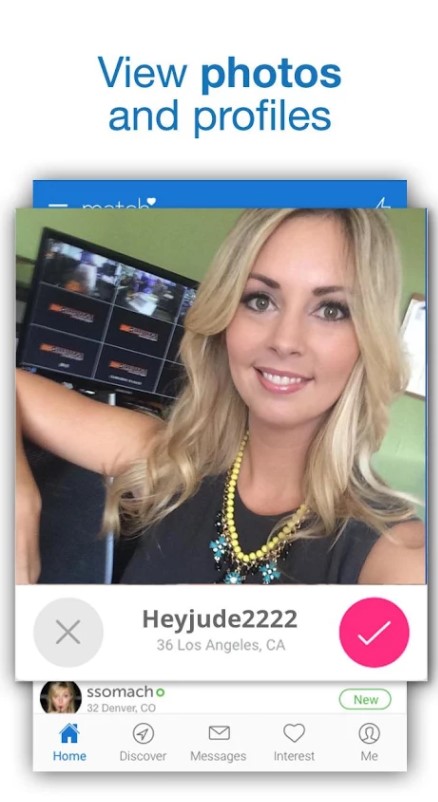 Match.com also lets you experience the excitement on your Android Wear by supporting pulse notifications and letting you have a conversation using voice commands. Dating is portable, after all?
POF Free Dating App comes as a product from Tinder's parent company (which is in itself next on the list). Unlike Blendr, it shows you results from across the world, not just limited to your location. You need to swipe in order to search for the perfect match. If interested, you can send him or her a message without the need for additional credits.
It is yet another product from Tinder's parent company, so you will surely notice a lot of users (i.e., more dates for you!). It presents a decent user interface if not impressive.
Tinder is a quite popular dating app for Android. Unquestionably, it houses a lot of users but also addresses some fake profiles (traits of being a popular service). However, recently, the number of fake profiles have gone down, so it's growing again as a quality dating app for Android.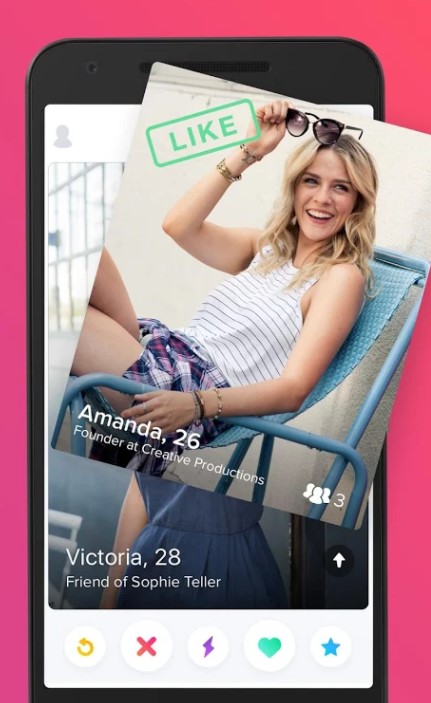 It lets you search for a match by letting you swipe. You can only send a message to the person who likes you back. If you want to increase the reach of your profile, you will have to boost it using credits (in-app purchases). Tinder is a cool dating app that presents an impressive user interface as well.
Skout is a nice dating app to have installed on one's device. Well, it might not be a dating app (as advertised) but it lets you meet new people or the people you have bumped into in your real life at some point in time.
Skout is a great social meetup app through which you can get a lot of friends to hang out with and also find the one to ask for a date. It presents a nice user interface similar to that of Facebook's old UI design.
Tagged is yet another popular dating app that strives to put the best for your match. Similar to POF Free Dating App, Tagged houses a lot of users. Tagged presents the app with a decent user interface. It is free to send a message to someone you like, no credits required.
It also presents an interesting meeting game termed – "pets." You will get to know more about it when you try it out (mystery!). Tagged lets you search for people from across the globe.
Happn is a unique hookup app that is quite popular as well. Unlike other dating apps, happn lets you meet the people that you have crossed paths with in real life.
If you are looking for a local dating app, Happn is the app for you. It lets you message a favorite only when there's a mutual interest.
Badoo is a damn popular dating app. It presents an impressive user interface. You need to have credits in order to give a boost to your profile.
It is a cool dating app like Happn. Similar to Happn, it also lets you know about the people who have crossed paths with. So, you may term it as a cool local dating app as well.
Moco is a great dating app that's loved by a lot of users (especially in the US). Moco is quite different from other dating apps available. It lets you message for free without requiring credits for it.
Moco lets you search for potential dates nearby. You get to filter the results according to sexual preferences. Excited to give it a try? Try this cool dating app now!
Lovoo is yet another popular dating app. It is surely one of the best dating apps for Android. It utilizes mutual chats to find the perfect one for you in your friends' circle as a priority.
However, the app is not completely free and comes with in-app purchases as well like many other dating apps. It lets you perform in-app purchases to enhance your profile's reach.
Coffee Meets Bagle is another free dating app that takes a completely different take than others. It does not require you to search for a perfect match but instead presents you the one for you daily via a notification. It does offer a good user interface.
The cool dating app takes the dating concept to all new heights. Though it is not a completely free dating app and comes with in-app purchases, yet it's worth a try!
Also Read: 8 Best Funny Pen and Paper Games to Play on Paper and Have Fun
The Pro Review from TechReviewPro
Now, you know that there are several dating apps that could come handy. You do not have to stick with a single dating app and wait for the perfect match. Simply, try on alternatives to Blendr and keep the fishing going!
Let us know your thoughts in the comments below. Also, if you got the perfect one while using any of the above mentioned best dating apps, we'd love to hear about that!
Don't Miss: