There are several solid reasons why we should transform the normal mode of browsing into "Secure" browsing. The number of Internet users is growing rapidly (mostly 200-400 million new users per year). The larger the Internet community grows, the more threats arise. And, that's when we need to use Firefox add-ons for secure browsing. But which are the best Firefox addons for secure browsing? Wait, you'll come to know the best addons for Firefox browser in a few seconds.
Well, yeah, there exists a lot of other web browsers as well – fastest Mac browsers, best Android browsers, and free web browsers for Windows. But Mozilla Firefox was specially crafted to protect privacy. However, if you don't like using Firefox for some reasons, we've also addressed some of the best Google Chrome extensions to protect privacy.
Also Read: 6 Best Private Search Engines for Anonymous Web Surfing
Top 8 Best Firefox Addons for Secure Browsing
Well, we all have right to privacy, and we need privacy at times – no matter what we are doing. Browsing the web using Mozilla Firefox browser is no different. If you are looking for a smooth browsing experience while securely browsing via Firefox browser, thankfully many good addons for Firefox are available. Here, we will take a look at the best Firefox addons for secure browsing.
We have previously shared about best adblockers for Android as well as free adware removal tools. Would you like to block something more other than just the Ads? Then this should prove to be useful for you. This firefox addon for secure browsing does something even more.
It lets you block all the popups of a site. So, it saves you from unintended popups which might be very annoying normally. Also, if you are on a poor network, you can utilize the media blocking option which would prevent large media content from loading up in the first place.
It has a very basic user interface but is definitely useful. It also offers an option as an element picker which lets you select a portion of a web page to see its source code (or cosmetic code!).
Also Read: 9 Best Browser Dictionary Extensions to Know Words Meaning Online
It is one of the best Adblockers that I have come across so far. It is powerful and very efficient as well. After you are done installing the addon to your Firefox browser, it activates instantly. If you need to disable the Adblocker for a web page, you can simply click on the add-on icon and click on "Disable on xyz.com".
You might experience breaking functionalities of the site, or you would be prevented to access the site when using Adblock Plus. So, make sure, you use it where it works properly. Or else, your web experience would be affected as stated in this article.
It is one of the best Firefox addons to protect privacy and enhance the security while browsing something on the Internet. It lets you find out about various trackers active on a web page.
It categorizes the trackers and lets you choose to enable or keep them inactive to protect your privacy. Ghostery is one of the popular choices even when choosing the best chrome extensions to protect privacy. So, you can be damn sure, that Ghostery can help you in secure browsing.
Interestingly, Ghostly has the largest tracker database on the web. There are other advantages of using Ghostery. When all of the active trackers aren't active anymore, the web page loads faster than ever. The browser would perform faster as well.
Unquestionably, when you pull up a website, it runs JavaScripts (I bet!). Well, most of the sites do use them, for obvious reasons.
However, the scripts might record your move, where do you click, what do you click on, and similar things needed for analytics. In fact, we also use some analytics tracker to better understand our readers' behavior and optimize our site for best possible experience accordingly for you. If you don't want to leave a single footprint on a web page, you should consider installing NoScript Security Suite.
You can add specific sites to your trusted list. Even better, you can block/unblock specific objects as well. It would definitely come handy and would prove to be one of the best things to enhance secure browsing in Firefox browser. Yes, you can call it one of the best Firefox addons for secure browsing (in other words).
When you stop typing passwords on every web page asking your credentials, that's the time you become efficient. There are several secure password manager addons for Firefox but LastPass being the best among them as per our usage.
LastPass offers a highly encrypted service and flexible as well. The good news is – it is free for desktop users! So, if you are using Mozilla Firefox on Android, you should get the LastPass addon never to type the password again, set strong passwords, keep them secure and an automated process to change the passwords as well.
You will find it interesting and attractive at the same time. The user interface for the Firefox addon seems to be very good.
6. Zenmate VPN
It is one of the most impressive free VPN services out there. Unfortunately, it does restrict a couple of important locations to route the network connection with the free version.
However, you can make use of the available locations as well. What matters is security and encryption. A lot of users prefers ZenMate VPN, and some of the professionals also suggested using it at some point in time as well (for a specific use).
 Zenmate VPN is yet a powerful addon for Firefox which is easy to use. You should upgrade it if you find it secure enough for your use. However, if you didn't like it, you can always choose one of these top VPN services for highly-secured private internet access. In some cases, you may find it to be slower, but fret not, its one of the best VPN add-ons you should be using right now.
It is always advisable to visit websites that offer secure connection (HTTPS connection). Well, just like you are on this web page, which is secure enough using an HTTPS connection. So, HTTPS everywhere is a simple addon to load the resources/webpage on HTTPS wherever available forcefully. You can also disable sites which use HTTP connection, which would prevent you from accessing non-HTTPS websites in the first place.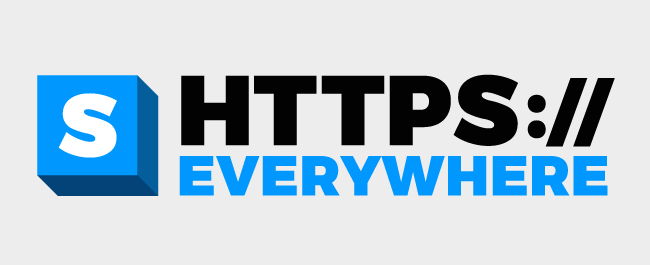 When you connect to a site using HTTPS protocol, it's mostly safe because no one except the website administrator could change the behavior of the site. So, that being said, it prevents phishing and unintended malicious activities on a website. Not just that, most of the HTTPS powered sites offer a better privacy to their readers. And, if you're entering your payment credentials to buy something, always look for an HTTPS connection on that web page.
DuckDuckGo is a private search engine which offers a no-track policy for the users. It is evident from the fact that Google utilizes a lot of information that it gets hold of through the search analysis.
In a way, tracking information when a user searches for something poses to be a privacy threat (at least for users who are seriously concerned about secure browsing). You would definitely want no footprints left, right?
So, it would be a good option to install this addon to make DuckDuckGo as your default search engine. It also offers some additional features which you would find handy to use.
Also Read: Private Photo Sharing: How to Protect Your Privacy on the Internet?
The Pro Review From TechReviewPro
Finally, we now know about several firefox addons for secure browsing. There are tons more available on the Mozilla add-on store, but possibly you won't find anything better than the mentioned best addons for Firefox.
Do you know about better firefox addons for secure browsing? Something interesting you want to share? We'd love to hear from you!
Also Read: