Group chat names can be funny and interesting. But, what if you want to create something cool enough? A great name would be a bonus? Fret not; we have your back! You don't need to put an effort and think ages to pick one of the best funny group chat names. We will list the best funny group names for a chat as you read on.
In addition to that, considering the popular instant messenger – WhatsApp. We will be also suggesting a variety of WhatsApp group chat names. For every gamer, action lover, movie buff, and to name a few, we'll try covering the best group chat names for every type of user.
Let us first take a look at the best funny group chat names:
Also Read: Cool Names for Clash of Clans: 1500+ Cool Clash of Clans Names
Best Funny Group Chat Names – Top Picks
The Royal Stags
Universal Insta Queens
Way to Hell
A U T O B O T S
All-in-1
Updated Dudes
Gold Diggers Hub
Power Rangers
The Dark Fantasy
F O O D I E S
Spectacular Stupids
Pen Is Blue
Cutest Culprits
Glass-Mates
The Ultimate Red Bulls
Handsome Hunks
Pro Local Boys
A V A T A R
The Spicy Jets
Imps & Devils!
The Brave Hearts
Jokes Imports & Exports
United Enemies
Friend S Zone
Super Marios
Euro Lovers
Play Boys 2017
Hot 'n' Horny
Born to Die!
Sarcastic Night Riders
Followers of Beauties!
Mr Monkeys
Rolls Royals
B O O S T E R S
jokes Corner
WeTube
Only Stags Allowed!
Fair & Ferocious
Billionaire Boys
Funny Folks
Moon Rise-rs
Just-in-Boys
Party with A-Holes
The Revenger-S
Black Beauties
E M O T I C O N S
Gambling Girls
Baahubali Crew
Sarcastic Dudes
Gutsy Girls
Sons of Bill Gates
Badminton Rackets
CoolStar-s
B A T S M E N
We Love Enemies
Stars on Sky
Never Ever Clever
Royal D-Enfield
White Space
Incredible Souls
Be Like US
M E S S E N G E R S
KTM Duke Riders
Beyond The Borders
Live Like Humans!
GTA Specialists
We Eat Humour
Like Monkeys Like We
Planet Lovers
Mad Angles
We Love Lovers
Money Talks
Soulmates
Like U S
We Don't Talk Anymore
Just Billionaries!
Love Technicians
Iron Men
Smilies
M A G I C I A N S
Range Rovers
Please keep….Excellence !
We Love Sarcasm
The above group chat names are the best ones we picked for you! But, this isn't the end! We have a lot more group chat names that are suitable for WhatsApp, Snapchat & similar Instant messengers. Let's check them out:
Best WhatsApp Group Chat Names
WhatsApp group names can be quite cool or cheesy. But, to stand out from the crowd you need an attractive group name which will keep the members engaged and you'll finally encounter active chats for your WhatsApp group. So, to help you out, we've picked the best here:
The Movie Buffs
21 Forever
We Don't Drink…. with Water!
B E A T S
Night owls
The Last Bench
31st Night
The Billionaires
The Lunatics
Cool 'n' Crazy
The Mad Men
Boozers!
My Roomies
Let us Live.
Incredible Idiots
One Home.
Branded Babes
The Smalltown Girls
The Countryside
50 Shades of Friendship
The 13. Still Alive.
Why So Serious!
F.R.I.E.N.D.S
The Gentlemen.
The Women War 3.
The 90's Reunion
Childhood Frndz
Crazy Kittens
Dreamers
The Invincibulls
F for Freaks
Vodka with RedBull
The A-Holes
Kickass Kids
They Blocked Torrentz!
We R Grown ups.
Bachelor Party
Just Married. Save Me.
The Travellers
Pink Flowers
The Believers.
Thinker Think. Doers Do.
Green is the new Black.
Come . Confess
La e-Cafe.
Dumbos Ahead!
The Daily Planet.
Also check out: Amazing WhatsApp DP – 175+ Cool, Funny and Spicy WhatsApp Profile Pics Collections Free Download
Interesting Group Chat Names
When trying to form a group chat without a particular cause or interest, thinking of a name could be quite difficult. Even if you randomly set a group name, the members may not necessarily like it. So, if you have a group chat with a diversified base of members, you can choose to keep an interesting name which will be surprising and great for all! Some of our top picks are here:
No Spamming
Heir Apparents
Helena's Whores
Devils vs. Angels
Walkie Talkies
Life is a Poop
The Action Jacksons
Non-Veg Friends
Family Secrets
More than a Sister
Life and Music
World of Cousins
No Girls
Across Borders
Unstable Women
The Insomniacs
Spicy Republicans
24-Hours Drama
Searching for Group Name
Fraandship
Knights in Shining Armor
Life Suckers
The Now Married
Trash
Rock Stars
College Mistakes
Drama Club
Best Group for Sharing Feelings
Modern Family
Swag Partners
The Jumping Jacks
Nonsense Group

Chats with Brats
My Next Mother
Game of Phones
Best Guides
Colonial Cousins
Devil's Home
So-Called Engineers
The Invincible
We Talk A Lot
Bachelor's Party
404! Group Name Does Not Exist
Phone Pals
Irritating Family but I Still Love
Hopeless Group
Dear Ones
The Foodies
Nostril Lane
The Round Pegs in Square Holes
Crap Collectors
Wondering Minds
Family Ties
Boring Classes
Civil Disobedients
The Awakening
Don't Join
We Are Unique
Game Changers
Smile While You Can
God Made Relations
My Blood Share
Curious Cousins
Sports Lovers
Weekend Kings
Gossip Geese
Fantastic 4
The Alpha & Omega
Etc Etc Etc
Bachelors
The Herd
The Talent Pool
Mountain Movers
Blockheads
Davis Farts
Group Name
My First Instructor
Cursing Cousins
Peanut Family
Recycle Bin
Naughty Professors
Fabulous Five
The Nerd Herd
The Grub Club
Protectors of Superman
You Me She
Don't Check Ours
Maniac Messengers
Happy Good Times

The Alter Egos
Ninjas
Family Gang
Busted Minds
Powerpuff Girls
Cousins Colony
Chunky Monkeys
Green Gang
Kin of Good Times
Guiding Sisters
Let's Utilize Precious Time
Cool Boys
Lucky Charms
Cousins Indeed
The Cream Team
My Second Mother
Hang Over
What's in a Name?
Assjackery
None of your Business
3 Idiots
Sister Sentiment
Mad House
24 Hours Drama
Dil ke Dost
Only Singles
Hackers
Bingo Wives
The Troublemakers

Stupidity of Susan
Awesome Blossoms
Free Wi-Fi
The Posse
24×7 Shows
Online Hangover
No Porn
We Tie Until We Die
Chor Bazaar
The Spartans
Near Ones
The Woodchucks
What's Up Cuz?
Three Idiots
We Are Hulks
All Us Single Ladies
Teenagers
Crazy People
The Geek Bank
The Chamber of Secrets
Colony of Cousins
Local Losers
Free Birds
The Now-Married
Hearts Without Holes
Dumbest Group
Cousin Love
Rakhi Group
The Folks
The So and So
Facebook Dancers
Bros Forever

Silence Isn't Golden Here
So-Called Engineers
ABC Family
Play Your Way
Always Together
My First Friend
Full House
Don't Spoil It
We All Are Still Young
Charlie's Angels
The Bluffmasters
No Smoking
My Dear Sister
Glowing Stars
Area 51
Share it with Sister
What's up, Cuz?
Tech Ninjas
We Talk a Lot
Unknown Friends
Counter-Strike Batch
The Public Square
The Family Knot

Yes, We are Family
Brainless Friends
Best Group Chat Names For WhatsApp, Snapchat & other IM Apps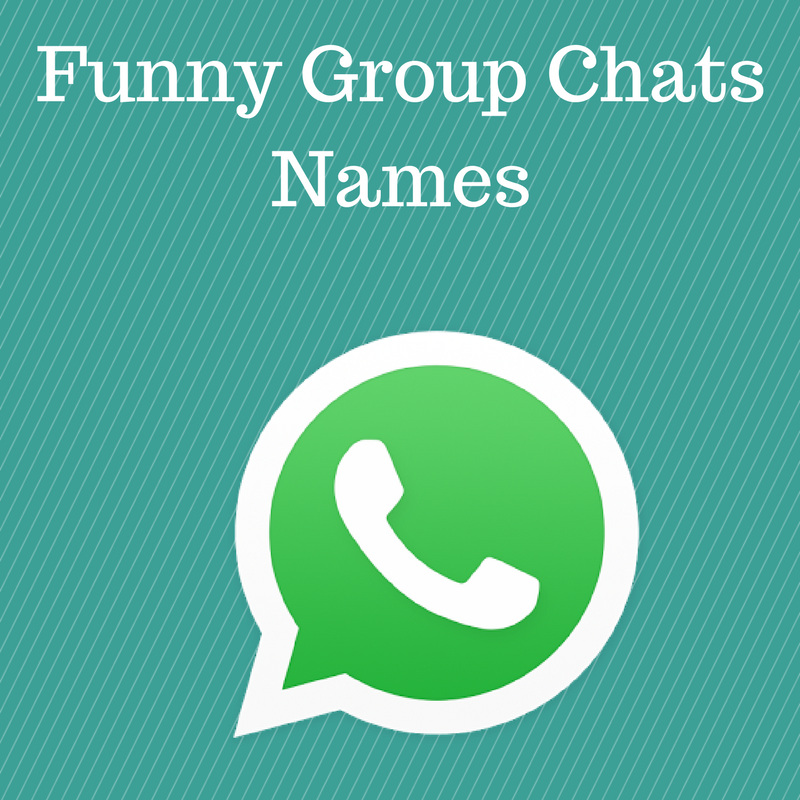 You don't need to worry even if you do not use WhatsApp. There are several instant messaging apps that support group chats and you can utilize a very cool name for those as well! So, we've listed a variety of group chat names which you could use across many IM apps.
Happily Friends
Funny Feathers
The Birds of a Feather
The Sweetest Enemies
Fantastic Family
Marvel Vs DC
Memories Lane
The Street Kids
Expedition 2K16
Devils Zone.
The Spoiled Brats
Riders in the Dark
Fantasy Land
Private Party
Fight Club
Drama Company
One Roof
What's Up?
Horlicks Eaters!
Chicken is the New Veg
Burger. French Fries. Coke.
Second Show
Tell Me Your Story.
Legends rise here.
Also Check: 50+ Best WhatsApp Status Updates: Funny and Cool WhatsApp Status
Cool Group Chats Names For Snapchat & WhatsApp
Do you have a cool group of friends to chat with? Well, precisely, aimless group chat for just fun?
I think you can utilize some of the coolest group chat names below:
Work Hard! Play Hard!
Shooting Stars
Hangover
A L I E N S
RoadStars
Travel Along!
Musketeers
Live Bold
BFF
No Silence Please!
Limitless Fun
Besharams
Unlimited Nonsense. Free !
Story of My Life.
Udta "Your Place"
Chit Chat. Shitty Shitty Chat
WhatsApp for Dumbs
Software Sucks
Blue Collar Bitches
WWE Reloaded
We Love Super Mario
Full On Masti
Party Pigs
Music is our Religion
The Wolf Pack
Game of Idiots
Shit Happens
Winter is Coming!
The Crazy Croods
Men on Mars
Nuttertools
We Go Crazy
P O K E M O N S
Stay Tuned
Moon Walkers
Grand Masti
Fast & Fantastic
Wild Group
Befikre
Tom & Jerry
We are One
Best Group Chat Names For Gamers
Gamers generally tend to think of unique yet relatable names. And, if there are a bunch of gamers in a group chat, we know what names you would dig for:
Sordid Privilege
Changeable Thugs
Jagged Power
Momentous Criminals
Elfin Vigor
Uneven Domination
Sleepy Slayers
Safe Devils
Understood Tyranny
Entertaining Hooligans
Healthy Punks
Unsightly Strategy
Merciful Squad
Kindhearted Exterminators
Feigned Prestige
Threatening Admirals
Malicious Perpetrator
Elegant Mafia
Defeated Soldiers
Cheap killers
Unbiased Noobs
Ceaseless Superpower
Sable Bureau
Venomous Delinquents
Productive Movement
Halting Execution
Pastoral Unquenchables
Tranquil Corps
Fearless Cadets
Humdrum Enforcers
Dear Committee
Godly Warriors
Learned Agency
Mellow Militants
Deranged Military
Zippy Victors
Five Antagonists
Thin Masters
Vague Crew
Mute Invincible
Clever Dominance
Melted Havoc
Old-fashioned Angels
Jumbled Commanders
Placid Guerrillas
Wild Marksmen
Eager Troublemakers
Roomy Vandals
Tart Authority
Also Check Out: 1800+ Cool Minecraft Usernames and Minecraft Name Ideas You'll Love
Cool Group Chat Names For Dance Freaks & Fitness Freaks
If you have a community of dancers and fitness enthusiasts, you will be surely involved with a group chat room in an IM app. Dancers and fitness freaks tend to be expressive with their work, so the group chat name should be equally fascinating. To help the cause, we have a list of group chat names that you'd like:
Rhythmic Eagles
Lost Dynasty
Rockinrabbitz
Electricsliders
The Cougarettes

Salsa Swings
Doomsday Panthers
Lady Rebels
Diamond Dolls
Starstruck
Gangstagroove
Crewzincrew
Liquid Smoke
Dance-versity
Top Gun All Stars
Rebel Angels

Dangerous Divas
Jack Attack
Jesterz
Black Illusion
The Lionettes
We Are Heroes
Sizzleandstomp
Black Illuminators
Rebel Force
Spirit Dancers
Lady Movers
Destructive Divas
High Steppers
Zeecrew
Fly Girls
Hiphophooligans
Crystal Queens
The Pursuit of Tappyness
Mystic Movers
Classical Mermaids
Boogie Bouncers
Super Sparklers
Bouncers
The Homies

The Hip Hoppers
Ghettogroovers
Pirouette Champs
Sweet Disasters
Poreotics
Tapping Kings
Golden Sparklers
Thundering Kidz
Twisters Elite
Spirit in Motion
2crew4u
Bunny Dancers
Royal Heat Squad
Jalapeño Hotties
Gizmos
Project Street Dance
Tribal Attackers
Dance & Drill
Statik Moves

Hoodratrompers
Rhythmic Thunder
Hunger Hoppers
Orange Crush
Dizzydancers
Wookierockers
Nitrous
Jumpinjuggalo
Step 1 Allstars
Klassy Kats
Kickinkidz
Silversteppers
Tomcats
Dancing Dolls
Jumping Jacks
Steppintimes
Ultimate Athletic

Keep Calm & Dance
Kaba Modern
Dancers of the Ring
Doomsday Divas
Webringit
Dance N' Beats
Jiggylows
ReQuest Dance Crew
The Hot Devils Synergy
Royal Heat Dance
Grindingrizzlies
Sun Dolls
Justice Crew
The Spirit Dancers
Dancers' Dynasty
Shake it Up
Dancing Queens
Phresh Steppers

Rollerrockers
Gold Dusters
Toxic Twist Crew
Wuzupers
The Rangerettes
Kickincrew
Crazycats
Funks & Monks
The Ladybirds
Silver Steppers
Groovy Boyz
Diversity
Purple Sky Dancers

Robotix
Hotsteppers
Blitzdawgs
Bone-crushin' Ballerinas
Dancing Angels
Dancers Divine
Groovy Loompas
Blue Dancers
The Dazzlers
Rhythmic Squad
Fanny Pak
Unique Group Chat Names For Foodies
You might find a lot of activities and events requiring to form a group chat room. But, what about the food enthusiasts? Well, lovers of food porn and travelers going just to eat a new dish would be joining hands to form a group as well. Fret not; you will not be left out!
Here are some suggestions for your perfect food group on any messenger:
Shigs-In-Pit
Pig Floyd
Bottoms Up BBQ
Brass Nuckolls BBQ
All Fired Up & Kicking Ash
Rub Me Tender, Rub Me Sweet
SMKN Q
Smoky Strut BBQ
Smokin Hot & Saucy
ButtsNWeinerz
Rubbin Butts and Racks

Cock-n-Bull Smokers
Building Smoke
Bad News Beer 'N Que
First National Piggy
Hawg Dawgs BBQ
Man vs Que
Team Getting Sauced
6 Pack BBQ
Just Blowin Smoke
E.R.BBQ
Porkasaurus
Beer Belly and Snouts
County Line Smokers
Smokin' Sicilians
Port-A-Jon's-B-B-Q
Blowing Smoke BBQ
Seriously Smokin'
All In Smokers
Big Back BBQ
Cue the Smoke
Church of Swinetology
2nd Hand Smoke
Killer B'z BBQ
Oink n Doink
Porch Smokers
Come & Taste It
Getting Sauced
CB's Finger Lickin' BBQ
Beer & Butts Que
The Beef Show
Gettin Piggy With It

Fu-Man-Que
Hawg Wyld
Spicy Spitfire
May The Sauce Be With You Holy Smoke
Pigs Gone WILD
Hot Diggity Hot Doggers
SeaBrisket
QIS – Quality in Smoke
Waldo BBQ
Ribs…For Her Pleasure
2 Butts BBQ
Beer-n-Bones
BBQ Junkies
Pellett Envy
Go Pig or Go Home
Squeal of Approval
She Thinks My Slabs R Sexy
Hawg Boss
Mempho-Q-Maniacs
Heavenly Hawgs
Shake n Bake
Easy Pickens
Seasoned Smoke BBQ
Daddy Mac BBQ
Fatback and the Smoke Apostles
CharlieQ
Critter Smokin' Crackers
Dead Pigs Tell No Tales
Tamm Good Eatin'
Lock, Stock and Two Smoking Fellas
Party on the Patio
Dixie Pigs
The Few That Que

Butt Bros BBQ
Slab and Tickle
Country Gold and a Bloody Mary
Three Smokin C's
Eat de Bone
Nickle Boys BBQ
Hunk A Hunk A Burning Rub
Golden Hogs
Bigfoot Mountain BBQ
The Blind Swine
Smokin Ass BBQ
Sloppy Seconds
Swingin Richards
Albert EinSwine
Poncho, Cisco, The Kid & Co
Rubbin Racks and Smokin Butts
Ruckin Fidiculous
All Focked Up for Q
Cock-n-Bulls
Smokin Man Game Day BBQ
Fatty Shack BBQ
Meat Rushmore
Blind Mullet
R2-BQ
Kill It & Grill It
The Boys In Que
Country Roads BBQ
Two Crackers Cooking
Big Knuckle's BBQ
TheSlabs.com
Ring of Fire
Sons Of A Brisket
Too Bad You're My Cousin
All Sauced Up
Cosmic Cookin'
Dr. Squealgood's BBQ
Big Subpoenas BBQ

Yabba Dabba Que!
Mullet Brothers
Wire Nut BBQ
Pork-O-Holics
Buckshot BBQ
Beer Goggles BBQ
BAR-B-QUE-TIONERS
Watt's Smoking
Que Que Ka-Choo
Knights of the Holy Grill
Rubbin' it & Lovin' it BBQ
Git-R-Smoked
Nicely Done BBQ
Fat, Drunk, and Stupid BBQ
Moonswiners BBQ
Beer, It's What's For Dinner
Pete's Pig Pit Posse
Skin 'R' Butts
APORKalypse Now
2 Men and a Pig
Smoked Encounters of the Third Swine
Saucy Lil Porkers
Red Tip Lettuce Gang
EBQ Equity Bank 'Q Qrew
Smoke 'Em If You Got 'Em
Smooth Smoke
Wholee Smokers
Pig Pounda Kappa
Tall Boys and a Lil' Smoke
Burnt Finger BBQ
Redneck BBQ
Four Hawgs
The Grill Is Gone
BBQWEISER
Bad Influence BBQ

Keep Calm and Blaze On
The Spice Girls
Blood, Sweat & Beers
IHC BBQ
Huntin' For Buns BBQ
American Piggers
Naw Da Bone
Chubby's BBQ
Good, Bold, and Tasty
IBEW Smokin' Sparky's BBQ
Backdraft BBQ
Check this out: Top 10 Best Skyrim Name Generators for Argonian, Dark Elf, and Nord Names
Conclusion
Choosing a group chat name can be challenging. But, that's not the case anymore – you know why!
Make sure to bookmark our huge list of group chat names. We will be constantly updating this article with new and good group chat names. If you have a great name in your mind which hasn't been mentioned or if you want us to suggest a name for your group, let us know in the comments down below.
Don't Miss: