The second most used smartphone in the world, iPhone has one of the largest apps and games collections in the Apple App Store. So there is a good chance there will be an awesome iPhone puzzle game of your interest available too.
Although there are many types of games available in the store, if you are interested in puzzle games, then we can help. Puzzle games can be very addictive, but not everyone is a fan of them or able to play them. However, we will recommend everyone at least try out some puzzle games for iPhone to check their skills and maybe find a new interesting game category.
Also Read: 7 Best Emulators for Android to Play Your Favourite Video Games
Top 10 Best Puzzle Games for iPhone Users to Test Your Puzzle-Solving Skills
There are many iPhone puzzle games you can play, but choosing the right is important. Today, we are going to introduce the best puzzle games for iPhone that may even make you rage-quit! These games offer fun graphics along with difficult puzzles to solve, they may even make your brain hurt. So let's check out some mind-boggling puzzle games for iPhone… If you dare!
Two Dots is the most beautiful yet cruelly difficult-to-beat game at higher levels. The game offers the most pleasing visuals with different animations and colorful artwork in the background. The music is quite pleasant to the ears and most background animations move with the music.
The plot is simple yet entertaining, you need to connect the same colour dots to clear them and move to the next level (up 435 levels). It seems a bit simple, but it gets quite challenging when you have to complete specific tasks to complete a level. You can connect different dots and make shapes to get bonuses like bombs, get extra points, extinguish flames and sink anchors.
Price: Free with in-app purchases
If you are looking for a creepy puzzle game for your iPhone with a dark theme and stunning graphics, then The Room Two is for you. The Room Two is one of the best iPhone puzzle games with amazing graphics (only works on iPhone 4S and above). In the game, you have to open boxes that are closed using different methods, and can be opened with different switches, buttons, locks and contraptions.
You need to figure out how to open each box using clues provided near the box and give a closer look at the box. When the box opens it has some kind of items inside that will help you understand the story behind the game and a new box will be provided in the next room.
Price: $2.99
Also Read: What are the Best Free No WiFi Games to Play Without WiFi?
3. Drop7
Drop 7 is not one of the most graphic-intensive games, but it offers some really fun puzzles with numbers. The game is all about lining up numbers falling from above into proper rows and columns. For example, if the number 4 comes up from the top, you need to put it in a column where there are already 3 discs and the fourth one should be equal to the number on the falling disc.
This keeps going on until the whole board is filled. You need to make the highest score to be on the top of the leaderboard and beat your friends and everyone else playing the game.
Price: Free/ remove ads for $2.99
Contre Joura is an addictive physics-based game that offers tons of puzzling adventures. When you will first see the game, World of Goo may come to your mind. The game has some classic sounds and an interesting black-white theme. The main character in the game can't actually move, so are supposed to help move to the end.
We can pinch and drag to move the ground and help the big ball-shaped creature move forward. There will be many hurdles and power-ups in the way like ropes, portals and slingshots. Use your brain to keep the guy going and collect different items along the way for high scores and achievements.
Price: 2.99/ in-app purchases.
Checkout: Top 9 Best Free Games for Mac OS X
Hitman GO comes from the same popular franchise of Hitman that people fall in love with on their PCs. It looks more like a virtual doll house, but it's a great puzzle game for iPhone that requires different strategies to pass each level. Like in other franchises, Hitman GO's main character is Agent 47 who is back to do some assassinations.
The floor consists of grids, and you are limited to moving according to them to assassinate targets from behind or use guns. You need to make a tough choice while moving, any wrong move leads to your being dead. You can take help from distractions and disguises, etc. to enter heavily guarded areas.
Price: $2.99/ in-app purchases
6. Coolson's Pocket Pack
It is a spelling-based game, so you must be really good at spelling to play this game. In the game, chocolate bars with a letter on them fall from above, you need to put them in a sequence to create a word. It can be quite challenging as the words can be made in all directions, including columns, rows, and diagonals.
If all the rows fill up, all the chocolate will be sealed, and you will lose. The graphics aren't so intense, and the game is quite light too. If you like some light-hearted game that could challenge your spelling, then this is the game for you.
Price: Free
Monument Valley is a 3D minimalist-based game for iPhone where there are different castles with hidden paths and objects. You need to guide a princess who is stuck in the castle maze. You can twist the screen to create routes and reveal hidden paths.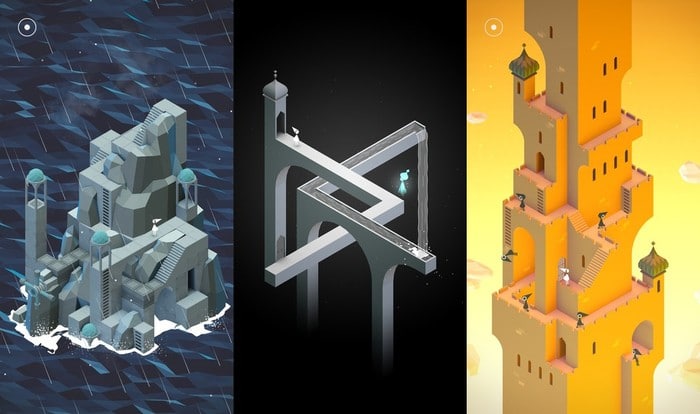 The sound work is great and goes really well with what you are doing in the game. The puzzles aren't really that hard, and anyone should be able to easily follow the storyline and please himself/herself.
Price: $3.99/ in-app purchases
We will surely not leave out the most intense game that could make you sweat. In Cut the Rope 2, you need to feed a hungry, cute little creature called om-nom with candies. The candies are hanging by a rope that you need to at a precise time to drop the candy in his mouth.
There are many fun puzzles along with different hurdles like lasers, blades, and spiders. You can use sliders, balloons, etc. to move the ropes in the right direction. Cut the Rope 2 now also features 7 new side characters that stay with om-nom and need to pass the levels together.
Price: 0.99/ in-app purchases
9. Beyond Ynth
Beyond Ynth is a story of a bug who is on his journey to bring back stolen diamonds from evil spiders. This game adds completely new gameplay where you have to move the bug inside a box to the end of the level. However, it won't be easy as there will be many traps, hazards, slopes, and other hurdles to stop you.
The game has amazing graphics along with very good original soundtracks. You will get 80 levels at the time of the purchase, and additional levels can be unlocked for $0.99.
Price: $1.99/ in-app purchases
Numpuz Puzzle Time Game is not necessarily a complex puzzle game for iPhone, but yes, it's a number puzzle game that every iPhone user can play. And more importantly, this is a classic math puzzle game that is available for free on iPhone and iPad. If you have fond of solving Sudoku-based puzzles, this iPhone puzzle game can test your puzzle-solving skills. For playing this endless puzzle challenge game on iPhone, you just need to tap and move the word number tiles to test your logic as well as reaction speed.
With this iPhone puzzle game, you get a different kind of classic experience as the Numpuz puzzle game comes with a user interface that consists of a wooden retro theme style. It challenges your logic and brain power as you get to slide tiles to form a complete sequence. With the Numpuz number puzzle game, you're sure to have fun playing this puzzle game that challenges your brain's logical power and keeps you entertained on your iPhone.
Cost: Free
Checkout: 9 Most Funny Games to Play Over Text – Best Texting Games
The Pro Review From TechReviewPro
Puzzle games might not entertain some fast-paced gamers, but they will surely entertain many people who like challenges. Puzzle games can be quite frustrating at higher levels, with loads of challenges and teeth-grinding levels. However, this is what makes them so fun and why they manage to provide hours of entertainment.
The Room Two and Hitman Go are great choices for people who are looking for some serious puzzle games for iPhone. If you are looking for some fun visuals with fun gameplay, then Beyond Ynth and Cut The Rope 2 are great choices. Do you like any other puzzle games for iPhone? Let us know in the comments below.
Don't Miss :