Ever tried to do reverse email lookup? There may be many reasons for reverse email address search. With the tremendous growth in the number of internet users, curse like email abusing, spamming, stalking, etc. are also increasing simultaneously. And, it becomes quite important to find the person behind email address when you receive an email from an unknown sender.
The temptation to know "Whose email is this?" may lead you to reverse email lookup search on Google or other search engines. But the various search engines may help you only if the person has previously used that email address in his/her user profile on any social media, blog/website, public forum or any online community. In case, the unknown sender hasn't used his email at any such places; your reverse email address search keeps hanging in the middle. Thus, it becomes quite difficult to find the person behind the email address.
Recently, I tried and tested various reverse email lookup tricks to find the person behind an email address. Also, we tested and analyzed many paid as well as free email finder tools that allow you to perform reverse email address search. Finally, we came up with this in-depth "Reverse Email Lookup Guide" to help you know whose email is this?
Also Read: What Song is This? – How to Identify Song Using 11 Best Song Identifier Apps?
Reverse Email Lookup Tricks to Find Person Behind Email Address
If you're a busy person, then you probably get a lot of Emails during the day. You probably get newsletters, Business Emails, News Alerts and so on. The majority of the time you get Emails from sources you know if you signed up for.  But, there will come a time when you will get an Email from someone you don't know.
In that Email, it says all sorts of great things you've either won or can get something if you do this or that. Your first impulse is to respond and say you'll do anything, but before you do, it would be a good idea if you investigated who the Email is from.
1. Discover Who Someone is by Using Their I.P Address
Not everyone has the same amount of knowledge, so not everyone will know what an I.P address is. I.P stands for Internet Protocol Address. It's an exclusive address that identifies a device and something that is used by devices to talk to each other within the network.
You can use this I.P address to find a person because it's like a street address or a phone number that someone uses. This kind of information is unique to each person, so you have a good chance of finding out who someone is by using it.
The I.P address is not in plain site, and you have to do some clicking to find it. Right beside the drop-down menu in the Email the other persons received, you will see an arrow pointing down.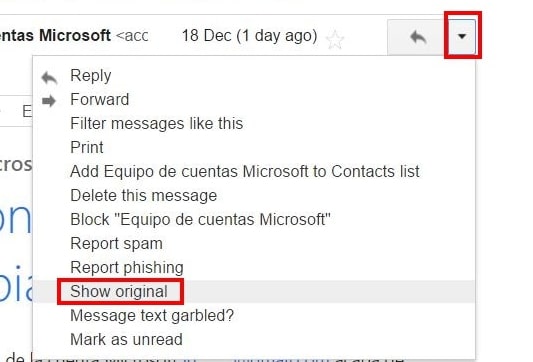 Click on the drop-down menu and look for Show Original. You will see a lot of information that might confuse you but look for a sequence of numbers that look like this:
Once you have the IP address, you need to use a tool such as Youngwatsignal or IPLocation. Thanks to these tools you can discover the country and the city the sender is from.
Also Read: How to Auto Forward Text Messages and Call Details to Email?
2. Do a Google Search to Know Whose Email is This
Doing a Google search is probably the first thing that crossed your mind to find out more information on someone, right? Why wouldn't it be since whenever you want to know more about something the first thing you do is Google it.
You can do the same thing with an Email address you are suspicious about. Copy and paste the Email address in the Google search bar and see what information you get. If it's an Email address that is or was being used in some type of scams, then you should be able to find some information on it.
3. Find Their Profile on Social Media Using Email
I mean, who doesn't have a social media account these days, right? Whether you use it for work or personal use, everyone has one, and so does the person who Emailed you. That's why searching for them on social media is a fantastic way you can get information about them.
Since there are quite a few social media networks out there, you'd probably spend hours and hours looking for that person. Take the shortcut and use Knowem. It's a very useful tool that by using a brand name, product, personal name or username. With this tool, you instantly search over 500 social media websites. Can you imagine yourself?
Also Read: 20 Best Free Anonymous Email Service Providers to Send Email Anonymously
4. Use Facebook to Investigate Person Behind an Email
Whenever you want to search for someone on Facebook, you usually type in their name. But, in this case, you only have an Email to go on. So, the first thing you need to do is copy the mysterious Email address and then paste in Facebook's search box.
If Facebook has a profile with that Email address, you will see it in the search results. It's no secret that Facebook has billions of users so; you definitely have possibilities of finding who is behind the Email address by using Facebook.
If you hit the jackpot and found the person's Email address, the first thing you need to do is download the profile picture. Some users (but not all) usually use the same picture for various social networks.
Now, upload that same profile picture onto Google Images and then click on the camera icon that is right beside the search box. What this is going to do is that it is going to show you if that person uses that same picture somewhere else. If so, you won't just have their Facebook profile to get to know them better, but the other accounts you also found.
Also Read: How to Send an Anonymous Email from Anonymous Email Account?
5. People Search Tools for Reverse Email Lookup
There are people search tools out there for reverse email lookup that can make the searching a lot easier. Those reverse email lookup tools will do a comprehensive search in places you probably didn't even know existed. For example, you have Pipl and Spokeo. These tools allow you to perform a reverse Email lookup and get you the information you need.
They are both useful tools, but I have to admit that Spokeo features a more comprehensive database. Spokeo searches for web documents, but it also looks through social networks and whois information of domains.
It will look for any information that is related to the Email you entered. It doesn't matter how small that info is, if it's related to the Email, it will uncover it.
Keep in mind that there may be some information that only subscribed users can have access to. If you need to know who this person is, you will need to subscribe.
Another great tool is Email Sherlock, just like the other two reverse email lookup tools, you can enter Gmail, Yahoo, Hotmail or even a custom domain Email ID. Which one is the best out of the three? If you want to use the tool for reverse email lookup that gives you the most amount of information, then Email Sherlock is a perfect choice.
Email Sherlock does something that the other two reverse email lookup tools don't. It will send an Email to the ID you are investigating that someone is doing a reverse image search notifying them that someone is investigating them.
6. Use Rapportive to Know Person Behind an Email
Rapportive is a tool that will give you the information you need, and it is very easy to use. I should begin by mentioning that it's a service that will only work for Gmail.
If you usually get Emails from people you don't know, you might want to keep an extension like Rapportive in your browser. So the next time you get another one of those Email, you can instantly get information on the sender.
This Gmail tool will get you LinkedIn profiles right inside your Gmail account. Just open the Email, and to the right, you will see all the LinkedIn information about the person who sent the Email. You will also see shared connection, where they are, and you even get to see a picture. If you use either Chrome or Firefox, this is a reverse email lookup tool you can enjoy.
7. Be Careful with Phishing Scams
Last but not least, you need to know how to identify a phishing scam. It's not always an honest person that is behind the Email address. Unfortunately, the Email you received could be a phishing scam. So, how to know that this is what's behind the Email you received?
You can tell that it's a phishing scam if the Email you received is from a financial institution. If the Email is asking you to confirm your personal information or even your pin number, then erase it!  There is a 99.9% chance that you received a phishing scam Email.
Finding out who is behind these kinds of Email is more complicated, and I don't know if you want to get into that kind of thing. I would just recommend you erase it and always be careful as to what Emails you respond to.
Also Read: 'Send Anonymous Email' Lets You Send Email Anonymously for Free without Registration
How to Know Whose Email is This?
There are many ways you can investigate someone and find the person behind an email, thanks to the Internet. Unless the person who sends the Email is some professional at hiding, there is a good chance that you are going to find at least a little bit of information on the sender.
Do you get a lot of mysterious Emails? Which reverse email lookup trick you use to find someone behind that email? Let us know in the comments.
Don't Miss: