Resume or CV (curriculum vitae) is a vital part of each one's professional life. To describe simply, CV or resume is a mere hard or soft document containing specific information like education, hobbies, achievements, etc. about an individual. But the importance of a good CV can't be neglected primarily if you appear for a crucial job interview.
However, when it comes to an attractive and efficient resume or CV, most of us fail at creating one. One of the major reason is the lack of probable resources. Fortunately, there are some of the best free online resume builder sites having packed with resources and tools to help you create a creative resume online. But finding such resume builder sites which are free, is tough.
So keeping 'the importance of an effective resume' in mind, we have compiled a list of best free online resume or CV builders to create creative resumes or CVs.
Also Read: How to Convert PDF to Word Document Online for Free?
13 Best Free Online Resume Builder Sites to Create Creative Resume CV [Curriculum Vitae]
Previously, we have shared 55+ Amazing Graphic Design Resume Templates that Win Job for Creative Job Seekers. Now, have a look at best free online resume builder sites.
If you are searching for the best online resume builder, then Responsive CV is the resume builder site to go! Yes, Responsive CV is a well-known free Mobile resume and QR Code maker which allows you to have a professional, and attractive resume in a minute. The process for getting resume is quite simple; only you have to import your LinkedIn profile data, and you're good to go.
You also get the option to choose a template from the bunch of beautiful resume templets available. It also provides live preview feature which makes it stand out of the crowd. The best thing about the Responsive CV is you can add QR code to your resume which makes your resume look different from others.
Online CV is a free resume builder that can create compelling resumes or CVs without taking much time, however maintaining with its commitment, i.e., professionalism. Moreover, it is quite easy to create a resume CV with OnlineCV. So even if you are a newbie, OnlineCV will help you make your resume attractive and complete for absolutely free.
With OnlineCV Generator, drafting a resume is quite simple. To build the best resume for free, the user needs to enter specific details correctly and upload a professional yet straightforward looking photograph of him/her. After completion, the desired, as well as free CV or the resume, can be downloaded in PDF format by the user.
Also Read: 9 Best Online Invoice Creator to Generate Invoice Online for Free
Novoresume is yet another free online resume builder that takes the game of resume building to the next level. The process of creating a resume CV is simple, you sign up for a free account and then choose from various pre-designed resume templates.
Choose the resume template layout you like and start adding content (details) to make your resume CV. As you start adding details and create your resume CV, Novoresume provides you suggestions and tips to improve your resume. Hence, the resulted outcome is an amazing resume CV that wins a job.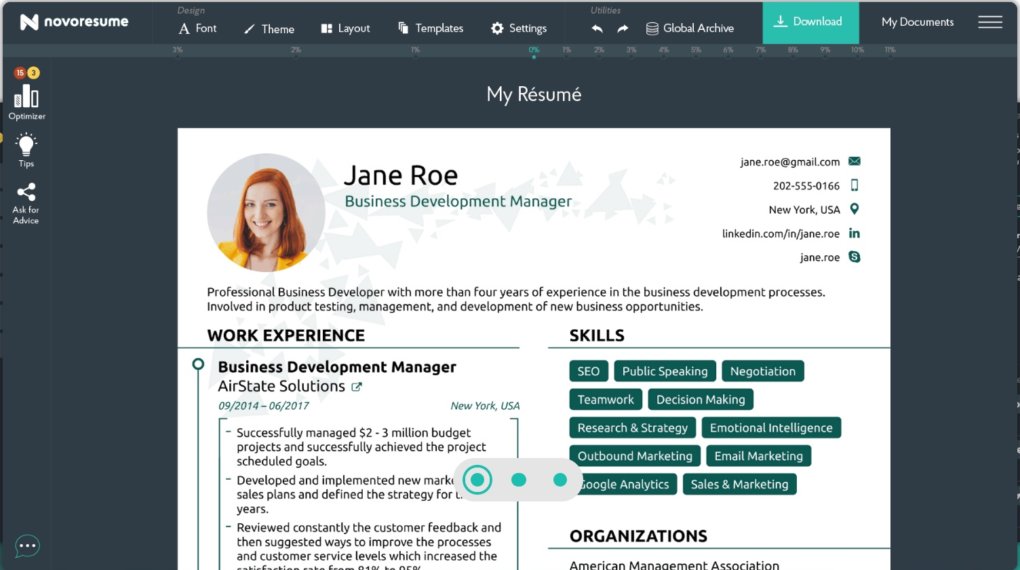 It's a quick online resume builder, so you don't need to download any additional software or tools for creating your CV. Apart from various beautifully designed resume templates, you can also find CV templates and templates for cover letters. Most of the basic templates are free, so you can use Novoresume online resume builder to create your resume for free.
As the name suggests, Free Resume Creator is yet another free online resume or CV builder site. If you want to create distinct CVs for specific or different occasions and purposes, then this free online resume creator can help you. Unlike most of the online resume builder sites that require the user to register, it does not require registration.
But the only downside of this resume builder available online is that it does not let you have your photograph on the CV. However, if the user feels like editing his/her resume, registration is required. Then the resume CV can be downloaded in HTML/PDF/Text format.
CV maker is among one of the best resume builders available online for free. As far as features are concerned, it is much more versatile. Not only creating a resume is free, but also the modification of that resume is easy.
Just enter the required details in the concerned text field/text area/tab. This free resume builder site also comes with the feature to synchronize your resume with your Facebook and LinkedIn social profiles and obtains details automatically.
Like most of the free resume or CV available online, My Resume Online also requires you to register with it to create an online resume (a free one). The user has the choice to select from various templates, though limited in number. But the user cannot download/print the resume.
The online resume or CV contains essential details like experience, achievements, and education, etc. along with a photograph of the user. However if the user feels like adding any other attachment, he/she has the full autonomy to do so. The only downside is the various annoying advertisements. But if you do not mind a few advertisements scattered on your resume, then give this free resume builder site a chance to serve you.
Also Read: 5 Best Comic Websites to Download or Read Comics Online Free
Visual CV is the best free online resume builder that lets you create a unique resume CV to help you become unique and stand out of the crowd. In today's era, when everything is going online and graphically, you need to keep your resume or CV up-to-date too. Just like most of the other online resume builders available for free, Visual CV also comes with the basic features – education, achievements, hobbies, etc.
But unlike most of the other free and paid resume builders, Visual CV gives you the facility to attach multimedia files like photographs, video clips, links, graphs, etc. So if you don't want your resume to look dull and straightforward, you can build an attractive resume CV for free with Visual CV.
How To Write A Resume.NET is an excellent free resume making online resource. The users have a lot to choose from. If you are a newbie and creating your first resume, there is no place for any risk with this free online resume building tool.
Before actually starting, the user can refer to tutorials, guidelines and even sample resume for absolutely free of cost. After you have gained enough knowledge, you may begin building your own. Still, if you don't want yourself to get tangled, just select any sample resume and edit your details within it; as simple as that.
ConnectCV is another very efficient online resume building tool for free. Like the ones mentioned above, ConnectCV too helps you to build attractive and useful resumes or CVs with its guides, and a hell lot of sample resumes, but it has something even more than that.
ConnectCV, being among best free resume builders available online, comes with some customization features that only few resume building tools offer. Apart from creating a resume, the users have the choice to change the font, style, color, size, shade, etc. to highlight some or all of the details. Ultimately, these features increase the candidate's chances of being selected.
Though ResumUP seems to be like most of the other free online CV builders, it has many more features than its name. Most of us have come across infographics at some stage of our lives, and now we know how appealing and convincing an infographic can be if built efficiently and same is the case with resumes and CVs as well.
So what if you get a chance to build an info-resume or simply infographic resume? Though visual resume outshines all other resumes, infographic resume is the unique and trending type of resume. So if you want to make your resume CV stand out of the crowd with creativity, just build a powerful infographic resume with ResumeUP.
Resumizer is yet another free online resume building wizard. Attractive resumes can be built with or without having a membership on its website. The process of creating a resume is quite simple and straight-forward. You only need to follow a few easy steps, and then, you have built your resume or CV for free and online.
The desired resume can be downloaded in PDF/HTML/text format. Also, the privacy of the users is maintained as it does not store any of the user's data on its servers. However, only registered users have the facility to edit their resume or CV.
Last but not the least, SpongResume is another free online tool to build attractive resumes and CVs. With its simple, interactive and friendly user interface the registration process is quite simple, and so is the process of building a resume.
Once you are a registered user on SpongResume, your free online resume or CV can be created in almost no time. Customize your CV from the various available options and use it for the desired purpose.
13. CeeVee
CeeVee is one of the best free online creative resume builders which is preferred by professionals. It has a straightforward and friendly user interface. Creating a resume online with CeeVee is so easy. It provides a professional look to your online built resume or CV.
With CeeVee, to build a resume is as simple as creating a Google+ or Facebook profile; and since all of us have social networking profiles, it is not a difficult task to create a free resume (online) with CeeVee.
Checkout: 13 Best Firefox Add-ons for Better Browsing Experience
The Pro Review from TechReviewPro
So here concludes the collection of best free online resume builder sites that help you make your CV or resume shine out of the crowd. Since all the tools mentioned above are equally magnificent, we do not emphasize any particular one.
Hopefully, these creative resume builder tools will help you create creative, attractive resume CV to stand out of the crowd during the process of getting hired, thus helping you win the highest paying jobs. Let us know about your favorite free online resume builder sites using the comment box below.
Don't Miss: